How Does LendingTree Get Paid?
LendingTree is compensated by companies on this site and this compensation may impact how and where offers appear on this site (such as the order). LendingTree does not include all lenders, savings products, or loan options available in the marketplace.
LendingTree Ranks Metros with the Highest Vacancy Rates
Published on: March 7th, 2019
Editorial Note: The content of this article is based on the author's opinions and recommendations alone. It may not have been reviewed, commissioned or otherwise endorsed by any of our network partners.
Vacant homes can come in many different shapes and sizes — and conditions. They are often stereotyped as dilapidated houses with crumbling foundations and boarded-up windows. But they can also be move-in ready just waiting for their next owner.
Regardless of how they look, knowing the number of vacant homes in an area is an important part of understanding the overall health of the local housing market.
For example, if both vacancy rates and home prices are relatively low, it could mean that sellers are parting with their homes for less money than they could have potentially gotten. If vacancy rates are low and housing prices are high, it could signify that the market is overly competitive, and that lower-income people might have a problem finding a house.
On the flip side, high vacancy rates and high homes prices often suggest that an area has some unique characteristics, such as being a vacation hot spot or targeted by investors, which could mean the real estate is overpriced. High vacancy rates and low home prices might mean that an area is experiencing socioeconomic hardships, like high unemployment or crime rates.
To get a sense of what vacancy rates in the United States look like, LendingTree, the nation's leading online loan marketplace, ranked the nation's 50 largest metropolitan areas from highest to lowest vacancy rates. Typically, areas with higher vacancy rates are more affordable to the average consumer. That being said, it does not necessarily mean that areas with high vacancy rates are always going to be more affordable than areas with lower rates.
Key Findings:
San Jose, Calif., Minneapolis and Denver are the metros with the lowest vacancy rates. The vacancy rate of 4.26% in San Jose, Calif. is the lowest in the nation. But Minneapolis and Denver follow closely behind with vacancy rates of 4.96% and 5.35%, respectively. Vacancy rates in these areas are low for a variety of reasons, ranging from strong job opportunities to a growing influx of millennial homebuyers. People looking to sell their home will likely have an easy time in any of these metros, but future homeowners who are in the market to buy might struggle to find a place.
Miami, Orlando, Fla. and Tampa, Fla. have the highest vacancy rates in the nation. Their vacancy rates of 17.09%, 15.93% and 15.25% are well above the overall metropolitan average of 9.44%. One of the main reasons vacancy rates are so high in these areas is that Florida is a popular destination for homeowners to buy secondary residences. These types of residences often remain unused throughout most of the year, with their owners only living in them during select times, like winter. This means they count as vacant in our data.
Some metros have high vacancy rates for more negative reasons. For example, even when part-time residences are not considered as part of the vacancy rate, Birmingham, Ala., Memphis, Tenn. and New Orleans all still have vacancy rates above 11%. Many factors contribute to these high rates, ranging from sudden influxes of newly available homes and apartments, to sluggish economic growth. New Orleans has yet to fully recover from the effects of Hurricane Katrina, which experienced a loss in population. Although many homes were destroyed, the stock of homes is now higher than before Katrina, but the population has yet to go above its previous high.
People looking to buy a home might want to consider moving to places like Pittsburgh, Cleveland or Memphis, Tenn. These metros all have high vacancy rates above 10% and median home values of lower than $150,000. As a result, buyers will need less money to afford a home, and may also have more wiggle room when it comes to negotiating a price.
Metros with the highest vacancy rates
Miami
Total households: 2,505,963
Total occupied households: 2,077,708
Total vacant households: 428,255
% of households that are vacant: 17.09%
Orlando, Fla.
Total households: 995,591
Total occupied households: 837,022
Total vacant households: 158,569
% of households that are vacant: 15.93%
Tampa, Fla.
Total households: 1,393,313
Total occupied households: 1,180,768
Total vacant households: 212,545
% of households that are vacant: 15.25%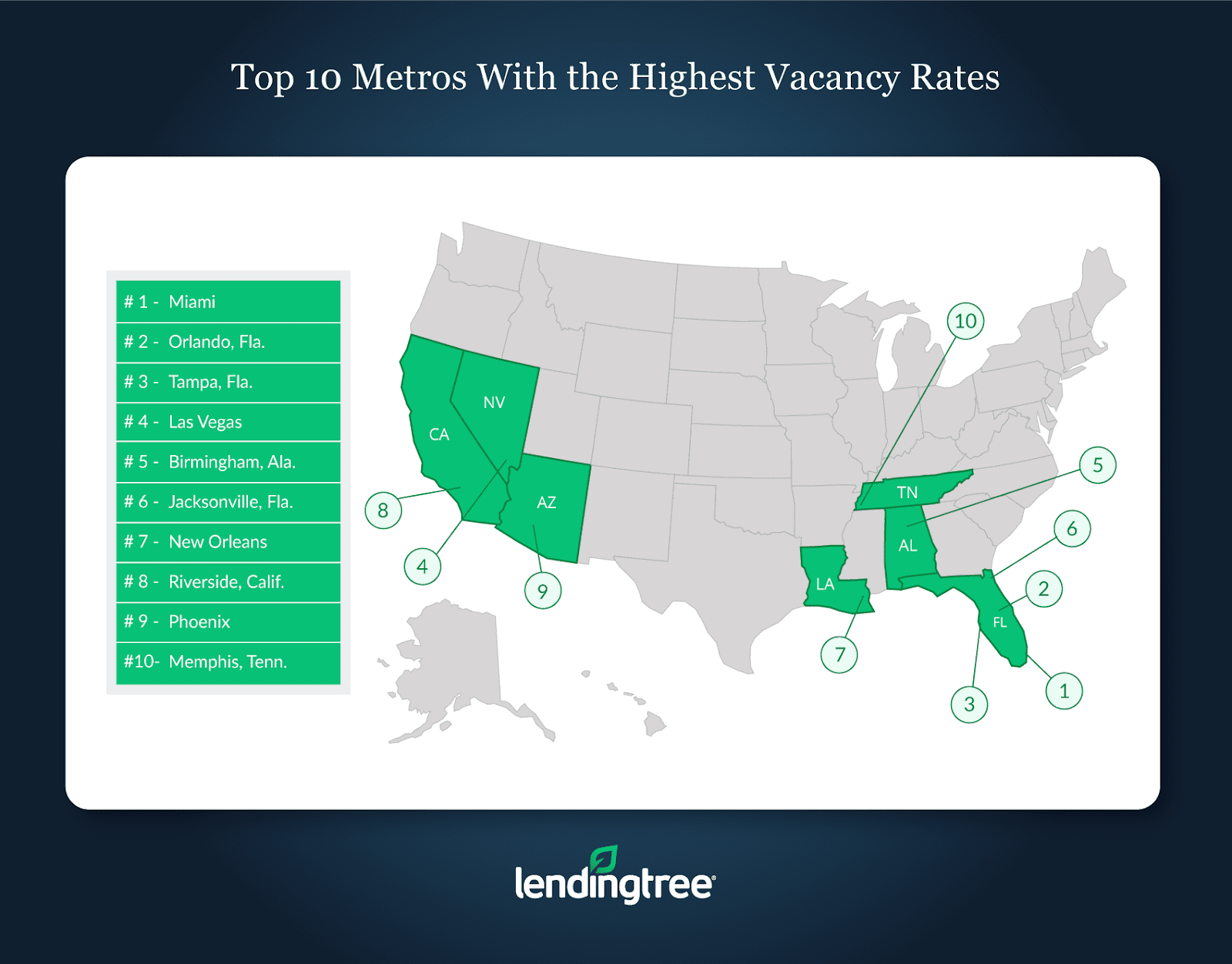 Metros with the lowest vacancy rates
San Jose, Calif.
Total households: 676,737
Total occupied households: 647,891
Total vacant households: 28,846
% of households that are vacant: 4.26%
Minneapolis
Total households: 1,426,299
Total occupied households: 1,355,503
Total vacant households: 70,796
% of households that are vacant: 4.96%
Denver
Total households: 1,136,616
Total occupied households: 1,075,807
Total vacant households: 60,809
% of households that are vacant: 5.35%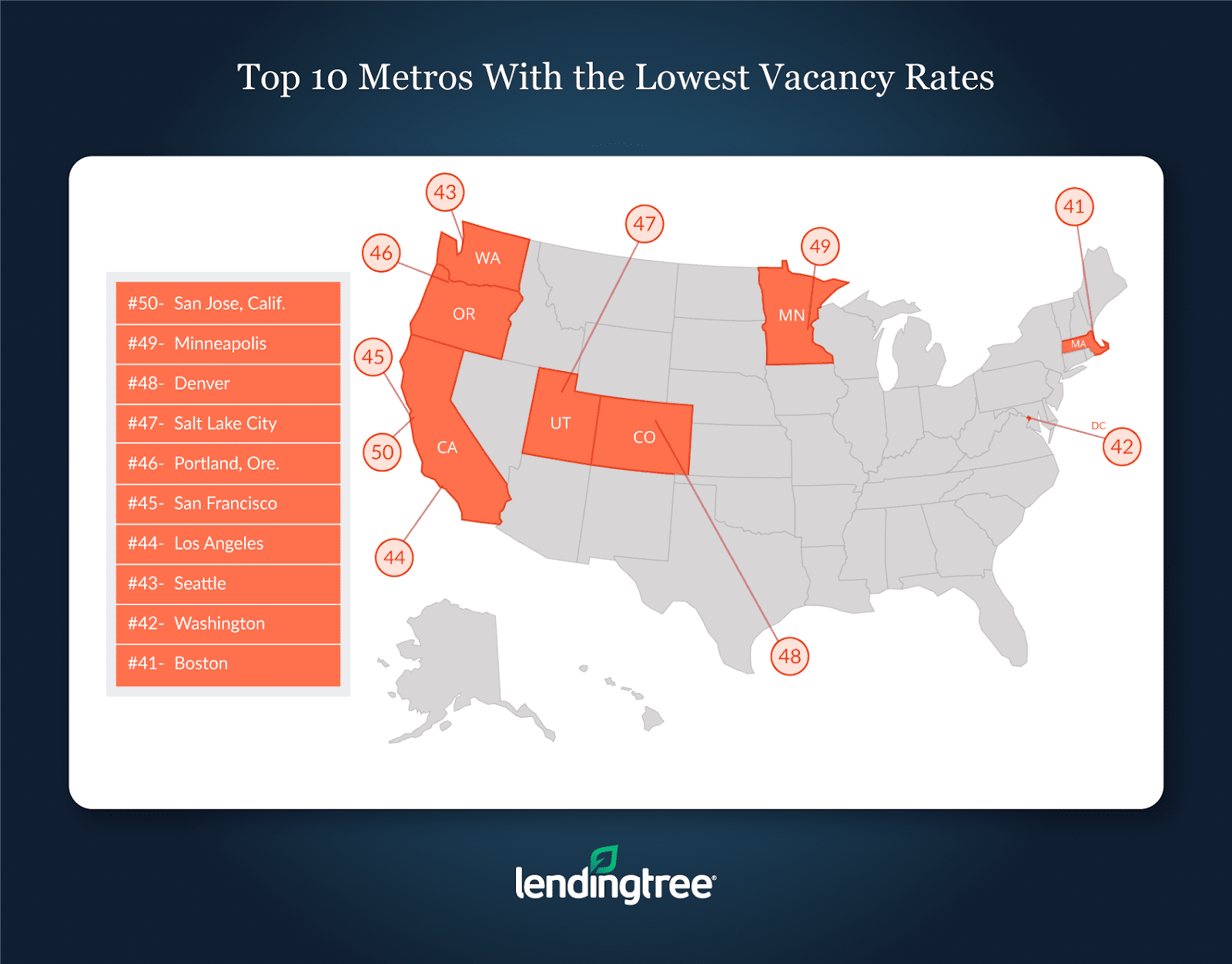 How vacancy rates impact homeowners and homebuyers
People who are looking to buy or sell a home should pay attention to the vacancy rate in an area. It can help determine how much they need to save for a down payment, how large of a mortgage loan they need and/or how much they can hope to sell their current home for.
In areas where vacancy rates are high, homebuyers will usually have more choice regarding the kinds of homes they can buy and more leeway when it comes to negotiating prices. By that same token, it might take longer for homeowners to sell their homes and they may have to settle for less than asking price.
In areas with low vacancy rates, homeowners will often be able to sell their homes quickly and for higher prices. As a result, homebuyers will need to save up extra money to make a competitive offer and they might find it more difficult to find their ideal home.
Vacancy rates can also be relevant for people who want to refinance their homes. Banks look at whether or not a home's equity has increased to help determine whether or not a person qualifies for home refinancing. Areas with lower vacancy rates are more likely to see home values rise.
Methodology
All of the data used to conduct this study comes from the U.S. Census Bureau's 2017 American Community Survey.
The survey measures the overall vacancy rate in an area by dividing the number of vacant households by the total number of households. Occupied households include homes that are owned or rented by occupants who use the home as their primary residence, while vacant households are broken down into seven subcategories. The Census Bureau defines these subcategories as follows:
For rent: These are vacant units offered "for rent."
Rented, not occupied: These are vacant units where a rental agreement has been reached, but the future occupants haven't moved in yet.
For sale only: These are vacant units currently on the market.
Sold, not occupied: Similar to "rented, not occupied," this category covers homes that have sold but the new owner has not yet moved in.
For seasonal, recreational or occasional use: These include homes for seasonal use like beach cottages and hunting cabins or lodging for seasonal workers like herders and loggers. Timesharing condominiums are also included here.
For migrant workers: Homes for migrant workers employed in farm work during the crop season go here.
Other vacant: This category captures vacant homes that don't fall into any of the above.
A full breakdown of vacant homes in each of the metros featured in this study can be found here.