How Does LendingTree Get Paid?
LendingTree is compensated by companies on this site and this compensation may impact how and where offers appear on this site (such as the order). LendingTree does not include all lenders, savings products, or loan options available in the marketplace.
Almost a Quarter of Americans With Neighbors Dislike at Least One of Them, Leading Some to Move Away
Updated on: May 15th, 2023
Why use LendingTree?
We are committed to providing accurate content that helps you make informed money decisions. Our partners have not commissioned or endorsed this content. Read our .
It's a beautiful day in the neighborhood for many Americans — unless they're the nearly 1 in 4 who can't stand a neighbor. In some cases, an unlikeable neighbor's rude, nosy and loud antics may lead to a physical or verbal showdown, or even a day in court. And nearly 3 in 10 millennials have moved because of a problem neighbor.
LendingTree surveyed 2,000 U.S. consumers to find out whether they will or won't be friends with their neighbors. Here's what we found.
On this page
Key findings
It's not always easy to love thy neighbor. Although 70% of Americans with neighbors report being friends with at least some of them, 24% of all Americans say they dislike at least one. Among those who dislike a neighbor, 48% say it's because they're unfriendly or rude, 31% say they make too much noise and 29% say the neighbor is too nosy.
Some Americans with neighbors are willing to go to great lengths to avoid ones they dislike, as almost 1 in 5 (19%) have moved as a result. Others prefer confrontation to avoidance — 24% of Americans with neighbors have been in an altercation with one either physically or verbally. Plus, 24% report calling law enforcement or taking legal action against neighbors.
No one likes a nosy neighbor, yet 39% have researched their neighbors' home valuations or looked at pictures of home interiors online. Homeowners are more than twice as likely to do this than renters (52% versus 25%). This transparency might explain why just over 1 in 10 Americans with neighbors feel financially pressured to keep up with theirs.
While younger generations report valuing diverse neighborhoods more than older ones, they're less likely to live in a neighborhood they consider diverse. In addition, millennials and Gen Zers think it's more important that their neighbors' religious and/or political beliefs match their own than Gen Xers and baby boomers.
Younger generations are also the least likely to prefer short-term rentals in their neighborhoods. 21% of millennials and 17% of Gen Zers say they would want to move if their neighbor's home became a short-term rental, compared with 14% of Gen Xers and 12% of baby boomers.
Neighbors: Friends or foes?
A majority of Americans (60%) like most or all of their neighbors, led by six-figure earners (73%), homeowners (70%) and parents with children younger than 18 (67%). Meanwhile, Gen Zers (ages 18 to 26) are most likely to dislike most or all of their neighbors, at 6%. Overall, 24% of Americans dislike at least one neighbor.
Still, things remain mostly friendly, as 7 in 10 with neighbors say some of them are buddies. Not surprisingly, homeowners (78%) tend to develop friends more than renters (60%) or people living rent-free (63%).
People with kids (74%) — whether they're younger than 18 or not — are more likely to have a neighborhood friendship than those with no children (62%). And though money can't buy friends, earning a little extra income seems to lead to more neighborly kinship for:
76% of those earning $100,000 or more a year
73% of those earning $75,000 to $99,999
69% of those earning $50,000 to $74,999
68% of those earning $35,000 to $49,999
65% of those earning less than $35,000
Being nasty, noisy or nosy are the three top traits likely to earn a neighbor a spot on the "don't like" list: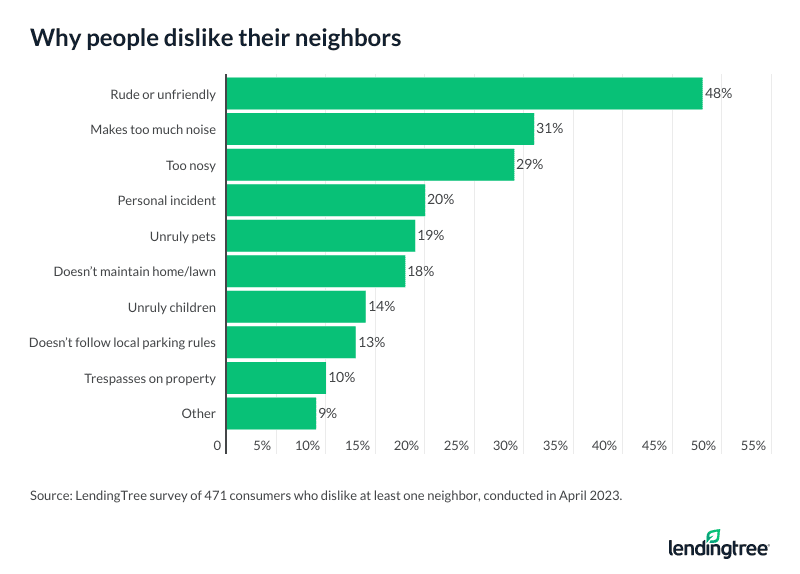 Rudeness and unfriendliness rank as the top unlikeable characteristics for more than half of Gen Xers (ages 43 to 58) (55%) and millennials (ages 27 to 42) (51%) who dislike at least one neighbor, as well as 42% of baby boomers (ages 59 to 77) and 39% of Gen Zers.
Some other pet peeves that'll deduct points on the neighbor likeability scale among those who dislike at least one:
27% of baby boomers have issues with home and lawn maintenance care (or a lack thereof)
27% of baby boomers and 24% of Gen Xers report a personal incident that pushed a neighbor into the "don't like" category
19% have some issue with an unruly pet
14% of Gen Zers and Gen Xers have a beef with their neighbor's parking practices
13% of Gen Zers complain about trespassers on their property
Nearly 1 in 5 neighbors have moved from the friend zone
About 1 in 5 Americans (19%) have moved because of an unlikeable neighbor, which is more than three times as likely among millennials (28%) than baby boomers (8%). Nearly 1 in 4 Gen Zers (24%) have also packed up and left because of a negative neighbor experience, while only 16% of Gen Xers have been motivated to make a bad-neighbor-based move.
Having underage kids and bad neighbors doesn't seem to be a good match either. Americans with kids younger than 18 are almost twice as likely to move because their neighbor-relations go bad than those with grown-up kids — 26% versus 14%, respectively.
That mama-and-papa-bear instinct may even motivate a higher percentage of physical or verbal altercations. People with underage kids (12%) are four times as likely as those with grown-up children (3%) to have gotten into a scuffle with a neighbor.
Meanwhile, verbal sparring issues with neighbors are more prevalent among Gen Xers (20%) and Gen Zers (19%) than they are for baby boomers (16%) and millennials (15%). Overall, 17% of Americans with neighbors say they've been in a verbal altercation with a neighbor, while 7% have cited a physical battle.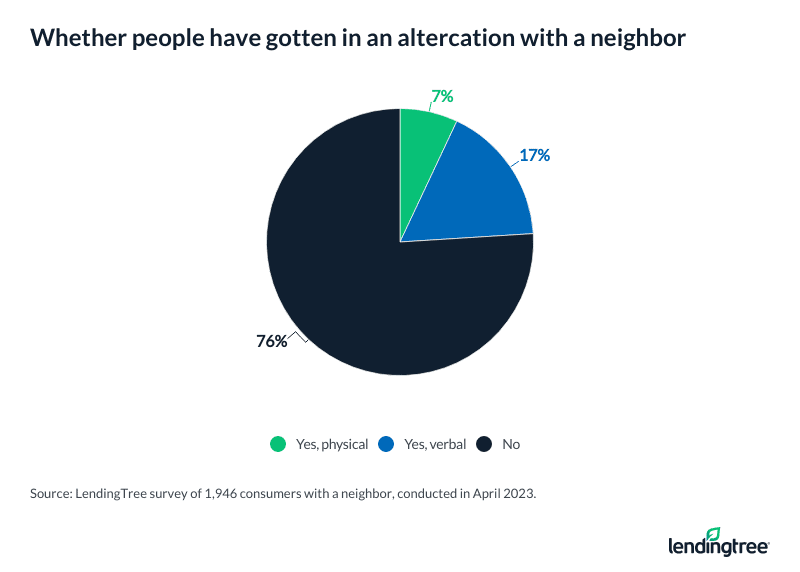 A call to the police has been necessary to solve a neighbor problem for nearly 1 in 5 millennials, Gen Xers or baby boomers (18% for these generations), while Gen Zers are less likely (11%) to dial 911 for a neighbor-enforcement issue. Meanwhile, a trip to the courthouse to solve neighborhood strife has been a reality for 1 in 10 Gen Zers and 6% of millennials, while Gen Xers (1%) and baby boomers (0%) prefer to settle things without legal action.
Overall, 24% of Americans with neighbors have called law enforcement (17%), been involved in legal action (4%) or both (3%).
Interestingly, the same age groups that feel compelled to move because of a bad neighbor situation are also likely to rent or buy a home specifically because they like the neighbors:
26% of Gen Zers
22% of millennials
9% of Gen Xers
7% of baby boomers
What's the value of your home? (Asking for a friend)
The higher the paycheck, the higher the odds a person is checking out a neighbor's home value. In fact, 63% of those earning $100,000 or more yearly say they've checked their neighbor's value or interior features on an online home value site. That's almost three times more than those making less than $35,000 (22%) and more than twice as much (31%) as those earning between $35,000 and $49,999.
This is also more than twice as likely among homeowners (52%) than renters (25%). Overall, 39% have researched their neighbors' home valuations or looked at pictures of home interiors online. That "nosiness" may be less about competing with a neighbor to have the best house on the block and more about keeping track of a home's value to make good money decisions.
"Having general knowledge about what homes are selling in your neighborhood and how much they're going for can help you make smarter decisions about
refinancing
or
selling your home
," says Jacob Channel, LendingTree senior economist.
Having kids may contribute to feeling financially pressured to keep up with neighbors. Twice as many people with kids younger than 18 report feeling financial peer pressure (20%), compared with 9% of those with no children. Here's a deeper look across demographics:
Young generations most value diverse neighborhoods — even if they're less likely to believe they live in one
Four in 10 Americans with neighbors think living in a racially diverse neighborhood is important. Nearly half of millennials (47%) and 44% of Gen Zers value neighborhood diversity, and a similar percentage (48% of millennials and 41% of Gen Zers) believe they live in a diverse area.
Interestingly, more than half of baby boomers (55%) and Gen Xers (51%) believe they already live in a racially diverse neighborhood, which may explain why they don't place as much importance on it as millennials and Gen Zers.
When it comes to politics and religion, people with kids younger than 18 are three times more likely (18%) to find a neighborhood where people espouse their beliefs than those with no children (6%). But although you can get an idea of a neighborhood's political leanings by driving through and looking for political or religious signs, Channel says it's not likely you'll know what everyone thinks until you take the time to talk to them — which you typically don't do until you move in.
Do rentals in your neighborhood come up short?
A short-term rental popping up in the neighborhood is more likely to be an issue for men with neighbors (20%) than women (13%). (Americans with neighbors are at 16% overall.) Six-figure earners (23%) and millennials and parents with kids younger than 18 (both 21%) are among those most likely to consider moving if a neighbor's house is converted into a temporary-stay location.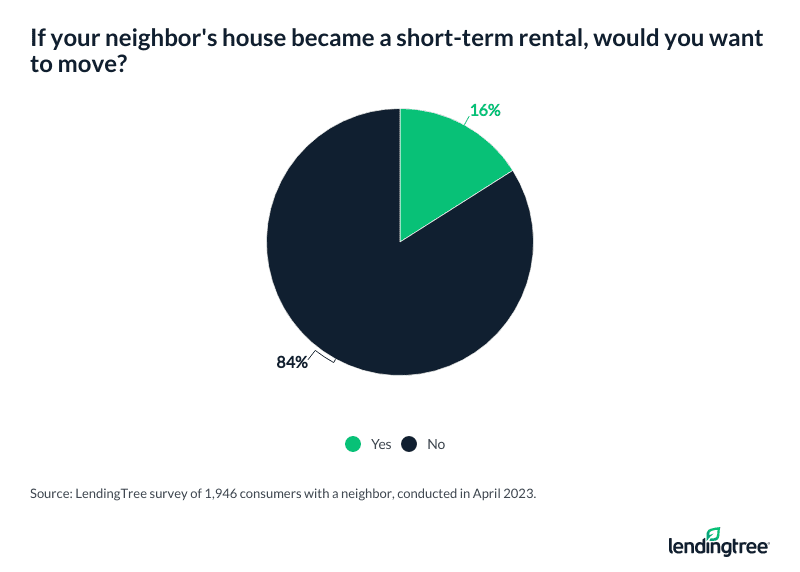 Some of those concerns may be rooted in safety — not knowing who'll occupy the property from month to month. But a bigger concern, according to Channel, is the impact Airbnbs might have on long-term rental options.
Fears that short-term rentals could drag down home values don't seem to be supported by data, however. Instead, Channel says that factors like how many new homes are being built in your area are more important than whether some neighbors are renting out their homes using Airbnb.
Methodology
LendingTree commissioned QuestionPro to conduct an online survey of 2,000 U.S. consumers ages 18 to 77 from April 12-13, 2023. The survey was administered using a nonprobability-based sample, and quotas were used to ensure the sample base represented the overall population. Researchers reviewed all responses for quality control.
We defined generations as the following ages in 2023:
Generation Z: 18 to 26
Millennial: 27 to 42
Generation X: 43 to 58
Baby boomer: 59 to 77