How Does LendingTree Get Paid?
LendingTree is compensated by companies on this site and this compensation may impact how and where offers appear on this site (such as the order). LendingTree does not include all lenders, savings products, or loan options available in the marketplace.
Peer-to-Peer Loans: 9 Things Borrowers Should Watch Out For
Published on: March 13th, 2019
Editorial Note: The content of this article is based on the author's opinions and recommendations alone. It may not have been reviewed, commissioned or otherwise endorsed by any of our network partners.
Peer-to-peer (P2P) lending is a relatively new way of obtaining funding for debt consolidation or major purchases. In simple terms, a P2P service matches borrowers with investors willing to offer up loan funds. A P2P loan doesn't involve a bank or credit union.
But P2P loans are not without their drawbacks. You may run into disreputable lenders and origination fees that are higher than on traditional personal loans, for example. And there's no guarantee of obtaining the funding you need.
Here's what to consider if you decide to take this route to get the financing you need.
What is a peer-to-peer loan?
Peer-to-peer lending, sometimes called marketplace lending or platform lending, is a form of crowdfunding that takes place online. A marketplace lender connects potential borrowers with investors looking to loan money. Interest rates are competitive with online personal loans. P2P lenders like LendingClub offer fixed-rate loans up to $40,000.
Nearly anyone with extra money to invest can become a P2P lender — Upstart lets you get started with as little as $100. The practice of becoming an investor isn't all too uncommon, either. Financial advisors offer these products as an alternative investment opportunity to stocks, bonds and mutual funds.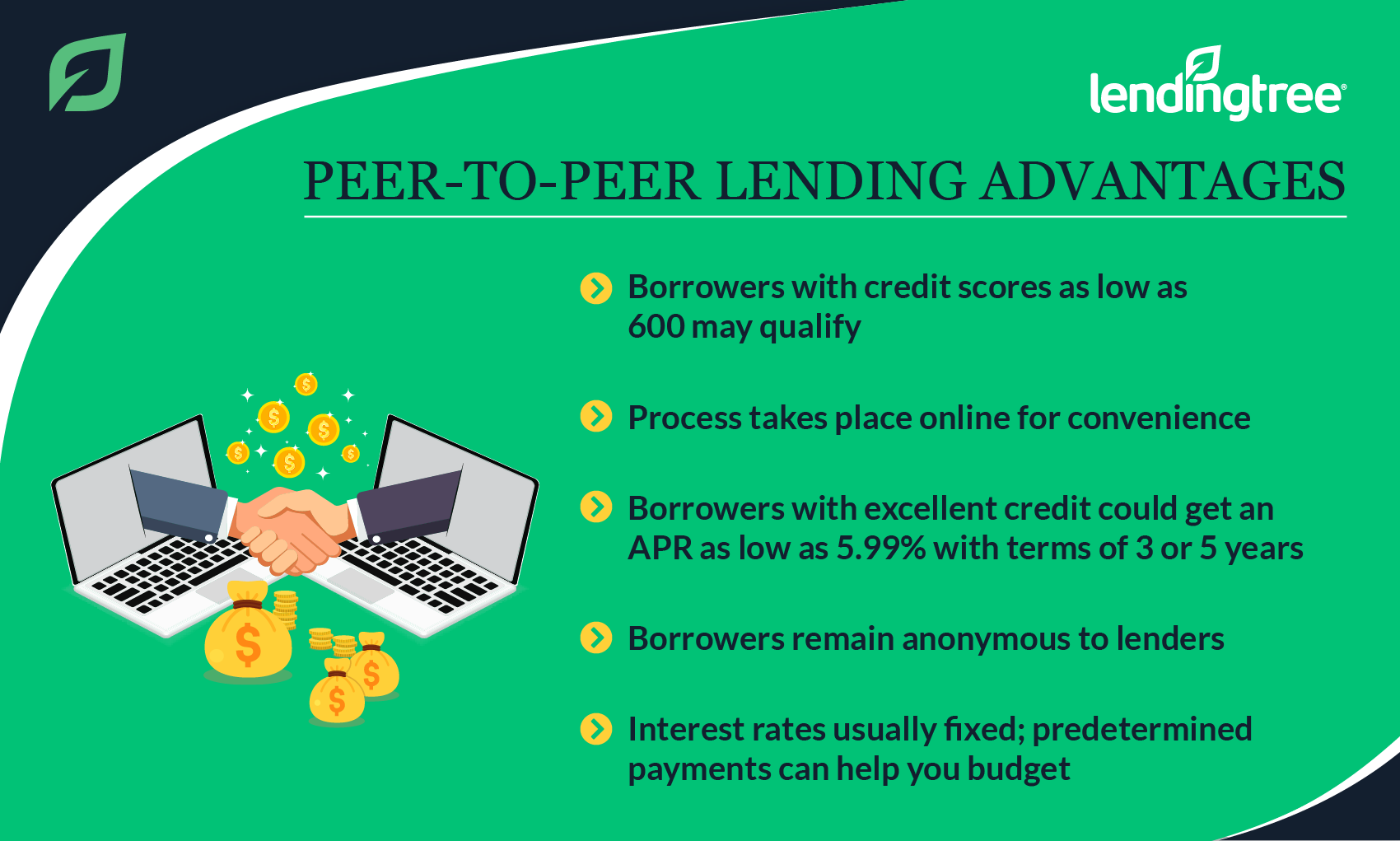 What to watch out for with a peer-to-peer loan
In spite of all these advantages, peer-to-peer loans also have some pitfalls. Knowing what to watch out for can help you make a wise choice in lenders.
1. P2P loans may not be permitted in your state
For example, LendingClub can't provide loans to Iowa residents, while investing is restricted in many states. Some P2P lenders are not permitted to loan money in certain states. Check with your state's attorney general if you're not sure if you can lend or borrow via a P2P platform in your state.
2. Borrowers run the risk of accruing even more debt
As with a personal loan, borrowing to consolidate higher-interest credit card debt carries several risks. For example, if you consolidate your credit card debt but have a spending problem and rack up a balance again, you'll be deeper in debt than before.
And with a peer-to-peer loan on top of your credit card debt, you may struggle to make payments and default. Doing so will lower your credit score and make it harder to borrow money in the future.
3. You could lose protections if you refinance federal student loans or pre-service debt
Federal student loans and pre-service debt come with certain federal protections, which could be lost if you refinance that debt.
Through the Servicemembers Civil Relief Act, active-duty service members are eligible for interest rate reductions and foreclosure protections if they take out a loan before service. If they pay it off using a P2P loan, these benefits disappear.
Similarly, refinancing a student loan through peer-to-peer lending means you could sign away loan forgiveness or repayment terms based on your current income.
4. P2P loans often come with higher fees than personal loans
Origination fees at Peerform, another peer-to-peer lender, range from 1% to 5%. Origination fees at LendingClub range from 1% to 6%. Origination fees may be deducted from the total amount of money you receive or tacked onto the loan repayment amount.
Many personal loans have low origination fees or no fees, so it's important to compare APRs, which is the total cost of the loan over time, expressed as a percentage.
5. Once you apply, you will get a hard pull on your credit report
Checking your rate and terms with peer-to-peer lenders won't affect your credit score. But once you decide to apply for a loan, you will get a hard pull on your credit report. Hard pulls can lower your credit score by a few points for up to two years.
If your loan doesn't get funded, you may want to try other borrowing options, such as a personal loan. But you will be starting the process again with a lower credit score.
6. There may be minimum borrowing requirements
If you only need to borrow a few thousand dollars, a 0% introductory rate credit card might be a better choice. Many P2P lenders have minimum borrowing requirements that vary by state.
For instance, Upstart cannot loan less than $3,100 in Georgia, $5,100 in New Mexico, $6,000 in Ohio and $7,000 in Massachusetts.
7. You could pay more in interest than you have to
Begin your journey by checking your credit score and your credit reports from all three major credit bureaus, advised John Michael Brunetti, financial advisor for TrueVestment, a wealth management firm. Then, take steps to dispute any errors on your credit reports to increase your score. Finally, continue making on-time payments on any existing loans and credit cards to keep raising your credit score while you explore your loan options.
"A lot of times, people don't take time to review their credit report, and they run the risk of getting a higher interest rate and a larger monthly payment than they have to," Brunetti said.
8. Defaulting on the loan could damage your credit score
As with any loan, if you don't make your payments on time, it will negatively affect your credit score. Late payments are reported to the credit reporting agencies.
If you miss several payments, the peer-to-peer platform may determine that you will not pay off the loan, so it could be charged off.
While credit card companies typically charge off your account if it is 90 to 180 days late, P2P lenders have varying time frames. LendingClub says it may charge off a loan once it is 120 days past due. Be sure to understand the policies of your specific lender. If you miss a payment, you could be subject to late fees that vary by lender.
9. You aren't guaranteed funding
Even after you go through the trouble of checking your credit report, fixing mistakes to ensure you get your best rate and applying for the loan, there's no guarantee investors will choose to fund your loan.
Having a good reason to borrow money — such as medical expenses, an unexpected job loss or a real estate or business investment — may entice lenders more than someone who has simply lived outside their means and accrued debt.
Telling a compelling story can set your loan apart. "At the end of the day, in a sea full of credit scores, it comes down to what differentiates you from the other person that's also asking for money," Brunetti said.
The bottom line
A P2P loan may provide favorable terms, a low APR and a convenient borrowing platform.
If you have steady employment, a good credit score and a solid reason for borrowing the money, you can increase your chances of finding investors willing to take a risk on you.
"Someone looking at a real estate investment or home improvement loan may have a better chance of getting funding than someone looking to consolidate debt," Brunetti said.
Whatever your reason for needing a loan, securing the funding through a peer-to-peer platform could take time.
On the other hand, if you have a good credit score, you may be able to get preapproved, apply for an online personal loan and receive your money in as little as a day.