Tips for Applying for Peer to Peer Loans
Published on: November 16th, 2018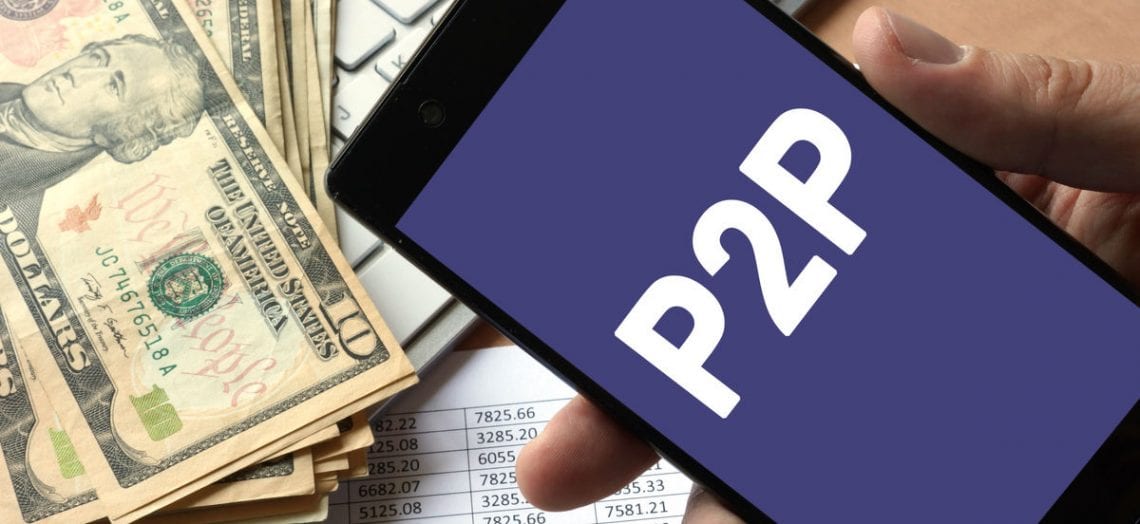 Almost everyone could use some extra cash when a big (and sometimes unexpected) expense comes up. A loan can help put that money in your wallet fast and efficiently. Whether you need to pay down your credit card debt, pay off medical expenses, or need extra money for an upcoming move, a loan can provide a large sum of cash when you need it the most.
There are many loans to choose from, but sometimes more traditional loans from a bank are not the easiest to get. For example, if you have a poor credit score it might be hard to get a personal loan with a bank. That's where a peer-to-peer (P2P) loan can come in. The application process is simple, with everything completed online at your convenience. You may be eligible for a loan even if you're credit isn't so great, and those with higher credit scores are more likely to receive lower rates.
How P2P loans work
A P2P loan is exactly how it sounds: peers borrowing money from other peers. Instead of borrowing money from a financial institution, borrowers receive funds from individual investors.
Everything is done online: searching for investors, applying for a loan and transferring the funds to the borrower's bank account. Investors are not only eager to help strangers with their financial needs, but also come out with extra cash thanks to the borrower's interest payments.
Loan amounts can start at $1,000 and go as high as $40,000, with repayment terms ranging from three to five years; however, each lender is different. Your credit will be factored in when determining your interest rate, with lower rates offered to those with better credit. Borrowers make set payments each month that can include interest and origination fees. Keep in mind, the origination fee (charged to process the loan application) is often tacked on as a percentage of your entire loan amount.
Applying for a P2P loan
To apply for a P2P loan, you'll usually start with a preliminary online form, where a soft credit check may be conducted without impacting your score, depending on the lender. In this form, you'll need to explain how you plan to use the loan.
Once this form is complete, investors will look it over to decide if they want to fund your loan. Each lender offers different terms, rates and fees, so take your time to research and shop around. Once you have found a lender you'd like to work with, you will then fill out a loan application, which asks for information about your finances and employment status. Upon approval, you can expect to receive funds in just a few days. Be advised that your repayment will begin once the loan starts.
7 ways to improve your chances for a P2P loan
To get a P2P loan, you'll need to be well-prepared when you apply, ensuring you have all the correct documents to show the investors you are a desirable candidate. Here are a few ways to help get you started.
Know your credit score: If you don't already know what your credit score is, now is the time to check. Luckily, you can do so right away online without impacting your credit score.
Improve your credit history. Once you know what your score is, you can begin improving it by always paying your bills on time, paying down your debt and keeping a close eye on your credit activity. Improving your credit score can not only help get you a lender, but also a lower interest rate. And if you don't have any credit, it's important to establish it by possibly opening a new credit card and making monthly payments on time.
Have valid employment. Lenders typically want to see a borrower with a current employer for at least a year. And if you're a small business, lenders tend to cater to those or who have been around for at least two years. If you can hold off until these requirements are met, you may have a better chance to get approved.
Request a realistic amount. Be sure you only request the amount of money you need. Lenders often fund to those who are asking to borrow less, and borrowers with lower credit scores might not be able to take out a larger sum. Remember, borrowing money isn't free, so don't borrow more than absolutely necessary.
Provide the correct documentation. When applying for a P2P loan, you'll typically need information regarding your finances (which can be found on bank statements) and income (typically found on pay stubs). Some of the common eligibility requirements include a good credit score (although those with lower scores could still receive a loan but with higher rates), valid credit history, current employment status and no defaults on other loans.
Pay down your current debt. While a P2P loan can offer you a sizable amount of cash quickly, you are still taking on more debt. If you already have a lot of debt, it may be wise to pay it down before taking on more. Plus, this can help improve your credit score and provide a better rate.
Shop around. Take your time to find the right P2P marketplace that fits your needs. Do your homework to see what each investor offers and what it takes to get approved. Be sure to compare different loan terms to see which is best for you.
Where to get a P2P loan
There are a few things to think about when shopping for a peer-to-peer loan. Make sure the company does business where you live; not all offer loans in all 50 states. You'll also want to keep an eye on the fees, terms, and how long each company has been around to ensure they are reputable. These three companies below are some of most popular that offer P2P loans. Rates & Fees listed below are accurate as of the date of publishing.
LendingClub
Established back in 2007, LendingClub's headquarters are in San Francisco, but the company is digital and operates mainly online. Seeing the rates you qualify for only requires a soft inquiry, so your credit score won't be impacted. If you find a rate you like, you will need to apply for the loan by providing your Social Security number, as well as information about your income and employment. There is no minimum credit score requirement, but your rate could potentially be higher if you have a lower score. Applicants must reside in the United States and have a bank account to qualify.
Once approved, the money is usually in your account within seven days. Loan amounts can be as high as $40,000 with either a 36 or 60-month term and with fixed APRs. There are no prepayment penalties or application fees, but there is an origination fee of from 2.00% - 6.00% and a possible late payment fee (the greater of $15 or 5.00% of the unpaid payment) that can apply. There is also a $7 check processing fee if you pay your monthly installment by check.
Peerform
Peerform, stemmed by parent company Versara Lending, debuted in 2010 and is headquartered in New York City. Its online marketplace is easy to use, providing borrowers to connect with potential investors on the spot. Loan amounts can be from $4,000 to $25,000 with fixed ARPs. Your credit won't be impacted when determining if you qualify, but you will need a credit score of 600 or above to get approved. Other requirements include an email address and a bank account.
If you are accepted, you can receive funds anywhere from the next day to two weeks. An origination fee can range from 1.00% - 5.00%; there is also a $15 unsuccessful payment fee, a possible late payment fee of $15 or 5.00% of the unpaid amount (the greater of the two will be charged) and a $15 check processing fee. However, there are no application fees or prepayment penalties.
Upstart
Upstart was created by ex-Googlers back in 2014 and considers the borrower's education and occupation as big qualifying factors for its loans. But that doesn't mean you can necessarily be lax about your credit history. The average credit score for Upstart borrowers is 688, but anyone who applies must have a score of at least a 620. You will also need to reside in the United States (not available in West Virginia or Iowa), be employed full-time or have another income source, and have both an email address and bank account. There must not be any current delinquencies or bankruptcies on your record.
If you meet these requirements, you can check your rate by completing an online form that won't hurt your credit score, then apply for a loan. If you're approved, your money could arrive within one business day. Loan amounts are from $5,000 to $30,000 with 36 or 60 month terms. Origination fees are Up to 8.00%, along with a possible late payment fee of $15 (or 5.00% of the past due amount, whichever is greater) and a $15 fee if your check is returned. If you need paper copies of your records, you will be charged a $10 fee but there are no prepayment penalties if you want to pay your loan off early.
Peer-to-peer loans can be a good option for borrowers who need a large sum of money fast. However, this loan won't solve all of your financial problems. You'll acquire more debt by taking on a new loan and it will need to be paid off. Do your research beforehand to see if a peer-to-peer loan is a good choice for you.