15 Affordable Wedding Venues That'll Let You Say 'I Do' Under Budget
Published on: July 25th, 2019
Editorial Note: The content of this article is based on the author's opinions and recommendations alone. It may not have been previewed, commissioned or otherwise endorsed by any of our network partners.
The average cost of a wedding in the United States is nearly $34,000, according to The Knot, a wedding planning website. Nearly half of that amount goes toward the wedding venue.
Finding an affordable venue may allow you to pay for your wedding out of pocket. Luckily, you have many options for a cheap wedding venue that'll allow you to say "I do" in a picturesque setting.
15 cheap wedding venue ideas
When researching venues, be mindful that whatever price is advertised may not be your final cost. For example, some venues require you to provide food from their own kitchens or to cater food from a select group of caterers. This can significantly increase your costs depending on the markup, especially if you were hoping to use a cheaper alternative, such as a food truck.
Further, you may reduce your costs by choosing a place that can house both your ceremony and reception. You and your guests will not need to break up the party to find transportation to a second venue, either.
That said, here are 15 wedding venue ideas that may be an affordable option for you: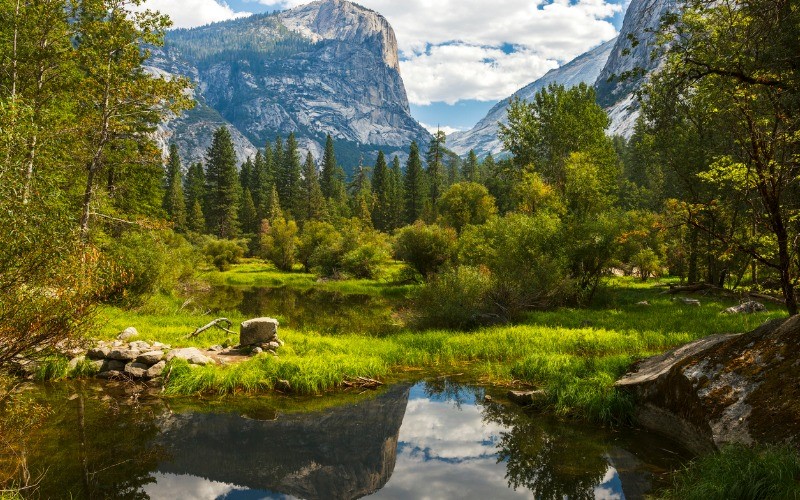 1. National park or landmark
For couples that love to be surrounded by nature, a national park is a perfect place to get married on a dime. Amazingly, it also makes for a cheap outdoor wedding venue. In many parks and landmarks, you will be able to host your wedding for a small fee. For example, you could host your wedding in Yosemite National Park if you obtain a permit for $150.
However, if you want a wedding at a national park, be sure to review policies and restrictions. For example, Yosemite has a two-hour cap for weddings and it doesn't waive entrance fees for any parties involved. It also requires an event monitor be present for outdoor activities involving 30 or more people; this comes with a $50 per hour charge.
2. Farm or estate
If you know someone who lives on a farm or estate, you could ask to host your wedding on their grounds. In return, you may offer to pay them similar fees they might charge if they rented out their property for a day or two, and include cleaning fees.
If you don't know anyone with a farm or estate, reach out to friends, family and coworkers. You may be surprised to learn that a family friend, for example, has a beachfront property and will let you marry on their land.
3. Zoo or aquarium
A zoo or aquarium can offer a completely unconventional experience to make your wedding day unique – and it could be a stunning backdrop for photos with its lit tanks of wildlife.
You might be able to find a zoo or aquarium to host you for between $225 and $1,500. However, the cost will vary a lot based on the popularity of the zoo and the accommodations that they can offer you. The Brooklyn Zoo, for example, has a reported starting price of $7,500.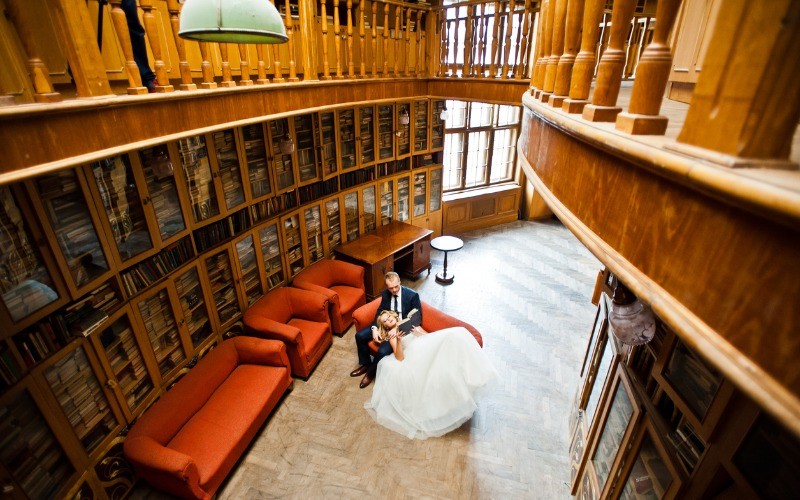 4. Library
For all of the bookworms out there, a library could be the best option for an inexpensive wedding venue. Generally, you can rent out the library for your event outside of normal business hours. In a smaller city, you may be able to snag a deal in the range of $500 to $2,000. However, some libraries are not affordable as wedding venues such as the New York Public Library which rents out at $60,000.
5. City hall
City hall might be an obvious option for an affordable wedding, but it can still be a good one. Typically, the cost of a city hall wedding ranges between $35 and $100 because you need to buy your marriage license.
Margaret Williamson, a wedding florist and owner of Leaf & Petal in New Orleans, says, "They're unique, super affordable, and offer an interesting backdrop to your wedding. The downside is that, like the museum, you can't stay for too long at all."
6. College or university
If you met in college, then it would be romantic to get married in the place where love first bloomed. Many colleges have venues to host events such as weddings on campus.
Of course, some colleges have wedding venues that are extremely expensive but many are affordable. For example, you could host your event on Florida State University's campus for between $200 and $1,500.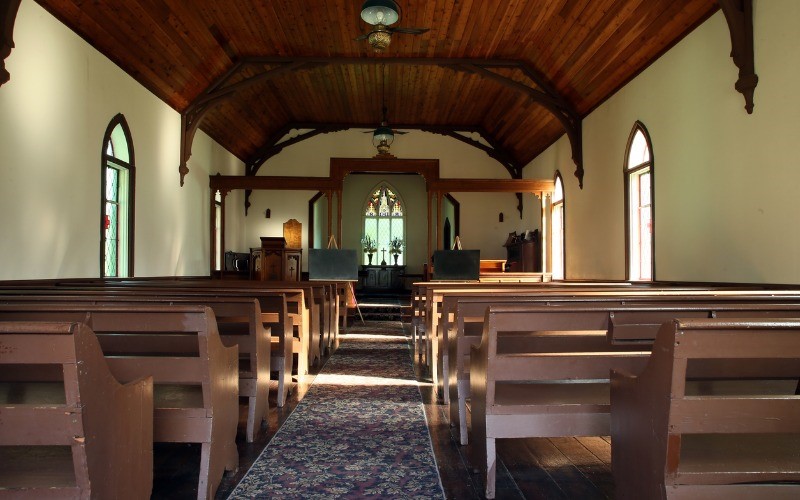 7. Local church
If you are active in your local church or would like a more traditional ceremony, then getting married at your church is another option for a low-cost wedding venue. In some cases, it is entirely free to have your wedding ceremony held within the church.
Sometimes you will be able to rent out the church hall for the reception at an affordable rate as well. In total, it could be affordable to get married in a church. This is especially true if you are active in your church community because they may want to help make your day special.
8. Your neighborhood
If you have a strong community atmosphere in your neighborhood, then organizing a block party with family, friends, and neighbors could be a fun option for those looking for a cheap outdoor wedding idea. The price of this venue is practically free unless your city requires a permit for large public events.
"The only downside is that it will be difficult to restrict the guest list, and that you'll need permission from your neighbors," said Williamson.
9. Sports field
If you and your partner enjoy sports, a local sport's field could be a convenient option with ample parking for family and friends. The sports field may be near canopies and barbecues you could rent out, if you'd prefer a potluck-style reception.
Of course, some fields will be more expensive than others. For example, you could rent out the field at your local park for just $20 an hour or ask to rent out the local high school field. You could also choose to rent out a professional sports field, but expect to pay much more.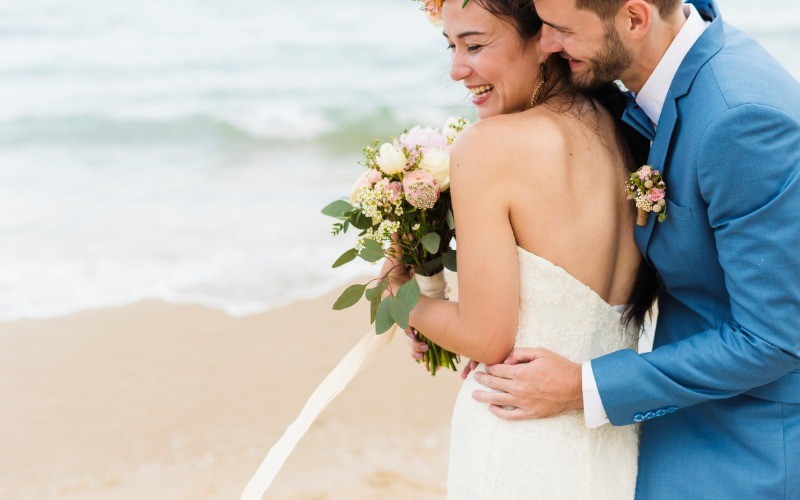 10. Public beach
If you are a mermaid at heart, then a beach wedding might be ideal. Luckily, most beaches are free to get married on. However, you should check with the local government to ensure that you do not need a permit for your special day. Huntington Beach in California has beach wedding permits for $110, with additional fees of $325 or $500 depending on your setup and guest count.
The downside to a wedding on a public beach is that random passersby will inevitably make their way into your wedding photos. Huntington Beach, for example, doesn't allow groups to cone, fence or rope off areas. You could combat this by hiring a photographer who is willing to edit passerby out of your photos — just be prepared to pay extra for the added work.
11. Bed and breakfast
If you host your wedding at a bed and breakfast, then it may be easier for guests who travel. Many bed and breakfasts have a small outdoor or indoor space for events. A way to cut costs even further is by choosing to make your event in the morning to coincide with the included breakfast.
You could score a great deal for around $2,500. Be prepared to hunt for a deal because not all bed and breakfast weddings are affordable, and not all bed and breakfasts are willing to host weddings.
12. Airbnb rental
If you are dreaming of an exotic locale for your nuptials, then Airbnb might be the perfect place to find your venue at an affordable price. For example, you could get married at a small castle in Italy for only $58 a night.
Shelley Grieshop, a wedding professional, says "prices at many dreamy regions of the world are much less than expected." Wherever your inner adventurer wants to get married, there is likely an affordable option on Airbnb. Plus, you'll have your wedding night accommodations taken care of. Just keep in mind that some guests you invite may not be able to afford the cost of airfare to attend.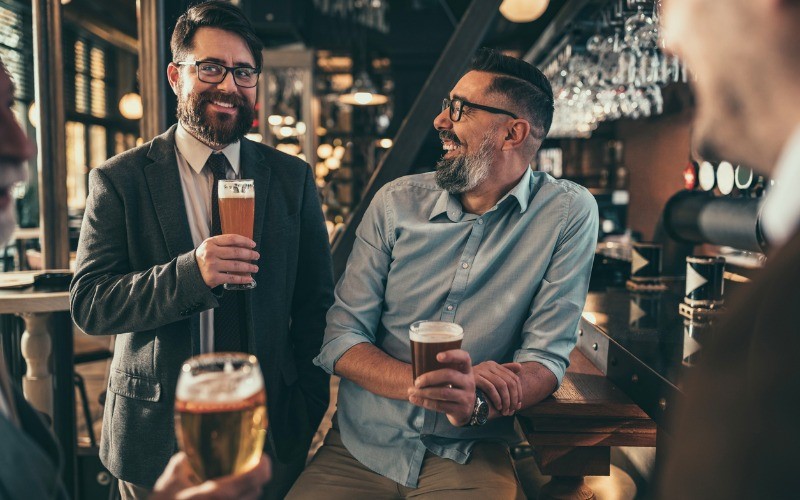 13. Restaurant or brewery
Many restaurants and breweries offer private rooms available to rent. If you keep your guest list short, then you may be able to host the reception in one of these private rooms. Generally, the cost of the room rental is related directly to the prices on the menu. If you choose a fancy restaurant, then expect to pay more than if you choose a local bar.
14. Nightclub
A nightclub is likely not the first thing that comes to mind when you think of a wedding venue. However, nightclubs can offer an affordable and contemporary venue as some offer private areas you can rent out. Just be sure that if you'll be around at night, that the typical music and noise level are appropriate for you and your guests.
You can expect a cost range between $500 to $2,000 and up. The cost will vary widely based on the location and the popularity of the club.
15. Nonprofit organization
Some nonprofit organizations have event spaces that they rent out for weddings. In some cases, the event space can be beautiful and affordable. For example, the Whitney Laboratory for Marine Bioscience at the University of Florida rents out its large meeting rooms with a view of a lagoon for just $675.
Not only will you save on wedding costs, but also support the activities of your favorite nonprofit.
5 cost-cutting tips when paying for your wedding
If your head is spinning with the possible price tags of your dream wedding, don't panic, you don't need to cut everything out of your budget to make it work. Here are some pointers to making your wedding affordable:
Don't be swept off your feet: Being engaged is an exciting time in your life. But as you explore venues and other elements of your wedding, don't let yourself make an expensive, emotional decision. If your "perfect" wedding venue is out of your budget, then it's not so perfect after all.
Pick your non-negotiables: Decide what you value most for your wedding day. Knowing what you're unwilling to negotiate on will reveal where you're willing to cut corners. For example, you may be willing to foot the bill for an open bar but are open to renting your dress or buying it secondhand.
Ask for help: In some cases, it might be appropriate to ask your parents for assistance with the wedding expenses. If they plan to invite a million and one of their closest friends, then you need to have a realistic talk about who will be paying for those extra guests.
Negotiate: Believe it or not, you can negotiate on pricing with vendors. If you found a photographer you like but their quote is too high, be honest about your budget and ask for a lower rate.
Use a rewards credit card: Here's an indirect way of saving money on your wedding. If you're paying for your wedding in cash, charge expenses to a rewards credit card, instead – and then pay off the balance before the due date. You'll avoid interest charges and rack up rewards that put money back in your pocket or that can be put toward your honeymoon.
Should I take out a loan to pay for my venue?
Ideally, no, you shouldn't go into debt for your wedding. Although your marriage should be celebrated, you should keep financial goals like buying your first home in mind. Wedding debt can be burdensome to newlyweds. That's why you should try, as much as possible, to set and follow a realistic wedding budget.
Weddings are costly, though, and you may not be comfortable emptying your savings to pay for yours. That's why wedding loans exist.
Wedding loans are personal loans under a different name. They're unsecured loans that require strong credit to qualify for the best rates and offer fixed rates on a fixed repayment term. That could make them a viable option for couples looking to repay their debt over a year or longer with predictable monthly payments.
There are other types of loans you may consider. If you own your home, a home equity line of credit or home equity loan could be an option. Though the rates would be lower than on a personal loan, you should keep in mind that these are secured loans that use your home as collateral.
The bottom line
Couples can have the wedding of their dreams without breaking the bank but it will take some creativity. You will need to think outside of the box to keep your wedding affordable.
At every decision on the way to your big day, you will have a choice between an expensive and an affordable option. If you are intentional about your choices and stay true to what matters to you, then it is completely possible to have a memorable wedding without a hefty price tag.
This article contains links to CompareCards, an affiliate of LendingTree.