How Does LendingTree Get Paid?
LendingTree is compensated by companies on this site and this compensation may impact how and where offers appear on this site (such as the order). LendingTree does not include all lenders, savings products, or loan options available in the marketplace.
How Much Will I Pay in Capital Gains Tax on a Home Sale?
Updated on: November 30th, 2020
Editorial Note: The content of this article is based on the author's opinions and recommendations alone. It may not have been reviewed, commissioned or otherwise endorsed by any of our network partners.
When you sell your home, the profit you make is called a "capital gain." The IRS looks at this as income, which means you might have to pay taxes on it. However, there are ways to avoid or reduce capital gains taxes when selling your home.
What is a capital gains tax on a home sale?
A capital gains tax is an assessment on the profit you make if you're selling a house for more than you paid for it. You may avoid being taxed on the capital gains on your primary residence — depending on how long you lived there.
The IRS typically classifies money you make from your home sale as a long-term capital gain, which means you owned the home for at least one year. If you're in the house flipping business, though, you may be liable for taxes on your short-term capital gains if the homes are bought and sold within the same calendar year.
How to calculate a capital gains tax on your home sale in 5 steps
You may think that your capital gain is as simple as subtracting what you originally paid for your home from the price you later sold it for. However, the actual calculation allows you to factor in home improvement costs and other home-selling expenses to determine your "tax basis," which may help reduce or even eliminate your tax liability.
Follow these five simple steps to determine whether you owe a capital gains tax:
1. Confirm the original purchase price.Dig up your old closing papers to confirm how much you paid. If you don't have those documents handy, you may need to check the tax return from the year you bought your home.
2. Calculate the tax basis in the property.Add or subtract the following from your original purchase price to figure out your tax basis:
Add the closing costs paid when you bought your home
Add the costs of home improvements you've made
Subtract any depreciation you wrote off
Subtract any insurance claims you were paid for damage to your home
3. Subtract the tax basis from the selling price of your home.Once you've calculated your tax basis, subtract it from the price you sold your home for. The difference is your profit, which tells the IRS how much you made on the sale before accounting for how much you spent to sell the home.
4. Subtract the costs of selling your home from your profit.The final step is to tally up the costs related to selling your home, including:
Staging and repair costs to get your home ready to sell
Commissions paid to real estate agents
Closing costs paid to title companies, property taxes and interest from your previous mortgage
The result is the capital gain from the sale of your home.
5. Determine if you're liable for a tax on your capital gain.You may have to pay a capital gains tax if:
You didn't own the home you sold as a primary residence for two of the last five years.
You took the capital gains exclusion for another home sold within the last two years.
You sold a home that wasn't your primary residence (such as an investment property).
Your capital gain was more than $250,000, and you're single or married filing a separate return.
Your capital gain was more than $500,000 and you're married filing a joint return.
2019 capital gains tax rates (for the 2020 tax filing year)
| Taxable income | Filing status | Capital gains tax rate |
| --- | --- | --- |
| < $78,750 | N/A | 0% |
| $78,750 to $244,424 | Married filing separately | 15% |
| $78,750 to $434,549 | Single | 15% |
| $78,750 to $488,849 | Married filing jointly or qualifying widow(er) | 15% |
| $78,750 to $461,699 | Head of household | 15% |
| Income higher than the limits above | Any filing status | 20% |
You'll pay the capital gains tax when you file your tax return. If the income you received from the sale of your home is taxable, you'll report it on Schedule D of your return.
The example below assumes you bought a home 10 years ago for $250,000, made $50,000 worth of improvements over the years, and paid $24,000 in real estate commissions plus $7,500 to fix your home up before it sold for $400,000. We'll also assume the home was your primary residence over the past two years.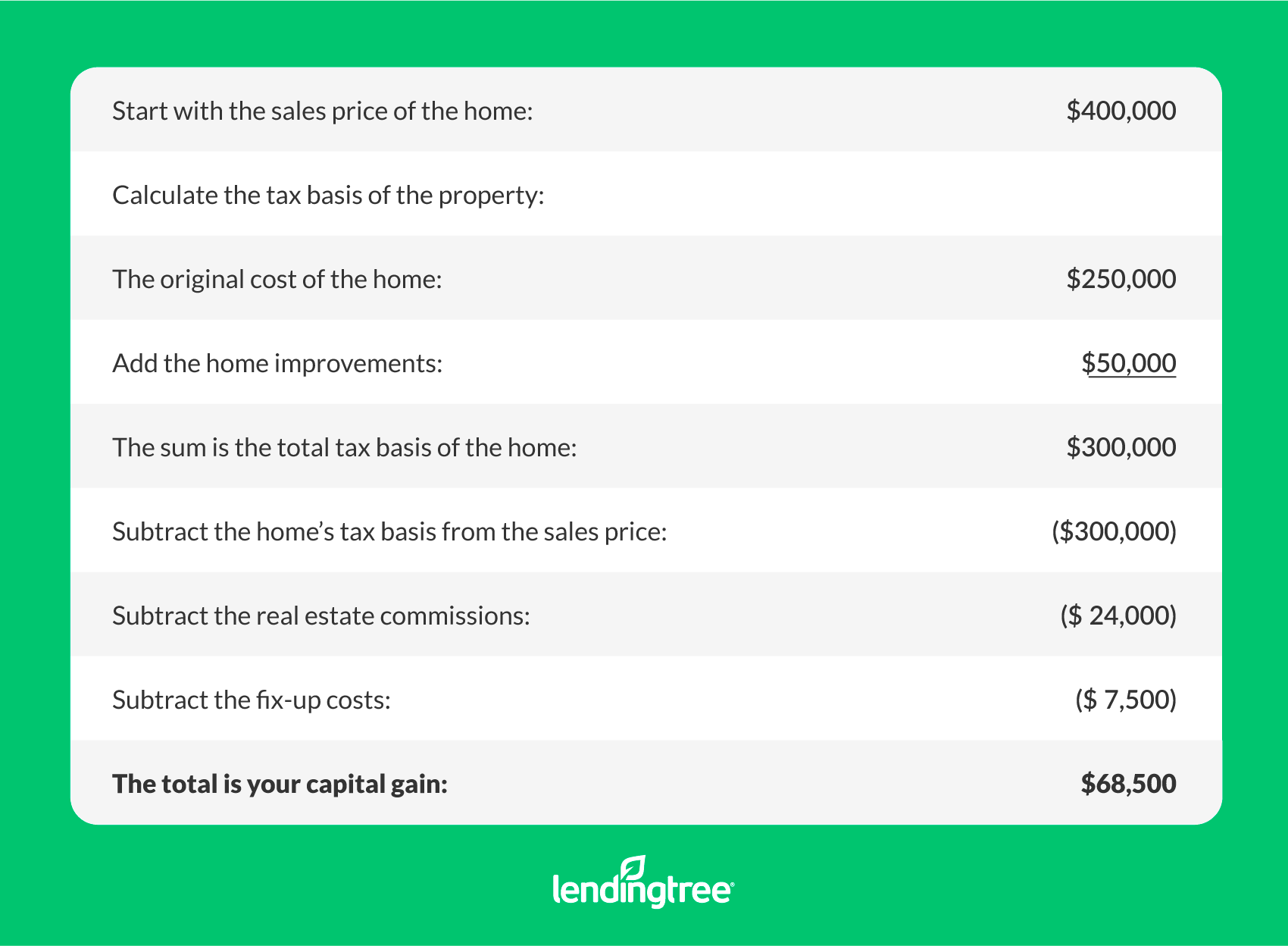 Because the capital gain is less than $250,000 and you owned the home as your main residence for the past two years, you won't owe any capital gains taxes.
How to reduce capital gains tax on your home sale
You may also be off the hook, or at least reduce your capital gains tax bill, if:
You made substantial improvements to your home over the years.
You recently moved into a nursing home and lived in the sold home one out of the last five years.
You were recently divorced and you and your ex-spouse lived in the home a total of two of the last five years.
You sold a second home that you sometimes lived in as your main home.
You were on extended duty for the government in the Uniformed Services, Foreign Service or the intelligence community.
You sold an investment or business property as part of a Section 1031 tax-deferred exchange.
A Section 1031 exchange is a special program that allows you to put off paying a capital gains tax on a property by trading it for another property similar to the one you're selling. There are specific time limits that have to be met, and it's wise to work with an exchange company so you understand the pros and cons of the program.
What files to keep for documenting home improvements
Keep the following organized for as long as you own your home to prove your tax basis to the IRS:
Receipts, canceled checks and purchase orders for all repairs and renovations
Paperwork for all projects that increase your home's value, add to its useful life or adapt the home for special uses
A list of the improvement costs, with a running total updated at least annually
Copies of all prior tax returns
Documents showing insurance reimbursement for any claimed losses