How Does LendingTree Get Paid?
LendingTree is compensated by companies on this site and this compensation may impact how and where offers appear on this site (such as the order). LendingTree does not include all lenders, savings products, or loan options available in the marketplace.
What Is a Homestead Exemption and How Does It Work?
Updated on: December 29th, 2020
Editorial Note: The content of this article is based on the author's opinions and recommendations alone. It may not have been reviewed, commissioned or otherwise endorsed by any of our network partners.
A homestead exemption is a special provision in a state's tax laws that reduces the property taxes you have to pay on your home. The rules vary widely from state to state, but if you qualify for a homestead exemption, it means you'll save money on your annual tax bill.
What is a homestead exemption?
Homestead exemptions help you save on your property taxes by reducing the value of your home subject to tax. Forty-five states offer some type of homestead tax exemption, according to the Lincoln Institute of Land Policy, and many states have multiple exemption programs. Connecticut, Missouri, Montana, Nevada and Washington are the five states that do not have a homestead exemption on the books.
Homestead exemptions by state vary widely: 25 states offer exemptions to everyone, while others offer exemptions only to people with disabilities or the elderly, or those who fall into other categories.
What are property taxes?
Property taxes are one of the primary ways local governments collect money, and are paid based on how much your home is worth. While cities and counties set their own property tax rates, the average homeowner paid $3,561 in 2019 for property taxes, or a tax rate of 1.14%, according to ATTOM Data Solutions. Homestead exemptions reduce the total amount of property value subject to taxation.
How does the homestead exemption work?
Homestead exemptions work in two primary ways: flat-dollar exemptions or percentage exemptions.
A flat-dollar homestead exemption reduces the taxable value of your home by a set amount, like $25,000 or $50,000. This style of homestead exemption has a greater impact on people with lower-value homes, as a $50,000 exemption on a $150,000 home is a much greater percentage than the same exemption on a $500,000 home.
Percentage exemptions, on the other hand, reduce the taxable value of a home by a certain percentage, like 15% or 40%. This has a bigger impact on homeowners with higher-value properties.
Homestead tax exemption example
Homestead tax exemptions reduce the taxable value of your home, meaning you pay less to the government.
Here's how it works: If your home is worth $200,000, and your local property tax rate is 1%, then you'd normally owe $2,000. But if the homestead exemption is $25,000, then you're taxed like your property is worth $175,000 — meaning you owe just $1,750.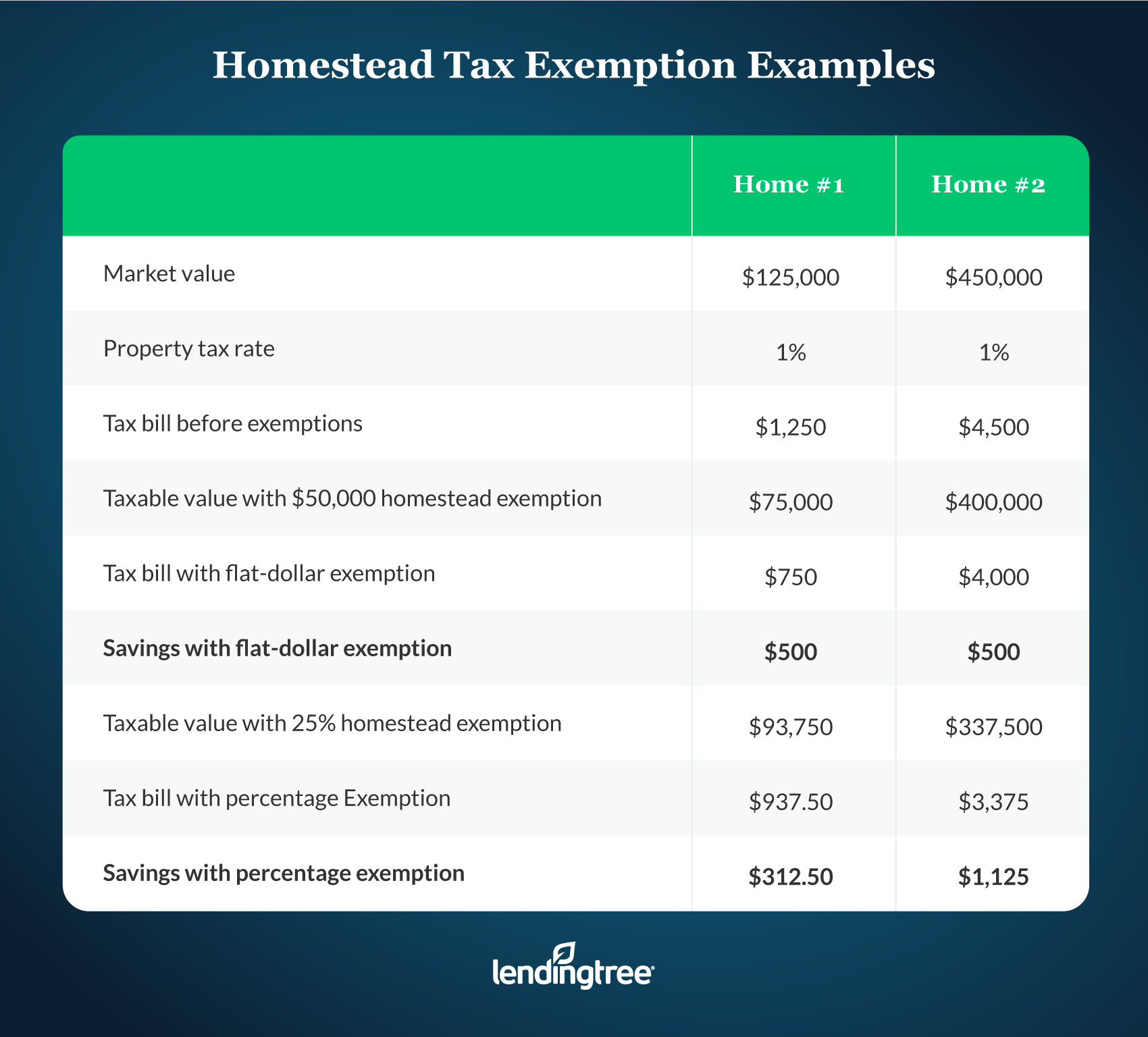 Who's eligible for a homestead mortgage exemption?
Homestead exemptions are generally available only on primary residences, rather than second homes or investment properties. Some states offer their homestead exemption applications to all homeowners. Other states restrict their homestead tax exemptions to certain groups, or offer greater homestead exemptions to people in certain categories, such as:
People with disabilities
Veterans, though often restricted to disabled veterans
Disabled former law enforcement officers and first responders
Types of homestead mortgage exemptions
Here are a few examples of homestead mortgage exemptions in individual states. (Note: The exemptions listed below are typically not the only ones the state offers.)
The homestead exemption in California is included in the state constitution, allowing all homeowners to reduce the taxable value of their home by $7,000.
The homestead exemption in New York is for veterans who have served in the U.S. armed forces and are homeowners. Depending on the type of service, several types of exemptions are offered. One of them, the Alternative Veterans Exemption, gives a 15% percentage exemption to veterans who served during a time of war, and is offered in more than 95% of the state's cities and towns.
The homestead exemption in Texas, called the General Residence Homestead Exemption, allows homeowners to reduce the taxable value of their homes by $25,000 for school district taxes. The state's Age 65 or Older or Disabled Persons exemption gives people in those categories an additional $10,000 exemption on the same taxes.
The homestead exemption in Florida allows homeowners to exempt up to $50,000 of the taxable value of their homes. The first $25,000 applies to all property taxes, which include school district taxes. Homeowners who have properties valued between $50,000 to $75,000 can deduct up to another $25,000 for non-school property taxes only. The state also exempts quadriplegic people and surviving spouses of first responders killed in the line of duty from all property taxes.
The West Virginia homestead tax exemption allows homeowners to exempt $20,000 in value from property taxes if they are age 65 or older or are permanently and completely disabled.
The Idaho homestead exemption allows people to exempt 50% of the taxable value of their home and up to one acre of land, for a maximum of $100,000 in exemption.
How to file for a homestead exemption
To get a homestead exemption, you typically have to apply for one, and every state has its own process.
Typically, you'll need to fill out a homestead exemption application with your county tax office. Many have application forms on their websites, which will ask you for the type of exemption you're applying for and information about your property.
If you're applying based on your age or a disability, you'll likely have to provide documentation — this can include:
A birth certificate or government-issued identification (such as a driver's license)
Disability paperwork from a state or federal agency
An affidavit from your physician
Homestead exemption applications are usually due by March or April of the year in which you intend to claim the exemption, though it could be as early as Dec. 31 of the year prior. Check with your county tax office. You may only need to file once, with the exemption renewing each year unless you move, but you should check your state's rules to be sure.
Other ways to lower your mortgage tax bill
Owning a home can offer numerous tax benefits. If your state doesn't offer a homestead mortgage exemption, or if you're looking for other avenues to save money, here are a handful of ways to reduce your property tax bill:
Appeal your tax assessment. Between 30% to 60% of the taxable properties in the U.S. are overvalued, according to the nonpartisan National Taxpayers Union Foundation. If you don't agree with your valuation, file an appeal with your local tax authority.
Deduct your mortgage interest payments. You're allowed to deduct interest paid on up to $750,000 in home loans on your federal taxes, including the mortgage on your primary residence and a home equity loan or a line of credit used to buy, build or improve your primary residence or a second home.
Deduct the value of your home office. If you're self-employed, you may be able to deduct $5 per square foot of your home office on your taxes.