How Does LendingTree Get Paid?
LendingTree is compensated by companies on this site and this compensation may impact how and where offers appear on this site (such as the order). LendingTree does not include all lenders, savings products, or loan options available in the marketplace.
When Is My First Mortgage Payment Due?
Updated on: April 24th, 2020
Editorial Note: The content of this article is based on the author's opinions and recommendations alone. It may not have been previewed, commissioned or otherwise endorsed by any of our network partners.
You're responsible for a down payment and closing costs upfront when getting a mortgage, which can amount to thousands being paid out at once. The good news is, you'll have some breathing room before making your first mortgage payment, which is due on the first day of the second month after you close on your mortgage.
Here's what you should know about when your first mortgage payment is due. 
When is your first mortgage payment due? 
Your first mortgage payment is due on the first day of the second month following your mortgage closing. 
Paying your mortgage differs slightly from making rent payments, which are typically paid for the month ahead. 
Mortgages are paid in arrears, which means you're paying for the previous month. The interest you owe accrues before you make a payment, and the portion of your payment that exceeds the interest owed is applied to your principal balance. 
Let's look at an example, using a $250,000 mortgage with a 30-year repayment term. First, we'll use LendingTree's mortgage calculator to determine the estimated monthly mortgage payment for this loan amount at a 3.75% interest rate. 
Loan amount 
$250,000 
Loan term 
30 years 
Interest rate 
3.75% 
Monthly payment 
(principal and interest) 
$1,157.79
The monthly payment amount is $1,157.79, according to the calculator. This payment amount is based on what's owed for principal and interest only; it doesn't account for property taxes, homeowners insurance and, if applicable, mortgage insurance. 
Next, we'll determine when your first mortgage payment is due, based on what was discussed earlier in this section. Let's say you're scheduled to close on May 15. This means your first mortgage payment after closing is due on July 1.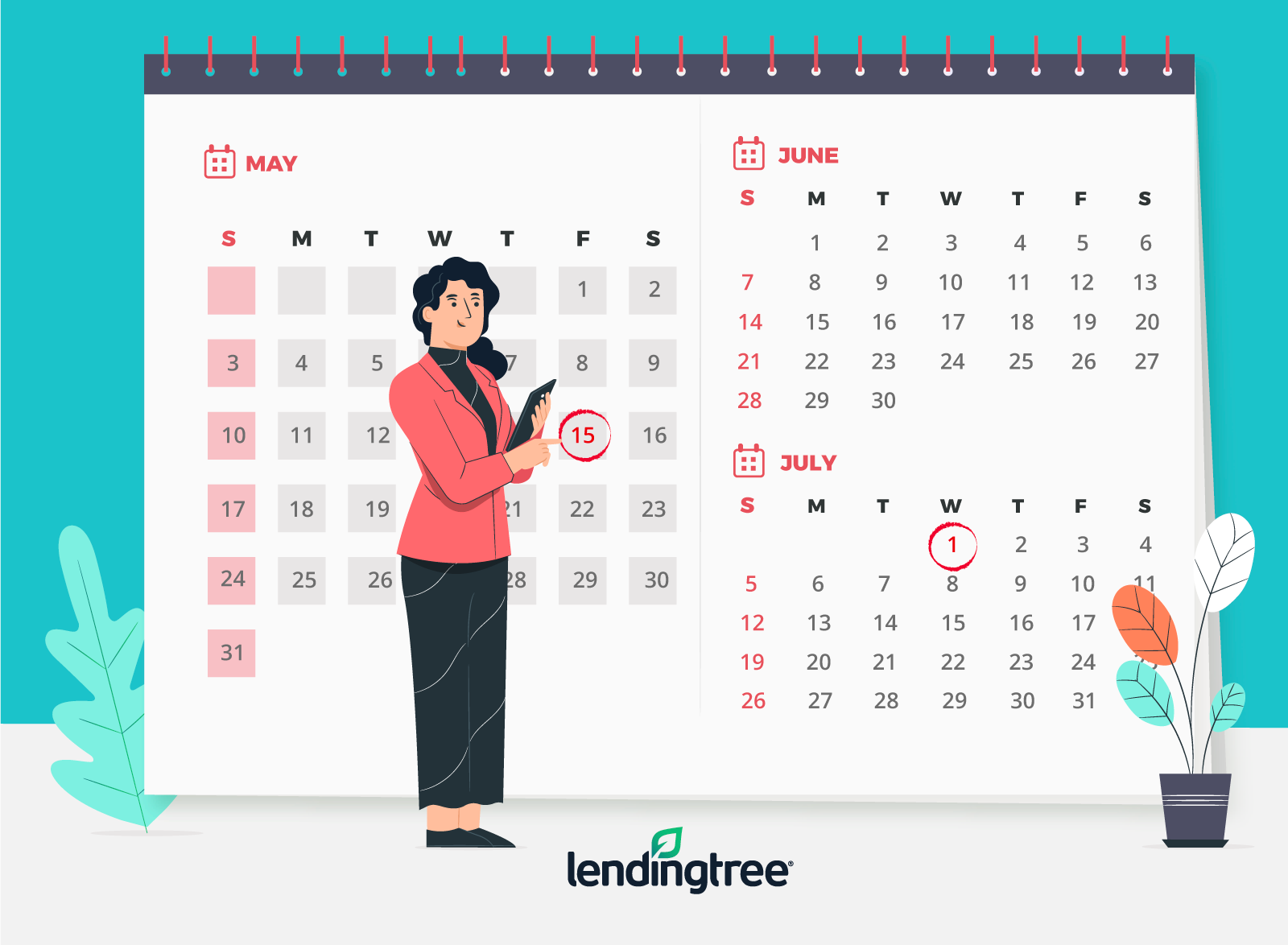 Why you don't pay your mortgage at closing 
You make a down payment and pay closing costs at your mortgage closing, but not a full mortgage payment. You're responsible for making an interest payment at closing, though. 
That's because interest starts accruing on your closing day and doesn't stop until your loan is paid in full. Page 2 of your closing disclosure has a line item for prepaid interest, which includes a daily calculation of the interest you owe on your loan from your closing date until the last day of that month. The daily interest amount is multiplied by the number of days left in the month to determine the total prepaid interest you'll owe at closing. 
Using the above example, you'd owe 16 days' worth of interest, from May 15 to May 31. 
When is the best time to close on a house? 
It helps to have some extra time after closing to replenish your funds before you're scheduled to make your first mortgage payment. You can also cut costs by being strategic about when you close on your home. 
In general, the best time to close on a house is near the end of the month. Here's why: 
You'll pay less in prepaid interest, because there are fewer days left for interest to accrue between your closing date and the last day of the month. 
You'll save on your overall closing costs because you won't owe as much prepaid interest, which means there's a bit less cash you need to bring to the closing table. 
Let's revisit our example above to illustrate how closing near the end of the month can save on interest fees. Remember, we're using a 30-year, $250,000 loan with a 3.75% interest rate. 
It's important to note that the daily interest cost is typically calculated using 30 days in a month, even when there are more or less days in a given month. 
Closing date 
May 15 
May 25 
Daily interest fees 
$26.04 
$26.04 
Prepaid interest fees 
$416.64 
$156.24 
Pushing back your closing date from May 15 to May 25 could save you about $260 in prepaid interest costs.
Keep in mind that closing delays can and do happen, so you may have to push back your closing date for unexpected issues, such as home inspection repairs, appraisal issues or getting final loan approval.