How Does LendingTree Get Paid?
LendingTree is compensated by companies on this site and this compensation may impact how and where offers appear on this site (such as the order). LendingTree does not include all lenders, savings products, or loan options available in the marketplace.
How to Get Out of a Reverse Mortgage
Updated on:
Content was accurate at the time of publication.
A reverse mortgage is a unique type of home loan that many homeowners turn to supplement their income as they age. But often, homeowners who choose this type of loan find themselves wondering how to get out of a reverse mortgage due to a change of circumstances or long-term plans. Fortunately, borrowers seeking an alternative to reverse mortgages have options.
How a reverse mortgage works
Reverse mortgages work differently from forward (or traditional) mortgages. With a forward mortgage, a homeowner borrows money to purchase a home and makes payments to the lender until the borrower pays off the loan in full. As a forward mortgage progresses, the portion of the home the borrower owns (home equity) increases, and the loan balance decreases.
But when a homeowner takes out a reverse mortgage, instead of making payments, they receive payouts from the lender based on how much equity is in the home. As a reverse mortgage continues, equity decreases and the amount the homeowner owes the lender increases. Interest and fees also accrue, causing the loan balance to grow.
The reverse mortgage payoff occurs when the last surviving borrower passes away, sells the property or no longer lives there. In most cases, homeowners need to sell the home to satisfy the loan. The most common type of reverse mortgage is a
Home Equity Conversion Mortgage
(HECM), which is backed by the Federal Housing Administration (FHA).
How to get out of a reverse mortgage: 5 options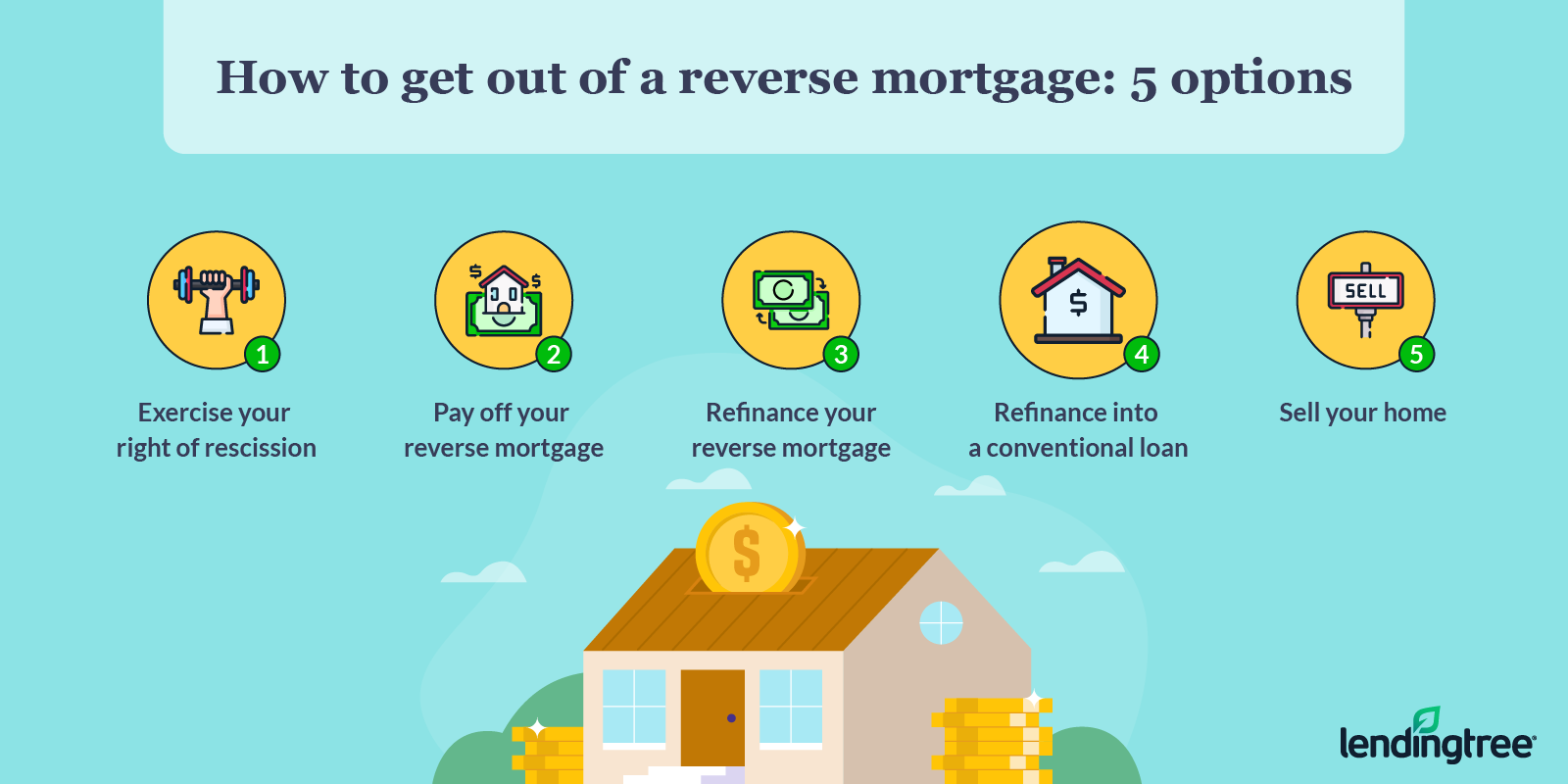 If you're seeking an alternative to reverse mortgages or your situation changes and your home will no longer be your primary residence, you have a few options. The right choice for you depends on how long ago you took out the loan and your overall financial situation.
Here's how to get out of a reverse mortgage.
1. Exercise your right of rescission
If you experience buyer's remorse almost as soon as you sign the paperwork and find yourself asking how to stop a reverse mortgage, you could take advantage of the "right of rescission" period.
"The right of rescission is a consumer protection that allows the borrower to change their mind for any reason, without penalty, up to three days after signing the loan agreement," explained Steve Irwin, president of the National Reverse Mortgage Lenders Association (NRMLA). "Borrowers learn about this option early in the loan process during the required counseling session that takes place prior to completing the loan application. They're reminded of their right of rescission during the loan closing as well."
To cancel your reverse mortgage via this option, you'll need to inform your lender in writing. The lender has to return any money you've paid for the financing within 20 days.
2. Pay off your reverse mortgage
A common question borrowers have is, "Can reverse mortgages be repaid?" The answer is, yes, paying off your loan is one way to avoid potential reverse mortgage nightmares if things are heading in the wrong direction.
"A borrower who wishes to repay their reverse mortgage loan may do so without penalty at any time," said Irwin. "They are only responsible for repaying the balance of the loan, which is the amount borrowed plus interest."
Figuring out how to pay back a reverse mortgage could be complicated. Borrowers would typically need to access their own funds or seek another form of financing to cover the accrued interest.
3. Refinance your reverse mortgage
Another option is refinancing out of a reverse mortgage into one with better terms. For example, if interest rates have decreased significantly since taking out your reverse mortgage, or your home's value has increased, and you would qualify for a larger loan amount, it might benefit you to refinance your reverse mortgage. With this path, a new reverse mortgage loan replaces the current one.
4. Refinance into a conventional loan
If you no longer need the additional income provided by a reverse mortgage and can afford to make a monthly mortgage payment, you can refinance your reverse mortgage with a conventional loan. You might consider this path if you're looking to preserve the equity in your home and avoid potential reverse mortgage problems for heirs.
This option might not be feasible if you took out the reverse mortgage because you needed additional income to cover your monthly mortgage expenses or pay for home repairs.
5. Sell your home
Another way to get out of a reverse mortgage is to sell your home. The proceeds of the sale usually satisfy the loan even if the reverse mortgage is underwater. In that case, borrowers typically sell the home for the lesser of the loan balance or 95% of the property's appraised value. Because HECMs are insured by the federal government, the mortgage insurance built into the loan takes care of the remaining balance.
What to do if you're facing reverse mortgage problems
From not fully understanding how a reverse mortgage works to facing unexpected changes or needs, borrowers often have to figure out how to get out of a reverse mortgage. Consider these steps should you run into reverse mortgage problems.
Seek help from a HUD-approved counselor
"Borrowers with concerns about their reverse mortgage loan should speak with their reverse mortgage counselor," Irwin said. In addition to discussing the loan repayment process, the counselor can also run a benefits checkup to determine if the borrower is eligible for federal or state resources, such as SNAP or other government programs."
Review your long-term plans 
Know what goals you want to prioritize, such as whether you wish to remain in the home long term or pass the property to your heirs.
Consider the costs 
Keep in mind, any course of action you take will come at a cost. Refinancing your existing loan with either a conventional mortgage or a new reverse mortgage will entail closing costs.
Communicate with your lender 
At the first sign of trouble, reach out to your lender to discuss the reverse mortgage problems you are facing.
Make partial payments 
Even if you can't afford to repay your reverse mortgage in a lump sum, you might consider making partial prepayments to reduce the amount owed later on. Most reverse mortgages allow partial prepayments without charging a penalty, but be sure to talk to your loan servicer about your prepayment options and confirm how those payments will be applied.
Submit a complaint 
If you run into reverse mortgage problems or suspect you may be a victim of fraud, submit a complaint to the Consumer Financial Protection Bureau.