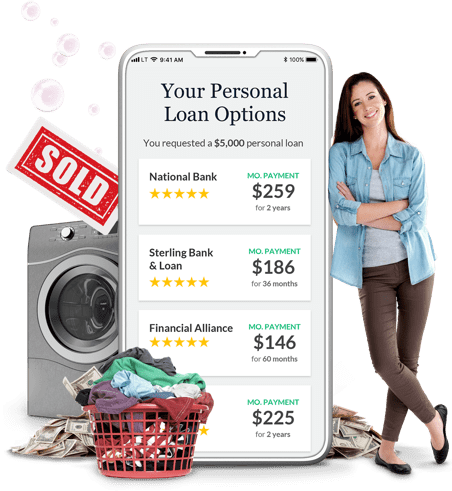 Signature Loans
Get personal loan offers from up to 5 lenders in minutes
Similar to an IOU backed by not much more than your word, signature loans are a popular form of borrowing money that is becoming more accessible in the digital age.
If you need money for an expense that you can't afford, you may consider turning to a personal loan like a signature loan. Signature loans are easy to take out and budget for repayment, making them exactly the type of loan you need when you're in a financial bind.
Who should consider a signature loan?
A signature loan can be used for various different purposes. You can use a signature loan to consolidate some of your debt in order to pay a lower interest rate and save money. You can also use this type of loan for home improvements if you can't get a home equity loan, or to purchase a new vehicle if you can't get approved for a regular auto loan.
Some auto loan financing companies may charge a really high-interest rate depending on your credit, so you might be able to save money by getting a signature loan instead.
How to apply for a signature loan
Apply

To apply for a signature loan, you can either apply in person, at a bank or financing institution, or online, making it easier to compare loan terms and rates.

Complete Application

You must complete the application form and submit qualifying documents, including proof of income. You need to provide your employer information and show pay stubs, W-2s, tax return forms, or even bank statements.

Credit Check

Quick Process

The underwriting process is usually quick since a final decision can be made automatically.
It's important to realize that any product advertised as a signature loan, unsecured loan, or personal loan with no credit check is not truly a signature loan. It is most likely a cash advance, title loan, or payday loan with very high fees and interest rates — and it should be avoided.
Signature loan vs. secured loans
A signature loan is a type of unsecured loan. When you're borrowing money, you'll usually need to make a decision between selecting a secured loan and an unsecured loan. Here are some key differences between these two types of loans:
SIGNATURE LOANS
Not secured by collateral like a home mortgage or car loan

Typically shorter loan term

Interest rate tends to be higher even if you have good credit

Loan amount tends to be smaller since you don't put up collateral
SECURED LOANS
Secured by using collateral like your home, car, or other personal property

Can have a longer loan term

Interest rate tends to be lower than signature loans depending on your creditworthiness

Loan amounts can be larger since loan will be backed by collateral
Featured Personal Loan Articles