How to Create an Eco-Friendly Business Model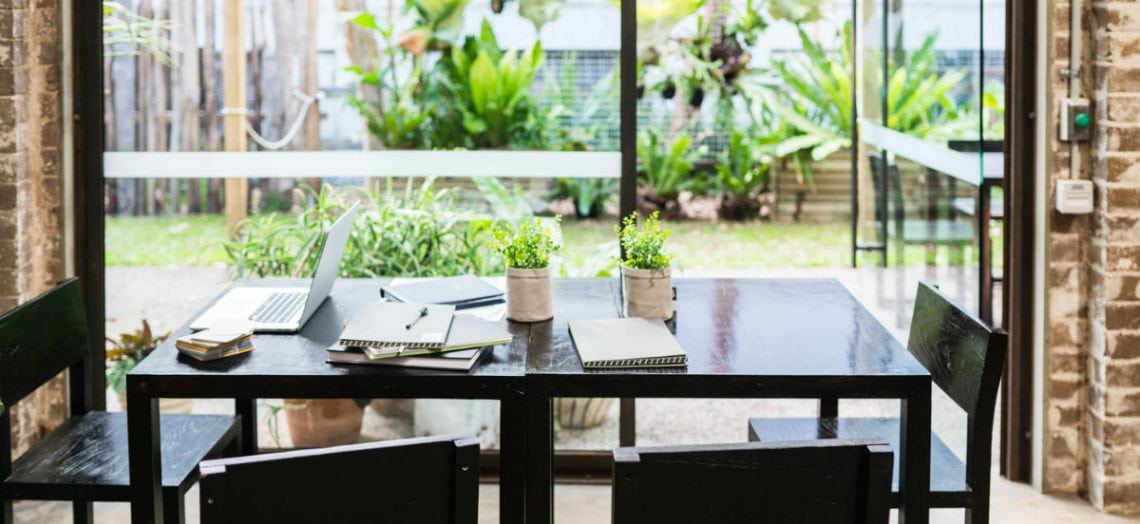 Many companies choose green initiatives for the tax benefits, but focusing on the tax benefits alone when selecting sustainable practices might be costlier in the long run.
Tom Bartnik is a certified urban planner and LEED accredited professional and director for the Penn State Center Pittsburgh. With more than 25 years of experience in sustainable community development, he's an expert on green businesses. To get the heftiest boost to your bottom line, Bartnik advocates an all-inclusive approach when it comes to eco-friendly, small business initiatives.
What is an eco-friendly business?
The Green Business Network was the first in the country to connect socially and environmentally responsible businesses. The organization certifies a company as green if it uses environmentally responsible ways to operate and build and maintain facilities, source raw materials, manufacture products and take them to market.
The United States Department of Agriculture also certifies green businesses. Specifically, farms or food suppliers can label their products as organic if they meet certain standards. Although it might be costly to switch to an organic model, the advantages of doing so include premium pricing, access to new markets, funding, technical assistance through networks, access to supply chain networks, and fostering customer goodwill by supporting local economies and "making a difference."
Go all-in with green practices
Bartnik's experience is that it might not be a cost-effective strategy for a small business to select one or two green initiatives for its tax benefits. Instead, an across-the-board green strategy that touches all aspects of operations, consumers and the supply chain will have a much broader reach and yield better long-term results.
"The bottom line is that we recommend businesses take a more holistic approach to sustainability because cherry-picking particular practices can cause you to miss out on overall cost efficiencies," Bartnik said.
For example, a company might decide to use solar panels to benefit from the 30 percent federal tax credit, but that same company might overlook the benefits of networking with other green local companies and groups. Joining a local community group could provide access to local suppliers and contractors who would install the panels with a significant trade discount.
To illustrate the benefits of a holistic approach to going green, Bartnik references two restaurants in Pittsburgh that have followed such an approach and had great success: The Porch at Schenley and the Pittsburgh Juice Company.
The Porch and the Pittsburgh Juice Company are both advocates of the slow food movement, a philosophy that dictates restaurants use locally sourced ingredients and raw materials. These types of initiatives are labor-intensive and expensive, but consumers are willing to pay more for fresh, local food because it's more nutritious and supports the local economy.
Tax benefits for eco-friendly businesses
Both state and the federal governments provide financial incentives to eco-friendly businesses. From 10 percent to 30 percent tax credits, rebates or sales tax holidays are available if a business purchases energy-efficient appliances or makes improvements that will save energy.
A federal tax credit of 30 percent is available to small businesses that install, develop, and/or finance solar energy property. For a factsheet on this tax credit, visit the Solar Energy Industries Association website.
A federal tax credit of up to $7,500 is available for all-electric and plug-in, hybrid cars.
Federal tax credits are available for lighting or hot water systems that reduce power use by at least 50 percent. A tax deduction of up to $1.80 per square foot is available to owners or designers of commercial buildings or systems that save at least 50 percent on their heating and cooling energy. Business owners can take partial deductions of up to 60 cents per square foot for the building envelope, lighting, or heating and cooling systems.
There is bonus depreciation of 50 percent for qualified reuse and recycling machinery and equipment including the software you need to operate the equipment.
Some local utilities might also have rebate programs for energy efficiency initiatives. For a list of state policies and incentives, visit the Database for State Incentives for Renewable Energy and Efficiency website.
Grants and/or loans from $1,500 to $500,000 might be available for green energy projects through the Rural Energy for America Program if you use the power produced in a rural farm or business. And you might be able to depreciate some equipment for tax purposes.
The U.S. Small Business Administration offers financing for construction and retrofitting existing structures under the SBA 504 loan program.
For additional information on tax incentives, see this IRS article on Energy Incentives for Businesses in the American Recovery and Reinvestment Act.
11 ways to operate a greener business
Tax benefits are one advantage of a greener business, but higher price points are another. Research shows that consumers are willing to pay more for sustainable products and services. Here are 11 ways to operate a greener business with bigger returns:
1. Use eco lighting.
Eco lighting can decrease your energy bill and improve your credentials as a green business. Choose LED, which can last up to 100 times longer than incandescent bulbs; CFL light fittings, which are cheaper but harder to recycle than LED lights; or halogen lights.
2. Use programmable thermostats.
A one-degree reduction in heating or cooling can save 10 percent on utility bills. A programmable thermostat, such as the Nest, means that no one needs to remember to turn down the heat or air conditioning when they leave for work.
3. Have an energy audit.
Audit consultants use infrared wall scanning to identify insulation gaps. They can determine whether solar or wind energy are options, if there is carbon monoxide leakage or drafts, or if there's a moisture or mold problem. An energy consultant can also educate you on how to conserve water or reduce groundwater contamination.
4. Recycle and reduce paper and plastic.
Plastic straws are one of the most littered plastic items that find their way into waterways, harming fish and wildlife. The EPA encourages recycling paper and suggests restaurants restrict or eliminate plastic straws.
5. Purchase recyclable office supplies.
Binders, clipboards and file folders are all available in sustainable materials. The EPA provides recommendations for office products under the Comprehensive Procurement Guideline program. To find catalogues of sustainable products, check out Staples and other office supply companies.
6. Use solar power.
The cost of installing solar systems has come down significantly, from around $9 per direct current watt in 2006 to $4 per WDC or below in 2016. Self-supplied solar is now a viable and sustainable option for small businesses, too. Solar power systems include moving skylights and rooftop photovoltaic cells (PVC).
7. Use a geothermal heat pump.
Use a qualified geothermal heat pump installer, and make sure the unit has an Energy Star Label, which indicates it meets the Energy Star standards. The cost of installation is typically higher than conventional systems, however, because geothermal systems provide more energy per unit consumed than conventional systems.
8. Use green building supplies.
Sustainable materials for construction are typically made from reused or recycled materials. Carpets, insulation, drywall, kitchen countertops, bricks, lumber, flooring and windows are all available in sustainable forms. To find salvaged building materials, visit these websites: the Building Materials Reuse Association, Habitat for Humanity, PlantReuse.com and AmericanBuilderSurplus.com.
Bartnik suggests contacting local trade organizations and associations for local sources. This table from the EPA is a great starting point and useful resource for finding organizations that offer resources and services related to reducing and recycling.
9. Use refurbished technology.
According to the EPA, "One metric ton of circuit boards can contain 40 to 800 times the amount of gold and 30 to 40 times the amount of copper mined from one metric ton of ore in the United States."
Refurbished electronics work just as well as new products because they've been updated and repaired for resale. Recycling used electronics returns valuable materials such as gold, copper, glass and aluminum to the supply chain. Small businesses can buy refurbished electronics from Amazon Renewed, Best Buy, JemJem.co, Newegg, Refurb.io, and Govdeals.com. Before you buy, however, find out who has done the refurbishing work and what quality checks they used.
10. Work only with other green businesses.
By doing business with others in your network, you can benefit from their knowledge and trade discounts. The American Sustainable Business Council lists three affiliated organizations that can help with networking for green businesses: Green America, Green Business Networking and Living Economy Salon. Your local city council will also likely list green businesses and potential partners in your area.
11. Donate to charities.
Donations to eligible charities can qualify as a tax deduction, and they also boost your company's philanthropic reputation. Research all charities to avoid scams and follow this charity checklist from the Federal Trade Commission. To find an eligible charity, use this search tool from the IRS and visit its website for more information (and required forms) for claiming donation deductions.
The bottom line
The benefits of going green for small businesses don't end at tax deductions. In fact, choosing to use these practices purely for their tax benefits could be detrimental to your bottom line, according to Bartnik.
Broad sustainable initiatives send a strong marketing message that resonates with consumers. Earning credentials as a green business will appeal to consumers' growing preferences for ethical and sustainable business practices. The result is a healthier environment, a stronger local economy and a boost to your bottom line.