How to Shop for a Loan Officer
Published on: May 22nd, 2019
Editorial Note: The content of this article is based on the author's opinions and recommendations alone. It may not have been previewed, commissioned or otherwise endorsed by any of our network partners.
You've probably heard that you should always shop around for your best deal on a mortgage. But what about shopping around for a loan officer?
After all, you're entrusting your loan officer with your entire financial profile and counting on them to provide you with accurate information about a life-changing decision. Then you're committing to working with them for at least the three to six weeks it will take to close your mortgage. It's a good idea to spend some time getting some background on the loan officers you're evaluating, regardless of whether you found them through online loan-shopping, or were referred to them by a friend or family member.
A good loan officer can make the complex mortgage approval process seem easy, and help you navigate around any roadblocks that might pop up. A bad loan officer could not only delay in your loan approval, but maybe even cost you thousands of dollars over the life of your loan if you aren't matched up with the best program for your mortgage needs.
We'll discuss the following in this guide to how to shop for a loan officer.
What is a loan officer?
A loan officer is also known by the more formal name of mortgage loan originator. This person takes a residential mortgage loan application, then offers or negotiates terms of the mortgage in exchange for compensation. In simpler terms, a loan officer is someone who helps you fill out a loan application, helps match you with your best program and rates based on the information you provide, and gets paid a percentage of the loan amount for doing so.
Loan officers will also answer questions you may have about the paperwork you receive and clarify the costs and benefits of the different mortgage programs you may be qualified for. They keep track of all of the moving parts of a mortgage to make sure you close within all the deadlines associated with your transaction.
A loan officer will work with real estate agents, the title company and attorney who prepare the paperwork, the appraisal company hired to verify the value of your home, and a number of other mortgage professionals involved in your final loan approval.
How loan officers are trained
Any loan officer that helps place more than five loans per year is required to have a license with the Nationwide Mortgage Licensing System. In order to get this license, a loan officer has to take at least 20 hours of approved courses, pass a national licensing test with a score of at least 75%, and pass a background check that includes FBI fingerprinting to confirm that the candidate has no criminal history of financial crimes.
There is no specific college degree program for loan officers. They often start working either as an assistant to an experienced originator, or as a loan processor.  A mortgage loan processor collects documentation and prepares the for review by an underwriter for final approval.

Where you can find loan officers
There are a number of different ways you can find a loan officer, including a referral from a real estate agent, going to your local bank, or trying a comparison website. We'll discuss some of the most common ways to find loan officers and what you can expect from each.
Different lenders may have different names for their loan officers, such as mortgage loan originator, mortgage banker, home loan consultant, home loan specialist, or senior loan officer.
Ask your friends and family
Over 30% of people said they chose their most recent mortgage lender by asking for a referral from a friend or family member, according to a 2018 survey by Ellie Mae. If you have a friend or family member who recently purchased a home and they had a good loan experience, they'll probably have a name and phone number to pass on to you.
Use an online lender
According to the same Ellie Mae survey,  21% of people reported that searching online was how they found their most recent lender, making it the next most popular source for loan shopping. Customers can often get basic information about the mortgage process and various programs from lender websites without the pressure of having to fill out a loan application.
Once they're ready, future borrowers can fill out an application online and begin getting more detailed information. The quickest path to potentially getting calls from several different lenders on the same day is to try a comparison website. This is beneficial for several reasons.
First, you'll be able to get a feel for each loan officer from speaking to them on the phone. A variety of factors impact the rate and costs you are quoted, and some of the best loan officers will ask a lot of questions before they start quoting rates.
Second, you can often find reviews of all of the lenders that contact you on the same site, so you don't have to do the extra legwork of looking up the website and background that will be required if you call or inquire with one online lender at a time.
Be wary of any loan officer who immediately quotes you a rate without asking you questions about your income, FICO score or time horizon. You should be answering at least a half dozen questions in the first few minutes or so if the loan officer want to give you an accurate rate quote. We'll cover those in the questions to ask your loan officer section below.
Get a referral from your realtor
Many first-time homebuyers rely on real estate agents as a primary source of information for which mortgage company to choose, according to the Consumer Financial Protection Bureau. Real estate agents are often the first person a homebuyer makes contact with when they are considering buying a home, and loan officers work to develop relationships with agents over the years to help their clients with financing.
In some cases, mortgage companies actually enter into marketing agreements with a real estate company, or station an "in-house" loan officer in the real estate agent's office to help pre-qualify buyers before they look at homes.
However, make sure you still do your homework. Even if you do get a realtor referral, it's a good idea to shop the interest rate you are quoted to make sure it's competitive.
The LendingTree Rate Competition Index indicates that borrowers who get quotes from at least five different lenders tend to save thousands of dollars over the life of a loan, so it could be very costly to just rely on one or two resources when you're mortgage rate shopping.
Go to your local bank
Most banks offer mortgage products, and it may be worthwhile to find out how your bank competes on home loans. If you have a significant amount deposited with your bank, or are willing to consider moving a large sum over, you may get an additional discount on your interest rate.
Institutional banks tend to be better at helping mortgage customers with very strong credit, plenty of income, and a significant down payment. If you have bumps in your credit history you may want to try a mortgage bank or broker in your area.
Find a local mortgage bank or mortgage broker
You may want to Google mortgage banks or mortgage brokers in your area, and check out their websites to see what they specialize in. This may be especially beneficial if you know your loan might be hard to get approved.
Local mortgage banks and brokers tend to have a lot of different options for a wide variety of scenarios, so be sure you come ready with documentation like tax returns or bankruptcy papers if you want to be as efficient as possible. Sitting down with a local loan officer in person may give you a better idea of what you'll need to do to get approved, in comparison to applying to online lenders, or going to a local bank.

Initial questions to ask your loan officer
While getting interest rate and cost information is your primary goal when you are rate shopping, loan officer shopping requires some extra consideration. The person you choose will be representing you in one of the biggest purchases you'll ever make, securing one of the largest debts you're likely to have in your lifetime.
Next we'll cover some questions you should ask each candidate before you make your final choice.
How much experience do you have?
Most loan officers learn the ropes of mortgage origination on the job. Some may start out as loan officer assistants, working with an experienced loan officer.
There are a lot of moving parts to a mortgage, and while you may only see the mechanics of the closing costs, interest rates and the documents you need to provide to get approved in the process, behind the scenes a lot is going on. A loan officer often handles communications on your behalf with a number of different people involved in your loan approval, including the title company, your agent and the seller's agent, the credit reporting company, the appraisal management company, the title company and any attorneys involved in your transaction.
Depending on how complex your loan is, your loan officer may be working with management to get your loan manually approved with an agency like Fannie Mae, Freddie Mac, Federal Housing Administration or Veterans Administration. The more experienced the loan officer, the more likely you'll overcome any obstacles along the way.
How long have you worked for this company?
This is an important question if you work with an institutional bank loan officer who is new to originating loans. Many banks will promote employees who have worked with their mortgage department to loan officers, and an employee who has worked as a teller for five years referring business to loan officers within the bank probably has a fair amount of practical knowledge about the mortgage process.
Don't be too worried if a loan officer has worked at several different companies over the last few years. Mortgage lenders tend to experience a higher level of turnover, and new lenders are always popping up with specialized niches to give loan officers a competitive edge with some new technology, marketing system or specific niche.
Why should I choose your company?
Listen to the answer to this question to see if it extends beyond just rates and fees. Most lenders will tell you they have the best rates and fees on the market, but not all can offer things like 14-day closings, rate locks even before you've found a property or a specialty in poor credit or self-employed loans.
Their answers should reflect that they are listening to your questions. For example, if you have excellent credit and a 20% down payment, the loan officer shouldn't be telling what a great FHA lender they are.
What are your work hours?
Real estate sales often occur outside of normal 9 a.m. to 5 p.m. working hours. Your agent may call you with information about a new house that was just listed and is a perfect fit for your wants and needs, and encourage you to view the house after work.
If there are a lot of competing offers in a neighborhood you're interested in, you may need to make an offer right away, and if you haven't been pre-qualified, you'll want to be able to reach a loan officer. Institutional bank loan officers often only work during normal banking hours, while mortgage bankers and mortgage brokers usually have an after-hours cell phone to manage pre-approval letters in the evening and on weekends.
Because most sellers won't even accept an offer without a pre-approval, you may miss out on the home of your dreams if you don't have access to a loan officer after-hours.
How will we be communicating with each other?
There will be a lot of things to discuss during the loan process, and the bulk of those communications will be handled by phone. There will be plenty of emails, but it's very hard to communicate the pros and cons of a mortgage without speaking over the phone to walk through any questions.
It's also easy for emails to be misunderstood or for details. It may take an extra 10 minutes to go through the details on the phone, but it will be time well spent to avoid any miscommunications by email or delays later in the process.
If you're in the baby boomer generation and prefer a face-to-face meeting, take heart — according to the previously-mentioned Ellie Mae report, more than 22% of borrowers still prefer to communicate in person. This won't be possible if you choose an online lender, so if you like to work in person with a loan officer, you'll want to stick to a local bank or nearby mortgage bank or broker for your home loan.
Do you specialize in purchases or refinances?
Some lenders specialize in particular loan programs or focus on new purchase loans over refinances, or vice versa. This often helps them provide more competitive rates, terms and service for their specialty.
This often shows up in how lenders market themselves. Some of the best rates on refinances are usually only accessible for 30 days, so a lender quoting you a 60-day turn time for completing a refinance may not be getting you the lowest possible rate. If you notice that the lender you are researching brags more about their refinance rates than the purchase turn-around times, you may want to avoid them for a purchase transaction.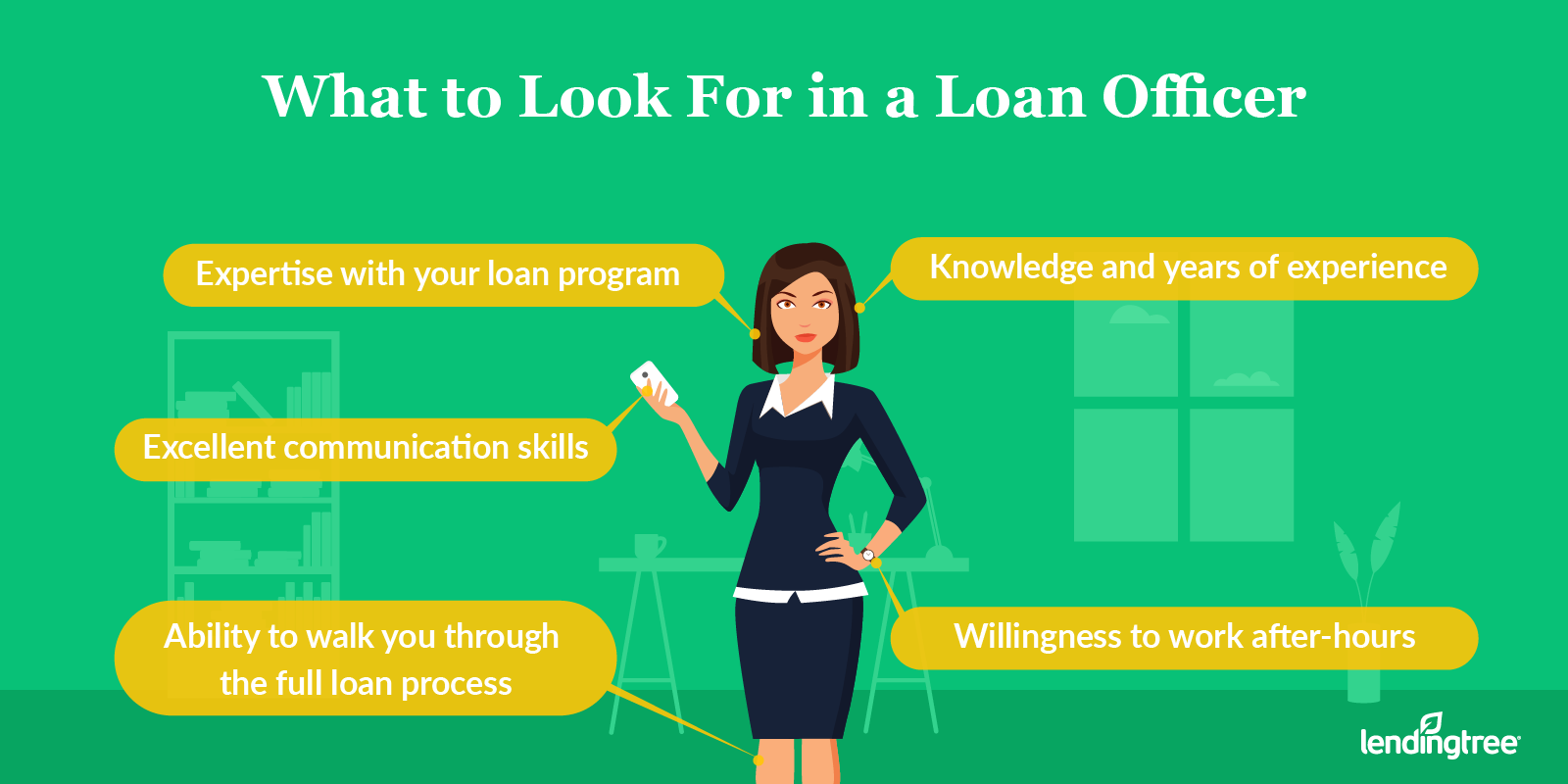 How to wade through loan officer sales pitches
In order to effectively shop for the right loan officer, you'll need to learn some loan officer lingo and know how to wade through their sales pitches.
Loan officers are salespeople and like any sales professional, they are taught to direct you away from their product weaknesses and focus you on their strengths. Here are some things to look out for in conversations while you're shopping and what they actually mean.
"We always close on time"
This may seem obvious, but can represent more than it appears to. Mortgage lenders that make this claim often have teams assigned to each milestone on your loan's life cycle, involving communications with dozens of people from the time you complete your application to the moment you pick up your keys.
Beware the lender that quotes you standard turn times, or says something like "our turn times are competitive in the market." That means that they may not have the manpower to rush files if needed, or they might have systems and processes with very little capacity for overload.
"Our rates are the lowest in town"
The best way to tell if this is true is to get a loan estimate and compare it to at least two other lenders. If one rate stands out from the others, ask them what you have to do to lock it and then request confirmation of that lock in writing.
Also beware of the tactic of "send me their best quote and I'll match it." Lenders should provide their best offer for to you review right from the start, rather than making you send them competitor's loan estimates to try and match an offer that was higher to begin with.
That being said, lenders with very low rates may experience sudden surges in business that slow down their ability to close loans quickly. If you have a time sensitive closing, be sure that super low rate lender will get you to the closing date on time — it may be worth a slightly higher rate to work with a local lender that is staffed to turn around purchase loans quickly.
"Our rates are competitive"
When you hear this, you can expect that the rates will not likely be the lowest you will find, but will at least be within 0.25% of the lowest rates. Loan officers who work for companies that don't have the lowest rates will often tout the quality of their service, and the individualized attention you will get throughout the process over the rates and fees they offer.
"We can close much faster than other lenders"
This claim is often made by either fully-digital online lenders, or small local lenders. Their processed may be very streamlined, or they may focus on a select referral-based business that allows them to process loans faster than larger regional or national lenders.
The drawback is they may specialize only in relatively easy credit profiles with higher credit scores and simple income structures, so if you have any bumps in your income, asset or credit history, your fast closing may suddenly take longer than expected.
"We have special programs and lots of lender choices"
Some lenders may have special commitments to offer down payment assistance programs that other lenders don't offer, or may have a specialty in a particular type of loan like low credit score FHA loans, or alternative credit loans (formerly known as stated income or no doc).  In these cases, your ability to get approved is more important than the rate, and these lenders often have seasoned loan officers familiar with the minimum requirements for you to get approved.
"We have local underwriting"
The more "locals" you hear in the sales pitch, such as local processing, local underwriting and local funding, the more the loan is likely to cost. That's because the lender employs each of these people and has to cover the expenses, usually in the form of higher rates and costs to you.
This is not necessarily a bad thing. Very often you will be working with people you can actually meet in person or talk to on the phone, which can go a long way toward getting approved since they are the actual decision makers in the process.
Online national lenders or large regional lenders may require you to go through an escalation process, which means you have to wait a specified period of time and will likely be dealing with an intermediary who is talking to the decision maker, rather than you being able to go to the decision maker yourself.
"We are the biggest lender in the state"
This can be a benefit and a drawback. Lenders who are the largest often have systems in place that are very efficient, using technology to streamline processes or with teams of people with defined functions at every step of the loan process.
However, this may also mean that there are bottlenecks during times of high volume, and suddenly a 24-hour underwriting guarantee could be a four-day nail-biter. This can be especially true during times when rates drop the most.
If the loan officer works with part of a team, be sure you have an opportunity to talk to the other teammates ahead of time. Some team structures are much like a doctor and nurse relationship, with the nurse spending the bulk of the time taking your temperature, weight and vitals, and the doctor coming in for a few minutes to make a final diagnosis.

Questions your loan officer should ask you
If you've done your homework on mortgage shopping, you already know that you need to provide the same information to each loan officer to get an accurate rate quote. If you work with an online lending platform, more than likely you'll input this information into each lenders' website.
Be sure you've got answers to the each of the following six questions from each lender:
How much are you putting down?
The lower the down payment, the higher the rate tends to be. Different lending programs have different down payment requirements, so be sure you have a basic understanding of each before you call a loan officer
What is your FICO score?
Your FICO score will have the biggest impact on your rates and costs.
What type of loan are you applying for?
If you've done homework on the minimum requirements for each type of loan program, you should have a pretty good idea of what type of loan you qualify for.
What is your annual income?
Some loan programs may have restrictions on how much you can make to qualify, especially for first-time homebuyer loans, so be sure your loan officer knows your income information so you don't get a quote for a program you make too much to be eligible for.
What is the estimated sales price or value of your home?
Lenders tend to offer lower rates on higher loan amounts, or you may find they will offer you lower fees, or even agree to waive them all together. Keep in mind that if you end up buying something less expensive, that pricing may no longer be applicable.
What type of property are you buying?
Condos, manufactured homes, second homes and investment properties all generally come with a higher rate and a higher down payment requirement.

Checking your loan officer's background
It wasn't that long ago that there were no specialized licensing or education requirements to become a loan officer. Before 2008, anyone willing to learn the basics of mortgage lending could work as a loan officer and get a job selling home loans. At that time, local state banking regulators handled complaints about companies or loan officers that weren't operating ethically or legally.
That all changed when the Secure and Fair Enforcement for Mortgage Licensing Act of 2008, known as the SAFE Act, went into effect on July 30, 2008.
The overarching purpose of the Safe Act is to protect consumers from the types of predatory lending and fraud that contributed a great deal to the housing crisis of a decade ago. All loan officers and the companies they work for now must be licensed through the Nationwide Mortgage Licensing System, and given an NMLS number.
You can check both the company and loan officer you are considering by going to the NMLS Consumer Access link and typing in the loan officer's name and company. To legally help you with a loan, the loan officer will have to be actively licensed either in the state you are in, or in the case of an institutional bank, with the Federal registry.
As mentioned above, loan officers have to complete ongoing education before they can be approved for license renewal.
Filing complaints
The Consumer Financial Protection Bureau (CFPB) is a federal regulator that oversees many different financial products, including mortgage loans, to ensure consumers are protected from the types of abusive lending practices that led to the housing meltdown. Consumers can file a complaint on the website. The CFBP then can investigate and has the legal authority to levy fines and judgements against loan officers and mortgage companies for non-compliance.
You can check to see if there any complaints against a particular company or loan officer on the Consumer Complaint Database. Just because your loan closes doesn't mean lenders are off the hook for how they represented you — if a closing disclosure goes out with terms or costs you didn't agree to, you have recourse for up to THREE ears after the loan closes to pursue legal action, including getting a refund of any fees that were overcharged, as well as payment for financial damages you may have incurred.
Final tips for choosing a loan officer
Once you've assembled your loan estimates and interviewed at least three different loan officers, you should consider a few more things before finalizing your decision.
A good loan officer will answer the questions you ask directly, rather than gloss over your objections with a sales counterpoint. If you don't feel like your questions are being answered thoroughly, or if the loan officer has to defer to someone else to get the answer, you may want to select someone else.
If you feel like you have a better understanding of the loan process and the rates and fees, then the loan officer has done their job. Your loan officer shopping trip should be completed once you feel like your inquiries have been answered patiently and completely, and feel comfortable that the loan officer will be able to provide you with the information you need to have a successful mortgage financing experience.