How Does LendingTree Get Paid?
LendingTree is compensated by companies on this site and this compensation may impact how and where offers appear on this site (such as the order). LendingTree does not include all lenders, savings products, or loan options available in the marketplace.
Letter of Explanation: Why You Might Need One and How to Write It
Updated on: February 26th, 2020
Editorial Note: The content of this article is based on the author's opinions and recommendations alone. It may not have been previewed, commissioned or otherwise endorsed by any of our network partners.
When you apply for a mortgage, an underwriter thoroughly analyzes your finances to see whether you meet certain mortgage requirements. If there's a discrepancy, such as a history of late payments or an employment gap, you'll be asked for a letter of explanation (LOE).
A letter of explanation for a mortgage clarifies, in writing, any items a lender has questions about in your loan file. Learn what an explanation letter is and how to write one. Also, see a letter of explanation template you can use to craft your own.
What is a letter of explanation for a mortgage?
Mortgage lenders might request a letter of explanation for a mortgage loan if they see any red flags or unexplained discrepancies in your credit history or financial documents. While a request for an explanation letter may seem like a sign that your application will be rejected, it's actually an opportunity to strengthen your case.
"If an underwriter is asking for a letter of explanation, they're asking for more clarity. If they weren't asking, they'd just say, 'No,'" said Jill Burgess, a loan officer with Ameris Bank.
The underwriter assessing your loan application must abide by certain regulations, and they need to back up their approval decision with evidence that you can repay the loan.
Why might a lender need an explanation letter?
Lenders may request an explanation letter for a variety of reasons, but the goals are the same — to verify the information you've provided and ensure you have the ability to repay the loan. Here are common reasons lenders ask for LOEs:
Too many credit inquiries
If you have too many recent credit checks, lenders question whether you have enough money to cover your monthly payments and will ask for a letter of explanation for credit inquiries. Opening new accounts, such as credit cards or lines of credit, could indicate that you're struggling to manage your finances and are taking on too much debt.
"Even if there's a zero balance on it, [the lender] might be uncomfortable with the amount of debt potential there would be," said Dennis Nolte, a Certified Financial Planner with Florida-based Seacoast Investment Services. "If you can explain, 'Well, we did this to fund college' or 'This is a one-shot deal,' they might feel much more comfortable with that."
Late payments
A history of late payments may shake a lender's confidence in your ability to pay your mortgage on time each month. However, they understand that extenuating circumstances arise, which is why they ask for a letter of explanation for late payments. The LOE is your chance to explain why the late payments happened and why it won't happen again.
Derogatory credit
Derogatory marks on your credit history lower your credit score, which lenders view as risky. But, as with late payments, lenders get that life happens. A lender may ask for a credit explanation letter to clarify a bad credit score.
Address discrepancies
If multiple current addresses appear on your credit report, a lender may ask for a letter of explanation for the discrepancies. This can also happen if, say, the address on your driver's license doesn't match the address on your mortgage application or if you've moved around frequently.
Employment gap or income changes
If you were out of work for any stretch of time, your lender will want to know why, particularly if you also missed payments while you were unemployed. Lenders must verify two full years of employment history. Employment gap letters are among the most common LOE requests lenders make, Burgess said. Your lender may also need clarification on any significant income changes. See below for a sample letter of an employment gap explanation for a mortgage.
Large deposits or withdrawals
A large deposit raises red flags for lenders because they need to verify all your income sources — and that those sources are valid. For instance, most lenders prohibit borrowers from using gifts that are made as loans with an expectation that the donor is repaid. So an underwriter needs to ensure a large deposit isn't coming from another loan.
Bank account withdrawals sometimes trigger a LOE request, too, because the underwriter has to ensure you meet the income limits of a particular loan program.
Overdraft fees
A lender may request a letter of explanation for overdraft fees because they want to ensure you have enough income to cover your bills each month, including your future mortgage payments.
Relationship explanation
Your lender may ask for a letter of explanation for a relationship on your mortgage loan if the money being used for a down payment was coming from someone other than you. For instance, if your spouse is contributing but the loan is only in your name.
Self-employment income
Self-employed borrowers often have irregular income, which makes approving a loan a bit more complicated. Lenders may ask for a letter of explanation that details how and when you get paid and how much you earn, accompanied by supporting documents such as invoices, payment records and evidence of collateral.
Household income
Depending on the loan program you choose, lenders may need to verify certain information about household income and why an adult living in the household isn't contributing financially. Burgess offered the example of a borrower who has a college-aged child at home who doesn't work during the school year.
How to write an explanation letter
Use the following checklist as your explanation letter format:
Date the letter is being written
Lender's name, mailing address and phone number
Loan number
Subject line should read "RE: Your name, loan number"
Body should explain the issue and include specific details, such as names, dollar amounts, dates, account numbers and other clarification as requested
The conclusion should be courteous and indicate that you're available to answer additional questions
Sign and print your full legal name exactly how it's written on the mortgage application
Include any co-borrowers' names who are on the loan application as well
List your complete mailing address and phone number
If adding supporting documentation, add an "Enc." line below your conclusion and list the documents you're including
4 tips for writing a letter of explanation
When you're writing a letter of explanation for a mortgage, customize the content to your circumstances. However, there are a few guidelines that apply to writing a consumer explanation letter regardless of the situation.
Keep it short and to the point. The mortgage underwriter is looking for clarification on a specific issue, so stick to that topic. Provide a direct answer and don't bring up other issues unless absolutely necessary. Your goal is to convince the underwriter that you're capable of taking on this loan and correcting past mistakes. Don't sow new seeds of doubt.
Emphasize the unique nature of the circumstances being explained. The most critical element of your LOE is showing that the issue in question does not show a "pattern of irresponsibility or non-payment," Burgess said. Make it clear that an event happened and caused your credit score to drop or made it difficult to pay your bills, but now you're on firmer ground and will stay there.
Proofread your letter. Spelling and grammar errors can make your LOE seem less professional. You also want to ensure that all of the information is correct to avoid additional delays. A typo in the loan number, or accidentally using a nickname instead of your full name on your application, could result in another explanation letter request.
Be courteous and professional. Even if you're irritated by the request for an LOE, the tone of your letter should be polite and professional. The underwriter is simply doing their job. The more helpful, respectful and prompt you are with your response, the easier it will be to process your loan.
Mortgage letter of explanation template
If you've been asked for an LOE but aren't sure where to start, this explanation letter sample will give you a framework for crafting your own version.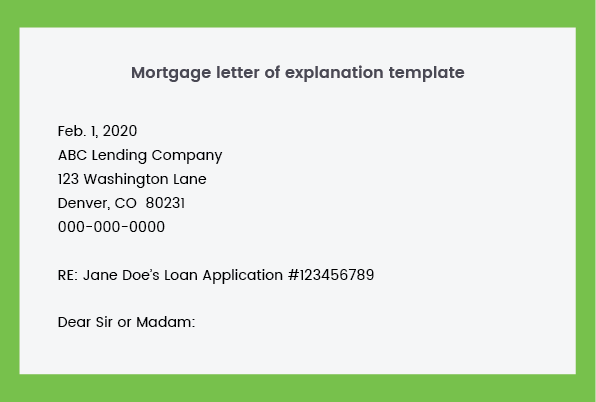 Download letter template
What if my lender rejects my letter of explanation?
If your lender rejects your letter of explanation for your loan, find out why. Your loan officer may work with you to refine the letter and make it more general (or detailed) as needed, and request more supporting documents. The underwriter might accept a new letter depending on the company's requirements and the loan program you're using.
However, your loan officer may recommend that you pause the application process for the time being after a rejection. You may need to revisit it when issues like poor credit or income changes have improved. Another option after a rejection: Apply with a different lender.