How Does LendingTree Get Paid?
LendingTree is compensated by companies on this site and this compensation may impact how and where offers appear on this site (such as the order). LendingTree does not include all lenders, savings products, or loan options available in the marketplace.
Nearly Two-Thirds of Homebuyers Would Go Over Budget for Their Dream Home
Published on: August 19th, 2020
Why use LendingTree?
We are committed to providing accurate content that helps you make informed money decisions. Our partners have not commissioned or endorsed this content. Read our .
Amid historically low mortgage rates and a limited number of affordable homes for sale, buyer competition is heating up. The pressure is forcing many potential buyers to consider stretching their budget to get in the game, according to a new LendingTree survey.
To gather sentiments around the challenges of buying a home, LendingTree commissioned a survey of more than 1,000 prospective homebuyers.
Key findings
More than 6 in 10 (64%) homebuyers are willing to go over budget for their perfect house.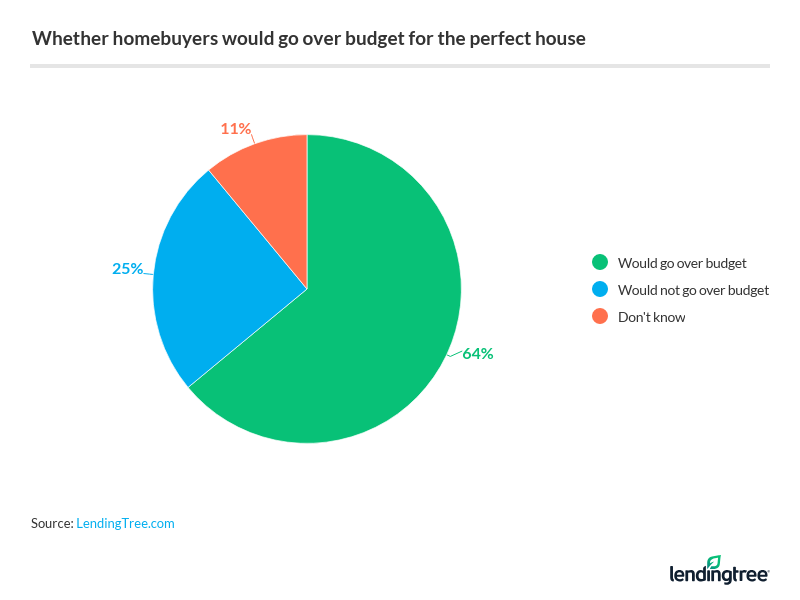 This sentiment is especially true for millennials, as more than 3 out of 4 (76%) of respondents ages 24 to 39 said they'd stretch their budget to buy their dream home. Seventy-four percent of men agreed.
"I urge homebuyers to be very cautious about going over budget. Many people underestimate the maintenance costs of owning a home," said Tendayi Kapfidze, LendingTree's chief economist. "If you are stretched financially and underinvest in maintenance, it can diminish the value of your home."
Location is the most important factor buyers consider about a home.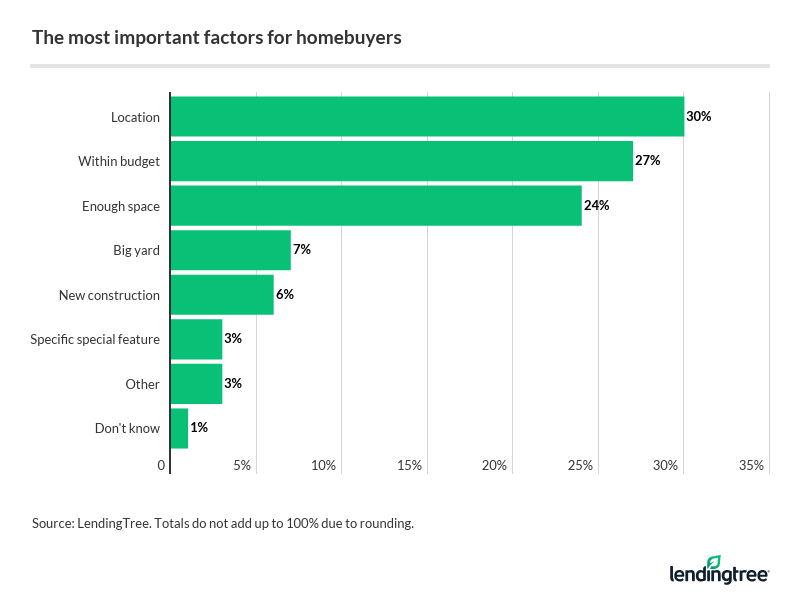 When homebuyers were asked what they feel is most important when they're looking for a home, the top three responses were:
Location (30%)
A home within budget (27%)
Enough space (24%)
More than a third (37%) of buyers say finding a home within their budget is the most stressful part of the process.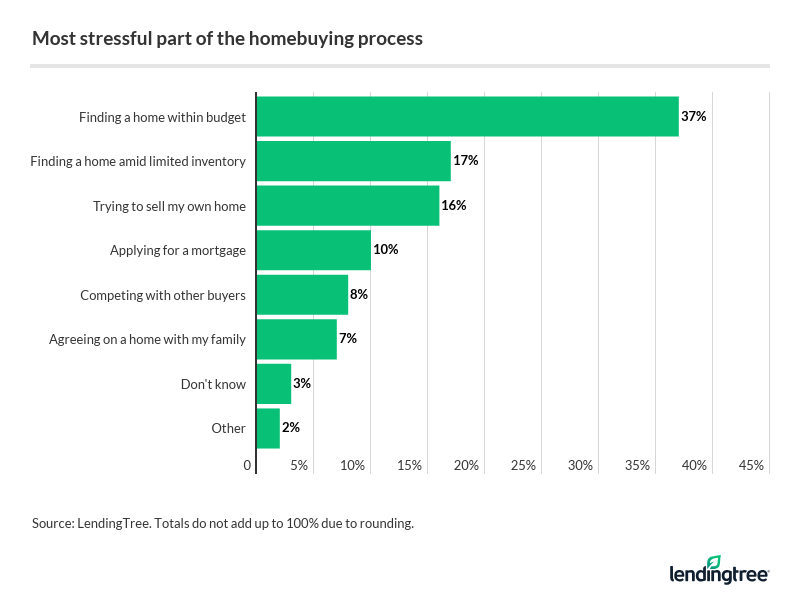 About 1 in 6 (17%) buyers say they stress most about finding a home because of the low housing inventory in their area. Another 16% are most stressed about trying to sell their current home.
Other takeaways
Nearly half (48%) of first-time homebuyers stress most about finding a home within budget, compared with 31% of repeat buyers.
"Overpaying is one of the downsides of very low interest rates," Kapfidze said. "As many homebuyers budget a monthly payment, lower rates translate into a higher mortgage amount. Coupled with tight inventory in some areas, it increases the risk of bidding wars over asking price."
Black and Hispanic homebuyers were about twice as likely, at 16% and 18%, respectively, as white buyers (9%) to say applying for a mortgage is the most stressful part of the homebuying process.
More than 1 in 10 (12%) buyers said that they didn't feel their mortgage lender was effective at explaining their available loan options.
One-third (33%) of homebuyers plan to stay in their next new home for at least 15 years, while another 18% say they'd live in their next home for less than five years.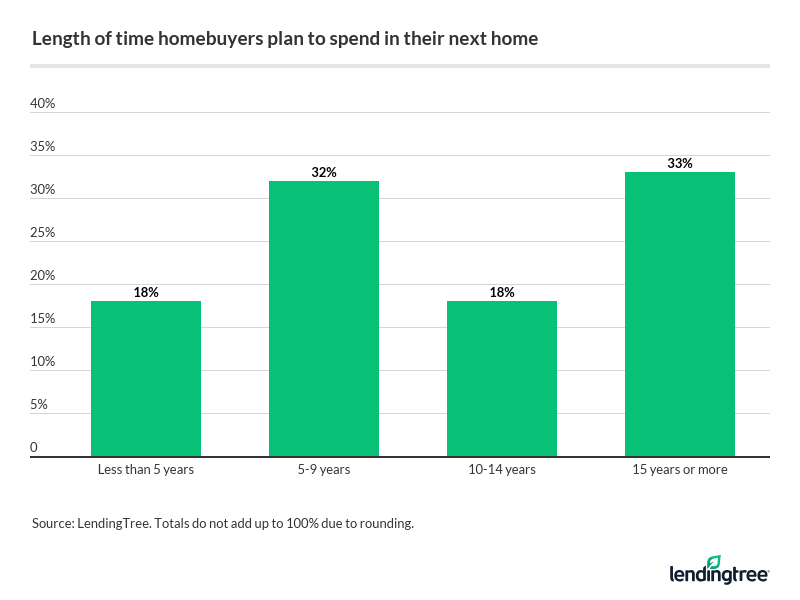 At 43%, millennial buyers are the age group most likely to plan for a five- to nine-year stay in their next home. A majority of baby boomers (58%) and Gen-Xers (36%) plan to stay in their next home for 15 years or more.
3 tips to better navigate the homebuying process
With home values rising steadily and housing inventory dwindling, it's a highly competitive time to buy a house. New data from real estate brokerage Redfin showed that as of July 2020, the national median home price jumped more than 4% month over month, and 8% year over year, to $323,800.
Moreover, total housing inventory is down nearly 20% compared to last year, according to the latest existing home sales report from the National Association of Realtors. There are only four months' worth of homes for sale; a balanced market typically has a six-month supply.
Here are some tips to help make your homebuying process run more smoothly:
Get a mortgage preapproval. Before you schedule any showings with your real estate agent, it's wise to get a mortgage preapproval. A preapproval gives you a leg up as a homebuyer, because it means a lender has reviewed your credit and finances and is willing to offer you a mortgage. You can also get a solid idea of how much house you can actually afford.
Make a larger down payment. The more money you can bring to the closing table, the better. A larger down payment reduces the risk your lender takes on, and may even help you snag a lower mortgage rate, which can save you tens of thousands in interest over the life of your loan.
Limit your contingencies. Home sellers tend to favor buyers who have an offer with very few contingencies. A contingency is a clause in a purchase contract that allows a buyer to walk away from a deal if specific terms aren't met, such as a home inspection free of major issues.
Methodology
For this survey, LendingTree commissioned Qualtrics, an experience management firm, to gather responses from 1,006 homebuyers, with the sample base proportioned to represent the overall population. The survey was fielded April 24-30, 2020.
We defined generations* by using the following age ranges:
Millennials: ages 24-39
Generation X: ages 40-54
Baby boomers: ages 55-74
*The survey also included responses from members of Generation Z (ages 18-23) and the silent generation (ages 75 and older). Due to the low sample size among both age groups, their responses were factored into the overall percentages but excluded from the generational breakdowns.