by Matt Woods
March 8, 2016
​
You work tirelessly to help pay your bills, feed your family, and make your other half happy. Day in and day out, you walk into your home and get that dreaded list of things that needs to be fixed. Every day you work until you drop, yet there are still home improvements to make. For you, the American dream is constantly out of reach. If only someone would just lend you $30,000 so that you could fix everything in one fell swoop.

Sound familiar?
With interest rates at a historical low, there is an affordable solution that will help you get on top of your home improvements. One of the best ways to get those long awaited home improvements done is by tapping the equity in your home. If done right, a home equity loan or home equity line of credit (HELOC) will allow you to reinvest in your house, making your family happier and increasing the value of your home.
So what are those"right" home improvements to make? Where should you invest your home equity so that you will love your house more, and when the time is right to sell, others will pay more? We spoke with a veteran real estate agent in Southern California, Natalie Riggs, to find out how to get the most bang for your buck on home improvements.
Home Improvements that Add Value to Your Home
1. Improve the Exterior of Your Home
According to Riggs, this is one of the most important home improvements you can make if you plan on selling your home. The reason that this is crucial is because curb appeal is everything. People tend to make judgements about your home within seconds of driving up to it. In addition to the judgements, having the outside of your home buttoned up will also help improve the home efficiency and will decrease all those issues you have been having with the outside inviting itself inside! Just remember when it comes to landscaping, make it nice but don't go overboard. Riggs cautions not to spend your entire home equity loan on plants. Many homeowners look at updated landscaping as nice to have, but not a deal breaker.
Improve the Exterior Of Your Home >
2. Update Your Kitchen
After you have dealt with all the exterior work, the next step is to update your kitchen. Riggs says that after a newly painted exterior, the kitchen brings the highest return of investment –sometimes even 100 percent! This is what will really set off your house to you and prospective homebuyers. Ever notice that when you have guests over, they always migrate to the kitchen? A kitchen upgrade is one of the best ways to spend your home equity loan.
Update Your Kitchen >
3. Update Your Bathrooms
After you have taken care of that much-needed kitchen upgrade, your next step will be to focus on the bathrooms. Those prospective homebuyers that want that perfect kitchen, well, let's just say they want their bathroom to look and smell like roses, too! If you're not planning on selling your home, a more practical bathroom will also make your life that much sweeter.
Update Your Bathroom >
4. Add Space
Is your home big enough for your needs? Do you need an extra bathroom, bedroom, sun room? This should be one of the first things you assess when determining what improvements to make with your home equity loan. Adding space to your home will both make your home more comfortable while you're living in it, and it will increase the value of your home if and when you go to sell.
Add Space >
How Not To Spend Your Home Equity Money
1. A Pool
One of the hardest investments to recoup in the resale of your home is a pool. "Don't build a pool if you plan to sell your home in less than 10 years," Riggs says. Not only are they expensive, but they might actually be a deal-breaker for some buyers. On top of actually building the pool, they also require a ton of maintenance. If possible, get yourself a membership to the local swimming pool, instead. This will save you thousands of dollars and will make your home attractive to more buyers.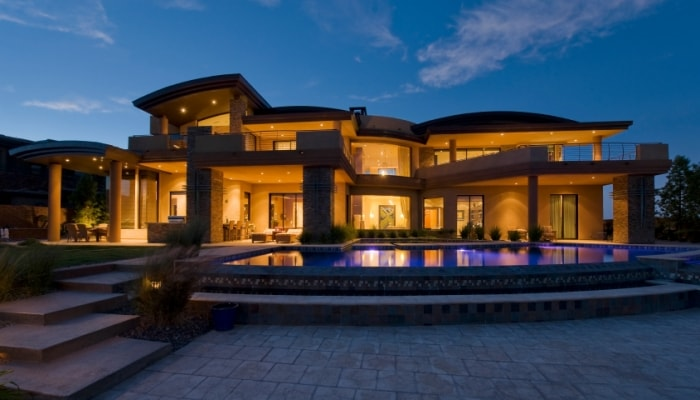 2. Avoid Mansionization
Riggs advises to be careful not to over-upgrade your home. Think about it: If you have a $300,000 home that has expensive finishes worthy of a million-dollar house, you will have a hard time getting someone to pay you big money for it. After all, your house and neighborhood will only appreciate so much.
How to Get a Home Equity Loan for Your American Dream
A home equity loan can help you with all of your home improvements – from the ones that are necessary to the ones that will increase the value of your home to the ones that will simply improve your quality of life.
If you're interested in making home improvements with a home equity loan, make sure to comparison shop different lenders. You don't have to apply through your current lender, and could potentially save thousands of dollars over the life of your loan by locking in the best interest rate possible.