Reasons to Refinance from an FHA Loan to a Conventional Mortgage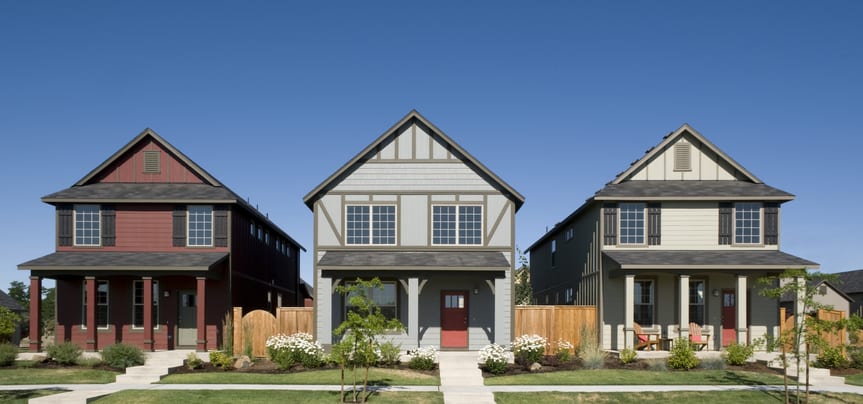 FHA loans are popular among new homebuyers because they are easier to qualify for. You can be approved for a mortgage with lower credit scores, lower down payments and more debt than you would with a conventional loan.
However, as the value of your home grows and your income and credit situation improve, there may be some benefits to paying off your FHA mortgage with a conventional mortgage. We'll discuss the top reasons you might consider refinancing from an FHA to a conventional mortgage.
We'll cover:
How FHA loans help first-time homebuyers
In 2018, more than 1 million new mortgages were made through the FHA program. The federal agency doesn't lend money directly, but instead, insures loans issued by FHA-approved lenders. This gives lenders the confidence to approve people with lower credit scores.
One of the main reasons so many people choose the FHA loan program to purchase a home is because the minimum mortgage requirements are easier to meet than conventional loans.
A borrower with a credit score as low as 580 can put down 3.5% as a down payment. That's nearly 40 points lower than the minimum 620 score required by conventional lenders. Borrowers with scores as low as 500 can get an FHA mortgage with a 10% down payment.
This gives homebuyers a chance to get mortgage financing for a home purchase that wouldn't be possible with conventional lenders.

How to know if it's time to refinance
Soon after you become a homeowner, you're likely to be the recipient of a flood of solicitations to refinance your loan. But is it a good idea?
Lower interest rates are usually the reason most people begin considering refinancing. Refinancing your mortgage gives you the opportunity to swap the interest rate you initially received with the new, lower rates the current market offers.
But there are other benefits to refinancing besides lowering your interest rate. For the last seven years, homeowners have enjoyed consistent increases in their home values, helping them to build something called equity. Home equity is the difference between the market value of your home and the balance of your mortgage.
You can consider accessing some of your equity with a cash-out refinance. This allows you to borrow more than the balance of your current mortgage, and receive the difference in a lump sum of cash that you can use toward paying off debts or financing home repairs.
If you find yourself in any of these situations, then a refinance may be beneficial. Refinancing from an FHA loan to a conventional loan can have some very specific benefits, assuming you can qualify.

Four reasons to refinance from an FHA to a conventional mortgage
#1: You want to get rid of FHA mortgage insurance
One of the primary drawbacks of the FHA loan program is the amount of mortgage insurance you are required to pay. Mortgage insurance protects the lender against default, and because FHA takes the risk on borrowers who have lower credit scores, more debt and less money to put down, they add extra fees for insurance — both financed into your loan amount and added to your monthly payment.
You may remember the terms UFMIP and MIP if you purchased your home with FHA financing. They stand for upfront mortgage insurance premium and mortgage insurance premium. The UFMIP is usually 1.75%, and is financed into your loan. The MIP is an annual premium paid as part of your monthly payment.
If you made a 3.5% down payment when you bought your home, you will have a monthly mortgage insurance payment for as long as you have your FHA loan. You can eliminate the monthly mortgage insurance by refinancing to a conventional loan, especially if your home has appreciated in value to the point where you have 20% equity.
Conventional loans often have mortgage insurance as well. But there's good news: Private mortgage insurance on these loans can be removed as your home equity grows and reaches that 20% mark. You can ask your lender to drop it once you hit that point, but it automatically drops off once you have paid down to 78% of the balance.
If you're not sure how much your home is worth, contact the real estate agent who helped you purchase your home and have them do a comparable market analysis to look at what similar homes are selling for in your area.
#2: You can save money if you need mortgage insurance
As mentioned above, there is no lump-sum upfront mortgage insurance premium on a conventional loan. However, if you don't quite have 20% equity and need private mortgage insurance on a new conventional loan, it may make still make sense to refinance if your credit scores are very good to save on your monthly mortgage insurance.
The table below shows a side-by-side comparison of the total loan amount and mortgage insurance costs associated with a base loan amount of $200,000 and a 740 FICO score and 5% equity. It also provides information about how long you'll be paying mortgages insurance with each option.
How Mortgage Insurance Costs Vary by Loan Program
FHA UFMIP
FHA MIP
Conventional PMI
$3,500
$144.15/month
$96.67/month
Financed life of loan
Remains life of loan
Drops off at 78% on normal payment schedule
Not only can you save the $3,500 upfront premium, but also $47.48 each month on the mortgage insurance premium. The savings is even more substantial in the longer term considering PMI automatically drops off once you're at 78% on a payment schedule.
#3: You need to borrow more than FHA loan limits allow
If your home's value has increased substantially since you purchased it, your loan amount may be capped by the maximum FHA loan limits in your area. For example, in Maricopa, Ariz., the maximum loan limit is $314,827 for an FHA single-family residence.
Compare that with the conventional conforming loan limit, which is $484,350, and you have another potential $169,523 worth of borrowing power. While you might not need access to all of those funds, you won't have the option to borrow any more than the $314,827 current FHA loan limit for Maricopa County.
#4: Rates are good now, but you're not eligible for FHA streamline refinancing
The FHA requires that you wait at least 210 days from the time you got your current FHA loan before you refinance on a streamline loan. This is to prevent unscrupulous mortgage lenders from engaging in an unethical practice called "churning."
Churning is a mortgage scheme where the same loan is refinanced several times over short time periods with every little benefit to the borrower. The lender earns commissions on each closed loan, and adds the closing costs to the loan, preventing the borrower form building equity, and restarting the 30-year clock with each subsequent refinance.
Because the loans are so easy to close with no income documents or appraisals, these scammers can make thousands of dollars refinancing the same customer over and over, maybe even offering to give them a "rebate" each time. The conventional mortgage program does not have a waiting period requirement to refinance unless you are doing a cash-out refinance.

When to keep your FHA loan
There are some disadvantages you should be aware of before you make the decision to refinance from your current FHA loan to a new conventional loan. The minimum mortgage requirements for a conventional loan are more strict than FHA loans, reducing the potential benefit of refinancing.
Your scores or income haven't improved since your purchase
Chances are, you will need to have higher credit scores, lower debt compared with your income, and more equity to refinance to a conventional mortgage.  While an FHA loan might only require a 580 FICO score, a conventional loan requires a minimum score of 620.
And if your credit score is 680 or below, it's likely less worthwhile to refinance from an FHA loan to a conventional loan. Conventional PMI is also impacted by your scores, while credit scores have no effect on FHA mortgage insurance. If you have less than 20% equity and a low credit score, it may not be cost-effective to consider conventional loan refinance.
In these cases, the FHA streamline program may be a better option for you because it has less stringent requirements for credit, and doesn't require any income documentation.
You don't like providing a lot of documentation
The FHA streamline refinance program does not require any income documentation, nor does it require an appraisal. Conventional refinance programs always require income documentation, and in most cases, will still require a full appraisal.
You can usually count on providing at least a current month of pay stubs, two years of W2s, two months of bank statements and an appraisal, unless you happen to get one of the conventional appraisal waiver offers explained above.
You need more cash out
You may not be able to borrow as much cash on a conventional loan since the limits are 80% of your value, versus 85% for an FHA loan. If you need the maximum amount of cash possible from a refinance compared with your home's value, you may want to stick to the FHA program to accomplish your goals.
Final thoughts
Conventional loans definitely have their advantages over FHA loans from a long-term perspective.They work the best if you've built some equity in your home, and have credit scores on the higher side of the credit spectrum.
Many homeowners take advantage of the FHA program to help with the weak spots in their credit profile when they first buy a home, like low scores or high debt compared with income. As those situations improve, refinancing from an FHA to a conventional can save you thousands in mortgage insurance costs for as long as you have your mortgage.
The information in this article is accurate as of the date of publishing. 
---
Featured Articles