6 Personal Loan Myths You Need to Know About
Published on: February 21st, 2019
Editorial Note: The content of this article is based on the author's opinions and recommendations alone. It may not have been previewed, commissioned or otherwise endorsed by any of our network partners.
Getting a personal loan can be a saving grace for those who need money in a pinch. But for some people, it's not even a consideration. Preconceived notions about personal loans might be holding you back from applying for one.
While not everyone is in the business of borrowing money, getting a personal loan can save you from detrimental healthcare bills, a home repair nightmare or even overwhelming credit card debt. For many people, a personal loan can help. Others might not even consider it an option.
In this article, we debunk six common personal loan myths.
6 myths you might hear about personal loans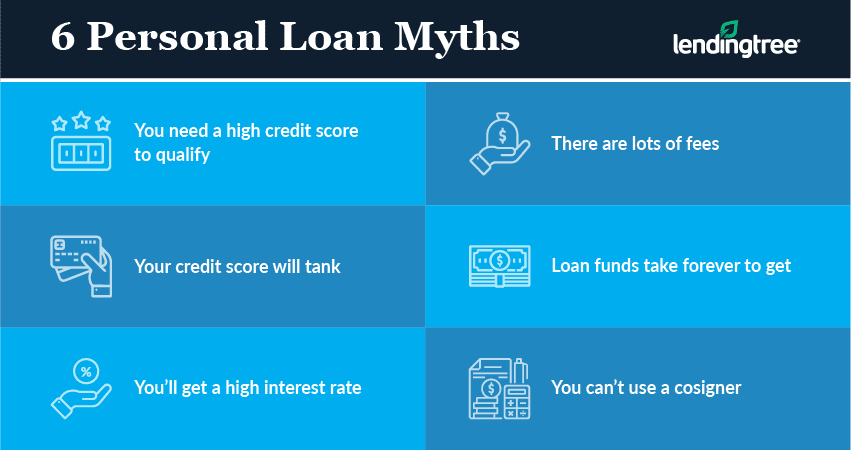 You need a high credit score to qualify
While a high credit score can get you a low interest rate, you don't necessarily need one to qualify for a personal loan.
Many personal loan lenders allow you to get a loan even if you have fair credit. When you're browsing through lenders, check to see the minimum credit score that a lender will accept. You may see some in the 600s or even upper 500s. If you don't have great credit but need a personal loan, you may still have options.
There are lots of fees
Most loans have fees, whether it's an origination fee, late fee or prepayment penalty. But this isn't the case for all lenders. LightStream, for example, doesn't have any fees whatsoever.
If you're checking out your personal loan options, see which fees lenders charge. Look for origination, late payment, prepayment or administration fees. Any of these could add up and fatten your loan repayment.
You'll get a high interest rate
Unless you're borrowing money from friends or a family member, interest is an inevitable part of taking out a loan.
Your interest rate is based on your credit score: The higher your credit score, the lower your interest rate. The lower your score, the higher your interest rate.
A high credit score proves to lenders that you're responsible with credit. While a low credit score might not disqualify you from a loan, it may mean you're not getting the best possible interest rate out there.
But getting a "high" interest rate is relative — what you think is high might not be the same as what someone else thinks is high. If you're concerned about high interest rates, compare rates from many different lenders to see what your potential bill could be. This should give you peace of mind as to what you can expect from your ideal personal loan lender.
Your credit score will tank
Whether you take on a mortgage, auto loan or credit card, there will be a hard credit check on your account. This is where lenders check your credit for accuracy. A hard credit check will stay on your credit score for awhile, causing a slight dip. But you shouldn't worry.
Once you get approved for a loan and after the hard inquiry, the small drop in your credit score is only temporary. Taking on new credit creates a temporary dip in your score. But unless you're applying for many different loans from many different lenders, there's no cause for concern. You should avoid this only because that will have a lasting impact on your credit score.
Loan funds take forever to get
Every personal loan lender varies in how long it takes to get your loan to you. Some promise funds within a day while others ensure you'll have it within a week. There's no standard.
Because of this, you'll want to check out each lender you're considering before applying. If getting your money as soon as possible is important to you, choose a lender that offers speedy money disbursement. You don't have to settle for one that takes too long for you.
You can't use a cosigner
Having a cosigner might be the defining factor in qualifying for a loan. But not all lenders allow cosigners or co-applicants.
The fact remains that many do include cosigner opportunities for personal loans. Just like with how long money takes to hit your account, you'll need to check out each lender before applying. You may already qualify for a loan even with a lower-than-average credit score. However, having a cosigner might give you a much-needed boost for a low-interest rate.
Keep in mind that having a cosigner means that this person is responsible for your loan in the event that you don't make payments. Your credit score will take a plunge if you miss payments, and so will your cosigner's. Use one only if it's absolutely necessary.
Is a personal loan right for me?
Even if you qualify, you should consider a few things before taking out a personal loan:
Pros
Wide range of amounts. Whether you need $1,000 or $100,000, there are plenty of lenders that hit both ends of the spectrum. This is great if you only need a little loan to cover something small, or if you need a larger loan to cover a significant amount.
Flexible terms. If you know you won't be able to make large payments every month, many lenders will work with you on a plan that best fits your finances.
Variety of choices. You can find a lender from all over, including online, banks and credit unions. There's no shortage of lender options and you're allowed to choose the one that's best for you.
Cons
Taking on another debt. If you're already in a financial hole, a personal loan might keep you there for awhile. Taking on another debt might increase your struggle.
You're still paying interest. Unless you're borrowing money from friends and family, a personal loan comes with interest. Whether it's a little or a lot, you still have to pay it. Evaluate your interest costs carefully before taking out a personal loan.
Before committing to a personal loan, make sure you explore all of your options. For example, consider whether or not you need a personal loan and if you can afford the monthly payments. You'll also want to read up on lenders that suit your credit profile. Review their terms, fees and conditions before forwarding.