How Does LendingTree Get Paid?
LendingTree is compensated by companies on this site and this compensation may impact how and where offers appear on this site (such as the order). LendingTree does not include all lenders, savings products, or loan options available in the marketplace.
How to Research a Car
Published on: August 29th, 2019
Editorial Note: The content of this article is based on the author's opinions and recommendations alone. It may not have been reviewed, commissioned or otherwise endorsed by any of our network partners.
Going straight to a dealership is not the best way to start your car research. Buyers are less satisfied today with the price they paid there, according to a Cox Automotive study, and less trusting that the dealer offered them the best deal. Whether you have just started your research or already narrowed down your choices, we'll show you how to research a car so you can feel confident before you go to the lot.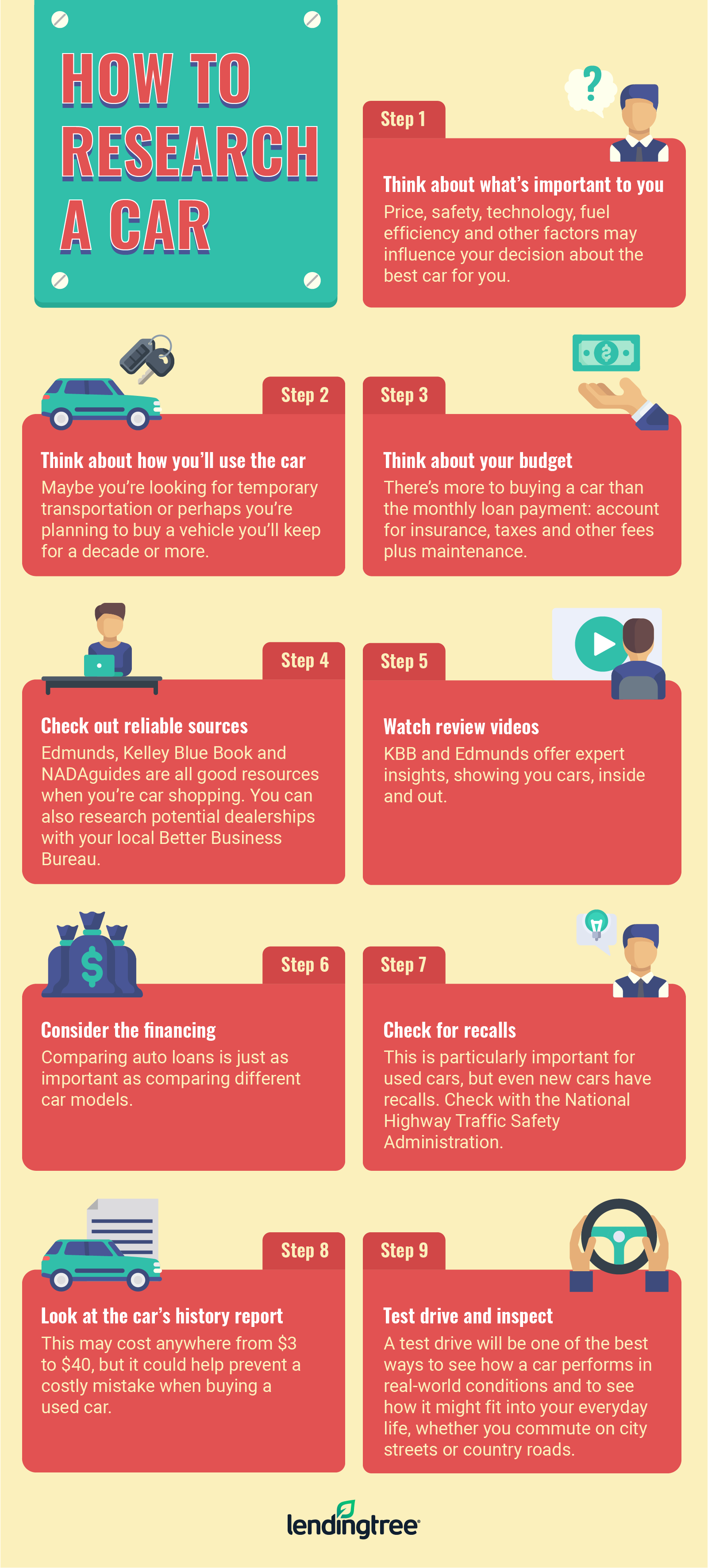 Step 1: Think about what's important to you
Do you want one of the best commuter cars for the money? Or are you super interested in luxury and speed? Figure out the top one or two things that are the most important to you in a vehicle and keep those in mind as your guide.
You could simply do a Google search — "best cars for [your criteria]" — but if you're still figuring out those must-haves, consider:
Price: Are you looking for a car under $30,000? $20,000? The average price of a new car is around $37,000, according to LendingTree, but you can find reliable models for much less.
Safety: The National Highway Traffic Safety Administration gives many cars a star rating between 1 and 5 while the Insurance Institute for Highway Safety assigns letters: "G" for good is the best. Do you need a five-star vehicle that also received an IIHS Top Safety Pick+ designation?
Technology: Are you looking for cars equipped with Android Auto or Apple Car Play and the latest safety packages?
Size: How many passengers do you carry on a regular basis? You might be searching for the best cars with third-row seating.
Fuel efficiency: There's a wide variety of hybrids, plug-in hybrids and electric vehicles. We explain the differences here. You could also find an efficient gasoline-powered car by searching a term such as "best low-mileage used cars."
Step 2: Think about how you'll use the car
Maybe there are several types of cars that cover what's important to you. After all, there are many types of vehicles that are hybrids or have excellent safety ratings.
How and how long will you use the car? To narrow it further, think about how you'll use the car. If you often face foul weather, all-wheel drive might be best. If you need room for people and luggage, an SUV could do the trick. Also consider how long you'll use the car. Will your car need to be able to handle your two kids as they grow up over 10 years? Or will you move to a much different climate in one year? If you're not sure where to start, check out how to find the right car for you.
Step 3: Think about your budget
Yes, no one really "likes" to think about their budget. Yet if you get a too-expensive vehicle and have trouble making payments, you'll be thinking about your budget a lot more, every month, than if you had considered it up front.
Not sure how to set a car budget? Remember that you'll pay more for the car than what the price sticker says. A new car will have a "destination charge" of about $1,000 and you'll probably have to pay taxes, fees and auto insurance, too. Watch out for unnecessary fees.
Step 4: Check out reliable sources
The source of information is just as important as the information itself. Consumer reviews are all well and good, but a neighbor who might mean well in giving advice probably doesn't have industry knowledge. Also, don't take the advice of Joe Shmoe at the used car lot who tells you "that car runs fine." Look at reliable sources for reviews and information.
What are reliable sources? The three biggest standard industry sources are Edmunds, Kelley Blue Book (KBB) and NADAguides. All three offer almost everything you could want to know about a car: professional reviews, expert ratings, consumer ratings, pricing information, rankings and review videos.
Step 5: Watch review videos
Both amateurs who do it for fun and experts from the industry guides post videos showing the vehicle inside and out, so you can see just how much legroom 38 inches actually is and hear how the vehicle handles the road.
Watching review videos, particularly from reliable sources such as KBB and Edmunds, could help you decide whether you definitely want to check the vehicle out yourself. And if you decide you don't want to check out a vehicle based on watching a review, you just saved yourself a bunch of time at the dealership.
Step 6: Consider the financing
Don't need a car loan? Congratulations, you can skip this section.
For the rest of us, though, a car loan is an important part of car buying. If you're thinking about leasing, read up on leasing vs buying a car.
If you have great credit and you're interested in getting a new car, look for 0% financing promotions from automakers. Manufacturers use rebates and low- to zero-percent financing to entice consumers to buy from them. And if you have a choice between a rebate and a low finance rate, it's almost always better to take the rebate.
Just as you shop around for a car, you should shop around a bit for a car loan. It does not hurt your credit to apply to multiple lenders anymore than it does to apply to one lender, as long as you do all applications within a 14-day window. Why bother? Because not all loans are created equal. No matter what your credit score is, you should apply to a few lenders. Potential lenders could include the automaker, your bank, credit union or online lender. Here's where to get your best auto loan rates.
Step 7: Check for recalls
Even new cars can have recalls on them. To make sure the one you'd like to buy is safe and ready to roll, type the VIN into the recall website offered by the National Highway Traffic Safety Administration. If it does have a recall on it, the dealership will fix it for free.
Asking about recalls is just one of the questions you should ask when buying a car.
What's a VIN? A vehicle identification number (VIN) is like a car's Social Security number. Every car has one that is unique to it. You could find the VIN on the outside of the car's windshield, on the driver's side. You could also find it on a sticker on the seam of the driver's door.
Step 8: Look at the car's history report
If you're looking at a used car, it's important to check its history. (A new car won't have history.) Ask the dealership or the individual seller to provide a vehicle history report (VHR), which can also be called a VIN check.
The most thorough type of VHR is from CarFax, which is also the most expensive at nearly $40 for one report. Most dealerships and some online sellers will provide a CarFax to potential customers for free. Other sources of vehicle history include AutoCheck and the National Vehicle Motor Title Information System, both of which charge a smaller fee ($3 to $13) but may not provide as much information.
What's a salvage car? If the vehicle's history or its title shows that it is "salvage," that means the vehicle has been severely damaged in some way. While salvage cars can be very cheap, buying one might not pay off because they tend to have a lot of problems.
Step 9: Test drive and inspect
No matter how many reviews you read or videos you watch, you should always check out the car yourself. Walk around it, give it a test drive. Doing so is part of researching a car, because you're now looking into how that one exact car works for you.
If you're buying a used car, it might also be a smart idea to have an independent mechanic inspect it. While an inspection might cost $100, it could save you from buying a lemon car.
What's a lemon car? A lemon car is a vehicle with a lot of problems or one major problem that prevents it from working. Not all states have lemon car laws to protect buyers, so it's ideal to avoid buying a lemon car rather than deal with it afterwards.
The bottom line on how to research a car
As you do your research, keep in mind what's important to you and don't go over your budget. There are a ton of opinions and resources out there, but pay attention to the industry guides as they are the experts. And as you research cars, don't forget to do some car loan research.