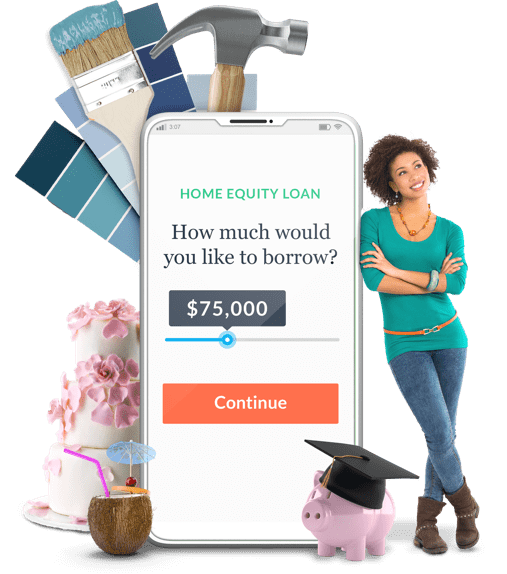 Home Equity Loans For Debt Consolidation
In the first quarter of 2018, for the 15th straight quarter, aggregate balances for household debt in the U.S. increased, rising to $536 billion more than they had been in Q3 2008.
But wait, there's more. A report by the New York Fed in March 2018 showed student loan debt growing by $29 billion and auto loan balances increasing by $8 billion, all within the first quarter of 2018.
There's… still more. Data show that credit card balances as of the end of 2017 for the 40-49 age group were higher than they've been since 2011. For 30-39 and 50-59 age groups, credit card balances are higher than they've been since 2009.
Put all of these startling statistics together with the fact that credit card interest rates are heading close to levels not seen since the 1990s and you're looking at a financial atmosphere pushing many people toward considering a variety of debt consolidation options, including a home equity loan. The problem is, this decision carries significant risks, so carefully consider them before borrowing.
Is a home equity loan right for me?
Fully grasping the benefits and drawbacks of using a home equity loan for debt consolidation may not help in actually answering the question of whether it's the right decision for you. The very first thing you want to do is compare the cost of the consolidation — including interest and fees — with the cost of your debt.
"The big thing is, is it really going to save [you] money," said Molitoris.
It's not enough to assume that a lower interest rate on an equity loan will make the difference, because a long-term loan on a large amount can result in higher overall interest accumulation than you might expect.
For example, if you had $15,000 in credit card debt with an average interest rate of 16%, making a $300 payment each month would see you paying $9,883 in interest over close to 7 years. If instead, you had a 5-year equity loan of $15,000 with an interest rate of 5.79%, your monthly payment of $288.53 would repay the loan in just 5 years with total interest costs of $2,311.77.
But let's say you decide to stretch that out to a 20-year loan with a monthly payment of $111.31 and an interest rate of 6.44%. That total interest rate may be lower than the rate on your credit cards, but in the long term, that results in interest charges of $11,713 — more than if you'd kept the credit card debt as-is.
Another point to factor in is the negotiating power that Bezozi mentioned an equity loan can give you. If you have the cash to pay off your credit card debt through an equity loan, that may give you some room to bargain with creditors to lower your overall debt and save even more.
"If you feel like your tires are just spinning every month, then you may need to look at the debt consolidation angle. If you're a person who needs structure, maybe restructuring and having just a simple payment is worth it," said Molitoris.
Accordin to Bezozi, an equity loan is the last resource to consider. "If there's no other option and you really want to get out from underneath the credit card debt, you can use a home equity loan because the interest rate is lower, and hopefully the house is appreciating so you'll get even more equity in the future," he said. "But if you get the equity out and your house goes down in value, you're upside down."
Alternative options to consolidate debt
Before tying up home equity to consolidate debt, it's worth considering other options. The first thing you should do, according to Molitoris, is to look at the cash you have available. "Some people sit on large amounts of cash and run up debt. It doesn't make sense to get paid 1% [on savings] when interest on your debt is 15%," said Molitoris. If you don't have any cash stashed away, you can consider:
Personal loans

Banks, credit unions, and even online peer-to-peer lending sites can all offer the resources to secure a personal loan with no collateral. But make sure to watch the interest rates, as they may be higher on unsecured loans. Alternatively, you can ask friends and family for loans.

Debt management plans

In some cases, using a credit counseling agency can be a good step for consumers who want to manage their debt without tying up home equity. Not only can credit counselors set you up with a single payment each month, but they can also negotiate with creditors to lower interest rates.

Bankruptcy

If debt has become something you can't keep up with, then bankruptcy might be an option. However, the cost of bankruptcy, combined with the possible loss of assets and impact to your credit, makes this an option many people want to avoid.

Using retirement savings

If you've been contributing to an IRA or an employer-sponsored retirement plan, then you might consider taking a loan or distribution from the account to pay off your debts. But doing so carries several big risks, including locking in losses when you liquidate holdings, missing out on earnings, triggering taxes and penalties, and facing accelerated repayment if you leave your job.
Coming back from consolidation
However you decide to deal with debt consolidation, you need to have a plan for making sure you don't repeat the actions that created the problem in the first place.
"Homeowners have to have a reality check," said Molitoris. "Is this the first time they've done this? Have they [consolidated] before and then turn around and run [the cards] right back up? If that's the case, then they're basically recycling a bigger problem that exists."
Molitoris suggested examining the nature of this potential spending problem. Further, he suggested bringing on an accountability partner to help hold you accountable for spending after consolidation.
Frequently Asked Questions