LendingTree Mortgage Offers Report – June 2018
June's best offers for borrowers with the best profiles (the 95th percentile of borrowers) had an average APR of 4.34% for conforming 30-year fixed purchase loans, down from 4.36% in May. Refinance loan offers were up 1 bp, to 4.37%. We consider people with the best credit profiles to be those who received the best mortgage offers through the LendingTree platform.
Mortgage rates vary depending upon parameters including credit score, loan-to-value, income and property type.
For the average borrower, purchase APRs for conforming 30-year fixed loans offered on LendingTree's platform were up 8 bps, to 5.00%. The loan note rate of 4.89% is the highest since March 2016 and was unchanged from May. We prefer to emphasize the APR as lenders often make changes to other fees in response to changing interest rates.
Consumers with the highest credit scores (760+, representing the 65th percentile of borrowers) saw offered APRs of 4.86% in June, versus 5.14% for consumers with scores of 680-719. The APR spread of 27 bps between these score ranges was down 2 bps from May. The spread represents almost $14,000 in additional costs for borrowers with lower credit scores over 30 years for the average purchase loan amount of $231,606. The additional costs are due to higher interest rates, larger fees or a combination of the two.
Refinance APRs for conforming 30-year fixed loans were up 11 bps, to 5.00% for the average borrower. The credit score bracket spread narrowed 4 bps, to 20 bps, amounting to nearly $11,000 in extra costs over the life of the loan for lower credit score borrowers given an average refinance loan of $236,706.
Average proposed purchase down payments were down about $1,000, to $59,205.
Purchase APR by Credit Score Range
Purchase Mortgage Offers by Credit Score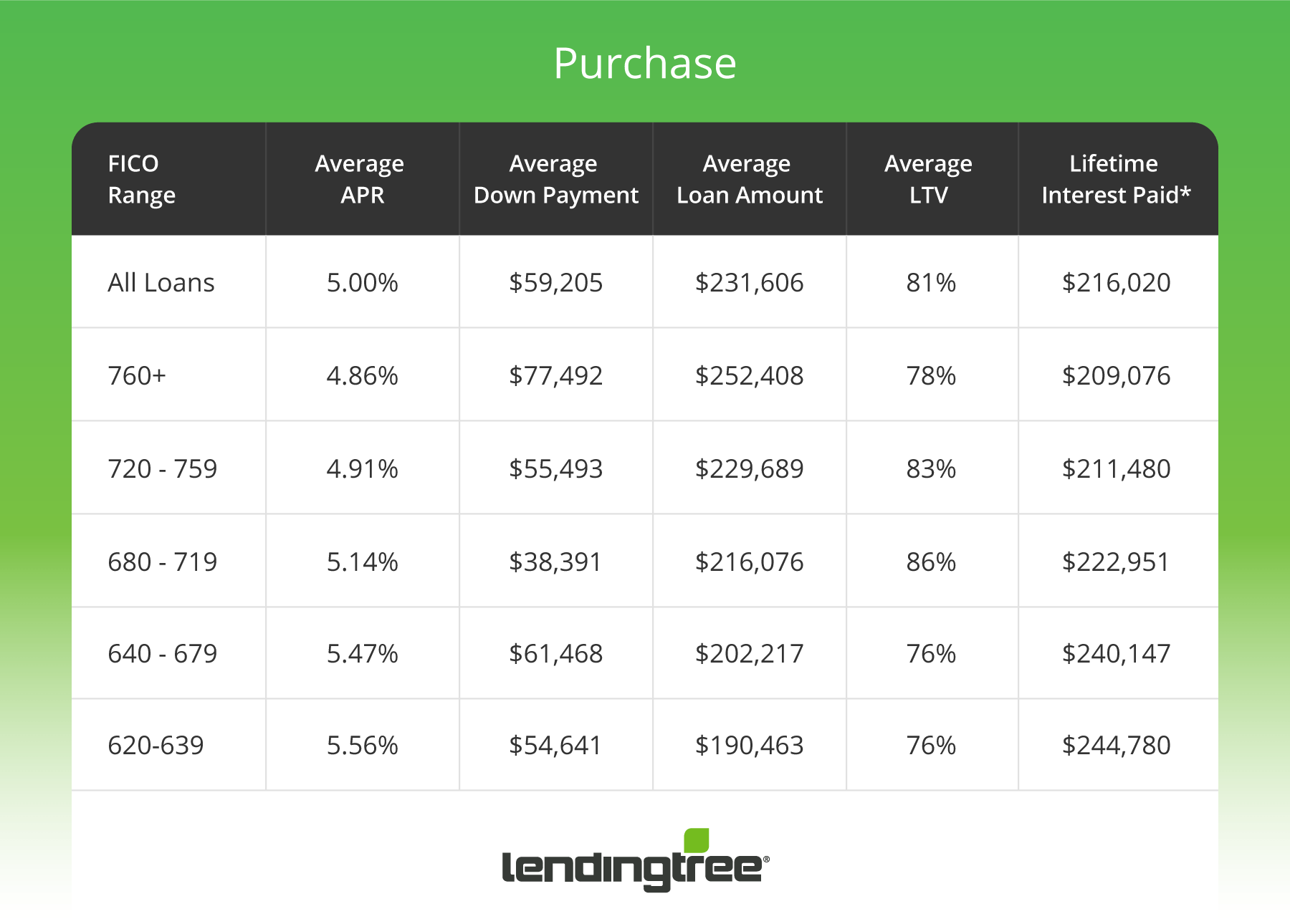 *Lifetime interest paid is calculated based on the overall average loan amount to enable comparison.

Refinance Mortgage Offers by Credit Score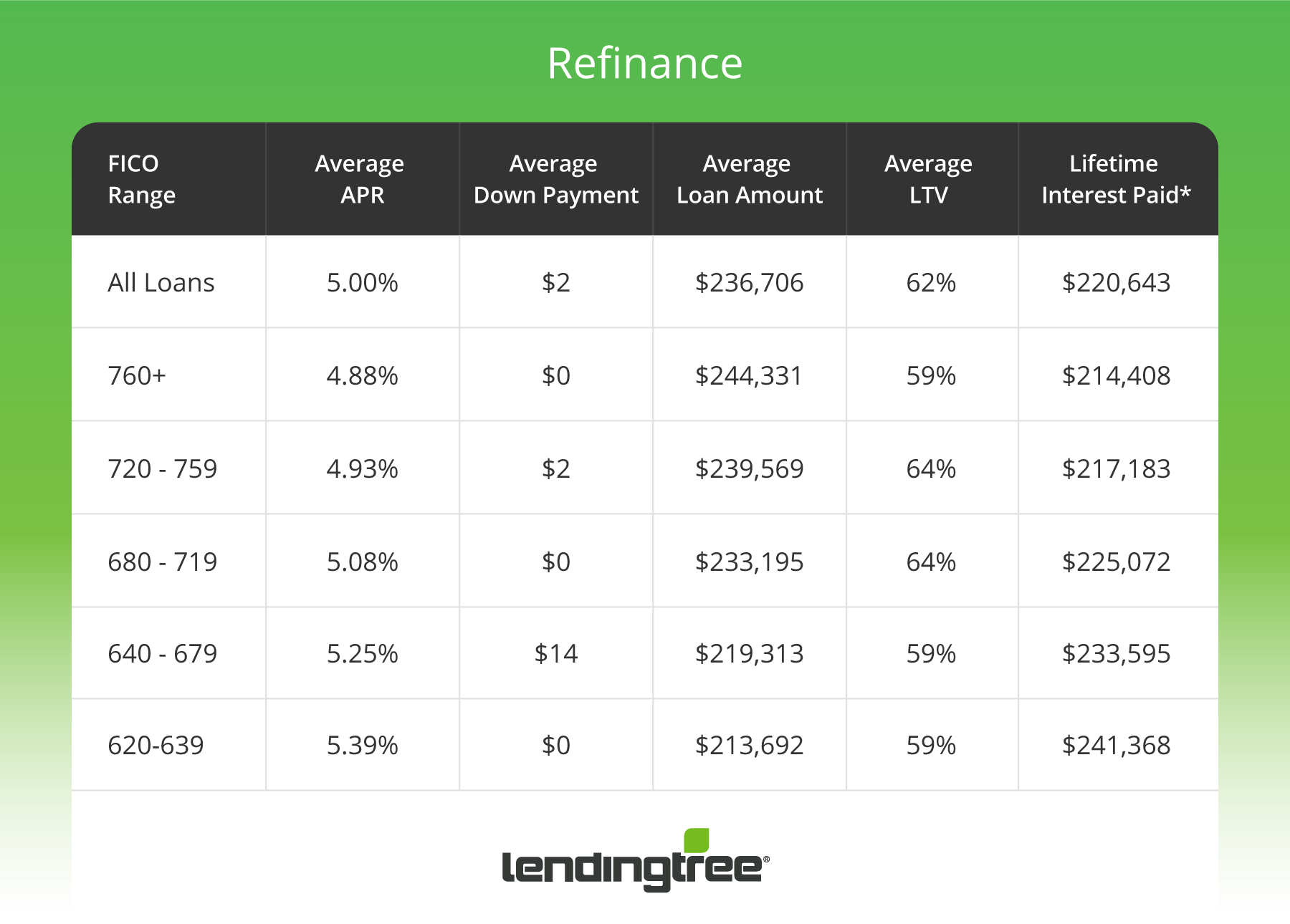 *Lifetime interest paid is calculated based on the overall average loan amount to enable comparison.
About the Report
The LendingTree Mortgage Offers Report contains data from actual loan terms offered to borrowers on LendingTree.com by lenders. We believe it is an important addition to standard industry surveys and reports on mortgage rates. Most quoted industry rates are for a hypothetical borrower with prime credit who makes a 20% down payment. Most borrowers do not fit this profile. Our report includes the average quoted APR by credit score, together with the average down payment and other metrics described below. We stratify by credit score, so borrowers have added information on how their credit profile affects their loan prospects. The report covers conforming 30-yr fixed loans for both purchase and refinance.
APR: Actual APR offers to borrowers on our platform
Down Payment: Though analogous to the LTV, we find that borrowers identify more closely with the down payment. Academic studies have also found that the down payment is the primary concern for homebuyers and one of the main impediments to entering the home buying market.
LTV: Actual LTV offered to borrowers on our platform
Loan Amount: The average loan amount borrowers are offered
Lifetime Interest Paid: This is the total cost a borrower incurs for the loan, inclusive of fees.