How Does LendingTree Get Paid?
LendingTree is compensated by companies on this site and this compensation may impact how and where offers appear on this site (such as the order). LendingTree does not include all lenders, savings products, or loan options available in the marketplace.
Survey: More Than Half of Millennials Receive Down Payment Help
Published on:
Content was accurate at the time of publication.
As home prices continue their upward climb, many homebuyers are finding they need financial support to achieve their homeownership goals. That's according to a new LendingTree survey, which found that 41% of buyers are getting down payment help.
The survey of more than 1,000 homebuyers reveals their down payment plans, while also gauging their understanding of the overall mortgage lending process.
Key findings
59% of millennial homebuyers are receiving help with their mortgage down payment.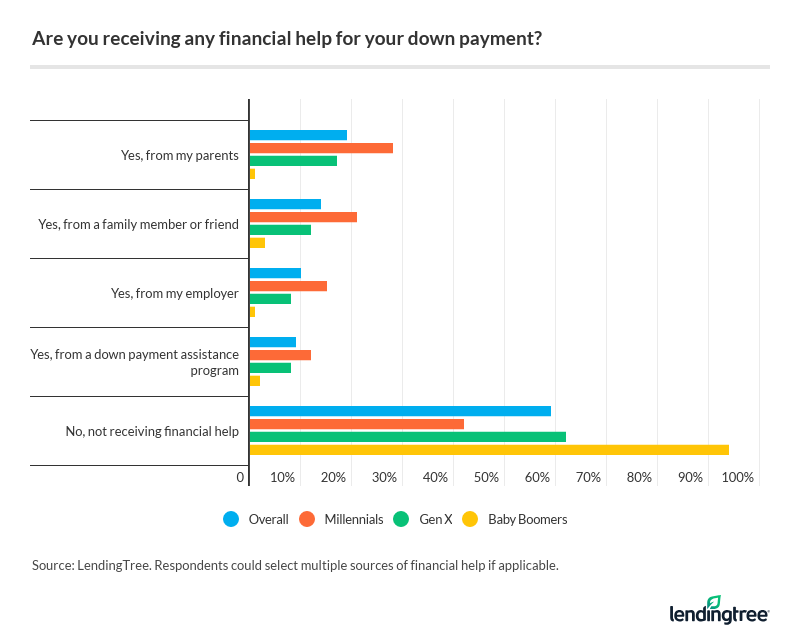 About 4 in 10 homebuyers of all ages are relying on help from family members, friends, employers or a down payment assistance program to get a mortgage for their home purchase.
"The large share of millennials receiving down payment help highlights the importance of intergenerational wealth transfers," said Tendayi Kapfidze, LendingTree's chief economist. "Much of the down payment assistance comes from accumulated equity from homes owned by older generations."
Additionally, more than two-thirds (73%) of first-time homebuyers say they're receiving some form of down payment help.
Nearly a third (31%) of homebuyers plan to contribute at least a 20% down payment.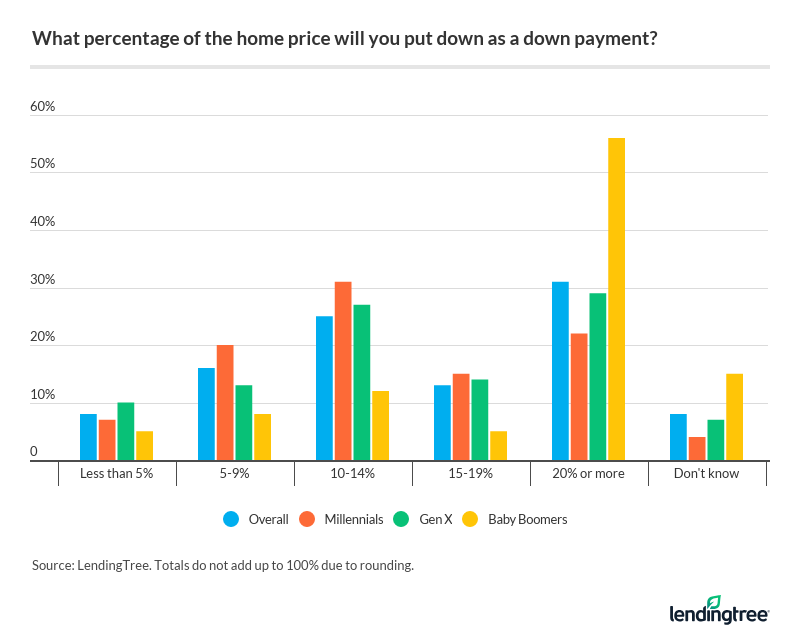 Baby boomers are the age group most likely — at 56% — to put down 20% or more. By contrast, only 29% of Gen Xers and 22% of millennials plan to spend as much on their down payment.
About 1 in 5 (21%) first-time buyers plan to put down 5% to 9% of their home's purchase price, while 22% of repeat buyers plan to put down 10% to 14%.
Only 18% of Black homebuyers say they'll put down at least 20%, compared with:
33% of white buyers
32% of Asian buyers
26% of Hispanic or Latino buyers
More than half (51%) of homebuyers plan to get a conventional loan.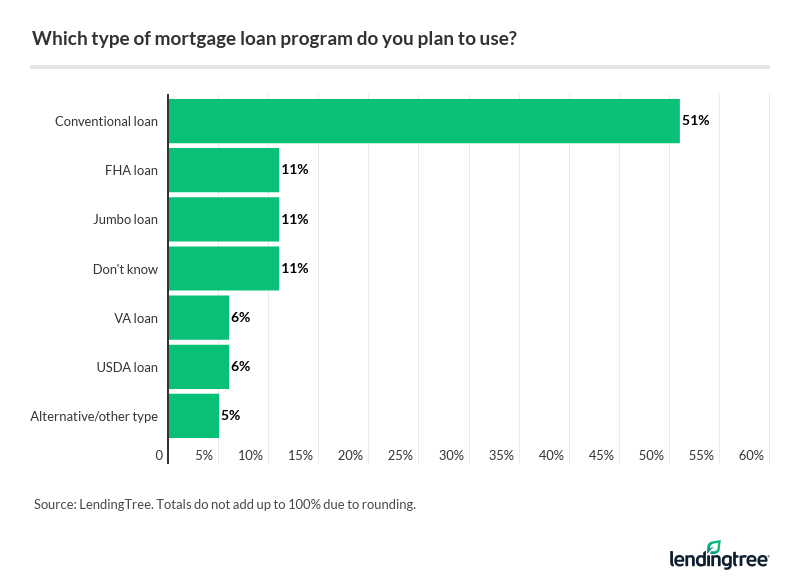 Using a conventional loan — a mortgage that isn't backed by the federal government — is by far the most popular option among survey respondents. The next three most-cited loan types are:
Still, another 11% say they're unsure which mortgage program they'll use for their home purchase.
Many respondents have misconceptions about homebuying
Four in 10 homebuyers have very little to no knowledge of the mortgage lending process. However, 44% of buyers say they know a lot — but not everything — about getting a mortgage, and another 17% say they know everything there is to know about the topic.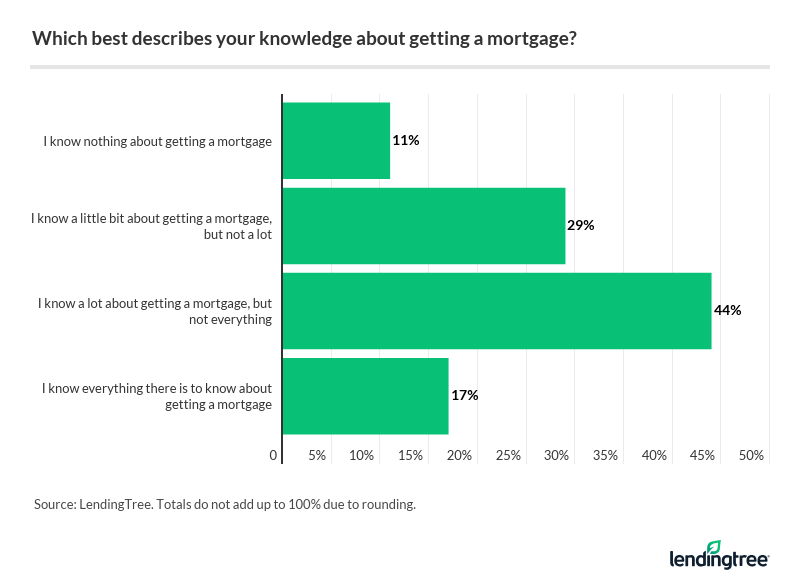 The reported misconceptions underscore the knowledge gaps some homebuyers have about getting a mortgage. For example, more than a third (35%) of buyers believe that a 20% down payment is required to buy a home.
More than a third (38%) of buyers think comparing multiple mortgage offers within a short timeframe will hurt their credit score. In fact, you can minimize the impact to your credit score by limiting your lender shopping to 14 days — in some cases, you could have as many as 45 days, depending on the lender's chosen credit score models.
Additionally, nearly 4 in 10 (39%) buyers mistakenly believe they must commit to working with the same lender providing their mortgage preapproval in order to move forward with their home purchase, which often isn't the case.
Our survey also found that more than half (55%) of homebuyers have been preapproved for a mortgage. Those with higher household incomes are more likely to have been preapproved than buyers with lower incomes.
3 things to know about mortgage down payments
Unless you can qualify to buy a house with no money down — by getting a mortgage backed by the U.S. Department of Veterans Affairs (VA) or the U.S. Department of Agriculture (USDA), for example — you'll need a down payment to buy your home. Here are three things to keep in mind about mortgage down payments.
You don't need a 20% down payment. Outside of VA and USDA loans, you may qualify for a mortgage with as little as 3% down for a conventional loan, and 3.5% for an FHA loan. In many cases, some or all of your down payment can come from gift funds.
The more money you put down, the better. While you may qualify for a low-down-payment mortgage, putting down more money upfront can improve your overall mortgage terms. You'll borrow less from your lender, and you may even get a lower mortgage rate.
Your down payment doesn't cover your closing costs. Closing costs are another major expense of buying a home. These costs include all the expenses related to transferring ownership of the home from the seller to you; they typically range from 2% to 6% of the loan amount and include lender fees and various third-party charges.
Methodology
LendingTree commissioned Qualtrics, an experience management firm, to conduct an online survey of 1,006 homebuyers, with the sample base proportioned to represent the overall population. The survey was fielded April 24-30, 2020.
We defined generations* by using the following age ranges:
Millennials: ages 24-39
Generation X: ages 40-54
Baby boomers: ages 55-74
*The survey also included responses from members of Generation Z (ages 18-23) and the silent generation (ages 75 and older). Due to the low sample size among both age groups, their responses were factored into the overall percentages but excluded from the generational breakdowns.