How Does LendingTree Get Paid?
LendingTree is compensated by companies on this site and this compensation may impact how and where offers appear on this site (such as the order). LendingTree does not include all lenders, savings products, or loan options available in the marketplace.
Mortgage Rates in Illinois — Plus Stats, First-Time Homebuyer Programs and Mortgage Refinancing
Updated on: March 30th, 2021
Editorial Note: The content of this article is based on the author's opinions and recommendations alone. It may not have been reviewed, commissioned or otherwise endorsed by any of our network partners.
The average mortgage interest rate in Illinois is 3.42%, slightly higher than the U.S. average of 3.37% and putting it 26th out of 50 states.
Homeowners in the state with a mortgage have a smaller-than-average balance of $245,679, which is 13.5% lower than the national average mortgage size of $284,152.
To give you a better sense of the homeownership landscape here, LendingTree's research team not only compiled data about mortgage rates in Illinois but gathered mortgage facts about its biggest cities and towns, and key information on first-time homebuyer programs in the state.
Mortgage rates in Illinois, plus more stats on the Prairie State
How Illinois mortgages compare to the rest of the U.S.
U.S.
Illinois
Difference
Difference %
Rank among states
Average borrower credit score
734
733
-1
-0.2%
19
Average mortgage size
$284,152
$245,679
-$38,473
-13.5%
28
Average mortgage monthly payment
$1,252
$1,092
-$160
-12.8%
27
Average mortgage interest rate
3.37%
3.42%
0.05%
1.6%
26
Average mortgage APR
3.61%
3.72%
0.11%
3.0%
27
Source: LendingTree internal data.
Note: Includes 30-year mortgages closed in 2020. State rankings go from high (1) to low (50) for credit score, mortgage size and monthly payment. State rankings go from low (1) to high (50) for interest rate and APR.
How Illinois mortgage-holders compare to the rest of the U.S.
U.S.
Illinois
Difference
Difference %
Rank among states
Median home value
$239,100
$209,000
-$30,100
-12.6%
27
Median household income
$93,884
$97,426
$3,542
3.8%
17
Median monthly housing costs
$1,595
$1,693
$98
6.1%
16
Median real estate taxes (annual)
$2,750
$4,824
$2,074
75.4%
5
Source: American Community Survey (2019 5-Year Estimates), U.S. Census Bureau.
Note: Real estate taxes are for homes with active mortgages. Home values are estimated by surveyed owners. State rankings go from high (1) to low (50).
While homeowners in Illinois pay close to the average rate for their mortgage payments and have a mortgage balance below average compared with the rest of the country, borrowers in the state have a slightly higher credit score than many states' borrowers.
Illinois ranks 19th with an average borrower credit score of 733, a point below the national average of 734. Credit scores impact mortgage rates in Illinois and other states.
Household income, which impacts housing affordability, is higher among those with a mortgage in Illinois compared with many other states. Illinois ranks 17th in median household income at $97,426. That's 3.8% higher than the national median household income among those with a mortgage of $93,884.
Mortgage facts in Illinois' biggest cities and towns, from Arlington Heights to Wheaton
LendingTree's research provided in-depth comparisons of various mortgage facts among the state's largest cities and towns with a population of at least 50,000 residents.
We have data on:
The percentage of homes with an active mortgage
Median home values
Median housing costs for renters and homeowners
Median incomes for renters and homeowners
Median property taxes
The cities with the largest population in Illinois include Chicago, Aurora and Joliet. While the Aurora and Joliet housing markets are somewhat similar, the Chicago market stands out for its higher household incomes among mortgage-holders and home values.
For example:
The median household income for homeowners in Aurora is $97,842, compared with $102,265 in Chicago and $93,275 in Joliet.
The median renter household income in Aurora is $66,441, compared with $58,617 in Chicago and $63,860 in Joliet.
Homeowner estimates of their home values vary between these three markets, with Chicago home value estimates averaging $272,700, compared with:
$189,900 in Aurora
$186,800 in Joliet
Top 5 and bottom 5 in Illinois
Just as mortgage rates vary from one individual to the next, the percentage of homes with an active mortgage varies, too. The percentage of homes with an active mortgage in Illinois ranged from as low as 42.6% to as high as 87.2%. Here's a closer look at the cities and towns in Illinois with the lowest and highest annual median property taxes.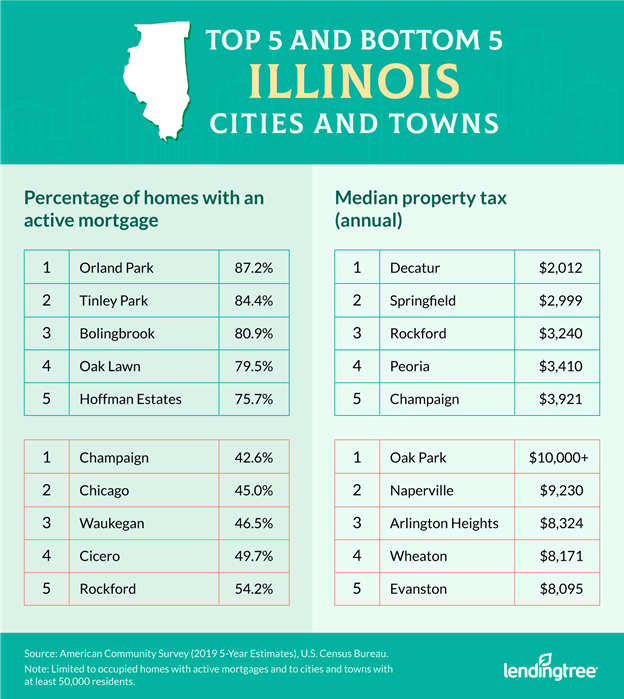 3 first-time homebuyer programs in Illinois
First-time homebuyers in Illinois have a wide range of loan options, including conventional financing, Veterans Affairs (VA) loans for veterans, U.S. Department of Agriculture (USDA) loans for properties in rural areas and Federal Housing Administration (FHA) loans designed for first-time borrowers, although not limited to that group. In addition, the Illinois Housing Development Authority (IHDA) offers several homebuyer programs available to both first-time homebuyers and repeat buyers.
IHDA Access
The IHDA Access program provides down payment and closing cost assistance to eligible borrowers. Three options are available:
Forgivable loan of 4% of the purchase price up to $6,000, forgiven over 10 years.
Deferred loan of 5% of the purchase price up to $7,500, deferred until the purchase loan is refinanced or paid in full or the house is sold.
Repayable loan of 10% of the purchase price up to $10,000, repaid with an interest-free loan over 10 years.
IHDA Mortgage Opening Doors
This program offers up to $6,000 in down payment and closing costs as a loan that will be forgiven over five years. Opening Doors works in combination with multiple loan programs.

IHDA Mortgage SmartBuy
Borrowers with at least $1,000 in student loan debt can receive up to $5,000 in down payment and closing cost assistance. In addition, these borrowers can receive up to $40,000 in student loan debt relief. The student loan relief can't exceed more than 15% of the home's purchase price or $40,000, whichever is lower, and must pay off the entire student loan balance of at least one of the borrowers at the closing.
Who qualifies?
The following requirements apply to all IHDA homeownership programs. Buyers must:
Have a credit score of 640 or higher
Contribute $1,000 or 1% of the purchase price, whichever is greater
Live in the home as their primary residence
Complete a homebuyer education class or homebuyer counseling
How to refinance your mortgage in Illinois
If you want to keep your home but would like to reduce your mortgage payments or pay off your home faster, you may want to consider refinancing your mortgage. Refinancing requires a new loan application based on your home value and your credit profile.
To decide whether to refinance or not, consider how long you expect to stay in your home. Establish your goals in the context of your overall financial plan. If you plan to sell your home in a year or two, a refinance may not be worthwhile because of the closing costs you must pay.
One step in the process of deciding whether a refinance makes sense for you is to check out mortgage rates in Illinois. Check your credit and estimate your home value to determine if you can qualify for a refinance. Consider your options, such as:
Refinancing into a new 30-year loan to extend your repayment period and lower your monthly payments
Choosing a 15 or 20-year loan to pay off your loan faster
Accessing some of your home equity for a home improvement project or other expenses with a cash-out refinance
If you decide refinancing is a smart financial move, shop around for your best rates from several lenders and be sure to compare their fees, too.
Reporters: Looking for further breakdowns? We also have the following maps:
Sources
LendingTree proprietary and anonymized 2020 customer data (last full year available)
U.S. Census Bureau American Community Survey, 2019 five-year estimates (latest available)