How Does LendingTree Get Paid?
LendingTree is compensated by companies on this site and this compensation may impact how and where offers appear on this site (such as the order). LendingTree does not include all lenders, savings products, or loan options available in the marketplace.
Honeymoon Loans: What Soon-to-Be-Married Couples Should Know
Updated on: February 25th, 2022
Why use LendingTree?
We are committed to providing accurate content that helps you make informed money decisions. Our partners have not commissioned or endorsed this content. Read our .
The average honeymoon costs roughly $5,000, according to an internal study by The Knot, and, for some couples, they may have to take out honeymoon loans to pay for their first trip as newlyweds. It may be tempting to add debt to take your dream vacation, but exercise caution — especially if you have poor credit. If you're thinking about getting a loan for a honeymoon to help bridge the gap, here's some guidance.
5 best honeymoon loans
| Lender | APR rates | Loan terms | Loan amounts |
| --- | --- | --- | --- |
| Discover | 7.99% - 24.99% | 36 to 84 months | Up to $40,000 |
| LightStream | 7.99% - 25.49% * with autopay | 24 to 144 months | $5,000 to $100,000 |
| OneMain Financial | 18.00% - 35.99% | 24 to 60 months | $1,500 to $20,000 |
| SoFi | 8.99% - 25.81% | 24 to 84 months | $5,000 to $100,000 |
| Upstart | 5.20% - 35.99% | 36 and 60 months | $1,000 to $50,000 |
*See
Methodology
below for how these lenders were selected
What to know about honeymoon loans
Honeymoon loans are a type of personal loan. These are generally unsecured installment loans, paid back over time at set periods. Applicants can obtain them from banks, credit unions and online lenders. Personal loans generally have fixed interest rates, which means the interest rate can't change over the life of the loan.
While personal loans can be used to pay for honeymoons and weddings, they can also be used for:
Home improvements
Debt consolidation
Medical bills
A borrower with good credit may receive a lower interest rate than they would from a credit card (the average APR for all credit card accounts is 15.09%) — a borrower with poor credit likely wouldn't. Say you're approved for a $5,000 loan with a five-year term at an APR of 35%. By the end of the loan, you'd owe $5,647 in interest, which means you'd owe more than double what you borrowed.
Personal loan ranges: APRs, terms, fees
| APR | 2.49% to 35.99%* |
| --- | --- |
| APR | 2.49% to 35.99%* |
| Repayment length | 12 to 144 months* |
| Borrowing limits | $600 to $100,000 |
| Origination fee | 0% to 10% of loan amount* |
*Accurate as of Jan. 14, 2022
Honeymoon loan requirements
Typical requirements for honeymoon loans, or personal loans, include:
Minimum credit score: Lenders generally prefer a credit score above 640, but those who have a lower score may still qualify for a personal loan. Lenders often consider a credit score of 740 or higher as excellent, which could result in a lower interest rate, while those with lower scores can typically expect higher interest rates.
Proof of income: Income minimums vary by lender. Citibank, for example, requires a yearly income of at least $10,500, while Discover requires a minimum yearly income of $25,000.
Maximum debt-to-income (DTI) ratio: Your DTI ratio is a percentage that represents how much of your gross monthly income goes toward paying down debts. DTI requirements vary by lender, but most prefer to see a DTI of 36% or less to qualify for a personal loan. Some lenders, like Peerform, are a bit more flexible, requiring a DTI of less than 40%; LendingClub, on the other hand, requires a DTI of less than 31% for applicants.
Of those, your credit score will most often play the largest part in determining what kind of APR — interest rate plus fees — you'll qualify for on a honeymoon loan. As you can see in the table below, the higher your credit score, the lower the APR you'll generally receive.
Average personal loan APR by credit score
| Credit score range | Average APR |
| --- | --- |
| 720+ | 10.73% |
| 680-719 | 19.04% |
| 660-679 | 24.74% |
| 640-659 | 30.18% |
| 620-639 | 37.09% |
| 580-619 | 65.93% |
| 560-579 | 102.36% |
| Less than 560 | 156.11% |
Source: LendingTree customer data for Q1 2021.
Honeymoon loan application process
Gather information and check your credit report: Prepare the necessary documents you'll need to apply for a honeymoon loan. Know your DTI ratio and check your credit report. You have access to free credit reports from each of the three main credit-reporting bureaus (Experian, Equifax and TransUnion) through AnnualCreditReport.com.
Get prequalified and shop for your best rates: Provide lenders with the necessary information to see if you can prequalify for a honeymoon loan — that is, without a hard credit check that can negatively impact your credit score. By doing so, you'll generally be able to receive more APR offers from various lenders without a credit impact.
Compare your offers: After you've been prequalified and shopped around for a lender, it's time to examine each offer carefully, including APRs, origination fees and loan terms. Do your homework and accept the best offer for your situation.
Complete the application process: At this point, you'll need to consent to a hard credit check to complete the application process (note that this will impact your credit score). Lenders typically ask for pay stubs for proof of income and bank account statements to show proof of savings.
Receive your money: Lenders sometimes disburse loans quickly, and some may even be able to deposit funds into your account within hours of approval. For example, Rocket Loans advertises same-day funding, and so does OneMain Financial if you're approved by noon.
Why borrowing a loan for your honeymoon may be a bad idea
There's no escaping the fact that you'll have to pay back your honeymoon loan — with interest. You should only take out a honeymoon loan if you have the income and space in your budget to pay back the loan each month.
If you're short on cash, it's understandable to want to take out a personal loan to pay for a honeymoon, but you need to carefully consider the hard numbers before committing. It's important to remember the scenario we shared about the borrower with poor credit who could owe nearly $6,000 in interest on a $5,000 loan. Regardless of your credit, there are alternatives to consider before taking out a loan.
6 honeymoon loan alternatives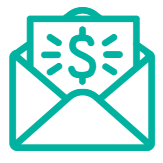 Start a honeymoon registry

Delay the honeymoon to save up money

Remain flexible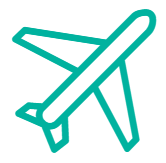 Travel during shoulder season

Consider a low-interest credit card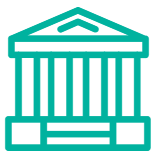 Consider a personal line of credit
1. Start a honeymoon registry
Rather than — or in addition to — registering for home items, honeymoon registries allow your wedding guests the opportunity to contribute to a fund directly tied to your honeymoon.
There are many sites to explore if you choose to set up a honeymoon registry. For example:
Honeyfund offers options for fee-free gift cards, but couples will incur a fee of 3.5% (plus 59 cents) or 2.59% (plus 49 cents) if they choose to collect their funds through their bank or PayPal account, respectively.
Traveler's Joy gifts provided via cash or check are free, but those given using a credit card incur a 2.95% transaction fee. Couples have the option to cover these fees rather than their guests.
You may also consider using a crowdfunding site like GoFundMe to collect cash for your dream trip.
2. Delay the honeymoon to save up money
There's no rule that says you have to depart for your honeymoon the day after your wedding — give yourself a few months to save up. You could consider tallying up any cash gifts your guests have contributed and planning for a honeymoon at a later date.
3. Remain flexible
Keep an open mind when planning a wedding and honeymoon. Hunt around for deals and subscribe to email lists for sites like Scott's Cheap Flights, which sends regular emails advertising affordable flights. You may find a flight to a destination you hadn't considered before, saving you hundreds of dollars on airfare.
4. Travel during shoulder season
Most locations have high and low seasons for travel. Consider traveling during "shoulder season," which falls between the high and low seasons for tourism. Be sure to check the weather and how the seasons may affect whatever activities you'd like to take part in while on your trip.
5. Consider a low-interest credit card
If you're approved for a credit card with a 0% APR introductory offer and are able to pay off your honeymoon by the time the period ends, you won't owe interest while paying for your trip. Depending on the card, this introductory offer may last up to 21 months, making it an appealing option to many.
However, if you don't manage to pay off the trip during the introductory period, or miss a payment during that time, you could owe interest on the remaining balance, so be sure you can pay back the sum on time.
6. Consider a personal line of credit
If you're not sure of the exact amount you'll need to pay for your honeymoon and are worried about taking out too much, you may approach a lender for a line of credit rather than a personal loan.
A personal line of credit allows you to withdraw money up to a certain limit as decided by your lender. You'll only pay interest on what you use, rather than the total sum for which you qualify.
Honeymoons are expensive, so couples have had to become more creative in finding ways to take their first vacation as spouses. Whether you decide to take out a honeymoon loan, delay your trip or travel in unique ways, be sure to explore all your options and make the right decision to start your marriage on the right financial foot.
Compare before you sign
It might sound enticing to take out a personal loan for a post-wedding trip, but, if you're not careful, it may put you even more in the hole if you've already taken out wedding loans. It may be better to instead save up for a honeymoon or consider an alternative, particularly if your credit could use some work.
However, if you're able to afford the monthly payments and are offered a stellar APR rate, a honeymoon loan may be a good option. Check to see if you prequalify for any loans and be sure to compare any offers (paying special attention to the APR rates, loan terms and amounts offered) before agreeing to anything.
Methodology
Why use LendingTree
By offering a detailed and objective account of each lender's rates and terms, LendingTree's goal is provide you with all the information you need to make a financially sound decision specific to your situation. Our team of experts thoroughly vets and weighs each option — recommendations are not based on advertisers but rather an honest review of each lender's offerings. By providing a full picture of what each lender has, we hope to leave you with peace of mind about your financial future.
Lenders were chosen based on factors such as APR rates, loan amounts, terms, fees and credit requirements.