How Does LendingTree Get Paid?
LendingTree is compensated by companies on this site and this compensation may impact how and where offers appear on this site (such as the order). LendingTree does not include all lenders, savings products, or loan options available in the marketplace.
Subprime Auto Loans: Getting the Best Loan
Published on: August 28th, 2019
Editorial Note: The content of this article is based on the author's opinions and recommendations alone. It may not have been reviewed, commissioned or otherwise endorsed by any of our network partners.
A subprime auto loan is one offered to those who need to finance a car purchase and don't have the best credit score. Subprime may be another way of saying poor, fair or "bad" credit, but not everyone agrees on exactly what a subprime credit score is. Credit bureau Experian says "nonprime" means a credit score lower than 670 while others say it means a credit score lower than 620 or 550. Credit scores generally range from 300 to 850 — the higher the number, the better your credit.
One lender may count your credit score as subprime and charge a higher annual percentage rate (APR), while another lender may count it as prime and charge less. This difference is one of the reasons it's important to shop around for a bad credit auto loan.
How does a subprime auto loan work?
A subprime auto loan is much like a normal auto loan. You apply to a lender to borrow a specific amount of money for a specific car. The lender looks at your credit history, credit score, your income and more, and then makes a decision. To what degree it weighs these factors depends on the lender. A credit union, for example, might not even base interest rates on credit score, but instead will have it depend on the borrower's ability to repay when making approval decisions.
An auto loan approval will let you know what your monthly payment would be, how much the lender is charging, how long the auto loan would last and more. You are not committed to the auto loan unless you agree and sign it.
How is a subprime auto loan different? Subprime auto loans generally charge more in interest and fees than prime auto loans because lenders think a person with a lower credit score is less likely to pay the loan back on time. Experian defines subprime as a score below 600 and "deep subprime" at 500 or lower.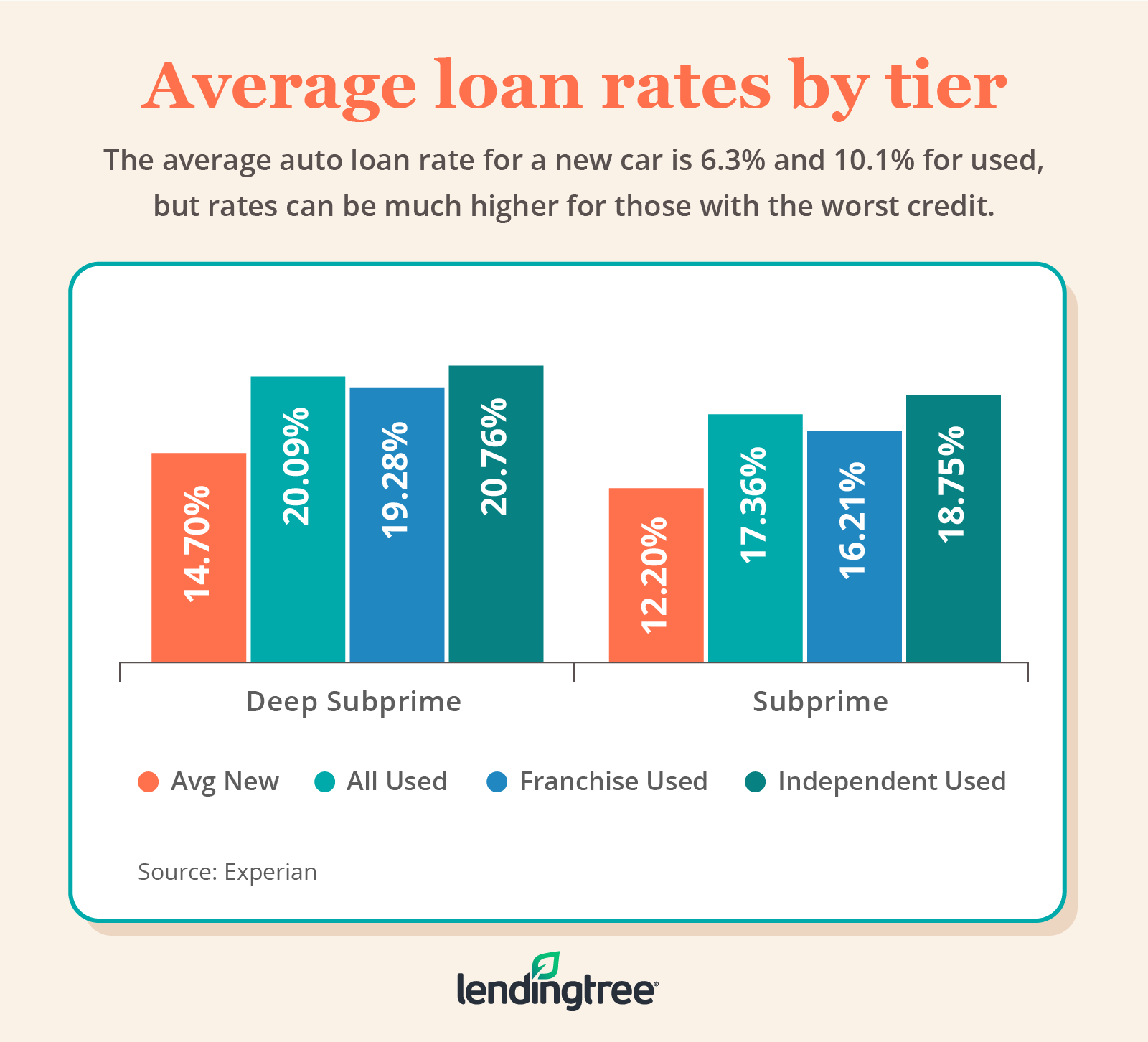 But there might also be some familiar perks, including a payment grace period. This depends on the state you live in and your lender. For example, if you have an auto loan and you live in Texas, you have a grace period of 15 days before your payment is considered late. The exact grace period you have will be on the auto loan contract.
How do I get a subprime auto loan?
All types of lenders provide subprime auto loans. Apply to lenders of your choice and follow through. Potential lenders include your bank, credit union or online lender, automakers (such as Ford financing or Honda financing) or even companies catering specifically to subprime borrowers. You could fill out an online form at LendingTree and receive up to five potential auto loan offers from different lenders, depending on your creditworthiness.
First, know your credit score. Different lenders may use different scores when evaluating your auto loan application, but it's a good idea to check your credit score and credit report before making any large purchase. Your free annual credit report doesn't automatically include a credit score — each reporting agency charges a fee.  If you have time to improve your credit score, it may make the difference between a subprime or prime auto loan.
What lenders should I apply to? Apply to any lender you feel comfortable with, whether it's your community credit union or a national bank. But don't just apply to lenders through the dealership. Dealers often make money by playing the middleman and may increase your auto loan APR. We recommend that you don't go to a "buy-here, pay-here" dealership, as they often charge consumers the most.
How many lenders should I apply to? Apply to a few lenders (maybe three or more) by yourself, directly to see what you qualify for. Shopping around for an auto loan generally has little to no impact on your credit score, according to the Consumer Finance Protection Bureau, as long as you do so within a window of 14 days.
What documents do I need to apply? The two biggest things you may need are proof of income (POI) and proof of residence (POR). To show this, you could use your last three pay stubs and a utility bill showing your address. Check out our full car loan documentation checklist.
What are the benefits of a subprime auto loan?
A subprime auto loan might help you get a nicer, more dependable car, rather than a cheaper car you might be able to buy with cash. It could also help you to get a car now rather than needing to wait, either to improve your credit or save up cash.
And in the long run, successfully paying off a subprime auto loan could improve your credit. With better credit, you could refinance your car for a better interest rate and/or get a prime auto loan on your next car. It's also possible to refinance with bad credit.
What are the risks of a subprime auto loan?
We've mentioned higher interest rates, but subprime auto lenders may also charge fees. Higher interest rates and fees means more of your hard-earned money goes towards paying for the loan rather than paying for the car. It can also mean higher payments, which could make it harder to pay off the loan.
How do I pay less interest? If you tried your best to negotiate, but still wound up with a high interest rate, the quick answer to this is to pay off your auto loan early. Here are 11 hacks to pay off your car loan faster. The Center for Responsible Lending warns of "churning" — when a dealer sells a car and a loan on that car, knowing the buyer won't be able to pay for it in full and that they will repossess it and sell it again in a few months.
How do I avoid churning? Shop around for a car loan and make sure you can make the payments. A car is more expensive than its price tag — you have to add taxes, fees, interest, auto insurance, gas and maintenance to get the total cost of ownership. If you don't know what you can afford, you can look at how to set a car budget and use our calculator to see how much car you can afford.
Auto subprime borrowers are at a higher risk of loan delinquency and having their cars repossessed according to the American Community Survey. Moreover, subprime lenders often use technology that allows them to essentially repossess from afar, remotely disabling the car. The same technology might be used for late payments as well.
How do I avoid repossession? If you have trouble making payments, the Consumer Financial Protection Bureau recommends contacting the lender to work out a new payment plan, or that you look at refinancing or selling the vehicle to cover what you owe.
How to compare subprime auto loan offers
When you get auto loan offers from lenders, an easy way to compare them is to look at monthly payment. However, be careful about this — just because one loan offers the lowest monthly payment does not mean that it is your best deal.
Long-term auto loans might have the lowest monthly payment option, but they also usually charge the highest amount in total interest.
The rule of thumb is to choose the loan offer with the lowest APR that has a payment you can make comfortably. You could read more about how to compare auto loans.
The bottom line on subprime auto loans
A poor credit score isn't cause for embarrassment, nor should it be a speed bump between you and a reliable car — nearly 20% of all auto loans in the U.S. are considered subprime. But while you might get approved for a subprime auto loan, it will most likely be expensive: average interest rates for those with the worst credit is around 21%, according to LendingTree, about four times higher than those with the best scores.
To get your best deal on any car loan, you should apply to multiple lenders directly in order to shop around and get the cheapest and best loan for you. Don't depend on a dealership to do what's best for you. And don't bite off more than you can chew — when you look at subprime auto loan offers, know that the monthly payment you see is just part of what you'll pay for the car. Consider the entire cost of ownership, including things such as insurance and gas. It's better to get a less expensive car than it is to get a too-expensive car and struggle to make payments.
On-time payments may help improve your credit score so that you could potentially refinance the loan on that car or qualify for a prime loan on your next car, house or other major purchase.