7 Best Small Business Loans in 2021
Updated on: December 23rd, 2020
Editorial Note: The content of this article is based on the author's opinions and recommendations alone. It may not have been previewed, commissioned or otherwise endorsed by any of our network partners.
The best small business loans can give business owners timely access to funds needed to make business purchases, pay employees, expand operations and more. Small business loans are available from a variety of sources, including traditional banks and alternative, online lenders.
Online business lenders typically provide faster access to capital than banks and have more lenient eligibility requirements. Compare multiple financing options below to find the best small business loan to meet your needs.
The 7 best small business loans of 2021
When selecting lenders, we considered how much money you could borrow and how quickly you could receive those funds. We chose business loans from online lenders that could be available within a week of approval and cover small, medium or large business expenses. Small business lenders that appear on this list meet the following criteria:
Loan amounts as high as $250,000 to $500,000
No more than two years in business required
Flexible terms as low as three to six months
Best Small Business Loans
Lender
Loan amount
Time in business required
Terms
Rates
Time to funding after approval
OnDeck
$5,000 to $250,000
1 year
Up to 18 months
Starting at 11.89% APR
Same day
Fora Financial
$5,000 to $500,000
6 months
4 to 16 months
Factor rates between 1.10 and 1.40
3 business days
Credibly
Up to $400,000
6 months
6 to 18 months
Factor rates starting at 1.15
Same day
SmartBiz SBA 7(a) loan
$30,000 to $5,000,000
2 years
120 to 300 months
4.75% to 7.00%
7 business days
BlueVine
Up to $250,000
6 months
6 to 12 months
Weekly rates starting at 4.80%
1 to 3 business days
Funding Circle
$5,000 to $500,000
2 years
3 to 120 months
4.99% to 19.49% APR
3 business days
Better Business Funding
$150,000 to $500,000
6 months
24 to 72 months
Starting at 6.75%
2 business days
Best for established businesses: OnDeck

Why it's among the best: Borrowers with at least one year in operation may qualify for OnDeck's fast financing starting at $5,000.
OnDeck offers short-term loans between $5,000 and $250,000 with repayment terms up to 18 months. OnDeck collects automatic, fixed payments on a daily or weekly schedule. Rates for short-term loans start at 11.89% APR, though that low starting rate is reserved for businesses with strong credit and cash flow. OnDeck's weighted average APR for short-term loans is about 49%.
OnDeck also charges a one-time origination fee on each term loan that's included in your APR. To qualify for financing, you'd need to meet OnDeck's eligibility requirements:
One year in business
$100,000 in annual revenue
600 minimum credit score
However, OnDeck's typical customer has three years or more in business, annual revenue of $300,000 or more and a personal credit score of 650 or higher. You may have a better chance of being approved if you fit the profile of a typical OnDeck customer, rather than simply meeting the minimum requirements. If approved, OnDeck could fund your loan the same day, depending on your location and loan amount.
Best for quick repayment: Fora Financial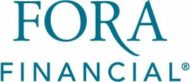 Why it's among the best: Fora Financial offers the shortest repayment terms among the lenders on our list at 4 months, which may be best for business owners who prefer short-term capital that they can repay right away.
Fora Financial's online business loans are available between $5,000 and $500,000 with terms from 4 to 16 months. The company uses factor rates, which are written as decimal figures rather than percentages, to express interest.
You would multiply the factor rate by your loan amount to determine the total cost. Fora Financial's factor rates between 1.10 and 1.40, and the lender charges an origination fee up to 2.50%. So, if you borrowed $10,000 with a factor rate of 1.40, you would need to repay $14,000, plus your 2.50% origination fee.
To be eligible for financing, business owners must have:
Six months in business (one year in some instances)
$12,000 in gross monthly sales
500 minimum credit score
Time to funding may be as little as 72 hours after approval, which is slower than other lenders on this list — however, Fora Financial could approve your application in as few as 24 hours. It also offers early payoff discounts as low as 10 cents on the dollar.
Best for low credit: Credibly

Why it's among the best:
Credibly's minimum credit requirement of 500 is among the lowest on our list, making the lender well-suited for business owners seeking
bad credit business loans
.
For general business expenses, Credibly offers a working capital up to $400,000 with terms from 6 to 18 months. Like Fora Financial, Credibly uses factor rates to communicate interest. Factor rates for working capital loans start at 1.15. Credibly also charges a one-time origination fee that's 2.50% of the total loan amount.
Credibly's eligibility requirements include:
Six months in business
$15,000 in monthly bank deposits (three-month average)
500 minimum credit score
Your working capital loan application may be approved within 24 hours and you could receive same-day funding after accepting a loan offer. Credibly would deposit loan funds directly into your bank account, minus the origination fee.
Best for SBA loans: SmartBiz
Why it's among the best:
SmartBiz streamlines the process of applying for
SBA loans
, which are among the most desired business financing options out there.
SmartBiz helps business owners apply online for bank term loans and SBA loans, which are issued through banks and backed by the U.S. Small Business Administration (SBA). Several types of SBA loans are available, including the popular 7(a) loan designed for general business expenses. SmartBiz SBA 7(a) loans are available from $30,000 to $5,000,000 with rates between 4.75% and 7.00%. Repayment terms for SBA 7(a) loans range from 120 to 300 months. Maximum terms are based on your use of loan funds:
Equipment: 10 years
Working capital: 10 years
Real estate: 25 years
SBA loans typically have tougher eligibility requirements than business loans from online lenders. When applying for an SBA loan through SmartBiz, expect these requirements:
Two years in business
$100,000 in annual revenue
650 to 675 minimum credit score
You may also need to provide collateral to secure an SBA loan through SmartBiz. If approved, you could receive your loan funds in at least seven days. Though this timeline is longer than what other lenders on this list advertise, it's significantly faster than the standard SBA application and approval process. It could take two months or longer to receive an SBA loan when applying directly through a bank.
Best for small-to-medium purchases: BlueVine

Why it's among the best: Borrowers can turn to BlueVine for medium-sized term loans without facing tough requirements.
Term loans from BlueVine are available up to $250,000 with fixed weekly rates as low as 4.80%. BlueVine's terms span 6 to 12 months with automatic weekly payments. BlueVine offers a $15 bank wire option for same-day funding after approval. Or, you could choose BlueVine's free ACH transfer and have funds in your account in one to three business days after approval.
To qualify for a loan from BlueVine, you would need:
Six months in business
$10,000 in monthly revenue
600 minimum credit score
BlueVine would also ask for basic details about your business, as well as three months's worth of recent bank statements. But you may be able to give BlueVine a connection to your bank account instead of those bank statements.
Best for long repayment terms: Funding Circle

Why it's among the best: Funding Circle offers lengthy terms with fixed payments on a weekly, biweekly or monthly schedule.
Funding Circle offers term loans from $5,000 to $500,000 with repayment terms from 3 to 120 months. Funding Circle's APRs range from 4.99% to 19.49%. Funding Circle also charges a one-time origination fee. In some cases, Funding Circle may require certain collateral to secure a term loan in addition to a personal guaranty, which would make you personally liable for the debt.
To qualify for financing from Funding Circle, you'll need to meet the following requirements:
Two years in business
660 minimum credit score
Funding Circle doesn't specify a minimum revenue requirement, but an average Funding Circle borrower earns about $1.4 million in annual sales. After you apply online, Funding Circle could approve your loan within 24 hours and disburse funds in as few as three business days.
Best for equipment loans: Better Business Funding

Why it's among the best: Better Business Funding offers fast access to funding to buy new or used commercial equipment.
Equipment financing from Better Business Funding is available from $150,000 to $500,000. Repayment terms range from 24 to 72 months and interest rates start at 6.75%. You could finance new or used equipment such as forklifts, commercial ovens, office furniture and more. Better Business Funding typically does not require additional collateral or a down payment from borrowers.
Better Business Funding doesn't highlight specific eligibility requirements for equipment financing on its website, but its general business loan requires the following:
Six months in business
$10,000 in monthly revenue
500 minimum credit score
If approved, you could receive financing to get your equipment within two business days. Better Business Funding may offer flexible payment options that allow you to skip or defer payments, or make seasonal payments, depending on your financing arrangement.
Tips for choosing the best business loans
It's important to be strategic when choosing a small business loan, since you'll be on the hook for any obligations stated in your loan agreement. There are several details to consider beyond a lender's minimum requirements. Here's some guidance to help you pick the best small business loan for your operation.
Shop around and compare lenders
Take time to evaluate the business loans offered from a variety of lenders. Online lenders often charge different types of fees and interest rates, which could make it difficult to make exact comparisons. Once you apply for a loan, you'd likely get a better idea of how much you'd have to repay for that particular financing option.
If you apply with more than one lender to compare your options, make sure you understand whether a lender conducts a "soft" or "hard" credit inquiry. Lenders typically use soft inquiries to preapprove or prequalify borrowers. A soft inquiry wouldn't affect your credit score, whereas a hard inquiry could have a negative impact on your credit profile.
Consider repayment term lengths
Your business may be better suited to handle a repayment term of a certain length. For instance, if your business typically hits a slowdown during the year, you might seek a shorter term that would allow you to pay off your debt before the slow season sets in.
Or, you may seek a longer term if your business income is steady throughout the year. The longer your repayment term, the lower your monthly payments may be, limiting the impact on your cash flow. Look for a loan term that works with your business model and seasonality.
Calculate a desired payment
To make sure you don't end up with a surprising loan payment, calculate how much you can afford to repay before you apply for small business loans. A business loan calculator can help determine the maximum loan amount your business could handle. That way, you avoid accepting a loan offer with a rate that pushes your payments past your limit.
Understand your risk as a borrower
Several aspects of your business could make you seem risky to lenders, which would raise the rate you might receive. The riskier you are as a borrower, the harder it may be to secure a better rate or a loan altogether. Consider the factors that impact your risk:
Poor credit history
Little time in business
Low profits
Unorganized documents and records
Little or no collateral to secure the loan (not always necessary)
Recognizing where your business may fall short in the eyes of a lender would allow you to make improvements before applying and help you negotiate an agreement. If one area of your business is lacking, you could highlight others that are in better shape.
Small business loan FAQs
What are the different types of small business loans? 
Business owners could apply for short-term or long-term business loans. Short-term loans typically must be repaid in three to 18 months, while long-term loans could have repayment terms between three and 10 years. Longer terms could result in lower APRs, but it could be more difficult to qualify for a long-term loan than a short-term loan.
What are the biggest differences between online business loans and traditional bank loans?
Traditional bank loans often have a longer time to funding and stricter eligibility requirements than online loans. However, banks generally offer lower APRs than online business lenders.
How do I apply for a small business loan? 
You can usually apply for online business loans through a lender's website. You would need to submit an online application and provide any documents that the lender requires. A lender may also provide an option to apply via phone.
Which loan is best for my business?
Look for a type of business loan that provides the amount of funding you need at a cost you can afford. Make sure the repayment schedule works with your revenue model. Shop around until you receive a loan offer that you feel comfortable accepting.
What can I use a business loan for?
You can use a business loan for a variety of business expenses, from working capital to payroll to inventory and more. However, some business loans are designed for a specific expense, such as equipment or commercial real estate. Be sure to check whether your lender places any restrictions on your use of loan funds.