How Does LendingTree Get Paid?
LendingTree is compensated by companies on this site and this compensation may impact how and where offers appear on this site (such as the order). LendingTree does not include all lenders, savings products, or loan options available in the marketplace.
Mortgage Rates in Pennsylvania — Plus Stats, First-Time Homebuyer Programs and Mortgage Refinancing
Updated on: March 10th, 2021
Why use LendingTree?
We are committed to providing accurate content that helps you make informed money decisions. Our partners have not commissioned or endorsed this content. Read our .
Mortgage rates in Pennsylvania are among the highest in the nation, with borrowers paying an average of 3.53%, versus the U.S. average of 3.37%. That ranks Pennsylvania 42nd among states for mortgage interest rates.
However, Pennsylvania homeowners have an average monthly mortgage payment lower than the national average due to smaller loan sizes. Pennsylvanians pay an average of $1,089 a month on their mortgage, compared with $1,252 across the U.S.
We took a look at mortgage rates and homebuyer programs in Pennsylvania and its biggest cities and how they stack up with the rest of the country. In most cases, the Keystone State falls near the middle of the pack — but mortgage terms here are far friendlier than neighbor New York.
Mortgage rates in Pennsylvania, plus more stats on the Keystone State
How Pennsylvania mortgages compare to the rest of the U.S.
U.S.
Pennsylvania
Difference
Difference %
Rank among states
Average borrower credit score
734
732
-2
-0.3%
24
Average mortgage size
$284,152
$241,547
-$42,605
-15.0%
30
Average mortgage monthly payment
$1,252
$1,089
-$163
-13.1%
29
Average mortgage interest rate
3.37%
3.53%
0.16%
4.9%
42
Average mortgage APR
3.61%
3.71%
0.10%
2.7%
26
Source: LendingTree internal data.
Note: Includes 30-year mortgages closed in 2020. State rankings go from high (1) to low (50) for credit score, mortgage size and monthly payment. State rankings go from low (1) to high (50) for interest rate and APR.
How Pennsylvania mortgage-holders compare to the rest of the U.S.
U.S.
Pennsylvania
Difference
Difference %
Rank among states
Median home value
$239,100
$196,600
-$42,500
-17.8%
30
Median household income
$93,884
$92,024
-$1,860
-2.0%
22
Median monthly housing costs
$1,595
$1,494
-$101
-6.3%
24
Median real estate taxes (annual)
$2,750
$3,174
$424
15.4%
16
Source: American Community Survey (2019 5-Year Estimates), U.S. Census Bureau.
Note: Real estate taxes are for homes with active mortgages. Home values are estimated by surveyed owners. State rankings go from high (1) to low (50).
LendingTree studied average mortgage sizes, credit scores, monthly payments and mortgage rates — among other things — in all 50 states. Pennsylvania stood out as a relatively affordable Northeast state, though borrowers still must pay the region's notoriously high property tax bills.
Pennsylvania borrowers may be better suited to afford their mortgages than most. The average Pennsylvania homeowner may be in a better position to afford their mortgage, with a loan size well-below average but a median income for households with a mortgage just slightly below the U.S. as a whole.
The average mortgage size in Pennsylvania is $241,547, compared to the nation's $284,152. That 15% difference contributes to the state's lower monthly payment.
Meanwhile, the median income among Pennsylvania households with a mortgage is $92,024, below the national average by 2% but in the top half of U.S states.
Housing costs average $1,494 a month, lower than the U.S. rate of $1,595.
New York, the state's neighbor to the north, has the country's third-highest monthly mortgage payment ($1,494) and the highest interest rates (3.93%).
Pennsylvanians face large tax bills. Northeast states tend to charge their residents large amounts of real estate taxes. Pennsylvania is no different. The median amount paid in the Keystone State is $3,174 a year, No. 16 in the country and ahead of the U.S. median of $2,750.
Mortgage facts in Pennsylvania's biggest cities and towns, from Allentown to Scranton
LendingTree's analysis dug deeper than statewide numbers. Besides mortgage rates in Pennsylvania, the data includes a look at the Keystone State's largest cities and towns. The list includes those with at least 50,000 people living there.
While Pennsylvania's two largest cities — Philadelphia and the significantly smaller Pittsburgh — have similar homeownership rates, the costs of owning a home are much higher in Philadelphia. The median mortgage in the City of Brotherly Love is $1,332 a month, compared with $1,178 in Pittsburgh.
The city of Levittown has an astonishing 83.2% of its properties with an active mortgage. The city that comes closest is Philadelphia, at 53%. Levittown also has the highest median home value ($227,400) and median income for households with a mortgage ($97,027).
Mortgage-holder facts in Pennsylvania's biggest cities and towns
City/town
% with active mortgage
Median owner-estimated value of home
Median homeowner costs
Median rent
Median homeowner income
Median renter income
Median property tax
Allentown
40.8%
$130,200
$1,272
$1,004
$69,738
$43,936
$2,932
Bethlehem
50.7%
$174,100
$1,456
$1,038
$87,273
$61,263
$3,779
Erie
50.9%
$91,400
$1,007
$710
$62,589
$42,142
$2,440
Lancaster
43.4%
$118,800
$1,163
$866
$74,529
$56,039
$2,924
Levittown
83.2%
$227,400
$1,817
$1,129
$97,027
$65,152
$4,250
Philadelphia
53.0%
$176,600
$1,332
$1,042
$73,765
$40,484
$1,766
Pittsburgh
47.2%
$144,100
$1,178
$958
$84,229
$47,892
$1,896
Reading
39.4%
$81,300
$1,016
$811
$55,566
$39,041
$1,799
Scranton
48.5%
$108,900
$1,192
$782
$73,882
$42,952
$2,543
Source: American Community Survey (2019 5-Year Estimates), U.S. Census Bureau.
Note: Limited to occupied homes with active mortgages, except for renter data. Limited to cities and towns with at least 50,000 residents.
Top 4 and bottom 4 in Pennsylvania
We also highlighted the top four and bottom four cities based on their percentage of homes with active mortgages and their median property taxes. (Yes, we know four is an odd number to choose, but there are only nine cities and towns in Pennsylvania with populations of 50,000 or more.)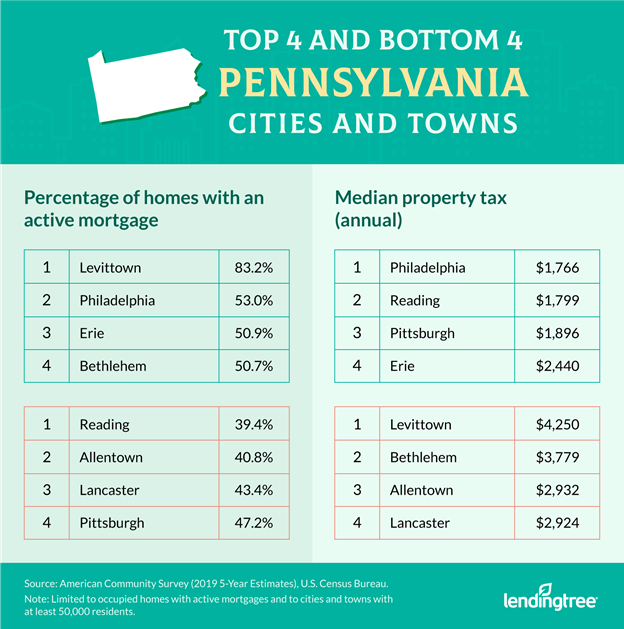 3 first-time homebuyer programs in Pennsylvania
Pennsylvania offers several first-time homebuyer programs, many of them through the PA Housing Finance Agency. These programs aim to make it easier for people to make the leap to homeownership, often by assisting with down payment and closing costs or extending tax credits. The programs also include homebuyer education and counseling.
HOMEstead Downpayment and Closing Cost Assistance Loan
The HOMEstead Downpayment and Closing Cost Assistance Loan offers a second mortgage to cover down payment and closing costs up to $10,000, but it can be forgiven over five years.
Who qualifies?
Eligible applicants must meet:
Income and purchase price limits
Down payment requirements set by the mortgage insurer
Keystone Advantage Assistance Loan Program
The Keystone Advantage Assistance Loan Program offers homebuyers a second mortgage that will help cover the down payment and closing costs needed to buy a home. This loan is paid back over 10 years with no interest.
Who qualifies?
Eligible borrowers, who can receive the lesser of up to 4% of the purchase price or market value or $6,000, must have:
A minimum credit score of 660
An income below the program's limit
No more than $50,000 in liquid assets after purchasing the home
Mortgage Credit Certificate
Pennsylvania's Mortgage Credit Certificate program offers first-time homebuyers the ability to claim a credit worth 20% to 50% of the mortgage interest paid each year on their federal taxes, up to $2,000.
Who qualifies?
First-time homebuyers or people buying in certain target counties must meet income and purchase price limits.
How to refinance your mortgage in Pennsylvania
For homeowners who have maintained a mortgage for a significant period, refinancing may be a good option. When you refinance, you take out a new loan that pays off and replaces your old mortgage. You may choose to do this to:
Lock in a lower interest rate
Change the number of years you'll be paying
You could be able to get a lower monthly payment or pay off your mortgage faster.
Every situation is different, but you should always start by doing the math on whether a refinance would save you money. You may choose to use a refinance calculator to help. Then shop around, getting at least three quotes to compare the terms offered to you.
The PA Housing Finance Agency offers refinance programs for conventional loans and federal programs, including Federal Housing Administration (FHA) and Veterans Affairs (VA) loans. This program includes an option with low mortgage insurance requirements as a benefit for people who qualify.
Reporters: Looking for further breakdowns? We also have the following maps:
Sources
LendingTree proprietary and anonymized 2020 customer data
U.S. Census Bureau American Community Survey, 2019 5-year estimates (latest available)