How Does LendingTree Get Paid?
LendingTree is compensated by companies on this site and this compensation may impact how and where offers appear on this site (such as the order). LendingTree does not include all lenders, savings products, or loan options available in the marketplace.
How to Refinance a Car Loan in 6 Steps
Updated on: October 25th, 2020
Editorial Note: The content of this article is based on the author's opinions and recommendations alone. It may not have been previewed, commissioned or otherwise endorsed by any of our network partners.
Whether your goal is to get a lower interest rate or a lower monthly payment — or both — an auto refinance loan could help. Before you decide to refinance your car, however, there's a lot to consider, including whether it's the right move for you. To help you find out how to refinance a car loan, we've put together six steps you can follow to make your refinance a success.
   Determine if a refinance makes sense
It only makes sense to refinance your car loan if you'll save money either on your monthly payment and/or interest over the life of the loan. To figure this out, use our auto refinance calculator below. You'll need to enter your current loan amount and terms alongside the new terms for the calculator to compare.
As you look at how much you could save, know that you would have to subtract any prepayment penalty fees. Contact your lender to find out if your current loan has any prepayment penalties and how much it could cost you.
Beware that if you choose to extend your auto financing term, you may pay more overall in interest. To find out what interest rate you could expect, read below to see average auto refinance rates based on credit score.
Know your score
Your credit score plays a large role in determining your auto refinance rate — a higher credit score typically translates to a lower interest rate. You can check your free credit score here. Whatever your score is, it's good to know where you stand. The average auto refinance rate for all borrowers who secured an auto refinance loan through LendingTree in Q1 2020 was 6%.
Average Auto Refinance APR in Q1 2020
Credit Tier
Credit Score
APR
Prime
680+
4.39%
Mid-Prime
620-679
6.24%
Subprime
619-<620
10.33%
Source: LendingTree platform data
If you don't have the best credit, you should take steps to improve your score before you apply. Most methods of improving your score can take a few months, however.
Bad credit auto refinance loans
Even if you have low or subprime credit, bad credit auto refinance options are also available. A "fair" score is 580 to 669, while a "poor" score is 300 to 579 — here are the best auto refinance lenders for borrowers with poor credit.
"For someone with a FICO Score that meets our minimums, the score is far less relevant to the credit decision than looking at their usage of credit and the depth of their credit history," said Todd Nelson, a senior vice president at the online lender LightStream. A lender might offer non-prime borrowers (those with FICO Scores of 740 and below) a good auto refinance rate if they have a long credit history with different types of credit.
   Collect your documents
Lenders typically require certain documents in order to verify your identity, evaluate your creditworthiness and value your car. Here is an overview of some of the information and documents a lender might require for your auto refinance application. We've broken them up by category to make it easier to organize.
Personal information
The lender will want to know your Social Security number and request a copy of your driver's license in order to verify your identity and confirm that you can legally drive a vehicle.
Proof of income
Your ability to repay an auto refinance loan is important. The lender will ask how much you make monthly and may ask for a copy of your last two pay stubs, your most recent W-2 or tax returns, if you freelance.
Proof of residence
The lender needs to know where to send the bill. If your residential address changed recently and doesn't match the address on your driver's license or credit report, a lender may ask for a document to serve as proof of residence; this could include a utility bill, bank statement, insurance policy, rent agreement or another loan statement dated within 30 days. Lenders require residential addresses; you cannot use a P.O. box.
Proof of insurance
When you have an auto loan, the lender technically owns the car and wants to be sure that the car will be covered in case of an accident. You typically need to provide the information that's on your insurance ID card — the name of your auto insurance provider, the policy number and the coverage dates.
Vehicle information
To determine how much the vehicle is worth, the lender needs to know the vehicle's year, make, model and vehicle identification number (VIN), all of which you'll find on the car's registration card.
Current loan information
You'll need to provide information on the loan you currently hold, including the amount of your current monthly payment on your loan, the remaining loan balance, the amount of time left on the loan, the original loan term, the APR, the lender and your loan account number.
   Comparison shop for the best auto refinance loan
Many lenders offer promotional rates as a way to get people in the door, and it may be tempting to jump on a seemingly great rate — but it's no guarantee that the rate they're offering is the best that you can get.
"I would start with credit unions because they typically have lower rates," said Reshell Smith, CFP®, the owner of AMES Financial Education & Consulting. The average auto loan rate offered by credit unions was 1.95 percentage points lower than what banks offered in September 2020.
Compare several offers and determine what those offers would mean for your budget. Here are some elements to consider as you compare your potential options.
Annual percentage rate (APR) and interest charge
Many people only have eyes for the APR, but pay attention to the interest charge as well. APR is the cost of the loan expressed as a percentage, whereas the interest charge is the dollar amount you would pay in interest over the life of the loan, if you make each payment on time.
To discover how much you might pay in interest charges, use an auto calculator. Using one can be especially useful if you're wondering whether to take a shorter- or longer-term auto refinance loan.
Loan term
The pros and cons of a short-term auto loan include a lower interest charge but a higher payment; the pros and cons of a longer-term auto loan are the exact opposite. See the example boxes near the end of this article for a mathematical illustration of this concept.
If you want payment flexibility, you could take the longer loan term and make larger payments than necessary to the loan principal to pay it off faster and cut down the interest charge, while preserving the advantage of a low payment requirement. However, the main danger in choosing this method is the temptation of not following through in making larger payments than necessary.
Penalties and fees
Of course, if you want to pay off your auto refinance loan early, make sure the lender doesn't charge prepayment penalties. Nelson points out that borrowers should be on the lookout for fees that could add to the cost of the loan. Some common fees include: origination, funding, title and document fees.
Pay close attention to the lender's disclosures and other fine print to understand which fees you might be on the hook for. If an auto refinance lender charges many fees, it might be best to go with another lender.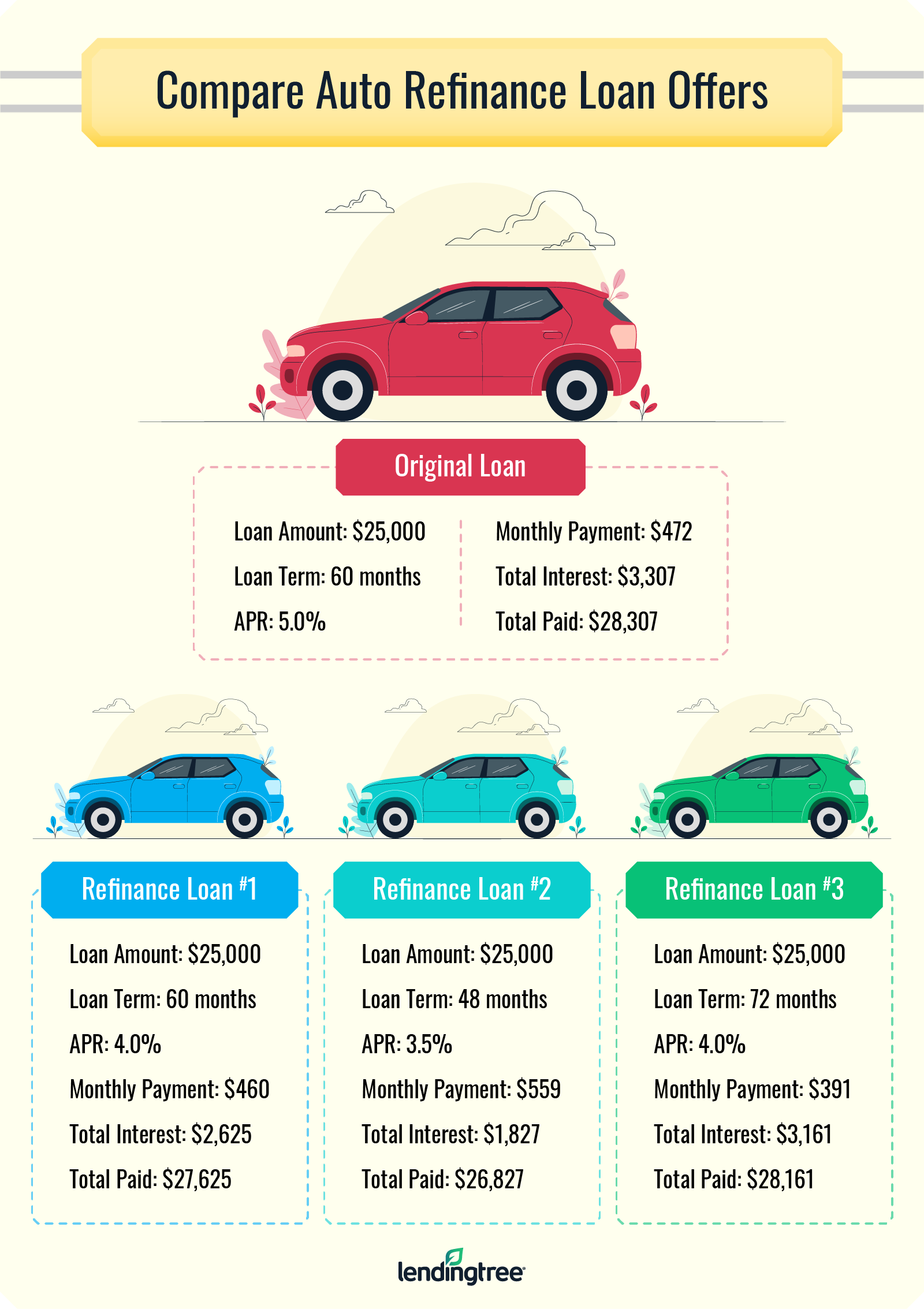 Apply to a few auto refinance lenders
Once you choose a few auto lenders with whom you'd want to work, have your documents on hand and head to the nearest branch if you're applying in person, or simply go to the lender's website to apply online.
It doesn't hurt your credit to apply to multiple lenders any more than it does apply to one, as long as you do all the applications within a 14-day window. Some credit-scoring methods allow for an even larger window, up to 45 days. The three credit bureaus — Experian, Equifax and TransUnion — provide this window specifically so consumers can rate shop without penalty.
Filling out an auto refinance application shouldn't take too long if you've prepared and have all the documentation you need, though the length of time it takes to approve your application can vary depending on the lender you choose and the documents you submit. To speed up the process, Nelson recommends having all the information the lender might ask for readily available.
If you get approved, the lender will provide you with a loan amount, interest rate and any applicable fees. Avoid going with the first offer: Make sure you compare a few offers, so you have a few options to choose from.
   Accept an offer and pay off your old loan
To accept an auto refinance offer, contact the lender and follow through with the paperwork. You won't have to do anything to decline other offers. Without an acceptance response, auto loan offers expire within 30 to 45 days.
Your new lender will pay off your old loan once you're approved and accept the offer, though the specifics of how this is done can vary. According to Nelson, some lenders, like LightStream, may send you a check or give you a direct deposit and allow you to pay off your old loan yourself. Other lenders will pay off the old loan on your behalf.
Either way, your previous lender will then transfer the vehicle's title to your new lender, who will keep it on hand until you've paid off the loan in full.
If your old loan has a payment due soon, you may want to contact them to let them know that your entire loan will be paid off, so you can avoid being charged a late fee.
   Begin making new monthly payments
Once your new loan is approved, your new lender will establish your first payment date. If you had automatic payments set up on your old loan, make sure to turn those off, then set up autopay on your new loan, so you don't accidentally miss any payments.
If you have room in your budget, you can also consider making extra payments in order to pay off the loan early and save some money — just watch out for prepayment penalties.
For example, let's say these are your new loan terms:
$15,000 balance
3.5% interest rate
Four-year term
$335.34 monthly payment
With these terms, you'll pay around $1,096 in interest over the course of the loan. If you add an extra $50 to your payment each month, you'll only pay about $945 over the life of the loan, for a savings of nearly $151.
Things to watch out for
As you're considering whether to refinance your car loan and looking at the different terms lenders have to offer, it's important to watch out for some potential pitfalls along the way.
Be wary of extending the loan term
While opting for a longer-term loan can certainly reduce your monthly payment, it can also significantly increase the total cost over the life of the loan. A shorter-term loan is usually a better deal, though there are situations in which extending the term may be warranted.
For example, let's say that you currently owe $15,000 on your auto loan and your monthly payment is $400. If you refinance for a three-year auto loan at 2.99% APR, your monthly payment will go up to $436.15 and you'd pay $701 in interest. If you refinance at the same 2.99% APR for a year longer, your payment goes down to $331.95, but your total interest charge shoots up to $934.
"If you're in a situation where you have to lower your payment to make ends meet, then obviously refinancing and spreading that out over a longer term would help," said Ryan Mohr, CFP®, a fee-only financial planner and the owner of Clarity Capital Management. "As long as you're well aware that the total amount of money spent on that car will cost you more out of pocket, given that the interest rate is spread out over a longer term."
Even if you do take out a longer term loan, it's worth noting that you can eventually start making extra payments on it if you're able to find room in your budget, which could significantly reduce the overall cost.
"If at any point in the future you're able to add money onto that payment, you could end up paying it off earlier," said Smith.
Consider alternatives to auto refinance loans
A different type of loan might enable you to secure a lower interest rate, depending on your situation. If you plan to make multiple large purchases, a home equity loan could be a great solution. If you are underwater on your car loan, a debt consolidation loan or a personal loan may be the better answer.
Don't forget to read the fine print
When you fill out the application and accept the loan, the lender will likely ask you to read and sign several disclosure forms. Resist the urge to speed through this part of the process.
"It's really about having an understanding of what costs come with a refinance," said Mohr. "Different lenders are going to have different costs associated with refinancing. Are there origination fees? Are there prepayment penalties that might apply?"
In taking out this loan, you are making a financial and legal commitment to the lender. You owe it to yourself to take the time to read the fine print, ask questions and make sure you understand what you're agreeing to.
Is auto refinance worth it?
Doing your due diligence will help you figure out whether refinancing your auto loan is a good idea, and, if so, how you can get the best deal.
Refinancing isn't always the best choice, but in the right situations it can lead to a lower monthly payment, save you money over the life of the loan and get you debt-free even sooner, making it easier to work towards your other financial goals.