How Does LendingTree Get Paid?
LendingTree is compensated by companies on this site and this compensation may impact how and where offers appear on this site (such as the order). LendingTree does not include all lenders, savings products, or loan options available in the marketplace.
How to Refinance a Car Loan in 5 Steps
Updated on: December 3rd, 2021
Why use LendingTree?
We are committed to providing accurate content that helps you make informed money decisions. Our partners have not commissioned or endorsed this content. Read our .
Whether your goal is to get a lower interest rate or a lower monthly payment — or both — an auto refinance loan could help. Refinancing a car loan could make it easier to work toward your other financial goals. However, it's not the right move for every situation. Before you refinance your car loan, here's how to tell if it's the right move for you and, if so, steps to get the best deal.
1. Determine if car refinancing makes sense for you
It makes sense to refinance your car loan if you'll save money either on your monthly payment and/or interest over the life of the loan. Beware that if you choose to extend your auto financing term, you may pay more overall in interest. Use an auto loan refinance calculator to see how much you could save.
The rules of when to refinance are as follows:
60 to 90 days into the car loan: It typically takes this long for the title and loan paperwork to be completed, which needs to happen before an auto refinance lender will consider your application. Auto refinancing this early works best for those with great credit (720+).
Six months into the car loan: By this time, your credit score should have recovered from any hard credit inquiries that happened when you took out the original loan. It may have even improved if you've made on-time payments. Refinancing your car at this point may be best for people with good credit (661+).
With at least two years left on the car loan: A history of good car payments can greatly help people who are working on improving or building their credit, like first-time car buyers. It doesn't make much sense, however, to do an auto refinance with less than two years left on the loan. You likely won't have enough time left on the note to greatly reduce the amount you pay in interest, even if you reduce your APR.
If none of this matches what you're looking for, some alternatives include debt consolidation, personal loans and home equity loans or HELOCs.
2. Collect your documents
Lenders typically require certain documents in order to verify your identity, evaluate your creditworthiness and value your car. Here is an overview of some of the information and documents a lender might require for your auto refinance application. We've broken them up by category to make it easier to organize.
Personal information: You'll likely have to show your driver's license or upload a photo of it, in addition to providing your current address, phone number, Social Security number, annual income and your employer's name and address.
Vehicle information: Vehicle identification number (VIN), make, model, year and registration number.
Current loan information: The name of your current auto lender, your loan account number and the vehicle payoff amount.
3. Apply to a few auto refinance lenders
Many lenders offer promotional rates as a way to get people in the door, and it may be tempting to jump on a seemingly great rate — but avoid going with the first offer. Make sure you apply to a few lenders, so you have a few options to choose from. You can check out current auto refinance rates before you begin the process so that you know whether or not you might be able to save some cash when refinancing.
The Federal Trade Commission (FTC) recommends that consumers shop around for rates. It doesn't hurt your credit to apply to multiple lenders any more than it does apply to one, as long as you do all the applications within a 14-day window. The three credit bureaus — Experian, Equifax and TransUnion — provide this window specifically so consumers can comparison shop without penalty.
See auto loan refinance offers
4. Compare offers and choose the best one
An easy way to review car refinance offers is to focus on the total interest you'll pay over the life of the loan and the monthly payment. Otherwise, the APR, terms and other numbers can make you go crosseyed.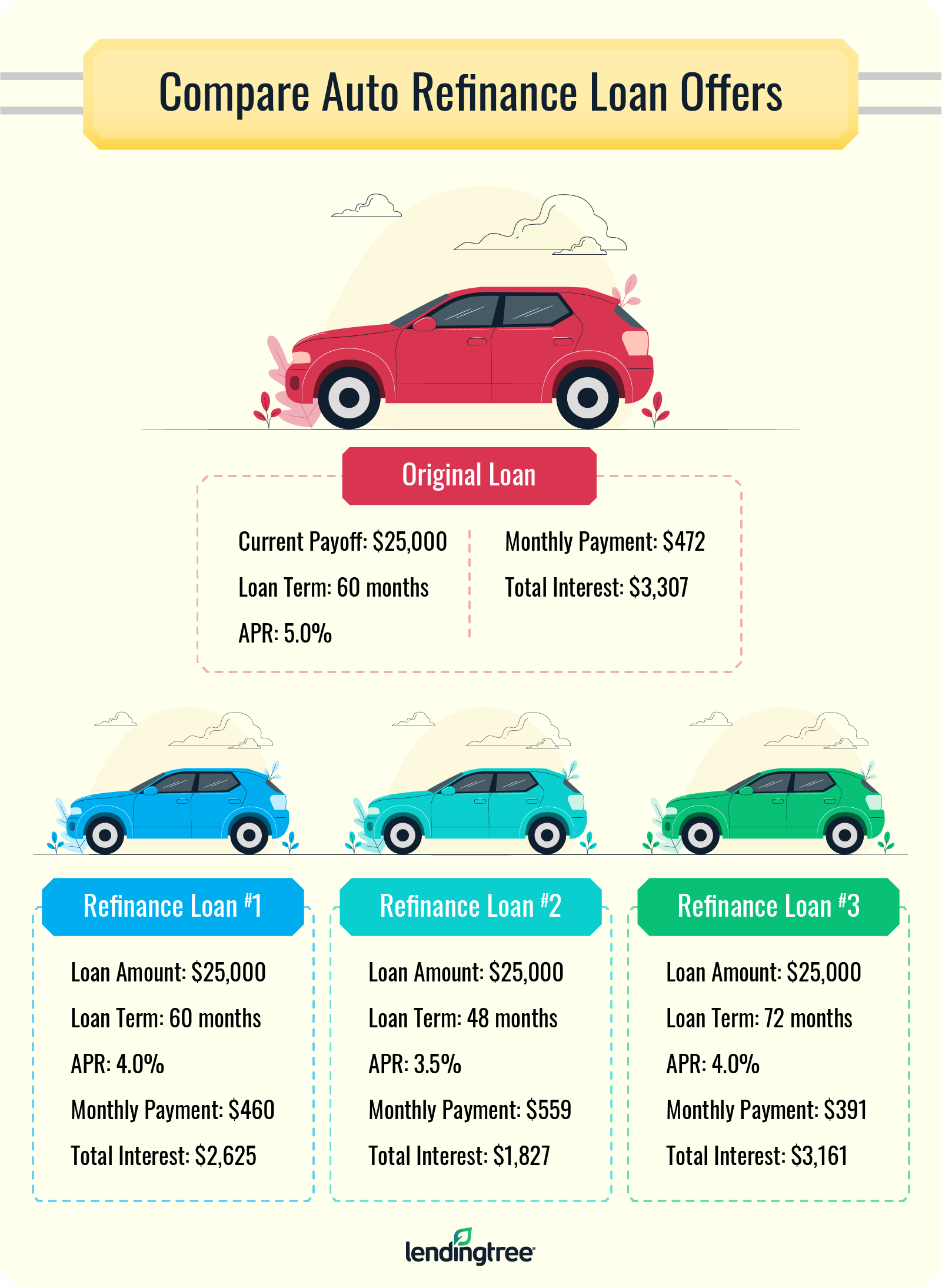 5. Accept the best offer
Sign on the dotted line for the offer that suits you best! You won't have to do anything to decline other offers, which will expire within 30 to 45 days.
Your new lender will most likely handle the paperwork and pay off your old loan directly by sending the money to the old lender. Some lenders, like LightStream, provide unsecured auto refinancing, and may pay you the money to give to your old lender. Either way, transferring money and paperwork could take a few days. If your old loan has a payment due soon, you may want to contact them to let them know that you are refinancing, so you can avoid being charged a late fee. If you have to go ahead and make another payment on your old loan, don't worry, you're not going to lose that money. It will reduce the total amount you owe on the car when your new loan starts.
Typically in 30 days, you'll begin making monthly payments to your new lender. If you're interested, here are some hacks to pay off your car loan faster.
 Things to watch out for
As you're considering whether to refinance your car loan and looking at the different terms lenders have to offer, it's important to watch out for some potential pitfalls along the way.
Beware of add-ons
You are not required to purchase anything extra in order to accept a car refinance loan. Many companies will try to sell extended warranties and all types of insurance products to you when you refinance. They typically do this in the following way:
Hey, Ms. Smith, it looks like we can save you $50 a month off your monthly car payment, and that new payment includes a warranty to double your car coverage. You won't have to pay anything out of pocket if something breaks! How does that sound?
But what the salesperson isn't saying is that your payment could be even lower. Stop for a second and don't say yes. Ask what your payment would be without any extra products. Ask how much the product(s) they are trying to sell cost. Extended warranties typically cost $2,000. If you're interested in the products, ask if they can cut you a deal.
Be wary of extending the loan term
While opting for a longer term loan can certainly reduce your monthly payment, it can also significantly increase the total cost over the life of the loan. A shorter term loan is usually a better deal, though there are situations in which extending the term may be warranted.
For example, imagine your current auto loan has a $400 monthly payment and you owe $15,000 on it. If you refinance for a three-year auto loan at 2.99% APR, your monthly payment will go up to $436 and you'd pay $701 in interest. If you refinance at the same APR for a year longer, your payment goes down to $332, but your total interest charge shoots up to $934.
Even if you do take out a longer term loan, it's worth noting that you can eventually start making extra payments to the principal, which could significantly reduce the overall cost.