Changes to VA Loan Refinance in 2019: What You Need to Know
Published on: May 28th, 2019
Editorial Note: The content of this article is based on the author's opinions and recommendations alone. It may not have been previewed, commissioned or otherwise endorsed by any of our network partners.
As a thank you for serving in the military, the Veterans Administration (VA) offers special home loan programs, including easier ways to qualify and zero down payments for eligible veterans and active duty service members. For homeowners who already have a VA loan, there are also number of unique refinance options.
Unfortunately, a handful of unethical mortgage companies have abused these easy qualifying guidelines, financially harming thousands of service members. Congress passed the Economic Growth, Regulatory Relief and Consumer Protection Act, adding new guidelines lenders must follow, one of which is to demonstrate that the refinance is providing a financial benefit.
The bill details new rules for two types of VA refinancing. The new guidelines are designed to ensure there is a benefit to the loan without excessive closing costs. There are also built-in protections to prevent lenders from being able to continuously refinance VA loans to generate more frequent commissions, an unethical practice known as "churning" or "serial refinancing."
We'll explain what these changes mean if you're thinking about refinancing your VA mortgage. We'll cover:
Types of VA refinancing available and what has changed
There are two types of VA refinances available to current and retired military personnel, and both have undergone changes this year. The first is the interest rate reduction refinance loan, also known as IRRRL. This type of refinance replaces a current VA loan with a new VA loan at a lower rate and payment.
The other refinance option is the cash-out refinance, giving veterans access to up 100% of the equity in their home. Equity is the difference between your current loan balance and the value of your home, and borrowing against it gives you cash you can use to pay off high interest rate credit card debt or improve your home.
Below is a brief explanation of how each type of refinance works and what has changed.
VA IRRRL
The VA IRRRL is designed to lower your payment by reducing your interest rate. You can choose to just pay off the current balance and pay the closing costs out of pocket, or add them to the loan amount.
If you finance the costs into your loan amount, your payment will be slightly higher. Paying the costs out of pocket gives you the lowest possible payment, but also means you'll need to write a check at closing for the refinance fees.
In most cases no income documentation is required, and no appraisal is needed. You only verify enough money in a checking or savings account to pay for closing costs.
Here's what has changed in 2019.
More time has to pass before you can refinance
At least 210 days (seven months) must have passed since you made your first payment on your current loan or you won't be eligible for a VA IRRRL. You'll need the original closing papers from your current loan to confirm when your first payment was made. This waiting period, also known as "seasoning," is slightly longer than the previous requirement of six months.
Closing costs must be recouped in 36 months
The primary reason to do an IRRRL is to save money every month. However, it's very important to calculate how long it will take to recoup the costs you spend because until you do, you aren't realizing the full benefit of the savings.
You can do this by calculating something called a breakeven, which is simply dividing your total closing costs by the amount you are saving every month. For example, if you are saving $100 per month on a potential refinance with $2,500 in closing fees, then it will take 25 months for you to recoup the costs ($2,500 divided by $100 = 25).
The new requirement is designed to prevent VA homeowners from being overcharged for costs.
The funding fee should be included in the closing cost breakeven calculation. The good news: the funding fee for an IRRRL is only 0.5%, and can be waived if a veteran has a service-related disability verified on his or her certificate of eligibility.
The interest rate savings must be at least 0.5%
The new VA guidelines mandate you are saving at least 0.5% in rate to be approved for an interest rate reduction refinance loan. If you plan to refinance to a VA adjustable-rate mortgage, to get a lower rate for a specific time period like five or seven years, you will have to drop your rate by at least 2% to be eligible for the IRRRL.
Cash-out refinance
To qualify for a cash-out refinance, you'll need a full appraisal to verify your home's market value. The appraisal must be done by a VA-approved appraiser, and VA appraisal fees tend to run higher than an appraisal on a standard conventional or FHA loan.
The minimum qualifying requirements are similar to a VA purchase loan. Standard income and asset documentation are needed which may include pay stubs, W2s, tax returns and bank statements.
The biggest changes to the VA refinance program were made to the cash-out refinance option. While being able to borrow all of the equity in your home gives VA borrowers a lot of borrowing power, it also creates a situation where they can end up with a loan balance that is higher than their home's value.
Before the Economic Growth, Regulatory Relief and Consumer Protection Act was passed, some veterans borrowed more than 100% of the value of their home, because the funding fee on VA loans is financed rather than being paid out of pocket.
For example, a $200,000 loan with a 3.3% funding fee requirement results in a $6600 charge added to the base loan amount of $200,000. On a 30-year fixed VA loan, the new loan amount is actually $206,600 with financed funding fee over the life of the loan.
The funding fees on VA cash-out refinance are much higher than for an IRRRL — 3.3% is the minimum funding fee regardless of how much equity there is in the home. For a $250,000 loan, 3.3% adds $8250, which gets added to the loan balance, and is considered a closing cost that is included in the recoup cost calculation.
Because of the danger of overborrowing on a VA loan, new rules were created to make sure that the answer to at least one of the questions in the graphic below is "yes."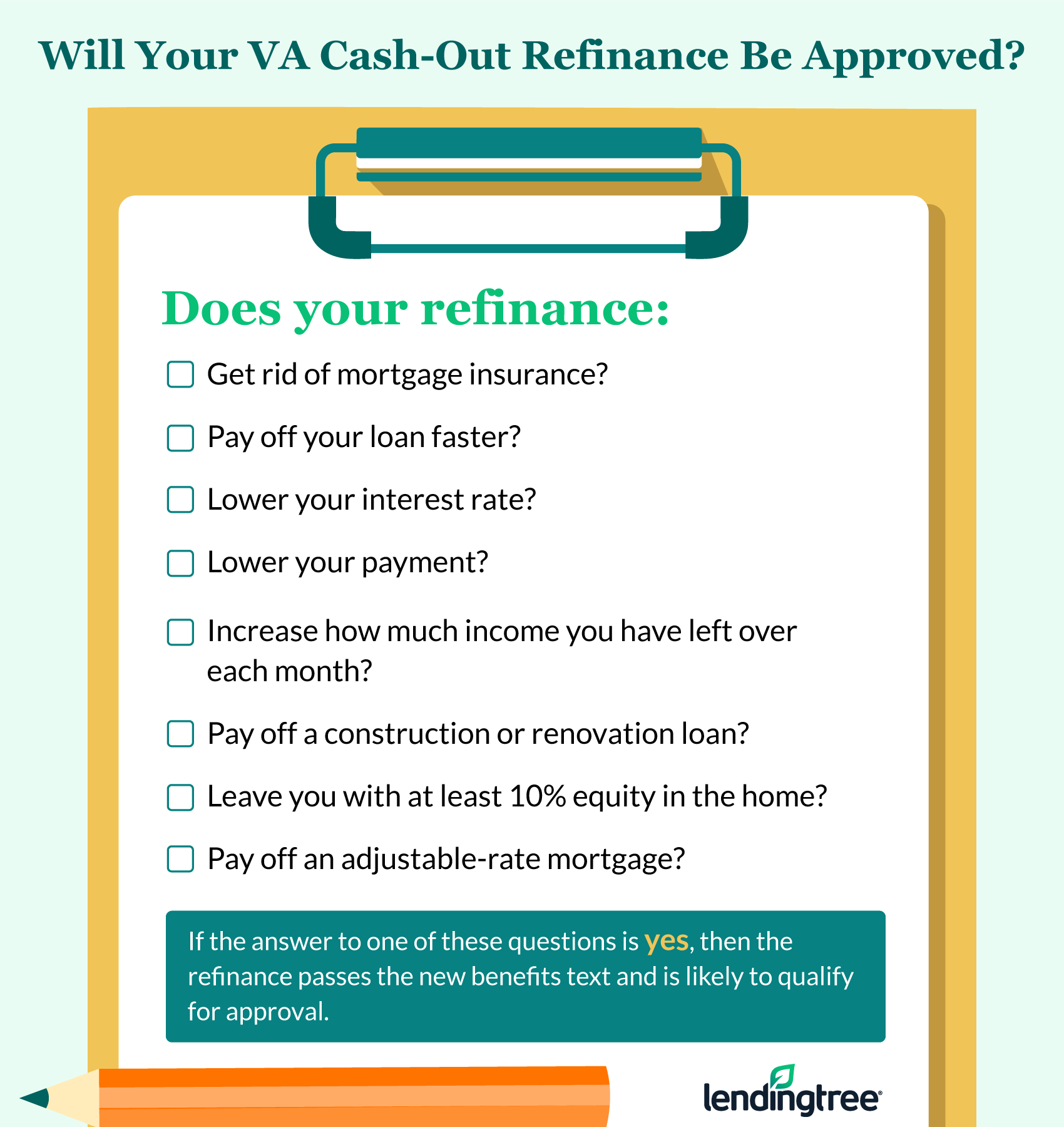 Getting rid of a loan with mortgage insurance
If you put down less than 20% to finance a property and took out a conventional mortgage, you probably paid something called mortgage insurance. Mortgage insurance protects the lender against losses in the event you default on the loan.
You'll also have mortgage insurance on an FHA loan, which is a loan program insured by the government. You'll pay both a monthly mortgage insurance premium and finance an upfront mortgage insurance premium, much like how a funding fee is financed on a VA loan.
The advantage of a VA loan is you don't pay mortgage insurance at all. Refinancing to pay off a loan with mortgage insurance can save you a significant amount every month, and paying paying off a loan that currently has mortgage insurance with a new VA loan meets the new benefit standards.
The new loan increases the borrower's residual income
With most loans, your ability to repay the loan is determined primarily by your debt-to-income ratio (DTI). This calculation divides your total monthly expenses by your before-tax income.  VA loans use a different affordability measure called residual income.
Residual income is based on your after-tax income, minus your monthly debt, such as credit cards, car loans and student loan payments. Expenses for maintenance and utilities on the house are subtracted from that figure, and the result is your residual income.
As long as the monthly amount meets the guidelines set by the VA based on your family size and region of the country your home is located, the loan can be approved, often at much higher DTIs allowed on other loan types.
In the case of a cash-out refinance, residual income may be improved by paying off other debt, which would meet the new net benefit guideline.
The new loan amount is equal to 90% or less of the value of the home
This is one of the strictest new requirements of the new VA guidelines, and it's meant to prevent a cash-out refinance that doesn't meet any of the other benefits tests. This built-in protection leaves 10% equity in your home. If you have to sell the house suddenly, you're more likely to make a little extra money after the 4% to 6% in real estate fees you normally incur from selling your home.
The new VA requirements also require lenders to provide a statement about how much equity you are using in the cash-out refinance. This is an important factor to consider, because taking the equity out now means you'll make less when you sell your home.
Other VA cash-out refinance requirements
Besides meeting the benefits tests outlined above, there a few more changes you'll need to know. First of all, you'll need to meet the same seasoning requirements on the current loan as the IRRRL refinances, which means 210 days has to have passed since you made the first payment on your current loan.
Second, the breakeven on your closing costs is capped at 36 months. This requirement is meant to keep you from borrowing money without improving your overall financial situation and can be accomplished by paying off other debt with a cash-out refinance.
Finally, VA loans can't be made for more than 100% of the home's value. If for any reason the total costs including the funding fee equal more than 100%, the veteran will have to pay the difference in cash to lower it to the guideline maximum.

Why these changes were made
In November 2016, the Consumer Financial Protection Bureau received over 12,500 mortgage complaints from servicemembers, veterans and their dependents about the way they had been treated by lenders soliciting refinance business. Further investigation indicated that thousands of homeowners who took out VA mortgages, mostly refinances, may have been subjected to abusive lending practices.
In many cases, veterans were encouraged to take advantage of IRRRLs multiple times within short time periods. What the veterans didn't realize was as the closing costs and funding fees were added to their loan balance each time, their equity was decreasing, which is related to a mortgage scam called "equity stripping."
By continuing to refinance the loans frequently, lenders could earn commission on the same borrowers multiple times. The refinances had minimal benefit, and in many cases reduced the veteran's equity positions to the point where they ended up being "upside down," with mortgage balances higher than the value of their homes.

How these changes will affect the VA refinancing process
While the new guidelines do provide protection to VA borrowers against some of the more harmful predatory lending practices, there are some drawbacks. If you took out a VA loan during a period where rates were higher, you will have to wait longer to do a VA refinance, and won't be able to take advantage of lower rate windows until the 210 day seasoning period has elapsed.
For cash-out refinances, there may be situations where you are limited to taking out 90% of your home's value. You will also need to consult with your loan officer to confirm your total loan amount with the funding fee doesn't exceed 100% of the value of your home, or you'll end up writing a check for the difference at closing.
The protections may add hoops to jump through for VA borrowers, but they also prevent unethical lenders from making refinance loans to VA borrowers without verifying there is a good financial reason to do so.
The information in this article is accurate as of the date of publishing.
---
Featured Articles