How Does LendingTree Get Paid?
LendingTree is compensated by companies on this site and this compensation may impact how and where offers appear on this site (such as the order). LendingTree does not include all lenders, savings products, or loan options available in the marketplace.
How to Finance Your Eco Home Improvements
Updated on: March 31st, 2021
Why use LendingTree?
We are committed to providing accurate content that helps you make informed money decisions. Our partners have not commissioned or endorsed this content. Read our .
Eco home improvements are currently trending among homeowners — and for good reason. The average household spends close to $2,000 per year on home energy costs, much of which is due to inefficient systems and drafty windows. But the benefits of making your house green aren't just financial: Eco home upgrades also produce a safer and healthier environment.
While the advantages of green home improvements are numerous, some can require a significant investment. Solar panels, for example, can cost between $17,760 and $23,828 after tax credits, according to EnergySage, a U.S. Department of Energy-funded solar energy marketplace. And while not all eco-friendly house projects come at a premium price, fortunately, for those that do, there are multiple options to finance them and reduce their cost.
On this page
Types of eco home improvements
Various projects fall under the umbrella of eco home improvements. But when making your house green, experts suggest you tackle the upgrades that will lower your costs long term.
"We encourage homeowners to make investments that will also assist them in using their energy wisely," said Madeline Priest, senior manager of market engagement at Inclusive Prosperity Capital (IPC) in Rocky Hill, Conn.
The real impact on your energy bills can be seen with eco home upgrades like new insulation or measures such as rooftop solar photovoltaic (PV) to generate your own energy, Priest told LendingTree. Here's a look at some common and high-ROI green home improvements.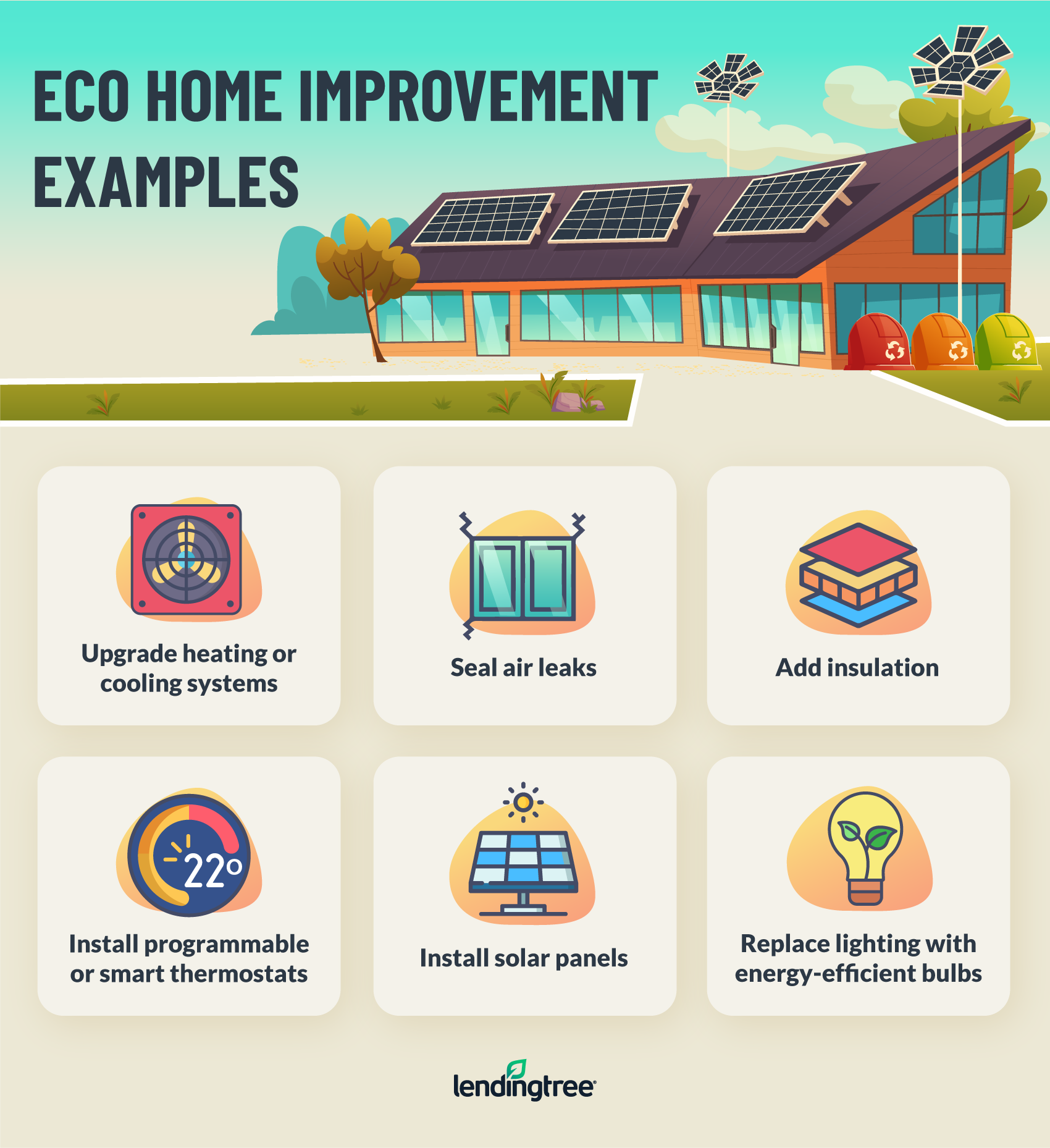 Upgrade heating or cooling systems
Up to 43% of your total energy use goes toward heating and cooling your home. You could drastically cut that down by replacing older or inefficient systems with new, energy-saving units like those that use heat pump technologies, Priest said.
Seal air leaks
Air leaking into and out of your home through walls, ceilings, windows, doors and other areas could be driving up your energy costs. Sealing up drafty leaks with caulk, spray foam and weather stripping could save you between 5% and 30% annually — plus, it can also make your home much more comfortable.
Add insulation
Adding insulation to your attic, basement (or crawl space) and exterior walls is one of the fastest and most cost-effective green home improvements, according to Energy.gov. When done in conjunction with sealing up air leaks, this eco home upgrade can reduce your utility costs significantly. Consider cotton insulation as an alternative to fiberglass — but expect to spend about 15% to 20% more upon installation.
Install programmable or smart thermostats
Adjusting your thermostat slightly can save as much as 10% on your annual heating and cooling costs. To ensure your systems run at efficient temperatures, replace manual thermostats with programmable units or smart thermostats that automatically regulate and adjust your home's temperature.
Install solar panels
The option to install a solar panel system may not be available to all homeowners depending on their location. Still, it's an eco home improvement that could leave you with little to no electricity costs.
Replace lighting with energy-efficient bulbs
Switching all lighting to LED bulbs is a simple and low-cost green home improvement, Priest said. This easy fix can reduce your lighting energy use by 50% to 75%.
9 ways to finance eco home improvements
Whether you're a new buyer looking to build your own green home or an existing homeowner interested in sustainable home improvement, there are multiple ways to fund your eco-friendly house project.
"There are lots of great options around the country to finance home energy improvements," said Priest, whose company, IPC, funds a specialized personal loan product for green home improvements. But, it can be confusing to know where to begin, she added.
Financing options include energy efficient mortgage programs, personal loans, rebates on appliances and many others. Regardless of how you choose to pay for your eco home improvements, according to Priest, it's important to leverage all local, state and federal rebates, programs and incentives, including the federal energy efficient property tax credit.
1. Conventional loan
Borrowers have a couple of options for financing eco home improvements with conventional loans, which are mortgages that aren't backed by the federal government.
HomeStyle® Energy Mortgage. This loan program — available through private lenders and guaranteed by Fannie Mae — allows buyers to purchase a new home and finance future eco home improvements at the time of the purchase. Down payments can be as low as 3%, but borrowers putting less than 20% down will need to pay for private mortgage insurance (PMI) until they reach 20% equity in the home.In addition to new purchases, homeowners can also refinance an existing mortgage under this program and receive up to 15% of the home's value to complete eco home upgrades or pay off previously financed improvements.
GreenCHOICE Mortgage®. Freddie Mac's loan option for eco-friendly home improvements offers affordable financing for both new home purchases and mortgage refinancing. Borrowers combine the mortgage with the cost of making upgrades — up to 15% of the expected value of the property. This loan option is also available to low-income borrowers or those putting little down by combining it with the Freddie Mac Home Possible® program. Borrowers interested in this offering must apply through private lenders.
2. FHA loan
The Federal Housing Administration's (FHA) energy-efficient mortgage (EEM) program covers eco-friendly home improvements for new and existing properties, or the purchase of an energy efficient home. Like the conventional mortgage options, homeowners finance the cost of future eco home upgrades upfront at the time of the purchase or refinance.
With this program, borrowers can put as little as 3.5% down and may qualify for loan amounts higher than typical FHA loan limits, based on the expected cost of the eco home improvements or the adjusted value of the property.
Homebuyers can also combine FHA's EEM with the agency's 203(k) rehab loan. Additionally, under the program, borrowers can also finance targeted green home improvements, such as installing a solar or wind system or weatherizing the home.
3. VA loan
Active-duty military members, veterans and eligible military spouses can finance green home improvements with loans guaranteed by the U.S. Department of Veterans Affairs (VA). The VA EEM program allows borrowers to finance a new eco-friendly home purchase or refinance an existing home, along with the cost of the future sustainable home improvements, upfront.
4. Solar loan or manufacturer financing
In addition to the mortgage options that include solar panels as a covered eco home upgrade, homeowners can finance the cost of a solar energy system directly with installers. Some also provide lease options.
Manufacturers of other eco home improvement products and services also offer financing options, typically facilitated through installers. This type of financing is a common option with heating, ventilation and air conditioning (HVAC) equipment, Priest said.
5. Residential Property Assessed Clean Energy (PACE) program
The residential PACE program is a federal initiative administered by some state and local governments. Currently available only in California, Florida and Missouri, homeowners with access to the residential PACE program can receive financing to complete various eco home upgrades, including updating their HVAC system, installing energy-efficient windows and doors, replacing old appliances and several other improvements.
The program provides a lump sum upfront to complete the green home improvement projects, and homeowners repay the loans over a set time (usually between 10 and 20 years) as an addition to their tax bill.
6. State and local programs
To incentivize homeowners to create sustainable home improvements and cut down on energy usage, state and local governments, regional banks and utility suppliers offer financing programs, tax credits and other incentives.
The resources below can help you find programs available in your area:
7. Personal loan
Using a personal loan to complete home improvement projects is a popular option among homeowners. Personal loan amounts typically range from $1,000 to $50,000, and the repayment terms can generally vary from six months to five years. If you use a personal loan to make your eco home upgrades, expect to pay higher interest rates than for mortgage products, but lower rates than credit cards.
8. Eco home improvement loan
Some lenders offer specialized personal loans specifically for green home improvements. This financing option is similar to personal loans, in that your home or other collateral doesn't secure the funds and you'll make fixed monthly payments. However, these loans are only for eco home upgrades; you'll need to provide estimates from a contractor and work with a program lender in most cases.
9. Home equity products
If you have equity in your home, you can access it to make your eco home improvements. Homeowners have three ways to tap their equity: A home equity loan, a home equity line of credit (HELOC) or a cash-out refinance.
Home equity loans. If you use a home equity loan to green up your home, you'll borrow a flat amount against the equity in your home and repay the loan in fixed monthly payments over a set term.
HELOC. With a home equity line of credit, you'll access your home equity, as needed, up to your approved limit. Interest rates are typically variable, and your payments will fluctuate depending on the amount you borrow and the interest rate.
Cash-out refinance. You can also tap into your home's equity with a cash-out refinance. You'll replace your current mortgage with a new one that has a larger loan amount, and walk away with the difference between the two loans in a lump sum — which you can use to complete your green home improvements.
Pros and cons of financing eco home improvements
As you think about how to finance your green home improvements, Priest recommended weighing multiple factors, including how quickly you want to complete your upgrades, how long you're willing to be in debt and what kind of payments your budget can support. You should also consider the following pros and cons.
Pros
 You can complete your eco home upgrades immediately. With the loan programs available, you won't have to wait to complete your green home improvements. Because the loan amounts are based on the property's value after the improvements, you'll receive the funds upfront.
 You can begin saving on your utilities and energy costs before paying off the eco home improvements. By financing your green home improvements, you'll be able to take advantage of lower energy bills, which could go toward your loan payments.
 You may qualify for a larger loan amount. In some cases, you may be able to purchase a more expensive home than you'd be able to with traditional financing.
 You'll leverage current tax credits for sustainable home improvements before they expire. Some tax credits, like the federal energy efficient property tax credit, are set to expire on Dec. 31, 2021. Financing your eco home upgrades means you can leverage tax incentives while they're still around.
 You may qualify for lower interest rates. As an incentive, some loan programs for eco home upgrades offer lower interest rates than traditional financing.
Cons
 You may have an additional lien on your property. Depending on what eco home improvements you're tackling, some forms of financing, like solar panels, stay with the equipment. It's similar to having an additional lien on your property, which can pose a challenge should you need to sell your home.
 You may have an additional loan payment on top of your mortgage. Should you choose to take on a personal loan or other financing for your eco-friendly house project, you'll have another payment to manage on top of your mortgage.
 You may run out of money. Making your house green can be an expensive undertaking. If you underestimate how much it will cost and run out of money before your upgrades are complete, you'll have to scramble to figure out financing to complete them.
 You may experience a financing delay. If you're looking to complete your eco home upgrades quickly, financing solutions that require an energy assessment could delay your projects.