How Does LendingTree Get Paid?
LendingTree is compensated by companies on this site and this compensation may impact how and where offers appear on this site (such as the order). LendingTree does not include all lenders, savings products, or loan options available in the marketplace.
It's Taking Less Time to Close on a Mortgage in 2019
Published on: June 25th, 2019
Editorial Note: The content of this article is based on the author's opinions and recommendations alone. It may not have been previewed, commissioned or otherwise endorsed by any of our network partners.
LendingTree finds that homebuyers are getting into their homes 11 days faster in 2019 compared with 2018. Refinance borrowers are accessing their cash 5 days faster. 
After house-hunting and mortgage shopping, your offer on a new home was finally accepted. But how long will it be until you hold that key in your hand and actually own your house?
Before you can take ownership of the house, you have to go through a process called closing.  This is a legal process with numerous preconditions and reams of paperwork — and thus takes some time. All the information the buyer and seller committed to in the sales contract must be verified to satisfy requirements from regulators, federal state and local governments, financing companies and even residents' associations.
With all those steps, it can take quite some time to get through closing. The good news? Closing times are getting shorter due to the digitization of the mortgage process. You can also shorten your closing time by improving your borrower profile and according to the type of loan you choose.
LendingTree conducted a 3-year study of closing times — and here's what we found.
Key findings
The time to close in new purchase transactions has been steadily declining, from 74 days in 2017 to 51 days in 2018 and just 40 days thus far in 2019.
For refinances, the decline has been less dramatic: from 55 days in 2017 to 43 days in 2018 and just 38 days so far in 2019.
Some of the decline can be attributed to lower mortgage volumes, as refinancings have been on a downward trend. But increased digitization is also playing a major role.
Closing times vary based on the characteristics of the mortgage type and borrower. Having a higher credit score can knock a few days off: Purchase borrowers with scores above 760 averaged 38 days in 2019 compared with 45 days for those below 720. Refinancings did not show much variation by credit score.
Loan-to-value ratios below 80% had shorter closing times for refinances, at 37 days compared with 42 days on mortgages with a ratio above 95% in 2019.
Loan amounts also affect closing times, with lower amounts, perhaps surprisingly, taking the most time. Loans under $150,000 averaged 47 days compared with 39 days for those above the conforming limit ($484,350 in 2019). Why? Higher loan amounts are typically being made to more credit-worthy borrowers. Lower-priced homes may be in some form of distress or have some type of damage; lenders thus may require more extensive appraisals to better estimate the home's value and this adds time to the process.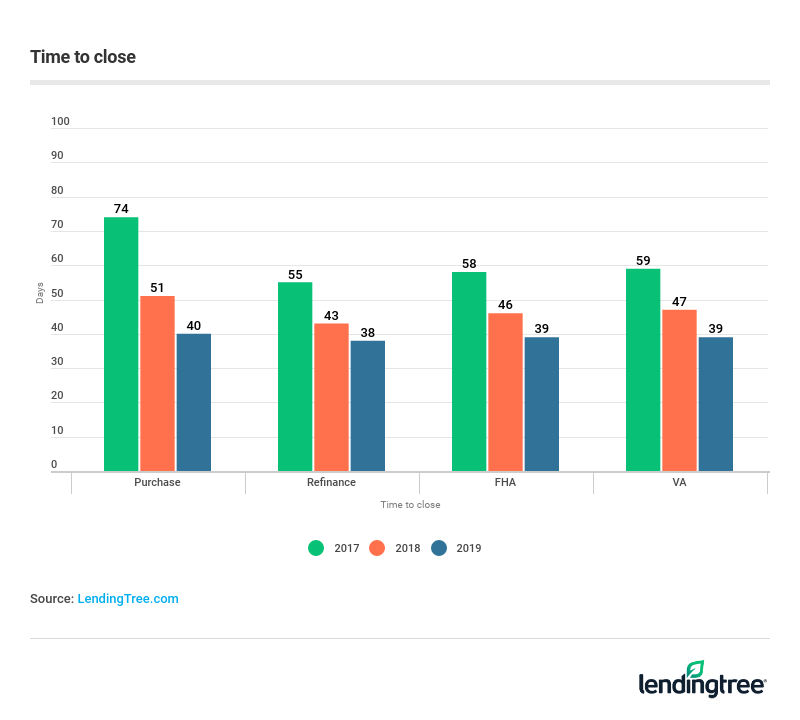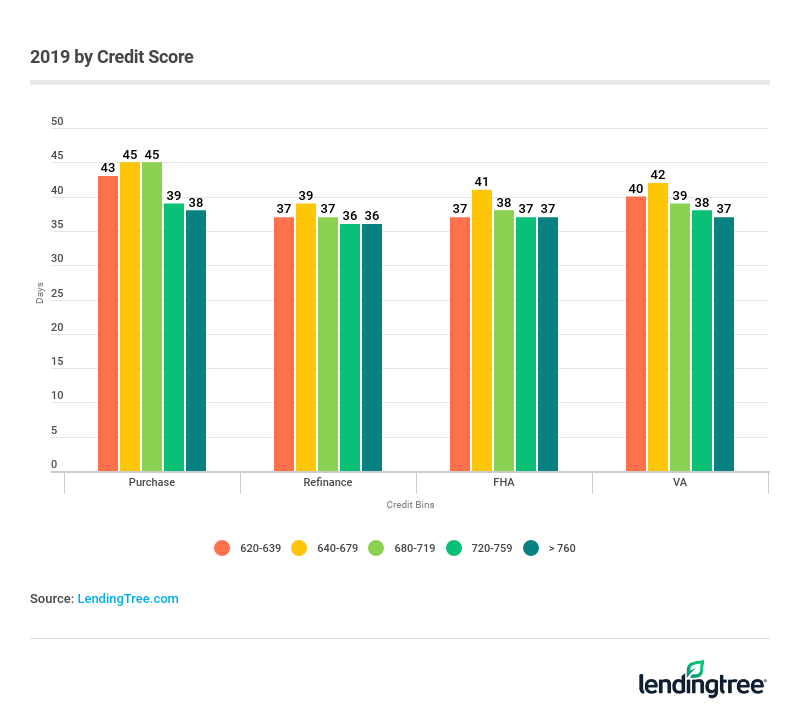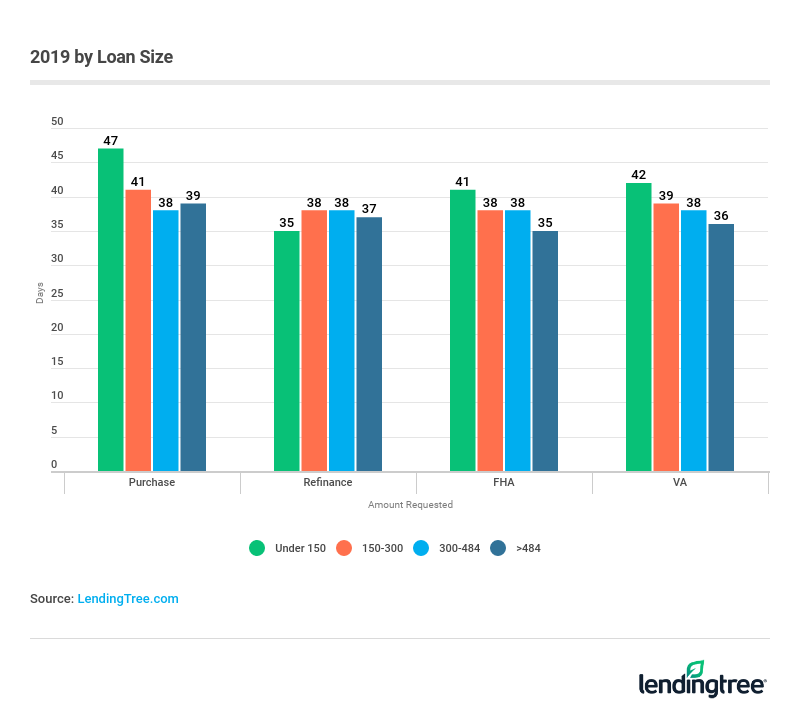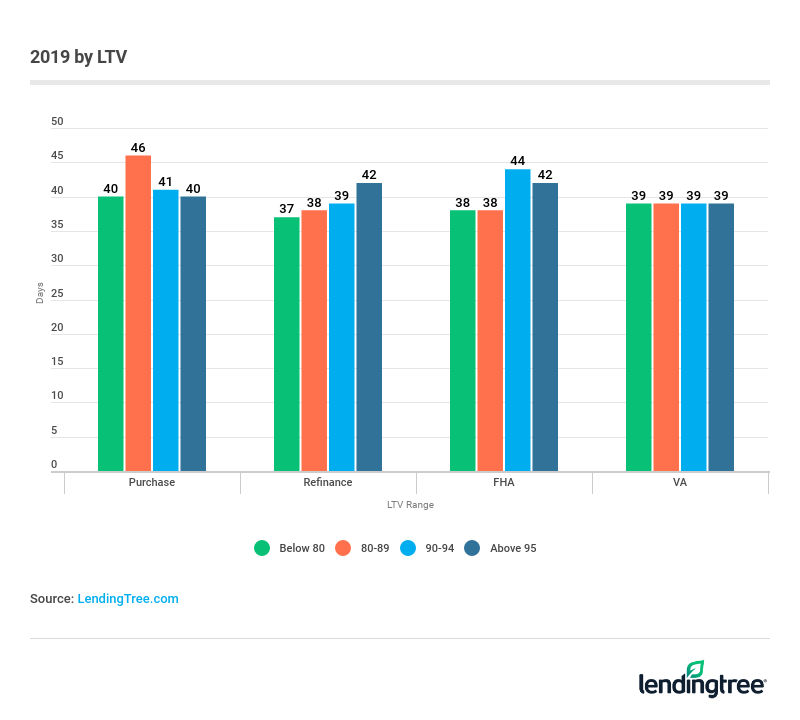 Homebuyer tips
The closing process can be quite daunting. You want to get it right, so here are a few helpful tips:
Cash on hand: You will have some closing costs that need to be paid in cash (not physical notes, but via bank transfers and checks). Make sure this cash is easily accessible well ahead of closing and not in any type of financial instrument that restricts your access to it. For example, some CDs can have early withdrawal penalties. You should also have extra cash as some final costs may come in higher than initial estimates. At least 10% additional would be a good buffer.
Documentation: Make sure to prepare all the documentation that is your responsibility to provide. Your lender and real estate agent should provide you with a checklist.
New debt: Your approval was based on your credit profile at the time you signed the home purchase agreement. New loans can throw this off, so avoid the temptation to start making large purchases of things like furniture that can increase your debt load. Keep paying all your obligations on time.
Inspection: Make sure you are happy with the inspection and resolve any issues with the seller that you need them to address. Once closing is done, you may not have any recourse for any lingering issues not agreed upon.
Methodology
Data on how long homes take to close was taken from 350,000 loans for borrowers who shopped on LendingTree from January 2017 through May 2019. Time to close is calculated from initial mortgage application to the date the mortgage was originated and final.
---
Featured Articles