How to Finance a Duplex
Updated August 28th, 2019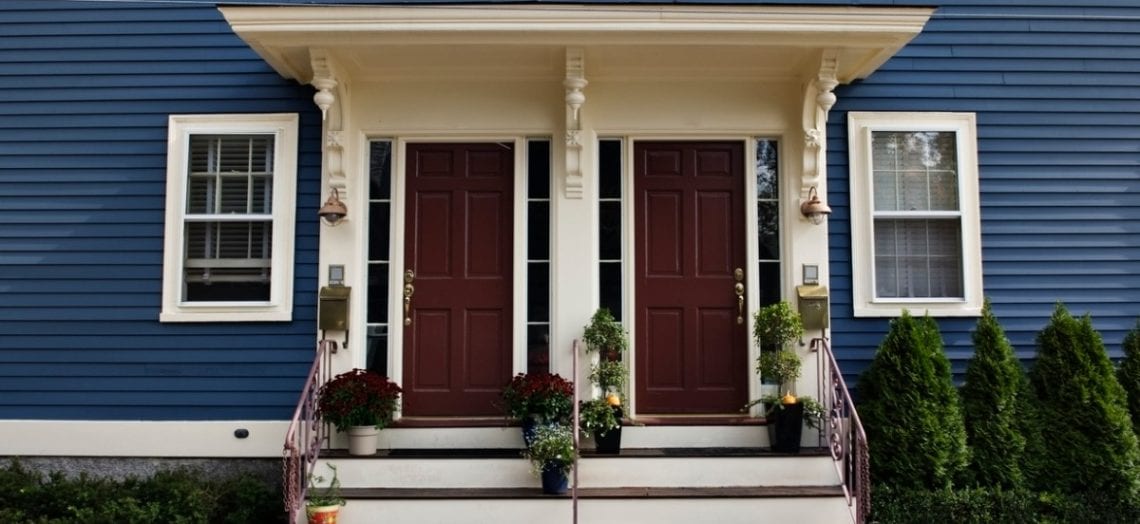 There are numerous ways to dip your toes into real estate investing, including stashing money in real estate investment trusts (REITs) or buying single-family homes to rent out to tenants. One strategy that may be lucrative involves buying a duplex to live in — at least for a while.
Jennifer Beeston, vice president of mortgage lending for Guaranteed Rate Inc., said she has seen this type of investment be especially beneficial for young or first-time homebuyers. If you are just out of college and two years into your current job, it could make sense to buy a duplex and have your mortgage mostly paid by your neighbors, she said.
Make that extremely close neighbors — duplexes typically are in the same building, though each unit usually has its own entrance. There are challenges and risks with any investment. This guide will explain how to finance a duplex and provide a road map to help you assess if a duplex is the right investment for you.
Financing a duplex with an FHA loan
To make your dream of owning rental real estate come true, you have to conquer the first step of any type of homeownership — finding financing. For many people, Federal Housing Administration loans are a smart option for the purchase of a duplex due to low down payment and easy credit requirements.
With FHA financing, the minimum down payment is 3.5% whether you're buying a traditional single-family home or a duplex. This level of initial investment is a lot easier to stomach than if you were using a conventional loan to purchase a duplex. With a conventional loan, you would need to come up with 20%-25% of the purchase price to put down on your duplex upfront.
But, there's one big caveat that comes with using FHA loans — you have to live in the property and plan to occupy it as your principal residence. This is because FHA loans were created to expand homeownership possibilities and not to suit investors, said Beeston. With conventional loans, the down payment requirements are much higher but you never have to live in the property.
When it comes to how much you can finance with an FHA loan, Beeston said that depends. Loan limits vary by county. Look up your area using the Department of Housing and Urban Development's search tool.
As an example, the Indianapolis/Carmel/Anderson region of Indiana has a limit of $412,000 for FHA loans on a two-unit dwelling. In California's Orange County, on the other hand, the loan limit for the same type of property is $870,225.
Duplex prices — and therefore duplex loans — may be steeper than traditional single-family homes, but the rental income you plan to collect from the second unit qualifies as income, Beeston said. Since a higher income typically helps you qualify for a bigger mortgage, rental income on top of income from your 9-to-5 help may widen the selection of potential duplexes you could afford.
However, there are some requirements that muddy the waters. For starters, lenders choose the least of two figures when determining how much rental income can be used to help you qualify — either 75% of the fair market rent as determined by the appraiser or 75% of rent on a current lease that's in place. Beeston said this can be a problem if someone is occupying one half of the property and paying below market rent.
"If the fair market rent for the property is $2,000 but the current tenant is paying $1,000, we can only use 75% of the $1,000 to help you qualify," she said.
Either way, the additional requirements for an FHA loan on a duplex are the same as if you were using this loan program for a traditional single-family home. A minimum credit score of 500 is required if you have at least 10% to put down on the property, but a credit score of 580 is required to put 3.5% down. You also have to be able to prove your income and employment.
Finally, lenders will look at your income and other debts to determine your debt-to-income ratio — a figure that is achieved by dividing your monthly debts by your gross monthly income.
Lenders prefer to offer mortgages to borrowers with a debt-to-income ratio of 43% or less, including housing payments. If your gross monthly income is $4,000, this means you would need to have $1,720 or less each month in housing expenses and other bills like a car payment or credit card payment.
FHA owner-occupied residency requirements
We already mentioned that FHA loans are designed to be used for your primary residence. There is no way around this requirement, said Beeston, although you can opt for conventional financing if you want to purchase a duplex as an investment only.
Still, there is something of a "statute of limitations" on this rule since mortgage lenders cannot require anyone to live in a house forever.
"Someone's job might change or they might have to move across the country," said Beeston. "You wouldn't have to refinance at that point provided you bought the duplex with an FHA loan with the intention of living there for the long term."
Beeston said you don't have to ask permission to move out of a duplex you financed with an FHA loan, but you should live there for at least a year to avoid any trouble.
"You don't want to mess with the FHA or the government," she said. "The FHA program is for owner-occupied units, so you should use it that way."
Total costs of a duplex mortgage
When living in one half of a duplex and renting out the other, you're taking on the dual roles of homeowner and landlord. With that in mind, it's important to consider the costs of owning a home as well as the expenses involved in running a rental business.
Factors that could influence the profitability of your investment include:
Current tenancy
Beeston said you need to find out if there is a tenant currently residing in one half of the property you're interested in purchasing. If so, how long do they have left on their lease? How much are they paying? If the unit is vacant, why is it vacant? Also, is this property in an area where rents are controlled?
"If someone is in one of the units paying $500 when the market rent is $2,000, you need to know this," said Beeston. "Understand that this is a responsibility and make sure to understand what you're doing."
If there is a long-term occupant who doesn't want to leave the property or pay higher rent, you may need to get a lawyer involved, she said. Eviction laws vary by state and county, so the rules can be different based on where you live. If the duplex resides in an area with rent control, you may not be able to raise the rent without permission from the local government.
Beeston noted these are issues you will want to dive into before you buy a duplex and not after. If you wait to deal with a tenant until you already own the property, you could end up in a situation where you are "stuck."
Using a property manager
Just because you plan to rent out one side of a duplex doesn't mean you want to do the work required to be a landlord. Beeston said that many landlords hire a property manager to vet and manage tenants. This eats into your rental profit, but it might bring peace of mind to the equation and make owning a duplex easier.
Beeston said a property manager may cost 8% to 15% of your annual rent but that costs vary around the country.
Market rent
Whether you already have a tenant or not, you'll want to research market rent to find out how much you could potentially earn with your first "neighbor" and tenant.
To do this, Beeston said to check out rental websites in your area to see how much comparable properties are asking. You can also talk to a property manager to get perspective from someone who already manages rentals in the area.
Other costs
Before you can assess the profitability of your duplex venture, it's important to consider the other costs that come with owning real estate. Your mortgage lender or a good mortgage calculator can give you an idea of your monthly payment, but what other expenses can you expect?
For starters, it's crucial to research property taxes and homeowners insurance costs. You can likely find out how much property taxes cost from your real estate agent or local tax assessor's office. However, you will need to shop around for a homeowner policy.
In addition, you will need to pay mortgage insurance on your FHA loan. The premiums for FHA mortgage insurance include an upfront charge of 1.75% of the loan amount. From there, annual mortgage insurance premium (MIP) amounts are based on loan amount, loan-to-value ratio and the loan term. If you're curious what your MIP payments would look like, the FHA offers a helpful What's My Payment tool.
How to run the numbers
As you start digging into the details, sit down with your lender to run the numbers and see if your duplex purchase makes financial sense. "A lot of times, people go into these things thinking they will receive exorbitant amounts of rent, but it's not realistic for the market," Beeston said.
To figure out if you can make it work, determine the monthly payment on the property and about how much rent you will bring in. In some cases, your living expenses may be covered entirely by a renter, but other times, rent will only be enough to subsidize your costs.
Also keep in mind that you need to have a buffer in case someone doesn't pay the rent one month. "This happens a lot, so you need to be prepared," said Beeston. You'll also need to plan for maintenance and repairs of the property.
If the duplex has been a rental already, it's possible the current owner has a list of average expenses throughout the years. It's important to understand what those expenses were and which expenses you need to plan for.
"If a toilet gets clogged at 3 a.m., you need to pay to have it fixed," said Beeston. "Was the previous landlord including utilities in the cost of rent?" This is also something you will want to know.
If you imagine the duplex will need major updates in the next few years, you'll also want to start planning for those. If the roof is 20 years old, for example, you should expect to replace it in the next few years. The same can be said for a furnace or HVAC system.
A certain amount of home maintenance is also required to keep your duplex in good shape. You will likely need to have your HVAC system cleaned periodically, and you may want to hire a company to treat the lawn. Other maintenance items may include things like furnace filters, light bulbs and pest control.
Then, there are damages. While you may very well end up with perfect renters who keep their side of the duplex clean and well-maintained, this isn't always the case. Renters can and often do leave a lot of damage and any damage deposit they put down may not be enough to cover it. For that reason, duplex owners should plan on having some cash reserves to cover any damages renters cause.
IRS provisions buyers can take advantage of
The good news for landlords is that the Internal Revenue Service makes it fairly easy to deduct many business expenses. As a landlord, many tax deductions may be available to you, including:
Mortgage interest, property tax, operating expenses, depreciation and repairs.
Ordinary and necessary expenses for managing, conserving and maintaining your rental property, including interest, taxes, advertising, maintenance, utilities and insurance.
Certain materials, supplies, repairs and maintenance items required to keep your property in good condition.
Expenses paid by a tenant if they are deductible rental expenses (e.g. your tenant buys a set of furnace filters, gives you the receipt and deducts it from their rent)
The IRS suggests keeping excellent records of all expenses related to your duplex or rental property so you can effectively manage your taxes with proper documentation. If your tax return is selected for an audit, you will need to provide evidence for all expenses related to your rental unit. If you cannot document rental expenses, you "may be subject to additional taxes and penalties," they noted.
The bottom line
Buying a duplex could be a smart investment choice, and this is especially true when you're able to secure an FHA loan with a reasonable down payment, easy credit requirements and a low interest rate. But, before you dive into real estate, you should think long and hard about your goals and what you hope to accomplish.
Buying and living in a duplex can be a savvy move, but it's not for everyone. If you don't want to manage tenants or share a wall with strangers, owning a duplex can even be stressful.
Then again, Beeston said duplex living doesn't have to be forever and that it can be used as a "stepping stone" instead.
"This is a program for getting people into a house and having their mortgage offset or helping them create a property portfolio," said Beeston. "I've seen people buy duplexes when they are young and use it to build long-term wealth then move onto single-family homes later on."
---
Featured Articles