How Does LendingTree Get Paid?
LendingTree is compensated by companies on this site and this compensation may impact how and where offers appear on this site (such as the order). LendingTree does not include all lenders, savings products, or loan options available in the marketplace.
Your Guide to Rent-to-Own Homes
Updated on: December 19th, 2019
Editorial Note: The content of this article is based on the author's opinions and recommendations alone. It may not have been previewed, commissioned or otherwise endorsed by any of our network partners.
You're looking to finally buy a home, but there's a problem: Your finances aren't where they need to be. If this is the case, you might consider a rent-to-own home. A rent-to-own home allows a renter the opportunity to eventually purchase the home they're renting after the end of the lease term, which may last for several years.
These property types have their own challenges and pitfalls, which is why we've explored the ins and outs of this housing option for you.
In this article:
What is a rent-to-own home?
A rent-to-own home is a rental arrangement that makes it possible for a tenant to buy the home they're renting after a predetermined number of years at a specific sales price.
When you agree to rent a home with the option to buy (also called a lease-to-own agreement), you'll begin making your monthly payments to the property owner just as you'd pay rent to a landlord. However, a portion of those monthly payments go toward the down payment you'll need later to purchase the home. You'll also pay an option fee upfront, which gives you the right to eventually buy the home you're renting. An option fee can range from 2.5% to 7% of the home's purchase price, according to LawDepot, an online legal service. The option fee also goes toward your down payment.
Once time is up on your agreement, you'll have the option to purchase the property. Typically, you'd get a mortgage to finance the home purchase, minus the down payment you've been saving over the course of your lease term. Terms usually last between one and five years, according to legal resource site Nolo.com.
Who are rent-to-own homes best for?
Generally speaking, rent-to-own homes work best for individuals and families who:
Have creditworthiness issues that lock them out of qualifying for a traditional mortgage.
Know that homeownership is in their future, but aren't quite ready for it.
Are dedicated to purchasing a specific home and are in it for the long haul.
Want to eventually stop paying rent and instead start building equity.
Understanding a rent-to-own agreement
Each rent-to-own agreement is unique, and the contract provisions can be complex. Two primary types of rent-to-own agreements are available to would-be homeowners:
Lease-option agreement. Under this agreement, a tenant has the option — but not the obligation — to purchase the home when their lease ends.
Lease-purchase agreement. With this agreement, a tenant is legally obligated to purchase the home when the lease term expires.
Although there is no standard rent-to-own contract, here are the most common conditions to look for and how they work.
Rental agreement. A rent-to-own agreement includes a traditional rental contract, as the title of the property remains in the name of the landlord or property owner until the renter exercises their right to purchase the property. Typically, the agreement spells out an agreed-upon rental amount, what percentage goes toward the down payment, the option or obligation to purchase the property, a specified lease term and an outline of how repairs and maintenance responsibilities are divided among the landlord and tenant.
Purchase price. The agreement should also include information about how the home's purchase price is determined. It might be a set price based on the home's value at the time the rent-to-own agreement is drafted, or later determined once the tenant exercises their option and orders an appraisal.
Maintenance requirements. Most rent-to-own agreements include provisions that leave the tenant in charge of all home maintenance and repairs. That usually means basic maintenance needs, like landscaping and cleaning, but may also include appliance repairs. Be sure the agreement is clear on what you're responsible for as a tenant and what your landlord will cover, if anything.
Penalties. In order to have a portion of each rent payment added to your escrow account, you must follow the terms of the lease. If you don't pay your rent on or before the due date stipulated in your lease or violate any of the other terms, you could void the agreement.
Pros and cons of choosing a rent-to-own property
While there are plenty of reasons to consider a rent-to-own property as part of your transition into homeownership, it's also important to understand the risks.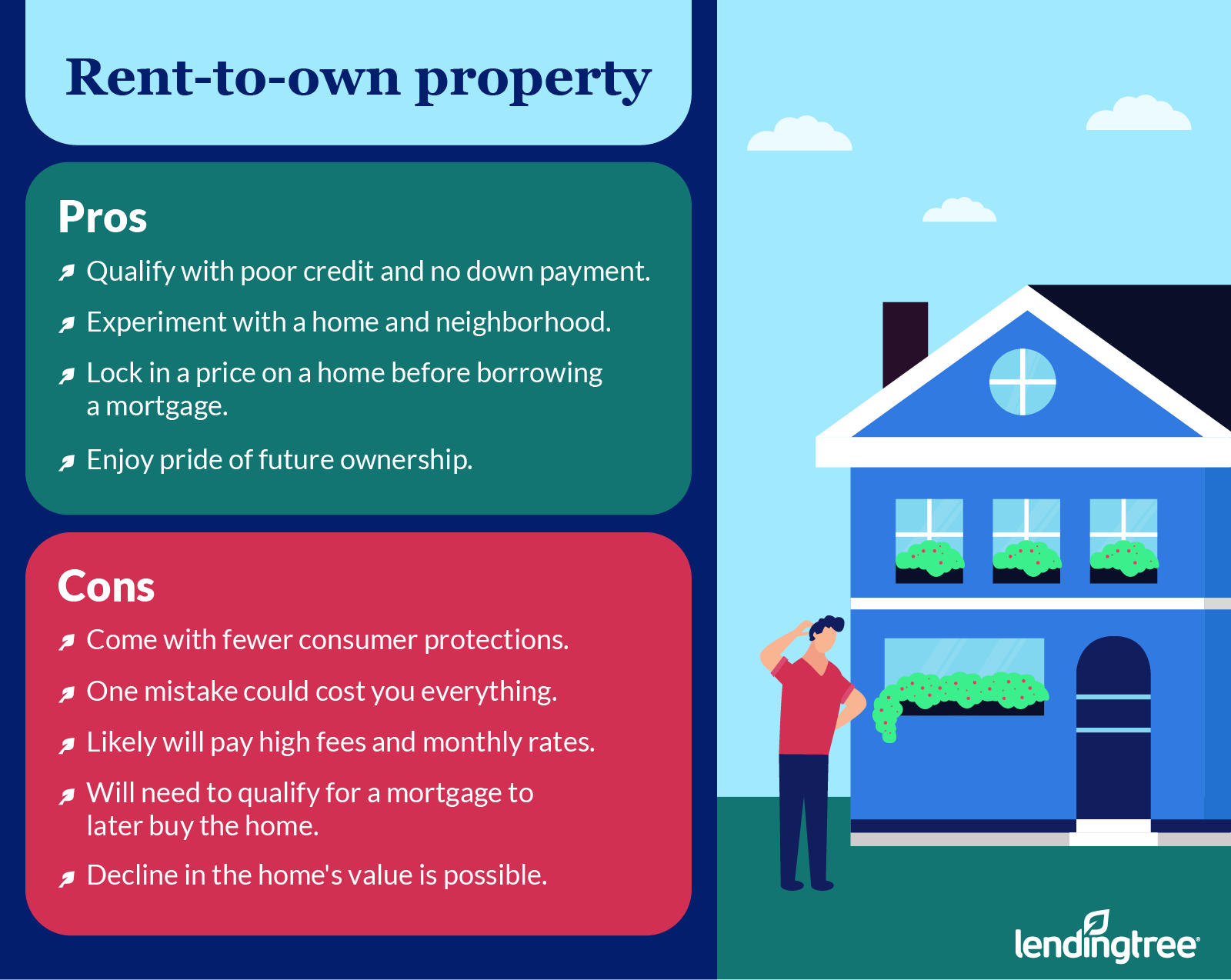 Pros
Qualify with poor credit and no down payment. If bad credit (or a lack of credit) has prevented you from qualifying for a traditional mortgage, a rent-to-own agreement would let you work toward improving your credit and eventually get a mortgage to buy the home you're renting.
Experiment with a home and neighborhood. If you've chosen a lease-option agreement, you're not obligated to buy the home you're renting once your lease term ends. By renting first, you'll have time to try out a home and neighborhood before you decide on ownership.
Potentially lock in a home price before borrowing a mortgage. If you're worried about the rising costs of real estate in your area, a rent-to-own contract may make it possible to lock in a price for a property before it's time for you to purchase it later.
Enjoy the pride of future ownership. When you're buying a home through a lease-to-own agreement, you get the satisfaction of knowing you'll likely own the property one day.
Cons
You'll have fewer consumer protections. The fact that rent-to-own agreements have less oversight means they are often more risky for consumers.
One mistake could cost you the deal. Watch out for "gotcha" policies. Some rent-to-own agreements end the moment you miss a payment. In those instances, you would forfeit the money you contributed for your eventual down payment.
There are higher fees and monthly rental rates. Rent-to-own agreements often come with high upfront fees and higher monthly payments than a traditional rental arrangement, according to the Federal Trade Commission (FTC). Because of these fees, you could easily pay more than you would have using a traditional mortgage.
You'll need to qualify for a mortgage to buy the home. Your ability to purchase the property will depend on whether you can get a mortgage in the future. If you can't qualify for a home loan, you may lose all the money you've contributed toward the home purchase, along with the repairs and maintenance you've invested in the home.
The home's market value could plummet. If the value of the property you're buying drops during your rent-to-own agreement, you may wind up paying more for the home than what it's worth.
9 tips to avoid a rent-to-own scam
Some rent-to-own programs turn out to be scams, as the FTC warns. In the past, the agency has seen everything from landlords pretending to be owners to actual owners who hadn't paid property taxes or maintained the property.
Because of these potential scams, people interested in rent-to-own agreements must be vigilant and use due diligence before agreeing to a deal. Keep these tips in mind if you're considering a rent-to-own agreement:
Pay attention to your rental rate, and how much of that rent is being dedicated to your down payment.
Request a disclosure of all fees involved in the transaction, including finance charges and the annual percentage rate.
Review all the lease terms and ask questions before you agree and sign.
Have a real estate attorney review your rent-to-own agreement.
Ensure the transaction is recorded with the local government within 30 days of signing.
Ask for an annual report of the amounts you paid and how they were applied.
Meet with a mortgage lender ahead of time to ensure you'll qualify for a mortgage.
Order a home appraisal and a home inspection before you buy the home.
Require a disclosure of any taxes and liens owed on the property and negotiate with the owner on covering those expenses prior to the home sale.
Rent-to-own home FAQs
Before you sign a lease-to-own agreement, it's important to find out everything you can about these contracts and how they work. Here are some common questions and answers about rent-to-own agreements.
What is a rent credit?
Most rent-to-own agreements have stipulations that state a percentage of each rent payment goes toward the renter's down payment for the purchase of the home. This is called the monthly rent credit. This amount can vary widely depending on the terms of the agreement and the funds are typically held in an escrow account.
Should I sign a rent-to-own agreement if I have good credit?
Lease-to-own homes are targeted to people who don't have the credit or a down payment to qualify for a traditional mortgage. Because costs are higher with rent-to-own homes, those who can qualify for a traditional mortgage should go that route instead. There are several low down payment mortgage options available.
What happens if I decide not to buy the property?
Since rent-to-own homes aren't treated the same as a traditional mortgage, the property won't fall into foreclosure if you decide not to purchase later on. However, you'll forfeit the money you've invested if you don't follow through with the purchase. If you signed a lease-purchase agreement, however, you're obligated to purchase the property and could face legal consequences if you change your mind.
What is the best way to improve my credit to buy a home?
To get your credit ready for homeownership using a traditional mortgage, dispute errors on your credit report, make on-time bill payments and reduce your outstanding debt.
Do I need a home inspection before I sign a rent-to-own agreement?
Getting a third-party home inspection is the best way to find out about costly problems in a home. By hiring a licensed inspector, you can find out about any defects, any repairs or upgrades that need to be made and the general condition of the home before you agree to buy it. If a home has serious problems you don't want to deal with, you can walk away before making a commitment to rent (and later buy) the home.
Do I need an appraisal?
An independent appraisal helps buyers find out the fair market value and fair market rent for their property. With this information in hand, buyers can determine whether the rent and purchase price in their lease-to-own agreement is fair.
What are some alternatives to rent-to-own programs?
The following are other options worth considering before settling on a rent-to-own home:
Housing counseling with a nonprofit organization that is approved by the U.S. Department of Housing and Urban Development.
First-time homebuyer programs, including low down payment conventional loans, government-backed loans and local and state assistance programs and grants.
An installment contract, which allows a buyer to pay monthly installments to the home seller who acts as the lender.