Buying a Foreclosed Home: A Step-by-Step Guide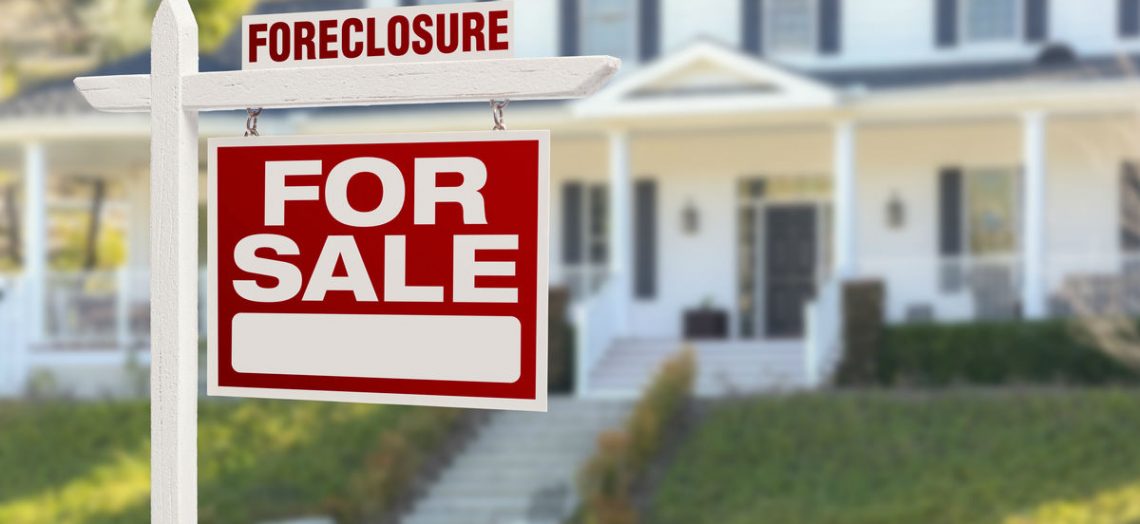 Table of Contents:
Part I: Understanding how foreclosure sales work
Foreclosure takes place when a homeowner is unable to make mortgage payments as required. After a lengthy foreclosure process, the lender seizes the property, evicts the homeowner, and sells the home. At that point, the repossessed home is referred to as a "foreclosed property."
There are several reasons buyers are drawn to foreclosed properties, which we'll cover later in this guide. However, it's important to note that the steps to buying a foreclosed home depend on which stage of the foreclosure process the property is in. Is the home in pre-foreclosure because the homeowners are falling behind, for example? Or is the property already owned by the bank? These details, and others, will determine the steps you'll need to take to buy a foreclosed home.
If you're considering a foreclosure as a first home, a second home or an investment property, it's crucial to know how these sales work and which pitfalls to avoid.
Part II: Should you buy a foreclosed home?
Experts seem to agree that foreclosed properties can offer immense value if you have a handle on the local real estate market, are able to gauge what a property is worth and have the capital or hands-on skills to complete renovations.
If you find a good deal and everything goes smoothly, a foreclosure can even help you save money on a property you plan to live in — or turn a tidy profit.
That's what happened to Amy Blacklock of Oxford, Mich. Blacklock bought a foreclosed property in 2011 for $162,000. The asking price was $182,900, but she decided to bid low and succeeded in her bid.
The house was in good condition overall, she says, apart from a water problem in the small finished basement. The failing water heater had filled the basement with water, a problem that went unnoticed for weeks because the home was vacant. Upon inspection of the property, she also learned of mold in the attic. Still, she moved forward with the purchase.
"While my mom and friend were leery of me purchasing the home, I went with my gut that the water issue was really a nonissue and made an offer on the home," she says.
Blacklock also dug in for some negotiations with the bank, which is rare but can occasionally bear fruit. "After learning of mold in the attic, I pushed for concessions from the bank to cover the remediation," she says. Ultimately, the bank gave in and paid to have the mold professional removed. "Don't be afraid to negotiate with the banks to complete the sale. They want to sell the home as much as you want to purchase it."
In the end, Blacklock says she learned a lot and turned a nice profit when she sold the home for $225,000 in 2015. Her biggest takeaways from the experience involve learning to follow her instincts and "ask for what's right."
While Blacklock's story illustrates how buying a foreclosure can work in your favor, it's important to note the everyday advantages and disadvantages of buying a bank-owned property. Here are some notable perks and drawbacks, straight from real estate agents who market and sell foreclosures regularly.
Advantages of buying a foreclosure
You can snag a good deal. The main reason buyers consider foreclosures is that they believe they can pay less than market value, according to real estate agent Jon Sterling, who is also the author of "Mangled Mortgage: Everything You Need to Know About Foreclosures, Short Sales, and Loan Modifications." "Foreclosures may need work, but the price point is typically lower than you'll find among owner-marketed homes," he says.
HUD homes can be great deals for consumers. Real estate agent Justin Paulhamus, who operates out of FourJayProperties in the Washington, D.C., area, says that HUD homes, specifically, can be a great deal for buyers. Housing and Urban Development homes are homes that were financed with a Federal Housing Administration (FHA) mortgage and repossessed through foreclosure. Paulhamus says these homes are typically marketed to owner-occupant buyers before they are offered to investors. This can give you an advantage if you act quickly.
You can gain some sweat equity. Both Sterling and Paulhamus agree that buying a foreclosed home is a great way to build "sweat equity" if you have the know-how to do your own renovations or a good relationship with a quality contractor. Since you'll get to pick the finishes and colors, buying a house that needs updates can be a great way to end up with one that fits your style and needs.
Disadvantages of buying a foreclosure
Competition can be fierce. If you're a first-time homebuyer trying to buy a foreclosure in a hot market, it's important to realize you may be competing against investors who can make cash offers with no contingencies, says Paulhamus. This means they can offer cash without requiring an appraisal or home inspection, and without needing to sell their current  home first.
You may not understand the condition of the home until you already own it. Another big downside with most foreclosures is the fact that banks aren't required to offer a property disclosure that lists the condition of the property. "You have to do your due diligence and know what you're getting into," Paulhamus says. He says buyers frequently wind up with a foreclosure riddled with mold or foundation problems. If they were unable to get a home inspection ahead of time, they may be unaware of these issues until they get the keys to the property.
Not all foreclosures are a good deal. Sterling says many buyers hear the word "foreclosure" and assume the house is being sold below market value. Not only is this not always the case, he says, but some foreclosures need so much work they aren't a good deal at all.
There's little room for negotiation. While buying a home from an owner usually means you can negotiate on price and repairs, snagging a foreclosure usually leaves little room for such bargaining. Sterling says banks may not negotiate on price at all, and they are a lot less likely to do any repairs. You can ask for repairs and concessions in your offer, but expe, he says.
Part III: Questions to ask before buying a foreclosed home
Both Paulhamus and Sterling stress the importance of asking yourself the right questions before buying a foreclosure. Without vetting yourself and your plan, you could wind up in over your head in terms of repairs, costs and responsibility, they say.
Before you buy a foreclosure, sit down and figure out how to answer these questions honestly:
How much time do I have to put into remodeling or fixing this house? Sterling notes that many foreclosures have areas that are in obvious need of repairs and other repairs that may not be so obvious. In other words, you may wind up spending more time on renovations than you think. With that in mind, it's fair to ask yourself how much time you have to devote to updates and repairs — and what would happen if it takes longer than you anticipate.
How much experience do I have with home repairs? If you plan to do the repairs yourself, you need to have experience with construction and the ability to complete renovations up to code.
Do I have a good network of local contractors? If you plan to hire someone to handle your renovations on a foreclosure, it's important to have a contractor lined up, notes Sterling. Many of the best contractors stay busy, so it may not be easy to find someone on the fly.
Do I have a budget to fix this house and make appropriate repairs? Am I prepared to go over budget? Home repairs and renovations often go over budget, says Sterling. Before you buy a foreclosure, you should make sure you have the cash you estimate you'll need. But, you should also have a backup plan, should you happen to go over budget. Will you borrow the extra money you need? And if so, from where and how?
Do you have the right financing lined up? Paulhamus says it's important to get pre-approved for a mortgage if you need one. You should also make sure you have the right type of financing to buy a foreclosure. FHA loans and Veterans Affairs (VA) loans require properties to meet certain standards of habitability, including being structurally sound and free of safety hazards. If you have your eye on a foreclosure that's in poor shape, it's possible you won't be able to use a FHA or VA loan.
Part IV: Where to find foreclosed homes
According to CoreLogic's most recent National Foreclosure Report, which was released in December 2016, the number of foreclosed homes has been slowly declining. Some 329,000 homes were in some stage of the foreclosure process in December of 2016, compared with 467,000 in December of 2015. CoreLogic noted that this was the 62nd consecutive month that showed a year-over-year decline.
Obviously, there are still thousands of foreclosures nationwide, which may be good news for buyers who want to purchase a foreclosed home. States with the highest number of foreclosures in December of 2016 include:
Judicial states, or states where foreclosure must go through the court system:
States where foreclosure must go through the court system
 Judicial State
Completed foreclosures, December 2016
Foreclosure inventory (Percentage of mortgaged homes in some state of foreclosure)
Florida
44,732
1.4 percent
Ohio
21,095
1.1 percent
Pennsylvania
18,534
1.1 percent
New York
13,336
2.7 percent
New Jersey
12,695
2.8 percent
Nonjudicial states, or states where foreclosure can take place outside the court system:
States where foreclosure can take place outside the court system
 Nonjudicial State
Completed foreclosures, December 2016
Foreclosure inventory
Michigan
29,960
0.3 percent
Texas
24,097
0.5 percent
California
19,251
0.3 percent
Georgia
18,790
0.5 percent
North Carolina
12,596
0.5 percent
Here are the top 10 metros around the U.S. with the highest rates of foreclosure in December of 2016:
Top U.S. Metros with Highest Foreclosure Rates
 Metro
Completed foreclosures, December 2016
Foreclosure inventory
New York – Jersey City – White Plains, N.Y.-N.J.
7,043
2.5 percent
Chicago, Naperville, Arlington Heights, Ill.
5,544
1.1 percent
Las Vegas, Henderson, Paradise, Nev.,
4,608
1.1 percent
Houston, The Woodlands, Sugar Land, Texas
4,566
0.6 percent
Miami, Miami Beach, Kendall, Fla.
4,558
2.0 percent
Washington, Arlington, Alexandria, D.C.-Va.-Md.-W.Va.
3,446
0.7 percent
Los Angeles, Long Beach, Glendale, Calif.
3,346
0.3 percent
Boston, Mass.
1,323
0.9 percent
Denver, Aurora, Lakewood, Colo.
715
0.2 percent
San Francisco, Redwood City, South San Francisco, Calif.
139
0.1 percent
While knowing which areas have the most foreclosures may be helpful, there are plenty of other ways to search for foreclosures nationally or in your area.
Foreclosure real estate agents: Sterling says some agents focus more on foreclosures than others and that who have insider knowledge of the local foreclosure market can be a huge asset.
Newspaper: Your local newspaper may advertise real estate and foreclosure auctions in your area.
Government agencies: Sterling says HUD.gov is the best place to search for foreclosed FHA homes around the nation.
Online foreclosure marketplaces: Paulhamus says there are there several foreclosure search sites on the web. Popular options include Auction.com and Hubzu.com, he adds. However, he also cautions that sites often have a surcharge for their use. "That surcharge can add up to 5 percent of the home price in additional costs in the form of a buyer's premium," Paulhamus says.
Part V: How to buy a foreclosed home
While the process may not be complicated, the exact steps to buy a foreclosure depend on where in the process a home is at. Generally speaking, there are three different stages where you can purchase a property somewhere in the foreclosure process.
Buying a preforeclosure property
A property that it's in preforeclosure is one that is on the path to foreclosure but not quite there yet, says Sterling. Generally speaking, preforeclosure properties are ones where the homeowner has stopped making payments but hasn't lost the home yet. In these cases, the home will be listed with a real estate agent. Thus, it is more of a traditional transaction because you're still negotiating on price and repairs with the homeowner.
Typically, the steps you'll take to purchase a home in preforeclosure involve:
Getting approved for a mortgage
Writing an offer on the home
Waiting to hear back from the seller and potentially negotiating on sales price
Performing an inspection and negotiating repairs
Closing on the home just like you would if you bought any other property
One detail to note, however, is the fact that the timeline can be tricky on homes in preforeclosure. "The bank may start to foreclose even if a home is being actively marketed," Sterling  says. If that happens, you may have to wait on your offer and try to purchase the home at an auction or directly from the bank after the foreclosure process has run its course.
And while you can negotiate with the seller on price and potential repairs when a home is in preforeclosure, you may not get very far, notes Sterling. "They are in this position because they stopped paying their mortgage, so don't expect them to have any money."
Buying at a foreclosure auction
Once a bank is ready to foreclose on a property, it may go up for auction on the local courthouse steps or a similar public area. At this point, it's possible to compete against other buyers to get title to the foreclosure.
Sterling says this type of foreclosure purchase isn't recommended for beginners, mostly because you really have to do your homework. You need to know about the local real estate market conditions and the condition of the property in order to make a fair bid.
Not only that, but most of the time you're competing against cash buyers. Sterling says that the vast majority of the time, buyers who pursue foreclosures at auctions show up with cashier's checks equal to the amounts they plan to bid.
You can use traditional bank financing to buy a foreclosure at an auction, says Sterling. But it's a lot harder to compete against buyers who can make cash offers with no contingencies. Sterling also says some auctions prohibit the use of bank financing altogether.
If you have the cash to buy a foreclosure at auction, Sterling suggests doing your homework. Find out the condition of the homes you're interested in, and learn as much as you can about the area. Unfortunately, he says, you may not even be able to get inside the house before you bid.
At the auction itself, you'll sign up to join and you may have to confirm you have cashier's checks or bank financing lined up ahead of time. From there, you will bid against other buyers for the property. Generally speaking, whoever wants to pay the most will win.
Buying a bank-owned property
A bank-owned home is one a lender has repossessed.
In this case, you will negotiate with the bank or with a real estate agent or representative chosen by the bank. Sterling believes that buying a bank-owned property can be especially advantageous because banks don't like to keep property on their balance sheets. "This isn't emotional for them," he says. "It's merely a numbers game, and you can use that in your favor."
Buying a bank-owned property works similarly to buying any other home, he says. You will:
Make an offer through your real estate agent
Reach an agreement and close on the property
Sterling says that you may need to wait up to five days to hear back on your offer, but that most banks publish their process and make it clear when you'll get a reply.
Another big difference that comes with purchasing a foreclosure instead of a traditional home is that, again, there isn't a lot of wiggle room to ask for repairs. You can offer less than the bank is asking in terms of sales price, notes Sterling, but you'll probably "buy the property as-is."
Either way, if the bank accepts your offer, you'll move forward toward closing just like you would if you bought any other home.
Mistakes to avoid
We've talked about the pitfalls of buying a foreclosed home and how you may not be able to negotiate on price or repairs. We've also talked about how you may not know the condition of the home until you get the keys.
With those details in mind, Paulhamus and Sterling both offered some insight on the biggest foreclosure-buying mistakes they see with their own clients:
Mistake #1: Thinking all foreclosures are a great deal
Sterling says too many people watch a foreclosure deal on HGTV and assume all foreclosures are a walk in the park. "That's not true," he says "All foreclosures are not great deals, so you have to do your homework and know the property's value."
Mistake #2: Underestimating the costs of repairs
It's easy to underestimate how much repairs will cost with a regular home, but this is especially true with foreclosures since you may not be aware of all needed repairs to begin with. It helps to be knowledgeable about homes and construction costs in general.
Mistake #3: Not having an exit strategy
What happens if repairs cost more than you think? Will you sell the property? Borrow more money to continue renovations? Sterling says not enough people think this through and end up with money pits and no way out.
Mistake #4: Taking advice from people who have never bought a foreclosure property
Sterling says that too many people watch shows about foreclosures and flipping houses on television and think they're experts whether they've actually been through the process or not. "Don't take advice from people who have never dealt with foreclosures," he says.
Mistake #5: Not paying attention to how the property's deed is conveyed
A deed is a written document that is used to transfer the title of a piece of property from one person to another. Generally speaking, there are four main types of titles available: a general warranty deed, a special warranty deed, a bargain and sale deed, and a quitclaim deed. While both a general warranty deed and special warranty deed protect the new homeowner from claims of superior title and guarantee no liens against the property, quitclaim deeds make no such warranty. Non-warrantable deeds are also challenging for buyers, because such properties aren't deemed mortgage-worthy by Fannie Mae or Freddie Mac.
Paulhamus says it's very important to pay attention to the type of deed a property has. If you don't, you could be in for an unpleasant surprise. Steer clear of homes with quitclaim deeds, he says, because there might be outstanding liens on the property you'll be responsible for paying. As Paulhamus notes, liens can be for unpaid contractors or loans taken out against the property. Further, non-warrantable properties should also be avoided since they may be significantly harder to resell.
The good news is you can usually find out which type of deed is conveyed in the listing of a property. If not, Paulhamus says to ask your real estate agent or the bank's representative. He says that ideally, you'll purchase foreclosed properties with a general warranty deed or special warranty deed and no title issues. You'll also want to make sure the property is fully marketable and insurable.
Part VI: Financing a foreclosed property
Now that we've covered all there is to know about buying a foreclosed home, it's time to dig into the best ways to find financing. Fortunately, this part of the equation isn't too complicated because financing for foreclosures works the same as if you were financing a regular house, says Jennifer Beeston, vice president of mortgage lending at Guaranteed Rate Mortgage.
For starters, you can use any type of loan to purchase a foreclosure, notes Beeston. This includes conventional, FHA and VA loans, among other types. The only exception to take note of here is the fact that VA and FHA loans, which are backed by the government, require properties to be in habitable condition without any safety hazards.
If you plan on purchasing a foreclosure that's in rough shape, you may need to go with conventional financing, she says. Also note that some lenders may market themselves as a "foreclosure lender" or "foreclosure expert." This may mean they finance a lot of foreclosures, says Beeston, but it doesn't mean they are any more qualified — or that they can offer benefits other lenders can't.
Another important detail to consider when getting financing is one we've already emphasized: You may have less wiggle room with a foreclosure when it comes to negotiating price and repairs.
"If you're buying a house from a seller, you may be able to negotiate for them to fix things prior to close or to get credit because of things not being perfect with the house," says Beeston. "The odds of that happening with a foreclosure are not the norm."
Finally, banks aren't like normal sellers that may be eager to get back to you. "It may take them longer to respond to your offer — between one to 10 days," she says.
With these details in mind, here are some steps you can take to get financing for a foreclosed property:
Step 1: Compare lenders. It's easy to compare lenders and mortgage rates online. Beeston says you should compare lenders and see how they stack up. According to the Federal Trade Commission, important factors to compare among mortgage lenders include interest rates, points, fees, down payments and private mortgage insurance (PMI).
Step 2: Get preapproved for a mortgage. "It's important to get preapproved for a mortgage with foreclosure in case there are multiple bids coming in," notes Beeston. If you're not at least  preapproved, you'll likely lose the house to someone who is.
Once you're preapproved for a mortgage, you'll be in the best position to compete for foreclosures among other buyers who are prepared to make a deal, notes Beeston.
Frequently asked questions (FAQs)
Do you have to buy foreclosures in cash?
You can use a conventional mortgage to purchase a foreclosure, and you may be able to use a FHA or VA loan if the home meets certain habitability standards. However, you may be competing against buyers who can buy foreclosures with cash and no contingencies.
Are foreclosed properties mostly in bad areas?
Foreclosure can happen to anyone in any neighborhood, which is why foreclosed homes are found across the country and at all price points. The best thing you can do before buying a foreclosed home is research the property, the neighborhood and the local community to make sure you understand what you're buying into.
What does it mean to buy a foreclosure "as-is?"
This means that no repairs or updates have been made, and you may not know the condition of the home until you get the keys. You can ask the bank to make repairs on a foreclosure when you make an offer, but it's unlikely the lender will comply.
Do you need a real estate agent to buy a foreclosure?
You may need to work with an agent to place an offer on a home that is in preforeclosure or already owned by a bank. The good news is, you don't need to pay for the privilege of using a real estate agent as a buyer since the listing costs are paid by the seller of the home, whether that's the homeowner or a bank. If you plan to bid on a foreclosure at auction, you can do so independently.
What is a short sale?
According to the FTC, a short sale takes place when you sell your home for less than what you owe on the mortgage. In a short sale, the lender agrees to accept the proceeds and take a loss instead of pursuing foreclosure against the owner.
What are the biggest risks that come with buying a foreclosed property?
As Sterling notes, some of the biggest risks of buying a foreclosed home involve not having a full understanding of needed repairs and going over budget to get the property into good shape. Since you may not know the condition of the property before you buy, you may also get in a situation where costly damage you didn't know about needs to be rectified.
Imagine buying a foreclosure only to find the property is full of mold or has a sinking foundation. Unfortunately, these situations happen regularly in the foreclosure market, says Sterling.