How Does LendingTree Get Paid?
LendingTree is compensated by companies on this site and this compensation may impact how and where offers appear on this site (such as the order). LendingTree does not include all lenders, savings products, or loan options available in the marketplace.
Understanding Student Loans and Mortgage Approval
Updated on: October 7th, 2020
Editorial Note: The content of this article is based on the author's opinions and recommendations alone. It may not have been previewed, commissioned or otherwise endorsed by any of our network partners.
U.S. borrowers collectively carry about $1.7 trillion in student loan debt, according to Federal Reserve data. If you fall into this category and want to buy a home, it's important to first understand the relationship between student loans and mortgage approval.
With the typical student loan borrower carrying a balance of more than $30,000, qualifying for homeownership can be a major hurdle to clear, but it's not impossible.
Your debt-to-income ratio and student loans
Your credit score is just one of the major factors that determine whether you qualify for a mortgage. Another important number is your debt-to-income (DTI) ratio.
Your DTI ratio is the percentage of your gross monthly income that is dedicated to paying your monthly debt obligations. This includes:
Auto loans
Credit cards
Mortgage or rent
Personal loans
Student loans
When you're buying a house with student loans or any other type of debt, the more debt you pay each month relative to your income, the harder it will be to qualify for a mortgage. It's best to keep your DTI ratio at a maximum 43% to strengthen your chances of mortgage approval.
Before you start the mortgage application process, it's best to pull your credit report to verify how your student loan debt is being reported and dispute any errors that come up. You can get copies of your credit report from all three major bureaus — Equifax, Experian and TransUnion — from AnnualCreditReport.com.
If your student loan repayment period recently began, there should be a minimum monthly payment on your credit report. If the credit report doesn't correctly reflect that payment amount, contact each bureau reporting the inaccurate information to have it corrected, and provide them with the actual payment schedule you received from your student loan servicer.
How student loans are factored into your mortgage application
A major consideration for student loans and mortgage approval is how you're managing your loan repayment responsibilities. This includes whether you're participating in a special repayment plan or have your payments paused altogether.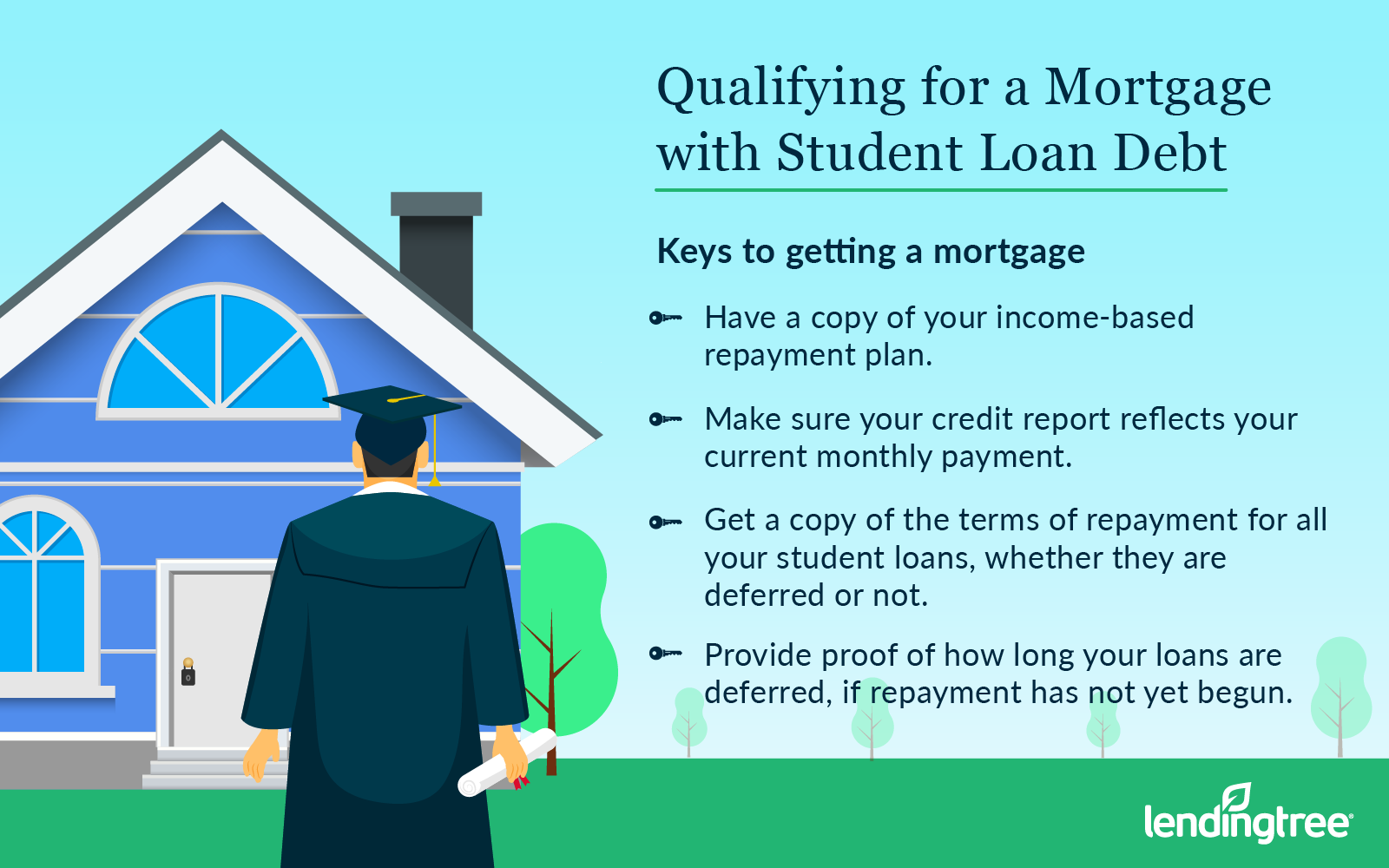 Here's how different loan programs evaluate borrowers who are interested in buying a home with student loan debt.
Conventional loans
Conventional loans are mortgages that aren't backed or insured by the federal government. You typically need a 620 credit score and 3% down payment to qualify for a conventional loan. Lenders often prefer a maximum 45% DTI ratio, but may accept up to a 50% DTI ratio if you have a higher credit score and more cash savings.
Conventional lenders will rely on the monthly payment amount shown on your credit report or loan documentation when qualifying you for a home loan.
However, if you're on an income-driven repayment (IDR) plan and your monthly payment is $0, Fannie Mae student loan guidelines instruct lenders to accept this amount with documentation. Freddie Mac lenders will use 0.5% of your outstanding student loan balance to calculate a monthly payment amount for your mortgage application. If you owe $40,000, for example, your hypothetical payment would be $200.
For student loans in deferment or forbearance, Fannie Mae may use 1% of your outstanding balance to calculate a payment. Freddie Mac's 0.5% calculation also applies to these payment statuses.
FHA loans
Home loans backed by the Federal Housing Administration (FHA) have looser borrowing requirements than conventional loans. You can qualify for an FHA loan with a minimum 3.5% down payment and at least a 580 credit score.
FHA lenders prefer to see a maximum 43% DTI ratio but may allow a slightly higher ratio for borrowers with higher credit scores and additional cash reserves.
FHA student loan guidelines don't focus as much on the type of repayment plan in which you're participating; your lender will likely use 1% of your outstanding loan balance to calculate a monthly payment for your mortgage application. If the monthly payment shown on your credit report is higher than 1% of your balance, your lender will use that amount instead.
VA loans
The U.S. Department of Veterans Affairs (VA) insures VA loans for military service members, veterans and eligible spouses. There is usually no down payment required, though there is a funding fee to offset the loan program cost to taxpayers. Most VA lenders require a minimum 620 credit score and a maximum 41% DTI ratio but may provide flexibility under certain circumstances.
VA lenders have slightly different guidelines to follow for those buying a house with student loan debt. If a borrower's student loans will be in deferment for a year or more, no monthly payment is counted toward qualifying for a mortgage. However, if their repayment plan will begin within the next 12 months, the lender must use 5% of the outstanding student loan balance and divide it by 12 to calculate a monthly payment amount.
For example, if you have a $75,000 student loan balance, you'd take 5% of that ($3,750) and divide it by 12 to get a monthly payment of $312.50 for qualifying. If the student loan payment listed on the borrower's credit report is higher than the 5% calculation, the lender must use that payment amount instead. If it's lower, the borrower must provide supporting documentation.
USDA loans
The U.S. Department of Agriculture (USDA) insures USDA loans to help low- and moderate-income borrowers buy homes in designated rural areas of the country. No down payment is required, though there are income limits. If you already meet employment and income requirements, you may receive automatic approval with a minimum 640 credit score.
USDA lenders may use the monthly student loan payment shown on a borrower's credit report or on documentation from their student loan servicer. However, lenders may use a 0.5% monthly payment calculation for loans on an IDR plan or in deferment.
How to juggle repaying student loans and buying a house
Now that you're clear on how student loans impact mortgage approval, keep the following tips in mind before you start the application process:
Lower your DTI ratio. A high debt-to-income ratio indicates to lenders that you're a risky borrower who is more likely to fall behind on debt payments, and it can disqualify you from getting a mortgage. Lower your DTI ratio by paying down your student loan, credit card and any other outstanding balances you have. Consider a temporary side gig to increase your monthly income and pay down debt faster.
Boost your credit score. The higher your credit score, the more creditworthy lenders are likely to perceive you. Review your credit reports and dispute any errors you find, such as an incorrectly reported late payment or an unfamiliar medical bill in collections. Additionally, always pay your bills on time.
Consider a student loan refinance. A student loan refinance can help you snag a lower interest rate and stretch out your repayment term to reduce your monthly payment amounts. The drawback here if you have federal student loans is that you'll lose important protections, such as income-driven repayment plan options.
5 mortgage options for homebuyers with student loan debt
Fannie Mae HomeReady® loan. A HomeReady loan is ideal if you have a good credit score, but limited down payment funds. To qualify with the minimum 3% down payment, you'd need a maximum 45% DTI ratio and a minimum 720 score.
Freddie Mac Home Possible® loan. Home Possible loans also require a minimum 3% down payment. You'll need a minimum 660 credit score and a maximum 45% DTI ratio.
FHA loan. The lowest credit score FHA lenders may accept is 500, though you'll need a 10% down payment. As mentioned above, if you have a minimum 580 score, you'll only need to contribute a 3.5% down payment.
USDA loan. If you prefer to buy a home in a rural area, you may qualify for a USDA loan. You'll need to meet income eligibility limits, but you won't have a minimum down payment requirement.
VA loan. If you're a member of the military, veteran or eligible spouse, consider a 0% down VA loan. If your DTI exceeds the 41% maximum, it helps to have enough income left over after your monthly expenses to qualify for a loan.
If you need help coming up with the funds to buy a home, consider a down payment assistance program to help supplement what you've saved toward your home purchase.