9 Ways To Save Money on Your Mortgage Before You Close
Published on: December 4th, 2018
Editorial Note: The content of this article is based on the author's opinions and recommendations alone. It may not have been previewed, commissioned or otherwise endorsed by any of our network partners.
A home is the biggest single purchase most people will ever make and like any other major investment, it makes sense to look for your best possible price — for the mortgage as well as the house itself.
This process can seem daunting, given the number of lenders and loan types. Don't panic! In this article, we'll lay out a series of steps that will show you how to make choices that are right for you.
Taken together, these tactics could save you thousands — or tens of thousands — off the cost of your new home.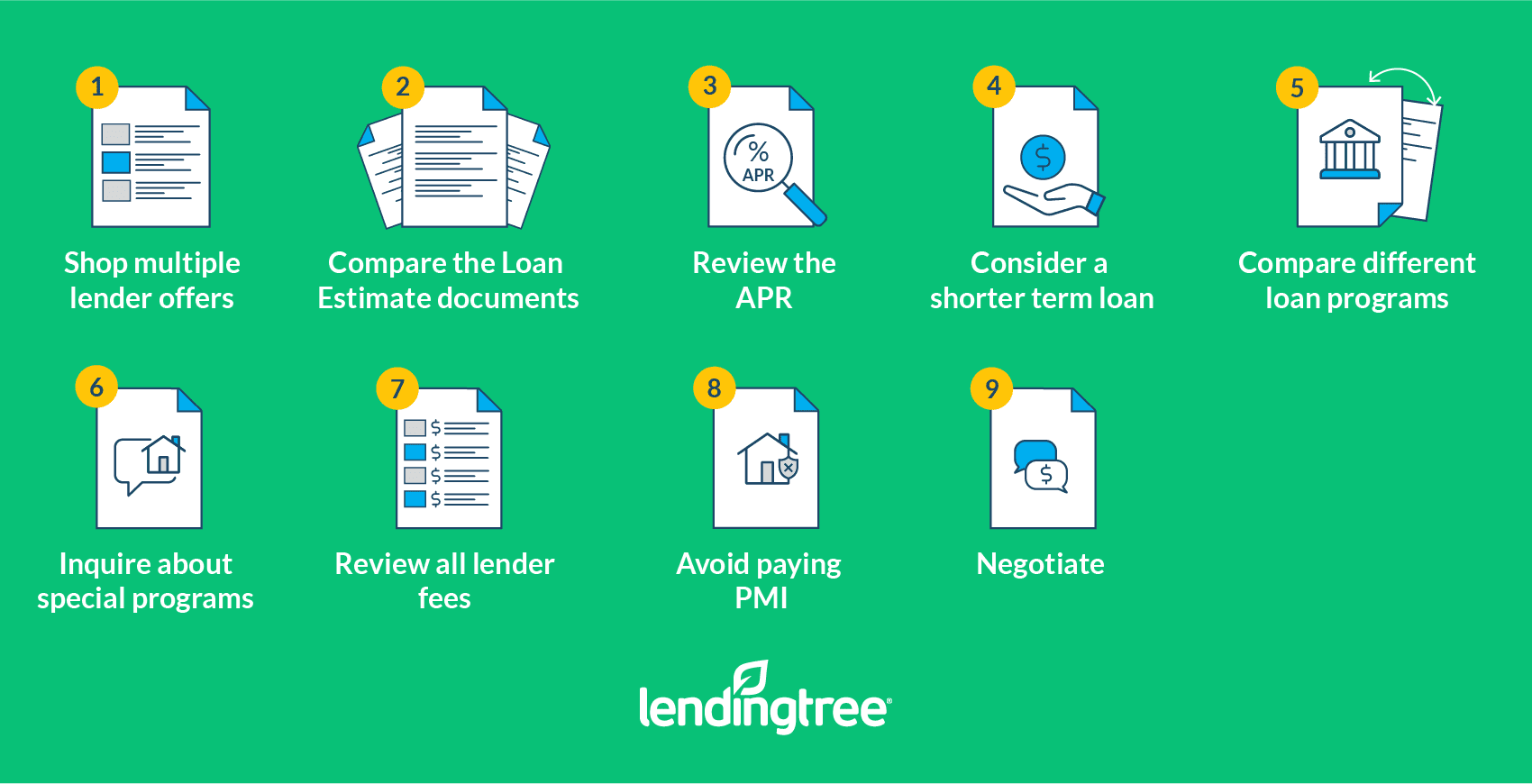 Step 1: Shop multiple lender offers
Lots of lenders want to sell you loans, but rates and fees vary widely. Comparisons are essential. A good way to start is by using LendingTree's mortgage comparison tool, which matches you with multiple lenders.
When you get a quote from mortgage lender, you should also receive a Loan Estimate, a three-page document that lays out the financial facts of the potential mortgage. Among other things, it spells out the mortgage loan terms, interest rate, monthly principal and interest and the possibility of something changing after closing.
Which brings us to our next step.
Step 2: Compare the Loan Estimate documents
Those Loan Estimates let you do an apples-to-apples comparison of all the mortgage offers you're given. Right off the bat you'll be able to weed out the less desirable quotes.
One part to pay special attention to is the "Services You Can Shop For" section. This may include things like survey fee, title insurance and pest inspection. As with other products, a little comparison shopping can yield decent savings.
The Loan Estimate will also include a homeowners insurance premium. This is a product you can and should shop for because rates can vary greatly. Getting your best homeowners insurance deal could save you a bundle upfront, because the first year's premium is generally included in your closing costs.
Step 3: Review the APR, not just advertised interest rates
Some lenders trumpet their low interest rates, but you should be more concerned about the annual percentage rate (APR).
The APR is a more accurate picture of your credit because it's the total cost. The number includes the interest rate, points, fees and any other charges that you'll be paying.
By law, the APR must be listed in offers and advertising. On your Loan Estimate, you'll find the APR under "Comparisons" on page 3.
Note that the APR of an adjustable-rate mortgage (ARM) does not reflect the loan's maximum interest rate; it's calculated using the interest rate from the introductory period. Keep that in mind when comparing different ARMs, or when comparing fixed-rate mortgages and ARMs.
Step 4: Consider a shorter term loan, like a 15-year fixed
A shorter term loan usually has a lower overall cost. The interest rate is generally lower — possibly as much as a full percentage point — and since the repayment period is half as long,  you'll pay less interest in total.
However, a 15-year loan does have higher monthly payments. It's important to run the numbers and see if you can afford it, month after month.
Unlike an adjustable-rate mortgage, a fixed-rate mortgage holds no surprises down the road. The interest rate and the monthly principal and interest will not change during the life of the loan. That doesn't mean the monthly mortgage payment won't go up, though; should the cost of homeowners or mortgage insurance rise, your payment will, too.
Step 5: Compare different loan programs
Not all homebuyers have great credit scores and large down payments. If a conventional mortgage isn't in the cards for you, consider government-backed mortgage options.
Federal Housing Administration mortgages are popular with first-time buyers. An FHA mortgage is obtainable with a down payment of as little as 3.5% and a minimum credit score of 580. Mortgage insurance is required (more on that below).
Veterans Administration loans are not just for military veterans — current service members and some surviving spouses are also eligible. Low down payment and sometimes even zero-down mortgages are available. Rather than requiring ongoing mortgage insurance, VA loans stipulate an upfront fee at closing.
Rural residents with low to moderate income may qualify for U.S. Department of Agriculture loans, also known as rural development loans. A zero-down mortgage is available through the USDA, but homebuyers will pay a fee upfront and monthly mortgage insurance premiums.
If you're eligible for more than one type of mortgage, compare quotes carefully for your best overall deal. For example, for borrowers with good credit and adequate down payments, a conventional mortgage might be a better deal than a VA loan because you might avoid paying the upfront "funding fee."
Government-sponsored enterprises. Fannie Mae and Freddie Mac also offer low down-payment programs. Fannie's HomeReady® program offers mortgages with as little as 3% down to those with low to moderate incomes and fair to good credit. Mortgage insurance may be canceled, though restrictions apply. Freddie's HomePossible® program also offers low down payment mortgages to borrowers with low to moderate incomes, though its guidelines are changing in July.
Step 6: Inquire about local, state and other special programs
Your region might have special programs (sometimes multiple programs) for homebuyers. For example:
In the Sacramento, Calif. area, the NeighborWorks® Homeownership Center offers down payment assistance loans of up to $30,000 and 3% simple interest for 30 years.
The Affordable Housing Partnership of Albany, N.Y., has the "First Home Club," a matched savings program that contributes up to $4 for every $1 saved toward homeownership, up to $7,500.
HomesFund, a southwest Colorado nonprofit, offers programs like the "Shared Appreciation Loan," which ranges from $15,000 to $50,000. Instead of making monthly payments, borrowers repay the loan in 30 years, when the home is sold or transferred, or at the time of a cash-out refinance or when the property is no longer the borrower's primary residence.
The U.S. Department of Housing and Urban Development has a state-by-state tool that lets potential homebuyers find programs in their areas. Use it as part of your homebuying research.
Consider crowdfunding. Assistance may even be closer to home — friends, family members, even employers can help through crowdfunding platforms such as HomeFundMe, which is owned by mortgage lender CMG Financial. HomeFundMe allows people to give prospective homebuyers cash gifts toward a down payment, often the biggest barrier to homeownership.
Step 7: Review all lender fees
You will receive a Closing Disclosure document three business days before you close on the mortgage. Ask the lender whether the document will arrive via U.S. mail or email or whether you have to download it.
Compare the form with your most recent Loan Estimate and, if you like, to the U.S. Consumer Financial Protection Bureau's interactive Closing Disclosure form. While some fees may be slightly different, certain rules apply to how much they can change. Generally, however, your fees may or may not change for these reasons:
Unlimited increase: Fees for required services that you shopped for rather than using a service provider on the lender's written list; prepaid interest, initial escrow deposits or property insurance premiums; fees for services not required by the lender
Increase of up to 10%: Recording fees; fees for required services from a provider on the lender's written list (unless the provider is affiliated with the lender, in which case the fee cannot change at all)
No increase permitted: Fees paid to the lender or mortgage broker (or an affiliate of either) for a required service; transfer taxes; fees for a required service you weren't allowed to shop for (if the service provider is unaffiliated with the lender or broker)
Note: If you've had a change in circumstances, such as a change in your credit score, you will likely have been given a revised Loan Estimate. Based on the most recent paperwork, if lender fees have increased more than permitted, you are legally entitled to a refund.
Step 8: Avoid paying PMI
Private mortgage insurance protects the lender in case you default on the loan. It's required for conventional and FHA mortgages, and lasts until you've paid down the principal to less than 80% of the home's original value.
It isn't cheap: PMI typically works out to about 0.15% to 1.95% of your loan. Let's say you have  a $200,000 mortgage for 30 years at an interest rate of 3.75%. You were able to put 10% down, so your payments works out to $1,208 a month. Now, add PMI to the equation ranging from $270 annually to $3,510 annually. Your monthly payment would then be between about $1,230 to $1,500.
The obvious way to avoid paying for PMI is to make a 20% down payment part of your homebuying plan. Since not everyone has that much cash upfront, here are some other options:
Some lenders offer no-insurance required loans in exchange for a 10% to 15% down payment. Since these carry higher interest rates, do the math to make sure the loan won't cost you more than it's saving — especially since the cost of the insurance is built into the mortgage, which means you won't be able to drop it after building equity.
Those VA loans mentioned above don't require insurance. They do, however, require an upfront cash payment.
Some credit unions may waive PMI for particularly strong homebuying candidates.
The Affordable Loan Solution® — a partnership among Freddie Mac, Self-Help Credit Union and Bank of America — allows homebuyers to put down as little as 3% without insurance. Income and loan amount restrictions may apply.
A "piggyback mortgage" (which could also be a home equity loan or home equity line of credit) can help you put down enough to avoid PMI. It usually carries a higher interest loan, and is often an adjustable one. Ask for a quote that shows the same mortgage as a single loan with PMI and compare the two. Also, note that a piggyback could make it harder to refinance the mortgage later on.
Step 9: Negotiate
A Loan Estimate is a starting point, not a commitment. Asking for one is not like asking the lender to go steady. In fact, you should play the field, because having estimates from multiple lenders increases your bargaining position.
The Consumer Financial Protection Bureau website suggests you "fine-tune your loan offers" by requesting a better deal — a lower interest rate, say, or the reduction or waiving of certain fees.  You'll have more than one offer, so don't be afraid to ask; if a lender wants your business it might provider a counteroffer.
Rate locks — pros and cons. Once you believe you've gotten your best rate, consider asking for a rate lock (also known as a lock-in). This guarantees that the interest rate won't change between the offer and closing, as long as there are no changes to your mortgage application (for example, having the home appraisal come in higher or lower than expected).
The rate lock, which usually runs from 30 to 60 days, can save you money if rates go up. However, once you lock in you're committed to that rate, even if interest rates drop.
Another negotiating tool: Ask the seller to pay some of the closing costs. Many mortgages, including FHA loans, permit this (although some restrictions apply). As an example, the buyer of a $204,000 home could offer an extra $4,000 while asking the seller to cover up to 2% of the original price in closing costs. That way, the seller still gets his profit and the buyer saves four grand on closing.
The bottom line
The time to think about how to save money on a mortgage loan isn't the week before the deal closes.
Instead, be proactive: As soon as you decide this is the year to buy a home, you should also decide to save money on the mortgage. Use the tactics listed above to build the best possible loan for your finances.