How to Refinance a Mortgage With Bad Credit
When you have bad credit, it can be harder to get approved for a mortgage refinance. You might even think refinancing isn't a viable option to lower your monthly mortgage payment if you have lackluster credit.
The good news is there are many options to refinance your home with bad credit, and we'll discuss which one might be the best fit for your situation.
In this article, we'll look at:
How to refinance a mortgage with bad credit
Work with your current lender.
Shop around for the best deal.
Work to improve your credit score.
Get a cosigner.
Use an FHA streamline refinance.
Streamline with a VA interest rate reduction refinance (IRRRL) loan.
Refinance with alternative or non-prime lending programs.
Bad credit refinance loan options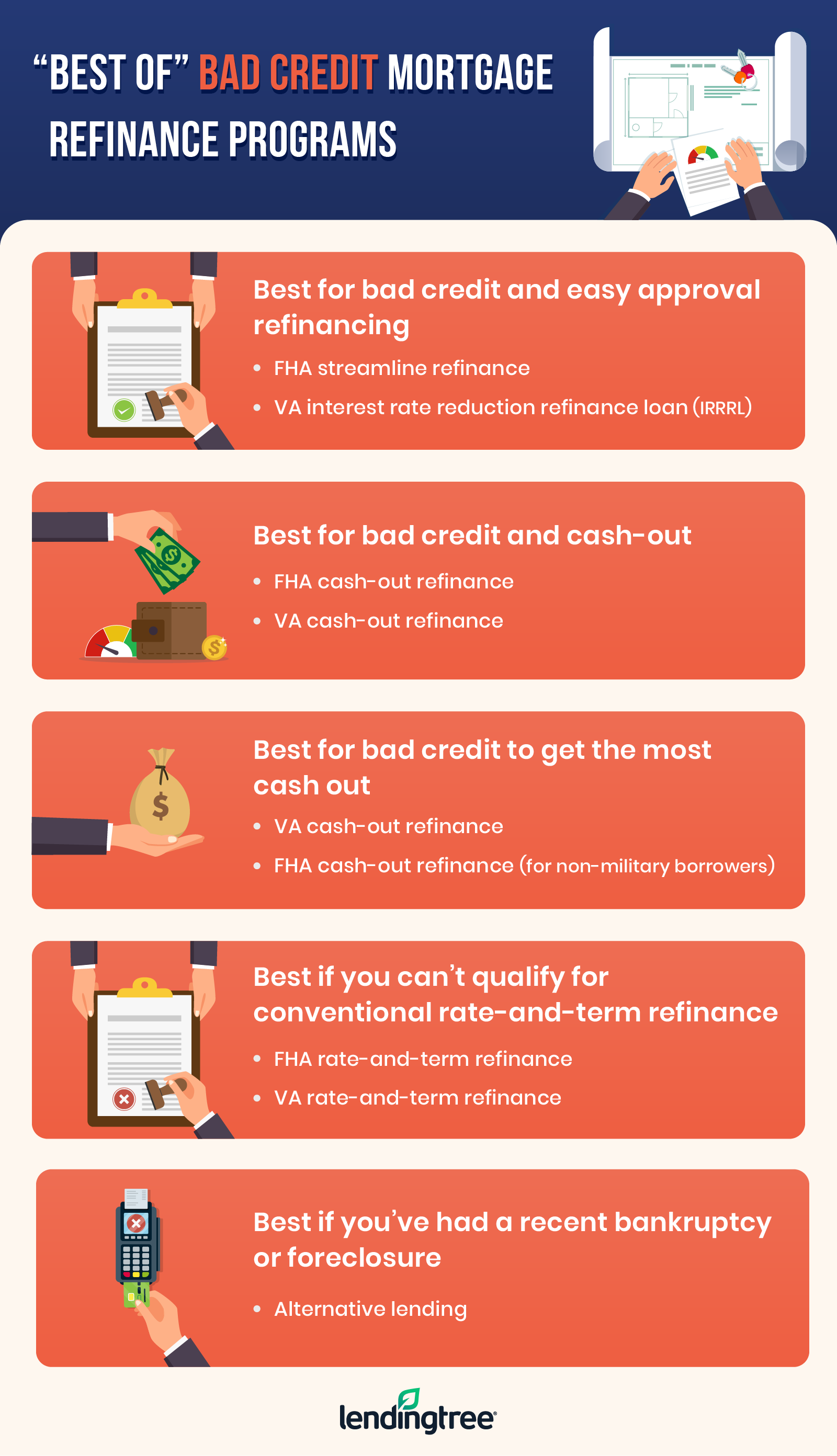 Homeowners with bad credit often refinance to reduce their monthly mortgage payment with a lower interest rate, or to take cash out to pay off other high-interest debt. Your first step is to speak with your current lender to see if they'll work with you.
If not, you'll want to start shopping around with refinance lenders who might be more inclined to work with a borrower who has a bad credit. Meanwhile, improve your credit score to increase the chances of getting a successful refinance loan approval.

If your credit score isn't strong enough to get a loan by yourself, lenders may suggest adding a cosigner. Your interest rate will be quoted based on the lowest credit score, but the cosigner could make the difference between an approval and a denial.
Here are some refinance loans for borrowers with bad credit:
FHA streamline refinance
If you currently have a loan backed by the Federal Housing Administration (an FHA loan), you can be approved for an FHA streamline refinance with no credit report, but FHA-approved lenders will need a credit score to provide you with a rate quote. FHA-approved lenders require a current mortgage payment history with no more than one late payment in the most recent 12 months. The program is called a "streamline" because it doesn't require a full credit report, income documentation or a home appraisal, but the new loan amount cannot exceed the original loan balance.
FHA rate-and-term refinance
The purpose of a rate-and-term refinance is to replace your current loan with a new mortgage at a lower interest rate and payment or a shorter term; reducing your interest rate is the most common goal of rate-and-term refinance. An FHA rate-and-term refinance is a good option if you currently have a conventional loan, but don't qualify for a conventional rate-and-term refinance because your credit score is below the 620 minimum requirement.
A key advantage of an FHA refinance versus a conventional refinance is you can borrow up to 97.75% of the appraised value of your home with a score as low as 580, and pay a much lower monthly mortgage insurance premium.
FHA cash-out refinance
The minimum FHA credit score is 500, which is welcome news for homeowners with bad credit. An FHA cash-out refinance entails borrowing more than you currently owe, and pocketing the difference in cash. FHA borrowers can access up to 80% of their home's value with a cash-out refinance, and use the cash to pay down high-interest debt. One caveat about FHA cash-out refinancing: You can't borrow more than the FHA loan limits set for your area.
VA interest rate reduction refinance loan (IRRRL)
Veterans and active duty military personnel who already have a loan backed by the U.S. Department of Veterans Affairs can use a streamline refinance program known as the VA interest rate reduction refinance loan (IRRRL).
There is no minimum credit score requirement, and the refinance can be approved without income documentation or an appraisal. As long as there is a money-saving benefit, approval is fairly simple (even with bad credit). Other perks: VA loans don't require mortgage insurance, and some eligible borrowers may be exempt from paying the VA funding fee.
VA rate-and-term refinance
Veteran or active duty military personnel who didn't use their eligibility to purchase a home can use it to refinance and pay off an existing FHA or conventional loan, even with bad credit. This may be a big advantage for veteran homeowners with little to no equity — up to 100% of the home's value can be refinanced with a VA rate-and-term refinance loan.
VA lending guidelines don't require a minimum credit score, looking instead at whether the homeowner will benefit from the refinance with a lower payment, a safer loan product or paying the loan off faster.
VA cash-out refinance
If you need more cash-out than an FHA loan allows, a VA cash-out refinance allows eligible homeowners to borrow up to 90% of their home's value. The same flexible VA credit guidelines apply, and the extra cash-out can be used to pay off debt, pad a dwindling savings account or stockpile cash for upcoming expenses.
Alternative or non-prime lending
Alternative lenders, sometimes referred to as "non-prime lenders," don't adhere to the same lending guidelines required of government-backed loan programs like FHA and VA, and they can offer programs even if your bankruptcy or foreclosure was just completed. For example, Citadel Servicing offers mortgages to borrowers with scores as low as 500, with no waiting period for major credit issues like bankruptcies or foreclosures.
Most alternative lenders offer their products through mortgage brokers and mortgage banks, and the programs are not offered in all states. However, you'll pay much higher rates, and your loan could come with a prepayment penalty if you pay the loan off before a specific timeframe.
How much will bad credit cost me when refinancing a mortgage?
The cost of bad credit is paid in the form of higher interest rates, or having to pick a program that requires mortgage insurance even if you have 20% equity. Below is a side by side-by-side comparison of a conventional refinance with a 720 score, and an FHA loan with a 620 score due to a bankruptcy discharged two years ago, on a $250,000 loan amount.
Conventional good credit versus FHA bad credit
INTEREST RATE DIFFERENCE:

Conventional
3.863%

FHA
4.889%
MONTHLY PAYMENT DIFFERENCE

Conventional:
$1,175.68 principal and interest payment

FHA
$1,479.88 principal, interest and mortgage insurance
TOTAL INTEREST PAID:

Conventional:
$172,595.85

FHA
$231,025.90
The total cost of bad credit:

1.026% higher interest rate for the life of loan
$304.20 per month higher payment
$58,430.05 more in total interest paid
Normal closing costs, such as appraisals, origination fees and title fees, are generally the same. With streamline refinancing programs, you'll save money because many lenders offer reduced underwriting fees. There is also some cost savings on an FHA streamline refinance or VA IRRRL, because you don't need a home appraisal.
Shopping for bad credit mortgage refinance companies
If you have bad credit, it's especially important to shop around for the best bad credit mortgage refinance companies. Try rate comparison websites; you'll get offers only from lenders that have loan programs closely matching the information you provide.
Here is a quick checklist to follow when shopping for refinance companies with subpar credit:
Get a mortgage credit report first.
Use a home value estimation tool to gauge the current market value of your home.
Provide the same information to all refinance lenders.
Be candid about any major credit issues (i.e. bankruptcies or foreclosures).
Get all of your price quotes on the same day.
Get a written rate lock confirmation once you choose a lender.
Steps No. 1 and No. 2 are crucial in order to get an accurate rate quote from a refinance lender that specializes in bad credit. You may want to start with your current mortgage company and have them pull your credit so you know your credit scores. Mortgage credit reports don't just provide one score — they feature scores from the three major credit bureaus (Equifax, Experian and Transunion), and mortgage lenders usually base their interest rate quotes on the middle of the three scores.
An online home value estimator will give you an idea of your home's worth if you input your full address. You won't need an appraisal if you're eligible for a streamline refinance, but for a rate and term or cash-out refinance, you'll need a ballpark of how much your home is worth to begin theprocess.