How Does LendingTree Get Paid?
LendingTree is compensated by companies on this site and this compensation may impact how and where offers appear on this site (such as the order). LendingTree does not include all lenders, savings products, or loan options available in the marketplace.
Can You Use Home Equity for Investments?
Updated on: June 1st, 2021
Editorial Note: The content of this article is based on the author's opinions and recommendations alone. It may not have been reviewed, commissioned or otherwise endorsed by any of our network partners.
Yes, you can use your home equity for investments. Home equity — the positive difference between your home's value and what you still owe on your mortgage — not only contributes to your overall net worth, but can also be tapped for a variety of financial uses.
For example, let's say your home is worth $300,000 today and you owe $180,000 to your mortgage company before the loan is paid in full. This gives you $120,000 in home equity.
If you wanted, you could pull from a portion of that equity to invest and grow your money elsewhere. But how exactly do you access the equity? You have three main options:
Cash-out refinance
One of the most popular ways of tapping your home equity is through a cash-out refinance. This process involves refinancing your existing mortgage by taking out a new loan for a higher amount than you currently owe. Your lender will provide you the difference in cash, which you can then invest elsewhere.
In the example above, a cash-out refinance could be used to pull up to $60,000 in equity from your home. You could use a cash-out refi to take out a $240,000 loan (your current $180,000 mortgage loan balance, plus $60,000 in equity) and begin making monthly payments on the new loan.
Keep in mind a cash-out refinance usually involves closing costs, and will increase your overall debt burden.
Home equity loan
Another option for tapping equity is through a home equity loan, which is sometimes known as a second mortgage. This type of loan is secured by your home's equity and is similar to a mortgage loan against the property — and it often comes with similar requirements, like a home appraisal.
With a home equity loan, you'll receive a lump sum payment, which is repaid in monthly installments. Loan terms generally range from five to 30 years in length, and you may be offered lower interest rates with a home equity loan than you would find with, say, an unsecured personal loan.
As with a cash-out refi, you're likely to pay closing costs when taking out a home equity loan.
Home equity line of credit
Lastly, there's the home equity line of credit (HELOC), another type of second mortgage that's secured by your home. It differs from a home equity loan or cash-out refinance, though, in that this line of credit remains open and available during a set draw period. This allows you to use it whenever you need the funds.
A HELOC acts sort of like a credit card. You're given a borrowing limit, which you can choose to spend or not, and an interest rate that's often variable. If you use your available credit, you'll need to repay the balance and interest charges; then, you can spend up to your credit limit again.
6 ways to use home equity for investments
Let's take a look at six ways that people can use their home equity for investments, and whether you should consider doing the same.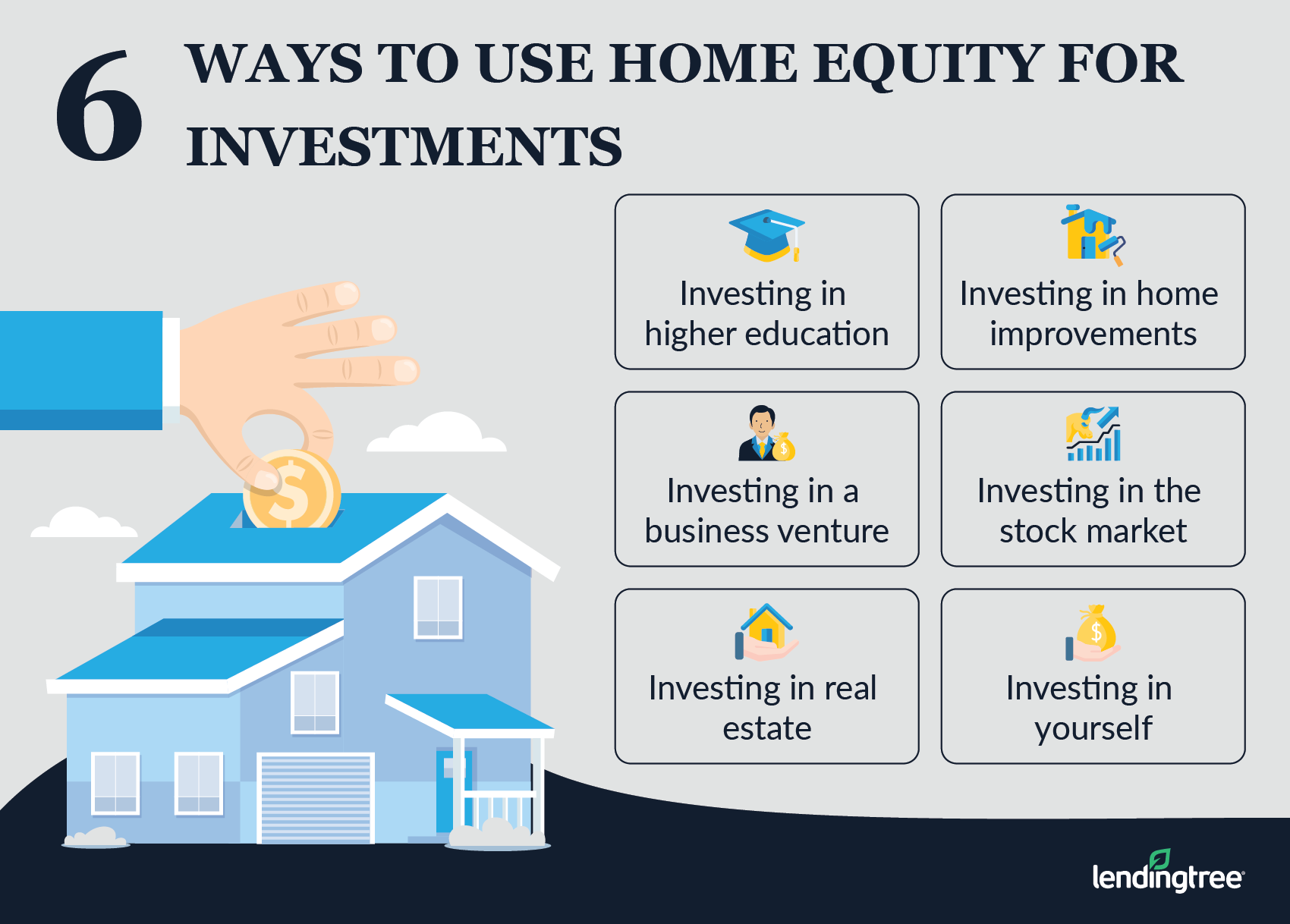 1. Investing in higher education
At some point in your career, you may decide that you could benefit from additional education. This could mean college or trade school classes, specialized courses or certain designations within your discipline.
You might consider using a home equity loan to pay for that education, which is an investment in your future. Not all careers will benefit enough from higher education to warrant the cost, though. Be sure to look into what's realistic for your job and whether there's enough return on investment.
You should also consider the rate you could get on a traditional federal student loan before pulling from your home's equity. If you finance your education with a federal loan, you're not only getting access to potentially lower interest rates, but also flexible repayment plans if you can't afford your payments down the line. By contrast, if you're struggling with repaying a home equity loan, you could lose your home to foreclosure.
2. Investing in home improvements
Whether you're looking to improve your home to get it ready to sell or just want to give your living space an update, using your home equity to invest in home improvements is a popular decision. Plus, certain improvements can even increase your home's value above and beyond their sticker price, helping you build even more equity in your property.
There can be a downside to this, though. It's important that homeowners research the types of home improvement projects that offer the best returns in their area. Some may not be worth the expense, especially if you're only making the improvements to boost your home's resale value. This is especially true for very personalized remodeling projects.
Lastly, consider when to invest in home improvements based on how long you plan to stay in the house. If it's your forever home, this doesn't matter so much. If you're planning to sell, though, you may want to enjoy your efforts (and remodel dollars) before selling the property, especially if your improvements don't retain as high of a resale value.
3. Investing in a business venture
A home equity loan can seem like an easy, straightforward option if you're looking to invest in a company or grow your existing business.
According to Tom Hutchens, executive vice president of production for Atlanta-based Angel Oak Mortgage Solutions, the difficult process of securing a business loan makes pulling from home equity seem very enticing.
"Getting a mortgage can be a pretty simple process. Qualifying for business loans requires a deeper dive into the business itself," Hutchens says. "With your home, you have instant equity right there, already."
But, it's also worth noting that the U.S. Bureau of Labor Statistics reports that only 50% of businesses with employees make it at least five years. For this reason, business owners should have a plan for repaying the home equity loan even if their business fails.
4. Investing in the stock market
Investing in the stock market comes with no guarantees. However, watching the growth of the S&P 500 over the past 10 years may encourage some homeowners to use their home equity loan proceeds to invest in the markets, in hopes that they'll get a return larger than what they'll pay in interest.
"Taking a loan out against a property to try to capture the next unicorn is incredibly risky," says John Mazza, president and CEO of Summerfield Wealth Advisors and former financial adviser with Southeast Financial Services in Greensboro, N.C. "Everybody wants the unicorn, but slow and steady wins the race with the markets."
5. Investing in real estate
Whether you're looking for an investment property, want to start flipping houses or are interested in buying a second/vacation home, you can use the equity in your home to buy another property.
Still, real estate investing, and especially flipping, comes with risks. Investors need to have an in-depth understanding of the market they're going into, how to price the property to move or rent quickly and how to handle other concerns. If you're renovating an investment property, build strong relationships with the contractors doing the work and be prepared to support the carrying costs of the property until it's sold or rented out.
6. Investing in yourself
The equity in your home can also be used to invest in your own financial stability, by working to eliminate any existing consumer debt you may have.
If you're currently paying down credit card debt, student loan balances or even a personal or auto loan with a higher interest rate, it might be worth considering. While you're essentially trading one debt for another, using your home equity may help you get out of debt faster and with fewer interest costs than making your existing payments as scheduled. You may also improve your credit score in the process.
Just be careful not to get yourself back into debt after zeroing out those balances. For instance, if overspending is an issue for you, pay off your credit balances and then cut up the physical cards so you can't use them.
Pros and cons of using home equity for investments
Keep in mind the following pros and cons of tapping your home equity to invest, especially if you're wondering how to use equity in your home in the most beneficial way.
Pros
  You'll be able to get interest rates that are usually more competitive than consumer loan products. If you need cash and don't have liquid savings available, your options are generally limited to a personal loan, credit card cash advance or borrowing from your home's equity. Luckily, the interest rates on a cash-out refi, home equity loan or HELOC are generally much lower than on other consumer products.
  You'll find that the underwriting process may be simpler. Compared to business loans and even large personal loans, it's generally easier to tap your home equity since you would be securing the debt by using your property as collateral.
  Your HELOC can remain available until you need the money. Even if you don't need the money now, opening up a home equity line of credit (HELOC) can give you a safety net if you ever need funds fast. That way, you're not scrambling if you have a large emergency expense or other unexpected situation.
  You're able to utilize untapped funds that you otherwise wouldn't be touching. Unless you plan to sell your home in the near future, chances are your home's equity will just sit there, unused (provided that home values increase or stabilize). This is fine, of course, but if you need cash for other purposes, such as investing, it may make sense to tap into that equity rather than creating new debt elsewhere.
Cons
  You could lose your home. Putting your home up as collateral on a loan is a risky decision. If anything happened and you were unable to repay the loan as scheduled, you could lose your property.
  You'll lose the equity you've built. Once you use a portion of your home's equity for investing, it's no longer available to you. If you find yourself needing to sell your home or wanting to refinance your mortgage, having little or no equity on the property can be a roadblock.
  You'll decrease your net worth. The equity in your home positively impacts your overall net worth. If you pull that equity out and spend it on an investment, you could decrease your net worth in the process. Depending on what you invest in and how that investment performs, it could be a while before your net worth recovers.
  Your estate will be affected. If estate planning is one of your priorities, it's important to consider how borrowing from your equity will impact what you leave behind for your loved ones. You'll want to be sure that your estate has enough funds to continue making loan payments through probate. You may also want to increase your life insurance benefits to cover your home equity loan, so your beneficiaries aren't impacted by the debt.
  You'll need to qualify. Just having equity in your home doesn't automatically open the door to a loan. You'll still need to meet lending requirements and go through an underwriting process before you're approved and can use the money toward an investment.
4 considerations before using your home equity
There are a few important things for homeowners to consider before tapping their home equity for investments. Here are the top four considerations to keep in mind if you plan to access your home equity.
Shop around. Compare multiple offers before deciding on the best one for you. This means looking at different loan types and lenders to find the best interest rates, closing costs and terms. Be sure to watch out for lenders with prepayment penalties and balloon payments.
Budget for your monthly payments. Regardless of the type of investment you'll be using your home equity for, ensure that you can continue making those scheduled payments, even if your investment is a bust. Since your home will be used for collateral, you should always borrow according to what you can afford to pay, regardless of how your investment performs.
Only choose wise investments. Don't invest your hard-earned equity just anywhere. If you're going to pull these solid funds out of your home, be sure that they're going to good use. This means not spending the money on investments that would otherwise have low interest rates — such as buying a new car — and not risking the money on a business or stock market investment if you can't afford to repay the loan should that investment fail.
Do a cost analysis. Yes, one of the benefits of a home equity loan is that it may come with a lower interest rate than an unsecured personal loan or credit card. However, many home equity loans also have closing costs involved, which can negate some of your savings.