Is Buying a House a Good Investment?
Updated on: October 29th, 2020
Editorial Note: The content of this article is based on the author's opinions and recommendations alone. It may not have been previewed, commissioned or otherwise endorsed by any of our network partners.
Owning real estate can help you reap financial rewards, but your goals, appetite for risk and housing market conditions also factor into the equation. Generally speaking, though, buying a house is a good investment, particularly if you plan to sell it later on after building equity.
Before you dive into homeownership, you need to first weigh buying a home against other types of investments as well as consider the economic and social benefits of owning a home.
Is buying a house a good investment?
The simple answer is yes — especially if you plan to sell your home at some point. However, if you plan to live in your home as a primary place of shelter, this question becomes a little trickier to answer.
When you buy a home to live in, you're not really looking for a profit from the get-go. Unlike the stock market or a high-yield savings account, you won't receive any interest payments or dividend payouts while you own a home.
The definition of an investment
According to Benjamin Graham, who is considered the father of value investing, there are two conditions for an item to be considered an investment:
Safety of principal. This means whatever money you put in, you get back.
Satisfactory return. This refers to how much you make above your initial principal
investment, more commonly called return on investment.
Does buying a house offer safety of principal?
If you make a profit when you sell a home, then it offers safety of principal. However, unlike a stock, there may be both one-time and ongoing "investments of principal." Your down payment is a one-time, upfront investment of principal. Monthly mortgage payments and repair and maintenance costs represent ongoing principal investments.
As long as you make more on the sale of your home than what you spend while you own it, your principal is safe.
Does buying a house offer a satisfactory return?
You don't get any return on your real estate investment until you sell your home. But what about home-price appreciation? Doesn't that count? It does, but like any financial market, there can be periods when home values climb exponentially — and drop just as fast.
The median national existing-home sales price rose 15% from September 2019 to September 2020, according to data from the National Association of Realtors (NAR). However, if you bought a home in Nevada in 2005, your property actually lost 5% of its value through 2017, according to NAR data.
Assuming your home appreciates over time and you sell it during an uptick in values, buying a house meets the satisfactory return portion of Benjamin Graham's definition of investing.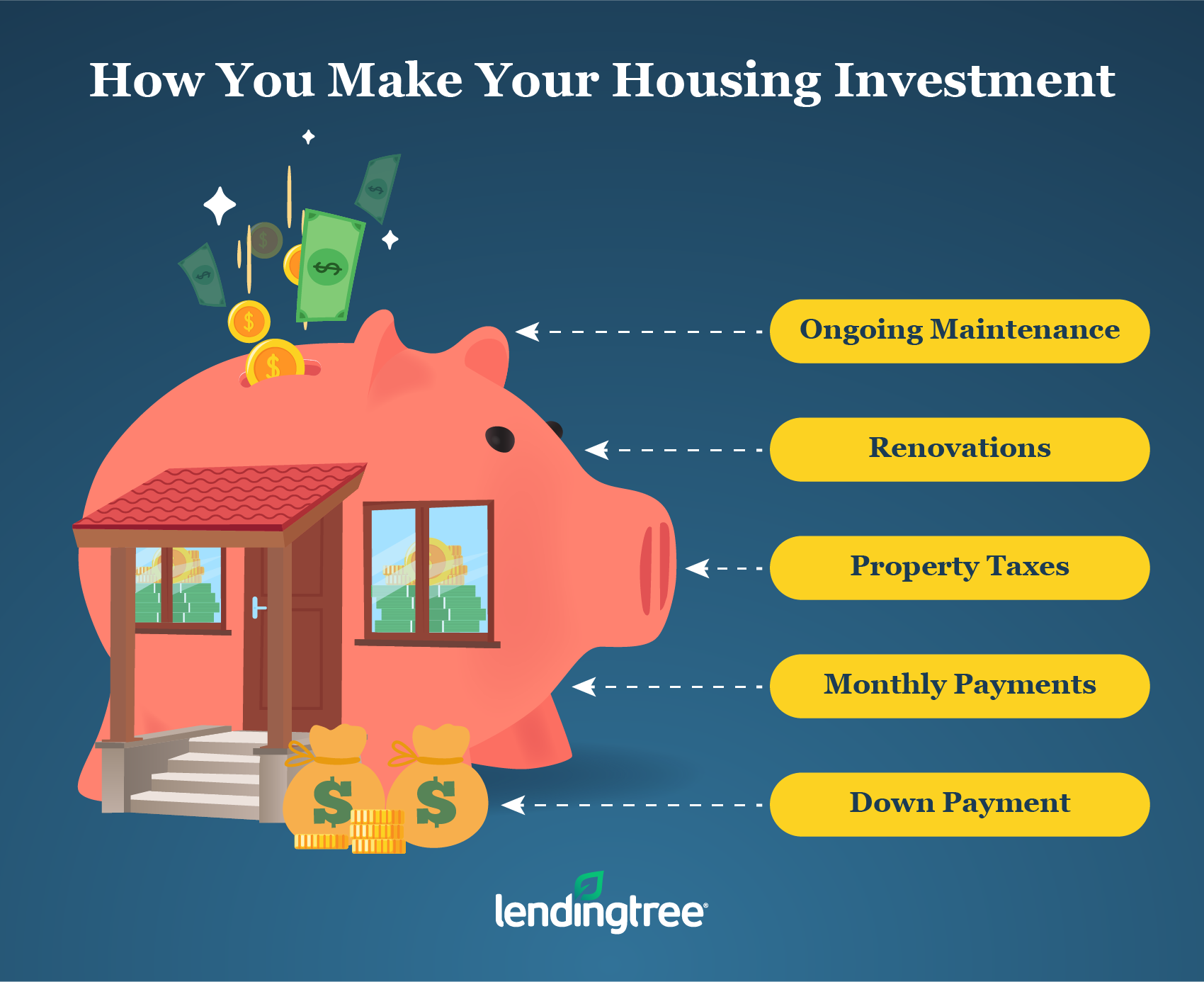 Is buying a house a good investment compared to the stock market?
Considering whether buying a house is a good investment brings to mind comparisons to the stock market.
Let's assume you have $200,000 you can invest in the stock market or buy a house. You can either put all of your eggs in the stock market or put $50,000 down and take out a $150,000 mortgage. The table below assumes the following:
Your monthly mortgage payment is $1,000
You pay $3,000 annually for property taxes
You pay $900 annually for homeowners insurance
You budget $4,500 each year for repairs and maintenance
The table below shows the difference between investing in $200,000 worth of stocks and buying a $200,000 house with a $150,000 mortgage.
Investments
$200,000 stock
$200,000 home purchase with a $50,000 down payment

Initial cash

$200,000

$50,000 down payment

Closing costs

$0

$4,500 closing costs*

Ongoing costs

$0

$12,000/year mortgage payments

$3,000/year property taxes

$900/year homeowners insurance

Repairs and maintenance

$0

$4,500 per year

Total first-year carrying cost

$200,000

$74,900
*Closing costs average 2% to 6% of your loan amount. This example assumes 3% paid in closing costs.
On the surface, it looks like stocks win handily. You put down the cash to buy $200,000 worth of stock, but you don't have to spend any money after that.
With the house purchase, you pay $54,500 upfront for the down payment and closing costs. Mortgage payments, property taxes, homeowners insurance and repairs add an extra $20,400 each year in ongoing expenses. Plus, you have a $150,000 mortgage debt (with interest) that cancels out the extra $150,000 you left in the bank after your down payment.
Two key details are missing from this analysis:
It's unlikely that you have $200,000 laying around to invest in stocks or a house. One big advantage of buying a home is access to long-term financing. A financial planner will tell you no such option exists for buying stocks.
No matter what, you have to pay for housing. Whether you rent or own, you still have to pay for the roof over your head. If you invest in stocks, you still have monthly rental payments to make if you don't invest in a home. We'll explain how the two options measure up next.
Is buying a house a good investment versus renting?
Unless you're lucky enough to live somewhere rent-free, you'll need to pay for housing. Even if you make a double-digit return on your stock portfolio, it doesn't factor in how much you have to pay for rent. Even if you need a mortgage to buy real estate, each mortgage payment brings you closer to owning it. That's the magic of mortgage amortization.
The table below shows what happens over 10 years of renting at $2,000 per month versus buying a comparable home for $400,000, with a 5% down payment ($20,000) at a 30-year fixed rate of 3.75% and closing costs of $7,500.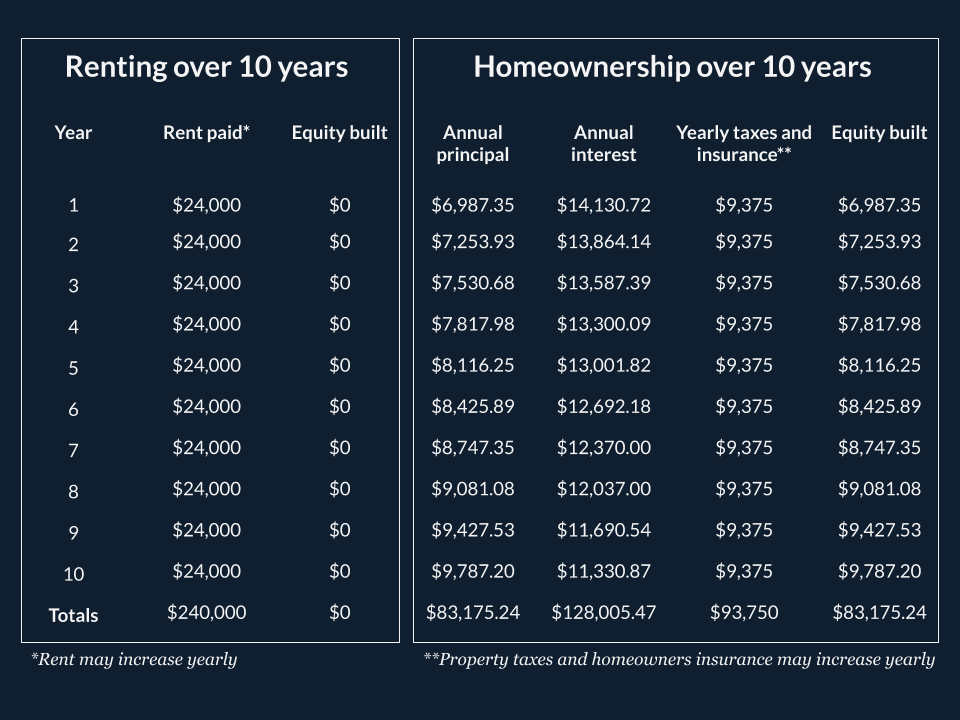 This example doesn't take into consideration one major factor: rising home values. If your $400,000 house appreciates 3% per year over the next 10 years, it'll be worth $537,566.55. That's an extra $137,566.55 in potential profit on your housing investment. An added bonus: You'll have $128,005.47 of tax-deductible mortgage interest. Buying a home is $92,430.71 more expensive than renting over 10 years if you add up the total ongoing and upfront costs. However, you end up with $103,175.24 in equity in a home that you own. That leaves you with a net financial benefit of $10,744.53 for a decade of owning versus renting.
The bottom line: The $240,000 of rent you pay will yield you $0 in equity and no ownership of your shelter. In other words, your principal can't be recouped if you pay rent.
Pros and cons of buying a house versus renting
Pros
 You'll build equity in a home that you own.
 You could use your home equity through a cash-out refinance or home equity loan or line of credit to pay off debt, fund college expenses or make home improvements.
 You may be able to write off some or all of the loan's mortgage interest and closing costs.
 You're 10 years closer to owning your shelter free and clear.
Cons
 You'll spend extra money upfront on a down payment, closing costs and ongoing monthly expenses if you choose homebuying versus renting.
 You're stuck paying ongoing repair, maintenance and property tax expenses.
 You'll pay an average of 5.07% in real estate commissions and other closing costs when you sell your home.
 Your home value could drop in a housing downturn, leaving you with an underwater mortgage.
The economic, social and personal benefits of homeownership
Researchers have studied the socioeconomic effects of owning a home for years to help government policymakers make homeownership more attainable. Below are findings from some of those studies:
Homeowners' net worth was $255,000 in 2019 compared with renters at $6,300, according to Federal Reserve data.
Homeowners are 2.5% more likely to have better health than renters, according to a NAR study.
Homeowners are far less likely to be crime victims than renters, the NAR report found.
Housing stability reduces reliance on public assistance, according to NAR.
Factoring in the personal investment returns of buying a house
Owning your own piece of the American dream can lead to fulfillment that has nothing to do with your bank account. Other non-tangible homeownership benefits include:
Pride of ownership

Knowing you have a place to call your own that can be passed onto future generations is a powerful motivator.
Community building

The property taxes you pay contribute to local schools, road maintenance, fire and police departments and community development programs, giving you a stake in the safety and wellbeing of your neighborhood.
Independence

As a homeowner, you won't have to face landlord rent increases or think twice before making other improvements. You can remodel or sell your home when you want to, tap equity to reach certain financial goals or pass the home on to your heirs.
FAQs about whether buying a house is a good investment
Is now the time to buy a house?
If your finances are in order and you have long-term plans to stay in the area where you currently live, buying now may make sense. Figure out how much house you can afford and if the monthly payments are doable for your budget. Leave room in your budget for home repairs and maintenance each year, too.
Is buying a house worth it?
If you look at it as a long-term investment and understand the upfront and ongoing costs, buying a home typically makes financial sense. The key is to avoid overextending your budget and buy a home within your financial means. Buying a home also allows you to build roots and provide a sense of stability and safety for you and your family.
When should you buy a house?
You should buy a house after you've weighed the pros and cons, crunched the numbers and are ready for the responsibilities of homeownership. Before you go house-hunting, sit down with a lender to get a better idea of how much you can borrow and discuss loan programs.