I Have a VA Mortgage. Can I Get a Home Equity Loan?
Updated October 30th, 2019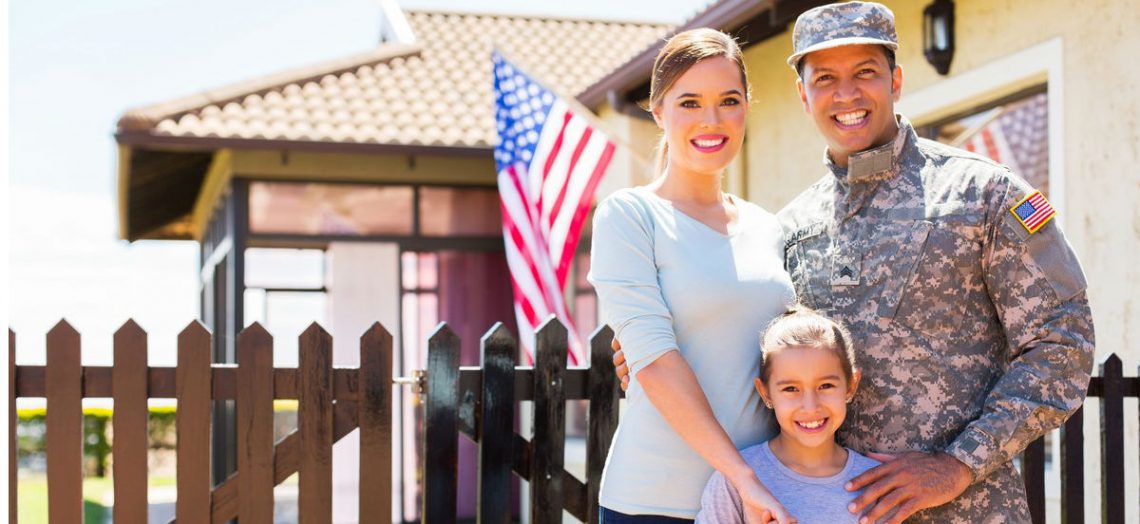 If you're wondering whether you can get a home equity line of credit with a VA mortgage, the answer is both yes and no.
There is no such thing as an official VA home equity loan. But if you have a VA mortgage, you can borrow against your home equity to free up cash, just like any other homeowner. Many people tap the equity in their homes when they want to pay for home improvements, college, medical bills or even to consolidate debt.
But you should know at the outset that a home equity loan (HEL), unlike your VA mortgage, is not guaranteed by the Veterans Administration.
Home equity loans and home equity lines of credit (HELOC) are offered by private lenders and use your home as collateral. They are often called "second mortgages." That's because your home is what secures the debt. Fail to pay the debt off and you could lose your property.
If you've got a VA mortgage and are looking for ways to tap into home equity, you do have several options. Let's look at the types of equity loans available to you.
Home equity line of credit
A HELOC is a revolving line of credit, similar to a credit card. If you qualify, the lender will send you checks or an actual HELOC credit card that you can use to make purchases and pay bills.
According to the Federal Trade Commission, you can borrow up to as much as 85 percent of your home's current value, minus the balance owed on your original VA mortgage.
HELOCs don't have to be repaid right away. The lender will give you a credit line and a specific window of time in which you can draw on it. (Officially this is called your "draw period.") You can pay interest on the amount you draw, and the entire balance will become due at the end of your draw period.  From that point, the lender will give you another window of time to repay the debt,  typically 10 to 20 years.
HELOCs are typically offered with variable interest rates, but fixed-rate plans may be available. Variable-rate HELOCs may come with an interest cap over the life of the credit line. Rates adjust according to the lender's index. You should examine the HELOC to see if there's a low introductory rate that can reset and affect the size of your monthly payments. Typical charges for a HELOC include:
Application fee
Appraisal
Attorney fees
Title search
There are no closing fees, but there may be annual lender participation fees and transaction charges whenever you draw on the credit line. Depending on the lender, you may also face inactivity fees and early-termination penalties. Scrutinize your plan before agreeing to the terms.

How much you can borrow: You can determine your home equity with LendingTree's Home Equity Calculator. Lenders may approve you for a line of credit equal to up to 85% of the value of your equity in your home, minus the balance on the VA mortgage. But LendingTree reported this year that lenders prefer that you keep at least 20 percent or more of your equity to reduce their risk.
Credit score: Because you're using your home as collateral, HELOC lenders may be more flexible in evaluating credit. There are even poor-credit HELOCs for applicants who hold considerable equity and have a steady employment record. FICO's Home Equity Center shows current HELOC rates based on FICO credit score, matching APR and monthly payment estimates.
On Sept. 22, 2017 for example, if you take out a $300,000 loan with a FICO score of 620-639, the reported APR is 11.372%. Scores of 670-699 fetch rates of 8.372% and scores of 720-739 are rewarded with an APR of 5.747%. Check your credit score for free at LendingTree.
Debt-to-income ratio (DTI): The HELOC underwriter will assess your DTI, evaluating your current payments on the VA mortgage, taxes (property and income), car payments, credit-card debt, student loans and child support. Outstanding debt, divided by monthly income, determines your DTI ratio. You can use LendingTree's DTI Calculator to see where you stand. The Consumer Financial Protection Bureau found that although there are exceptions, lenders balk at DTI ratios above 43%.
Pros: You can draw on your line of credit for up to 10 years, according to Wells Fargo Bank.
Cons: Payments on interest begin with the first draw. The adjusted, increased rate on a HELOC can exceed your budget.
Home equity loan
A HEL will run concurrently with your government-backed VA mortgage. Banks, credit unions and other lenders will check your credit, view your finances and require a home appraisal as part of the HEL application. Interest rates and closing costs vary by lender, so you should shop around for the best rates available. The lump-sum HEL is paid back in monthly installments. The HELOC requires monthly payments on interest during the draw periods.
Unlike a HELOC, a home equity loan pays out a lump sum at closing. Your repayment period starts then, and usually repayment terms last for five to 10 years at a fixed interest rate. Payments remain the same over the term. The FTC says you may be able to borrow up to 85 percent of the value of your home. In choosing between a HELOC and a HEL, you should determine how much money you need and your ability to repay on schedule. You may be able to deduct the interest paid on a HEL from your federal taxes; check with the IRS. Fees on HELs can include:
Application or loan processing fees
Origination fees
Broker fees
Appraisals
Lender/funding charges
Document fees
How to qualify: When it comes to qualifying, the underwriting process is similar to applications for HELOCs. The lender will look at your income, work history, DTI, credit score and credit history. FICO also provides current financing rates for 10- and 15-year HELs. Sept. 22, 2017, rates on a $50,000 HEL at the low end of credit scores, 620-639, are at 11.372%. Mid-level scores of 670-699 draw rates of 8.372%, while consumers with top FICO scores, 740-850, enjoy a 5.372% rate on a 10-year loan. Some lenders have minimum borrowing amounts, meaning that some veterans may have to borrow more than they need to get a HEL. Prepare to show your tax returns, proof of employment, bank statements and your home insurance policy when you apply.
Pros: There are no restrictions on how to spend the lump sum from your HEL and interest payments up to $100,000 may be tax-deductible if you itemize. Monthly payments are predictable.
Cons: Closing fees may be higher at the outset than if you took out a HELOC. Additionally, using your home as collateral can be risky, exposing you to foreclosure if you miss your payments.
If your family needs cash, there are VA-backed programs that can lower the interest rate on your VA mortgage or provide cash through refinancing. The two programs are called the VA Cash-Out Refinance and the Streamline Refinance/Interest Rate Reduction Refinance Loan (IRRRL).
VA cash-out refinance
How it works: The cash-out refinance program allows you to borrow against home equity or convert a non-VA mortgage into a federally backed VA loan.The VA will guarantee cash-out refinancing loans up to 100% of your home value. With a cash-out loan, the VA pays off the outstanding debt on your original mortgage. The new loan amount is based on the appraised value of your home, with the difference between the original loan amount and the new financing determining the amount of cash available to the borrower. Or you can take out a cash-out loan to pay off a non-VA mortgage.
Qualifying: When you were first approved for a VA loan, you should have received a Certificate of Eligibility (COE). You'll need your original COE and you'll have to reside in the home that is being refinanced. The VA will evaluate your income and monthly debts to determine if you can meet monthly payments.
The cash-out loan amount cannot exceed 100 percent of the total value of your home and the lender will order an appraisal to determine the cap. There is no minimum credit score required by the VA.
The application process is similar to the one the VA employs on a VA-backed purchase mortgage. The lender may want to see two recent years of federal income tax returns and two years of W-2s to determine your ability to repay the new mortgage.  Maximum funding limits are identical to the cap on VA mortgages: $417,000. High-cost counties in the U.S. may have higher caps. Find your maximum amount through the VA.
Pros: The interest rate on the mortgage (along with monthly payments) is stable and fixed over the term of the loan. Paying off the cash-out refinancing on time can improve your credit score. You can change financing from an adjustable-rate mortgage to a fixed-rate one.
Cons: Depending on the term of your existing mortgage, the new term established on refinancing can extend the time it takes to own your home, and that means more payments overall. Closing costs may bite into the savings and cash you hope to gain through refinancing.
Alternatives to a equity loan
Not all veterans looking for an infusion of cash rely on mortgage modification or refinancing. You may need a set amount of money and don't wish to use your home as collateral. While doing research on VA alternatives, you may want to explore taking out an unsecured personal loan.
Getting personal: With personal loans, also known as signature or unsecured loans, you can borrow as much as $100,000 or as little as $1,000. In a hurry for your money? The approval timeline for landing a personal loan is speedy, compared with that of a home equity loan. You may be approved for an unsecured loan in as little as one day.  According to the FTC, home equity loans are accompanied by application fees, a title search, an appraisal and attorneys' fees.
There are no title searches or appraisals with personal loans, since the house is not being used as security. But, according to MagnifyMoney, a subsidiary of LendingTree, you may be charged a 3 percent origination fee deducted from the total amount on a personal loan.  Unsecured loans are offered with terms of 12, 24, 36, 48, and 60 months.
LendingTree found that there are some drawbacks to using the personal-loan alternative. Interest rates are based on credit ratings, may run higher than those on VA loans and are usually fixed for the term of the loan. You may also find adjustable-rate personal loans, but if you're borrowing over a long-term, expect to pay more interest and have higher monthly payments than you'd experience with a VA loan.
Personal loan rates on LendingTree as of Sept. 25 showed a range of terms and APRs:
Loan amount
Terms
APR as low as
Monthly payment
$1,000
24 months
7.16%
$41
$5,000
36 months
5.99%
$151
$10,000
36 months
3.99%
$296
$26,000
36 months
3.99%
$738
If you're looking into personal loans, be sure to look for hidden fees and prepayment penalties. Also consider whether there are caps on how much a variable rate can rise over the term.
Compare the advantages of personal and home equity loans at MagnifyMoney for help making an informed decision.