How Does LendingTree Get Paid?
LendingTree is compensated by companies on this site and this compensation may impact how and where offers appear on this site (such as the order). LendingTree does not include all lenders, savings products, or loan options available in the marketplace.
Mortgage Rates Chart: What History Tells Us About Mortgage Rates Today
Published on: March 19th, 2020
Editorial Note: The content of this article is based on the author's opinions and recommendations alone. It may not have been previewed, commissioned or otherwise endorsed by any of our network partners.
Mortgage interest rates have dropped to historic lows in 2020, so it might be hard to imagine they were ever in the double digits. Economic markets can change on a dime, and a mortgage rates chart provides perspective on how rates have changed over time.
We'll take a trip down interest rate memory lane using data from Freddie Mac's Primary Mortgage Market Survey (PMMS) to see how much rates have moved over time, and what that means if you're a current or aspiring homeowner.
Mortgage interest rates history from 1971 to 2020
Freddie Mac has updated the mortgage interest rates charts history monthly since they began surveying lenders on 30-year, fixed-rate mortgage offerings in 1971. Back then, interest rates ranged between 7.29% and 7.73%. Lenders were forced to raise rates to keep up with rampant inflation from 1974 to 1981. The annual average rate of inflation topped out at 9.5%, and borrowers faced unprecedented volatility in mortgage interest rates.
The Federal Reserve used the federal funds rate, an overnight benchmark rate that banks charge each other, to fight inflation. Fed funds rate hikes didn't end until 30-year fixed mortgage rates reached an all-time high of 18.63% in October 1981. Inflation fell back to normal levels by October 1982, and home mortgage rates remained below 10% over the next 20 years.
Mortgage rates continued their downward path until plunging to the lowest interest rate on record through November 2012: 3.31%. That low rate record was recently broken when average 30-year mortgage rates dropped to 3.29% in March 2020. The table below shows the monthly payment difference between $200,000 borrowed at historical highs and lows.
| | | |
| --- | --- | --- |
| Year | Interest rate | Monthly principal and interest |
| 1981 | 18.63% | $3,117.17* |
| 2020 | 3.29%** | $874.81* |
*Does not include homeowners insurance, property taxes, mortgage insurance or homeowners association dues
**According to Freddie Mac PMMS data compiled through March 5, 2020
Source: LendingTree, Freddie Mac PMMS data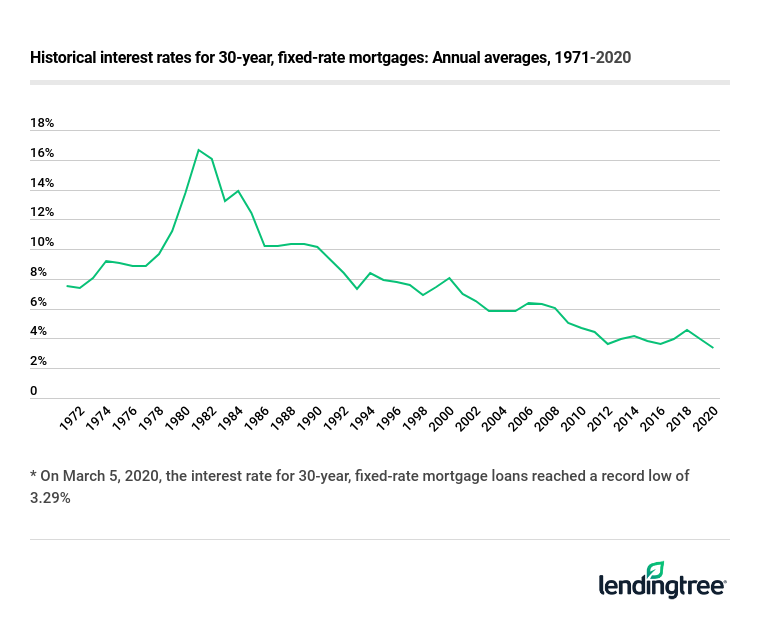 Mortgage interest rates today are at historic lows
The outlook for 2020 mortgage rates has changed as concerns about the COVID-19 coronavirus have rocked financial markets. Mortgage rates are likely to remain at current historic lows with some downside risk, said Tendayi Kapfidze, LendingTree's chief economist.
However, you'll need to be even more diligent about shopping around to get the best rate: not every mortgage lender is offering the lowest refinance rate. Mortgage refi rates may vary by as much as a half-percentage point in this environment, so make sure you compare loan estimates from at least three to five mortgage lenders before you get a mortgage rate lock.
What is a good interest rate on a home loan?
When you're shopping for mortgage interest rates, a good rate gives you a monthly payment that's comfortable for your budget. Even a quarter percentage point lower in homebuying interest rates can add up to significant savings over the life of a 30-year fixed loan.
The table below compares the monthly payment and lifetime savings for a 30-year, fixed-rate conventional loan amount of $250,000 loan at a rate of 3.25% versus 3.5%.
| | | | |
| --- | --- | --- | --- |
| Interest rate | Monthly payment | Lifetime payment savings | Lifetime interest savings |
| 3.25% | $1,088.02 | $12,452.40* | $12,454.53** |
| 3.5% | $1,122.61 | $0 | $0 |
*34.59/month payment savings x 360 payments = $12,452.40
**$154,140.22 lifetime interest at 3.5%-$141,685.69 lifetime interest at 3.25% = $12,454.53
You'll typically get the best interest rate with a credit score of 740 or higher and a down payment of 20%. However, many loan programs offer minimum down payments as low as 3%, and more lenient qualifying guidelines. Lower down payments and credit scores may result in higher interest rates.
Comparing 30-year fixed rates vs. 15-year fixed rates
Many homebuyers choose a 30-year, fixed-rate mortgage to get the lowest monthly payment possible. The longer you have debt, the more risk there is you might default — that's why interest rates on 30-year fixed mortgages are typically higher than a 15-year, fixed-rate mortgage.
A look at a 30-year mortgage rates chart and a 15-year mortgage rates chart shows rates are at all-time lows.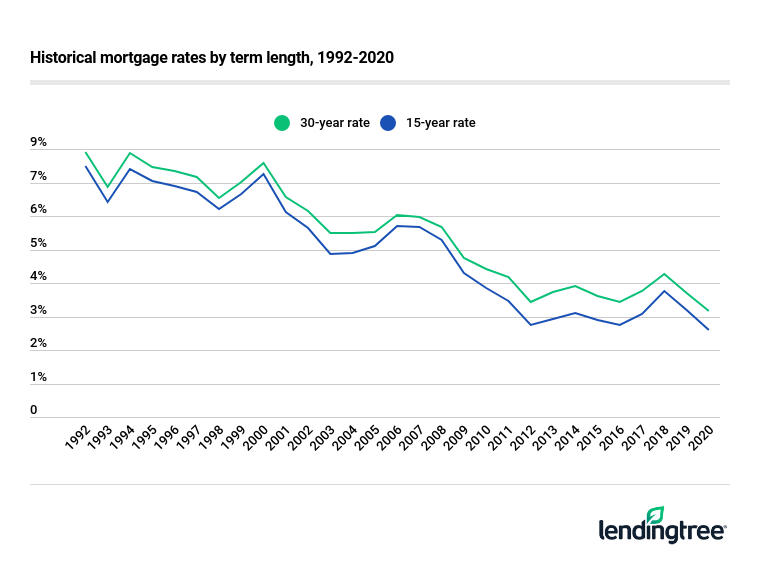 If you want to pay off your mortgage faster and save thousands in interest over the life of your loan, a 15-year fixed mortgage is worth considering. However, the tradeoff is a higher monthly payment, so make sure the payments fit into your budget without sacrificing other financial goals (like saving for retirement or college).
Here's an example showing the cost and savings difference for a $200,000 loan at current mortgage rates.
| | | | |
| --- | --- | --- | --- |
| Loan term | Interest rate | Monthly payment | Lifetime interest paid |
| 30-year fixed | 3.75% | $926.56 | $133,443.23 |
| 15-year fixed | 3.25% | $1,405.34 | $52,960.76 |
You'll save $80,482.47 over the life of the loan with a 15-year fixed mortgage versus a 30-year fixed mortgage. While your payment is $478.78 higher with a 15-year fixed loan, you'll pay off your home in half the time.
Adjustable-rate mortgages vs. fixed-rate loans
An adjustable-rate mortgage (ARM) offers short-term mortgage payment savings if you don't plan to stay in a home long. Since 2005, 5/1 ARM rates have trended lower than 30-year fixed rates. Through 2019, ARM rates were 0.37 percentage points lower than interest rates for fixed loans.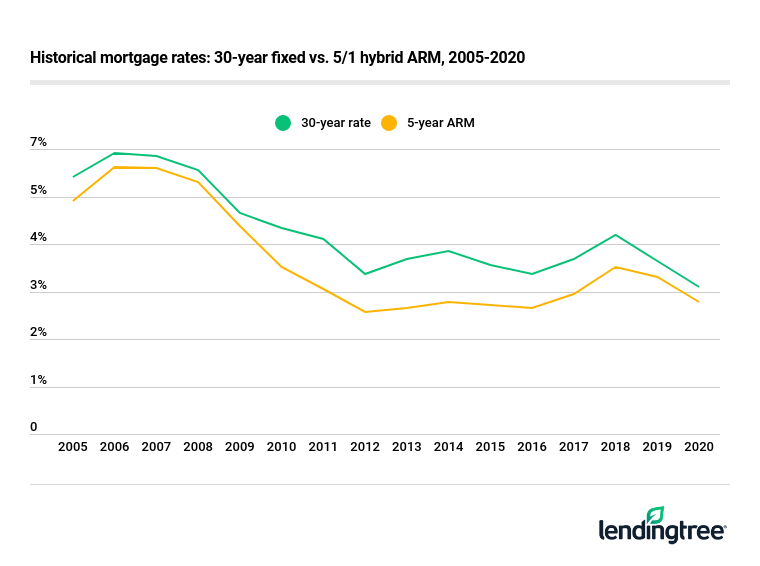 Despite the appeal of a lower monthly payment, an ARM's lower interest-rate period typically lasts for three to 10 years. After the low-rate period expires, the rate may adjust based on the index and margin you selected when you took out the loan. The margin is a fixed number added to the index to calculate your rate once the adjustable period begins. Meanwhile, the index is a moving benchmark rate that fluctuates with financial markets.The limits on how much (and how often) your rate can adjust are called caps and adjustment periods. For example, a 5/1 ARM with 5/2/5 caps will adjust like this:
A maximum of 5% above your start rate with the first adjustment
A maximum of 2% per year for subsequent adjustments
No more than 5% above your start rate for the life of the loan.
How mortgage rates affect homebuying, refinancing
Impact on homebuying
Homebuying interest rates have a direct effect on how much home you can afford. When rates are lower, you qualify for more house without increasing your payment. Mortgage rate affordability can help offset the financial impact of rising home prices with lower monthly payments.
Below is an example of how much you'd save buying a median-priced home at current mortgage rates compared to rates from a year ago. Both calculations assume a 20% down payment on a 30-year, fixed-rate loan.
| | | | |
| --- | --- | --- | --- |
| | Average 30-year fixed mortgage rate | Median-home sales price | Monthly payment (principal and interest) |
| January 2019 | 4.46% | $249,400 | $1,008.22 |
| January 2020 | 3.51% | $266,300 | $957.83 |
Rate data is based on Freddie Mac PMMS figures from Jan. 31, 2019, and Jan. 30, 2020
Home prices are based on national median existing-home sales data for all housing types from the National Association of Realtors (NAR)
Source: LendingTree, Freddie Mac PMMS data, NAR
Even with median home prices rising by $16,900 from a year ago, the lower interest rate saves you $50.39 per month. If you're considering buying a home, use a home affordability calculator to see how much you could buy at current interest rates.
Impact on refinancing
One thing that's clear from looking at a 30-year mortgage rates chart is there are cyclical windows of opportunity to refinance to a lower interest rate. A lower rate means a lower monthly payment, and those savings can be used to build an emergency savings fund or pay down debt.
As your home's value grows, you can tap your home's equity by taking out a new loan for more than you currently owe and pocketing the difference in cash with a cash-out refinance. You can then use the money to pay for home improvements or to consolidate high-interest debt. Any monthly payment increase from the larger loan may be offset by lower current mortgage rates.
When mortgage rates rise, there's less of a tangible benefit to refinancing. If you're planning to sell soon, calculate your break-even point to ensure you'll recoup the refinance closing costs before you move. To do this, divide the total closing costs of a refinance by the monthly savings amount of the new loan to figure how many months it will take to break even. The quicker you break even, the more cost-effective the refinance.