Mortgage Rates
October 4, 2015 12:57 PM Eastern

Mortgage rate quotes displayed on LendingTree LoanExplorer℠, including loan pricing data, rates and fees, are provided by third party data providers including, but not limited to, Mortech®, a registered trademark of Zillow®, LoanXEngine, a product of Mortgage Builder Software, Inc., and LoanTek, Inc.
Contact
Obligation free - contact for more information
Rate / APR / Fees
or Call
Mortgage Rate Lock Recommendation
Octobers 1 2015
Lock if closing in 7 days:

Rates may be heading up

Lock if closing in 15 days:

Rates may be heading up

Lock if closing in 30 days:

Rates may be heading up
Rates may be heading up
If you're considering financing or refinancing a home, you'll want to pay attention to current mortgage rates. The decision to lock in your rate at today's rates or float your loan can have financial implications that will last the life of your loan.
Stocks and Bonds
Mortgage rates today are expected to remain close to Wednesday's rates. The bond market is up 1/32, or 2.03 percent, and the major stock indexes are both down, with the Nasdaq down by 29 points and the Dow 110 points.
What's Going On?
This morning was the weekly unemployment update showing an increase in new claims for unemployment. 270,000 filings were expected but 277,000 were submitted, which could show the job market is going down. This is favorable news for mortgage and bond rates.
What to Look Out For
Tomorrow, the highly anticipated monthly Employment report is scheduled for release. This report shows the U.S. employment rate (which has a huge say in what goes on with mortgage rates) and the average hourly earnings of U.S. workers. Weak readings could bring lower mortgage rates, and high readings could bring an increase in rates as early as Friday.
To Lock or To Float?
If I were purchasing a home or refinancing, I would choose to lock my rate. However, I tend to sway on the conservative side of things and would rather lock in a good rate than risk getting a worse one. What you choose to do, though, is of course up to you.
Mortgage Rates In the News Today
What Does it Mean to "Lock" Your Mortgage?
"Locking" your mortgage means that you and your lender have agreed on an interest rate and price for your home loan. Once your loan is locked, that's the rate and price you get, regardless of what happens in the financial markets. If rates go up, you're protected but if rates go down, you won't benefit either -- you close your loan at the rate you've locked and you can't change it. Locks have expiration dates ranging from 30 to 60 days or more, and the longer your lock period, the more it costs. If you don't close your loan on time, you could end up paying a higher interest rate.
When Should You Lock?
You can lock in your loan at any time during the process. Until you lock your interest rate, you are said to be "floating" your mortgage. The only rule is that you have to lock in before you can close on your purchase or refinance.
The decision to lock or float your loan can have a long term impact so it's important you make the right choice. That's why we offer a quick rundown of the key factors that drive mortgage rates today and everything you need to know.
Mortgage Rates by State
Mortgage rates can vary a lot between lenders on any given day. So, if you only get one mortgage quote, you won't have any idea if there's a better deal out there. That's why the best way to get a mortgage rate it to request quotes from multiple lenders and compare interest rates, loan terms and closing costs. It puts you on in charge and keeps the banks competing to get you the best rate possible. Remember, even .1 percent can amount to thousands of dollars over the course of a loan. Make sure you shop around!
Find Rates In Your State >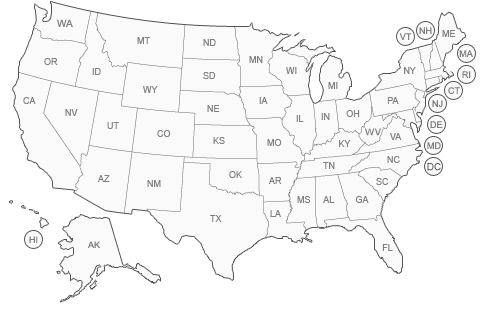 Recent Mortgage Rate Articles
‹
›
Recommended Mortgage Rate Articles
‹
›