Mortgage Rates
March 4, 2015 03:16 PM Eastern

Mortgage rate quotes displayed on LendingTree LoanExplorer℠, including loan pricing data, rates and fees, are provided by third party data providers including, but not limited to, Mortech®, a registered trademark of Zillow®, LoanXEngine, a product of Mortgage Builder Software, Inc., and LoanTek, Inc.
Contact
Obligation free - contact for more information
Rate / APR / Fees
or Call
Mortgage Rate Lock Recommendation
March 3, 2015
Lock if closing in 7 days:

Rates are down

Lock if closing in 15 days:

Rates are down

Lock if closing in 30 days:

Rates are down

Lock if closing in 45 days:

Rates are down

Lock if closing in 60 days:

Rates are up
This is the only day this week that has no pertinent scheduled economic reports. Mortgage rates will largely be influenced by global events and the performance of our stock markets here at home. Currently, the yield on ten-year Treasuries has edged up again to 2.09 percent. Oil is up as well. On the flipside, however, all three major stock indexes are currently down.
CNNMoney's Fear & Greed index is hovering in "Greed" mode. Ity's backed off a bit from last week's "Extreme Greed" readong but is miles ahead of last month's "Extreme Fear" levels. Greed is not good when you're trying to lock a mortgage because investor optimism means more money pours into stock markets and out of bond markets.
Mortgage Rate Basics: Stocks Up, Rates Up
Yes, this is over-simplified for an economics class but it will do here. Interest rates typically rise when the economy is improving. A strengthening economy is a good sign when coming out of a recession or slowdown, but it also triggers concerns about inflation. When investors worry about inflation, bonds and mortgage-backed securities (MBS) become about as popular as paparazzi at an AA meeting.
It makes sense. If you have a bond that pays a four percent interest rate, you'd pay $1,000 for it and get a check for $40 every year. That four percent is called the "coupon rate." The amount of interest you receive each year divided by the amount you pay for the bond gives you the "yield." So $40/$1000 = 4.0 percent. When the yield is equal to the coupon rate, the price you paid for that bond is called "par."
The Stock and Bond Two-step
However, investors buy and sell bonds all the time and often do not get par pricing. When the economy is in bad shape, many investors (like institutions and pension funds in addition to individuals) shun the stock markets in favor of bonds. They just want to park their money somewhere safe until they are comfortable investing more aggressively. The idea isn't to make a pile of money; it's to keep from losing money. So these investors bid up the price of bonds -- it's just supply and demand. And when you pay more for a bond, while getting the same check each year, you're getting a lower yield. So if four percent bonds are now selling for $1,250, the yield becomes 3.2 percent ($40 / $1,250).
And if investors are optimistic about markets, they dump their bonds and hop back into equities. If four percent bonds get unpopular and start selling for $750, their yields increase to 5.3 percent ($40 / $750). That's how rising stock prices cause interest rates to rise, and that's why you need to pay attention to the economy when you're floating a mortgage rate.
Mortgage Rates In the News Today
What Does it Mean to "Lock" Your Mortgage?
"Locking" your mortgage means that you and your lender have agreed on an interest rate and price for your home loan. Once your loan is locked, that's the rate and price you get, regardless of what happens in the financial markets. If rates go up, you're protected but if rates go down, you won't benefit either -- you close your loan at the rate you've locked and you can't change it. Locks have expiration dates ranging from 30 to 60 days or more, and the longer your lock period, the more it costs. If you don't close your loan on time, you could end up paying a higher interest rate.
When Should You Lock?
You can lock in your loan at any time during the process. Until you lock your interest rate, you are said to be "floating" your mortgage. The only rule is that you have to lock in before you can close on your purchase or refinance.
The decision to lock or float your loan can have a long term impact so it's important you make the right choice. That's why we offer a quick rundown of the key factors that drive mortgage rates today and everything you need to know.
22M
users have refinanced
using LendingTree.
Mortgage Rates by State
Mortgage rates can vary a lot between lenders on any given day. So, if you only get one mortgage quote, you won't have any idea if there's a better deal out there. That's why the best way to get a mortgage rate it to request quotes from multiple lenders and compare interest rates, loan terms and closing costs. It puts you on in charge and keeps the banks competing to get you the best rate possible. Remember, even .1 percent can amount to thousands of dollars over the course of a loan. Make sure you shop around!
Find Rates In Your State >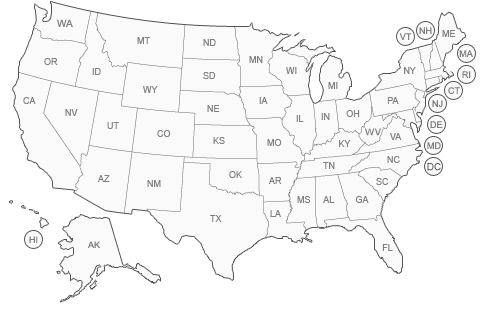 Fixed-Rate Mortgages
A fixed-rate mortgage, or FRM, lets you "set it and forget it." The rate stays the same from the day you close on your home loan until the day you pay it off. The 30-year fixed rate mortgage is the most popular but a 15-year mortgage is another great option with many benefits. FRMs come with other options that a lot of people don't consider, including 10, 15, 20 and 25-year terms. In general, shorter terms mean lower rates. While FRMs are considered low-risk mortgages, there is always the chance that interest rates will fall. In that case, you won't be able to take advantage of lower rates unless you refinance.
Adjustable Rate Mortgages
An adjustable-rate mortgage, or ARM, is a mortgage that starts with an introductory interest rate that lasts for a set period of time and then adjusts every year for the remaining time period of your loan - for a total of 30 years. After the set time period, your interest rate will change which means your monthly payment will, too. The monthly payment amount is usually subject to a cap which means it has a maximum amount that it can go up. If you plan to stay in your home for a shorter time, an ARM can save you money. On the flip side, if you plan to stay a long time, an ARM can end up costing you more than you want to spend.
Hybrid ARMs
This is a good option to consider because a Hyrbid ARM combines some of the best features of both fixed and adjustable loans. They have a start rate (also called an introductory or teaser rate), which is fixed for a number of years. In general, the shorter the period of time in which the loan is fixed, the lower its start rate. After three, five, seven or ten years, the loan converts to an ARM and begins adjusting on a set schedule. Hybrid ARMs can save you quite a bit of money but only if you plan on vacating your home when the fixed rate interest duration is over. If not, then a longer term (15 or 30 year) fixed rate mortgage may be a better choice.
‹
›
Recent Mortgage Rate Articles
‹
›
Recommended Mortgage Rate Articles
‹
›