Tips for First-Time Homebuyers with Bad Credit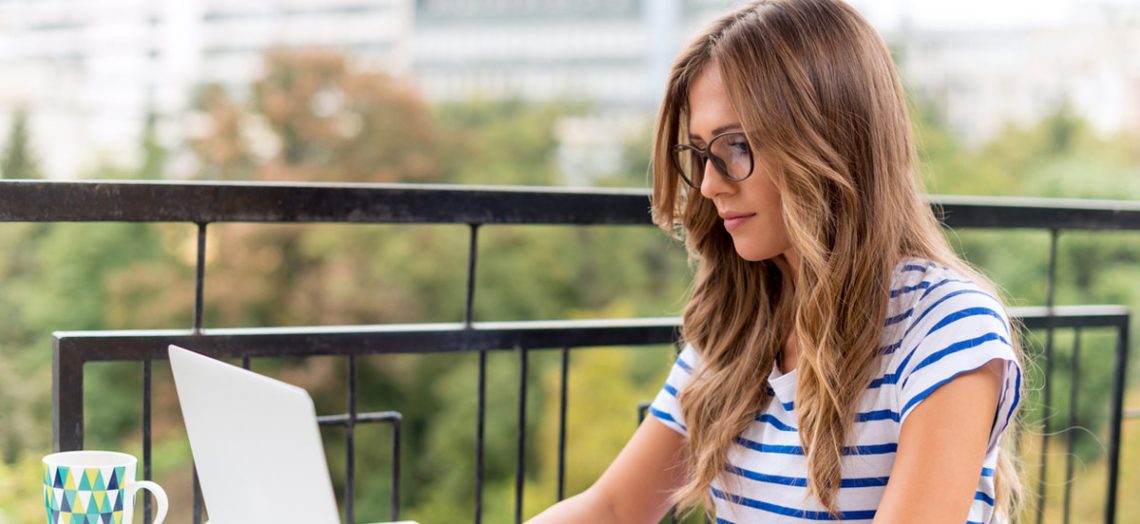 You want to buy a home, but your credit is less than stellar. Perhaps you've heard about programs for first-time homebuyers, but you're not sure if those programs apply to people with poor credit. While it's true that your credit score is one of the key factors that lenders consider when you're applying for a home loan, having a score on the lower end of the spectrum doesn't mean you're out of luck.
There are many programs available to homebuyers with bad credit. Whether your low credit score stems from little history of using credit, identity theft, or some mistakes you made in the past, there are programs designed for helping people with bad credit get into the housing market. This guide will cover the programs out there and provide some tips for buying a home when your credit score is lower than you'd like it to be.
Once you have your score, what is considered bad credit for the purposes of buying a home? Every lender has their own criteria, but a good place to start looking is the Federal Housing Administration (FHA), a government entity that provides mortgage insurance on loans made by FHA-approved lenders throughout the U.S.
The minimum FHA loan credit score is 500. If your credit score is below 500, it's unlikely that you will be able to qualify for a mortgage. Kevin Stein, deputy director at the California Reinvestment Coalition, an advocate for fair and equal housing to credit, recommends that borrowers with poor credit first meet with a HUD-approved housing counselor.
HUD counselors can provide advice on buying a home and credit issues. You can find a housing counseling agency near you using HUD's online search tool or via the Consumer Financial Protection Bureau. Stein says the counselors can help borrowers pull their credit scores, work to improve scores if necessary, and help borrowers understand loan options and connect them with local programs that can help with down payment assistance.
5 strategies that will help you get a mortgage with bad credit
Getting approved for a mortgage is possible, even if you have a bad credit score. The key is being upfront with your lender and putting in some work to demonstrate that you are creditworthy, despite your low score.
Here are five ways to do that:
Discuss credit issues with lenders upfront. Your low score may be due to a lack of credit history or an unfortunate event that caused you to miss payments. Have an honest discussion with your lender about the reasons for the low score. They may be able to base your mortgage qualification on other factors or provide other suggestions for getting approved.
Get credit errors fixed (if possible). Is your low score due to errors in your credit file? Follow the instructions from the credit reporting agencies to submit a dispute and have those errors removed from your credit report.
Have a larger down payment in hand. To compensate for a low credit score, some lenders will require a larger down payment (10 percent or more). A larger down payment signals to lenders that you can handle the loan payments, despite your poor credit history.
High income and low debt. According to the Consumer Financial Protection Bureau, most lenders want to see a debt-to-income (DTI) ratio no higher than 43 percent. Debt-to-income ratio is all of your monthly debt payments divided by your gross monthly income. If you can prove you have a very low DTI, then it can boost your chances of getting approved.
Long employment history. Lenders want to see that you'll continue to make the money you're currently making. A long employment history (at least two years in the same field) is a good indicator that your income is stable.
Mortgage loan options for homebuyers with bad credit
Here's a look at some of the programs available to help first-time homebuyers with bad credit.
FHA loans
Minimum credit score required: 500
FHA loans are insured by the Federal Housing Administration, and they typically offer more flexible lending requirements than conventional loans. They are designed to promote homeownership and make it easier for people to qualify for a mortgage. They do this by making a guarantee to the bank that they will repay your loan if you quit making payments.
Borrowers with credit scores of 580 and above can get a home loan with a down payment as low as 3.5 percent. Borrowers with credit scores between 500 and 579 will need a 10 percent down payment.
Because the FHA works with higher-risk borrowers, interest rates on FHA loans may be higher, and buyers are required to pay both upfront and annual mortgage insurance. On a typical 30-year mortgage with a base loan amount of less than $625,500, the annual mortgage insurance premium would be 0.85 percent as of this writing. The current upfront mortgage insurance premium is 1.75 percent of the base loan amount.
Here's an example to show you how much more you can expect to pay if you use an FHA loan:
For a home with a purchase price of $250,000, the borrower would need to come up with a down payment of $8,750 (assuming a credit score of 580 or above) plus $4,222 upfront mortgage insurance premium. Also, their monthly mortgage payment would include $171 for the monthly mortgage insurance premium.
FHA loans are not offered directly by the FHA, but rather by FHA-approved lenders. You can locate an FHA-approved lender using the Lender List Search tool. Interest rates and loan costs vary by lender, even for the same type of loan, so it's important to shop around.
FHA loans are also notorious for requiring a lot of documentation during the loan underwriting process.
Expect to provide:
At least two years of complete tax returns
Two years of W-2s, 1099s or other documentation to support your income
The most recent month of pay stubs
Most recent three months of bank, retirement and investment account statements
This is simply an example. Your lender may require much more information, especially if you are self-employed or you already own property.
VA loans
Minimum credit score required: 620-640
Veterans with bad credit should consider a VA loan. Like FHA loans, VA loans are guaranteed by the federal government, in this case, the Department of Veterans Affairs. In many cases, VA loans do not require any down payment or mortgage insurance, although there is a one-time funding fee. The funding fee varies by the type of veteran and the down payment percentage, but it typically runs from 1.25 to 2.4 percent of the loan amount. Veterans receiving VA disability compensation are exempt from the funding fee.
VA loans do not have a minimum credit score requirement. But because VA loans are offered by VA-approved lenders and not the VA itself, individuals lenders may have their own requirements. For most VA lenders, the minimum credit score is in the low to mid 600s. If your score is in the mid 600s and you are turned down for a VA loan, you may be approved by another VA lender.
The VA doesn't publish a list of VA-approved lenders, but you can locate one near you via LendingTree.com.
Good Neighbor Next Door program
Minimum credit score required: N/A
The U.S. Department of Housing and Urban Development (HUD) has a unique homeownership program for law enforcement officers, teachers, firefighters and emergency medical technicians.
The Good Neighbor Next Door program is aimed at revitalizing certain communities with a history of low household incomes, low homeownership rates, and high foreclosure activity. As an incentive, the program offers eligible borrowers 50 percent off the list price of the home if the borrower commits to using the property as their sole residence for 36 months. Homes can be purchased with as little as $100 down.
The Good Neighbor Next Door program is not a lending program itself, but eligible borrowers can use FHA, VA, conventional mortgages, or cash to purchase the home.
HUD requires all borrowers to sign a second mortgage for the discounted amount. For instance, if the home is listed at $100,000, the discounted amount would be $50,000. The borrower does not need to make any payments on the "silent second" mortgage as long as they live in the home for at least 36 months. If the borrower sells or moves out of the home before then, HUD requires repayment of the second mortgage on a prorated basis.
Borrowers don't have to be first-time homebuyers to take advantage of the Good Neighbor Next Door program, but they cannot own any other residential property at the time they submit an offer to purchase a home, or for one year prior.
To take advantage of the program, you should first pre-qualify for a loan through the FHA, the VA or another program. Then check the listings in your state to find an eligible property. The homes are listed exclusively via the Good Neighbor Next Door program for seven days. Once you identify a home, follow the instructions to submit your interest in a specific home. If more than one person is interested in purchasing the home, a selection will be made by random lottery.
Conforming loan
Minimum credit score required: 580
Conforming loans are mortgages that conform to Fannie Mae or Freddie Mac guidelines. The Federal Housing Finance Agency (FHFA) publishes annual conforming loan limits that apply to all mortgages backed by Fannie Mae or Freddie Mac. Those limits include loan limits ($424,100 for 2017), the size of the down payment required, debt-to-income ratio, and credit score, among others.
Prior bankruptcies or foreclosures can make it difficult to qualify for a mortgage loan. There is a mandatory two- to four-year waiting period for borrowers with a past bankruptcy. And there's a three- to seven-year waiting period for borrowers with a prior foreclosure, according to Fannie Mae.
HomeReady program
Minimum credit score required: 620
The HomeReady program is offered by Fannie Mae, the largest backer of mortgage credit in America. In order to qualify, borrowers have to meet certain income limits, which vary by location. Use this tool to find out the income limits in your area.
Eligible borrowers are required to complete an education program to help them understand the home-buying process and prepare for homeownership. The program costs $75 and takes place online.
HomeReady loans are available through Fannie Mae-approved lenders and offer down payments as low as 3 percent. If the borrower puts less than 20 percent down, they will be required to pay mortgage insurance, but the mortgage insurance requirement can be removed once the loan-to-value ratio reaches 78 percent or less.
Typically, the minimum credit score for a HomeReady loan is 620, but the program has special underwriting guidelines for borrowers without a credit score due to a lack of credit history.
In these cases, the underwriter will look at "non-traditional credit sources." These include rental payments made to a landlord or management company, utilities, medical insurance coverage, auto or renter's insurance payments, cellphone payments, life insurance policies, medical bills, school tuition, child care, or personal loans obtained from an individual. The underwriter will look at these payments over a 12-month period to determine whether the borrower pays on time.
Fannie Mae does not provide a list of lenders that offer HomeReady mortgages, but any Fannie Mae-approved lender can participate in the program.
Home Possible
Minimum credit score required: 660
Home Possible is Freddie Mac's version of Fannie Mae's HomeReady program. It is designed for low- to moderate-income homebuyers or buyers in high-cost or underserved communities. The program helps eligible borrowers get into homes with as little as 3 to 5 percent down.
The typical minimum credit score for a Home Possible loan is 660, but borrowers without credit scores, such as recent immigrants and those with no history of using credit, can qualify for a Home Possible mortgage. As with the HomeReady program, the underwriter will take a look at non-traditional credit sources to ensure the borrower has a history of on-time payments.
USDA loan
Looking to purchase a home in a rural area? The U.S. Department of Agriculture backs loans for purchasing and refinancing homes located in certain eligible areas.
If you qualify for a USDA loan, you can buy a home with no down payment, and the USDA allows borrowers to use gifted money to pay closing costs.
Although the USDA does not require mortgage insurance, they do require an upfront premium of 2 percent of the purchase price of the home, although that 2 percent can be financed as a part of the loan.
USDA loans are issued by approved lenders, and, in order to qualify, borrowers can't earn more than 115 percent of the median income for the area. Most lenders underwriting USDA loans require a minimum credit score of 620 with no significant delinquencies, foreclosures or bankruptcies in the past several years.
Homebuyer Assistance Programs
Operation Hope
The Operation Hope Home Buyers Program is designed to help low-income individuals get funding to own a home without resorting to high-risk subprime loans.
While the program does not provide loans, it connects potential homebuyers to resources such as financial institutions, FHA loan programs, down payment assistance programs, realtors, and other first-time home-buying programs for people with low to moderate income.
The program is available at all HOPE Inside locations in more than 20 states. The program includes a home-buying workshop and HUD-approved counseling to help borrowers overcome bad credit, lack of a down payment, and other potential barriers to homeownership.
National Council of State Housing Agencies
The HFA may offer competitive interest rates, low or no down payment programs, and assistance with closing costs, and help you find government-backed or conventional loans that fit your circumstances.
Often that assistance will come in the form of a Community Seconds or Affordable Seconds loan. Community Seconds and Affordable Seconds mortgages allow homeowners to finance their down payments, closing costs, and even home improvements. They are offered through states, counties, cities, local housing agencies, nonprofit organizations, and Employer-Assisted Mortgage (EAM) programs.
They do this by combining a first mortgage (including HomeReady or Home Possible) with a second mortgage. Community Seconds is sponsored by Fannie Mae. Affordable Seconds is sponsored by Freddie Mac. The borrower may be able to purchase a home with no money out of pocket. Repayment of the loan can be structured a number of ways:
monthly payments
deferred payments for a period of time
deferred payments until the mortgage is paid off if the property is sold
forgiving the debt over time
What to expect as a first-time homebuyer with bad credit
If you're able to qualify for a mortgage despite your bad credit score, expect the home to cost more than it would if you had good credit. Here's why:
Higher interest rates. The lowest interest rates are reserved for borrowers with credit scores of 720 and above. Borrowers with bad credit scores will be offered higher rate mortgages. Even just one percentage point more, over the course of a 30-year fixed-rate mortgage, adds up to a lot more paid over the life of the loan.
Larger down payments. With an FHA loan, a credit score of less than 580 means you'll need to come up with a down payment of 10 percent rather than 3 percent. Other lenders may require 20 percent or more to approve your loan package. This is where down payment assistance programs can come in handy. Contact the local HOPE Inside office or Housing Finance Agency in your area to research programs available in your state.
Your credit score can have a considerable impact on the overall cost of your mortgage loan. The lower your score, the higher your mortgage rate might be. That's why it's important to find ways to improve your credit score before you begin shopping for a mortgage.
What about past foreclosures and bankruptcies?
While traditional lenders may require a borrower to wait up to seven years after a foreclosure before approving a new mortgage, other lenders may be willing to work with these borrowers a lot sooner.
Prior bankruptcy: two- to four-year mandatory waiting period
Prior foreclosure: three- to seven-year mandatory waiting period
Why the ranges? Because some lenders will ease up on the mandatory waiting period if the borrower qualifies for an exception.
For example, if the bankruptcy or foreclosure was due to an extenuating circumstance, such as job loss, divorce or medical issues, the lender may ask for an "extenuating circumstances letter." This is an explanation of the events that led up to the bankruptcy or foreclosure. The lender will also request documentation to support your claims, such as a divorce decree or medical records.
The benefit of improving your credit BEFORE you apply for a mortgage
Two first-time homebuyers — Jessica and Baron — are shopping for a mortgage in the same city. They can each afford a $150,000 home, and they want to borrow a 30-year fixed-rate loan.
But there's one big difference — their credit scores. See below how more expensive Baron's mortgage becomes simply because he has a lower credit score.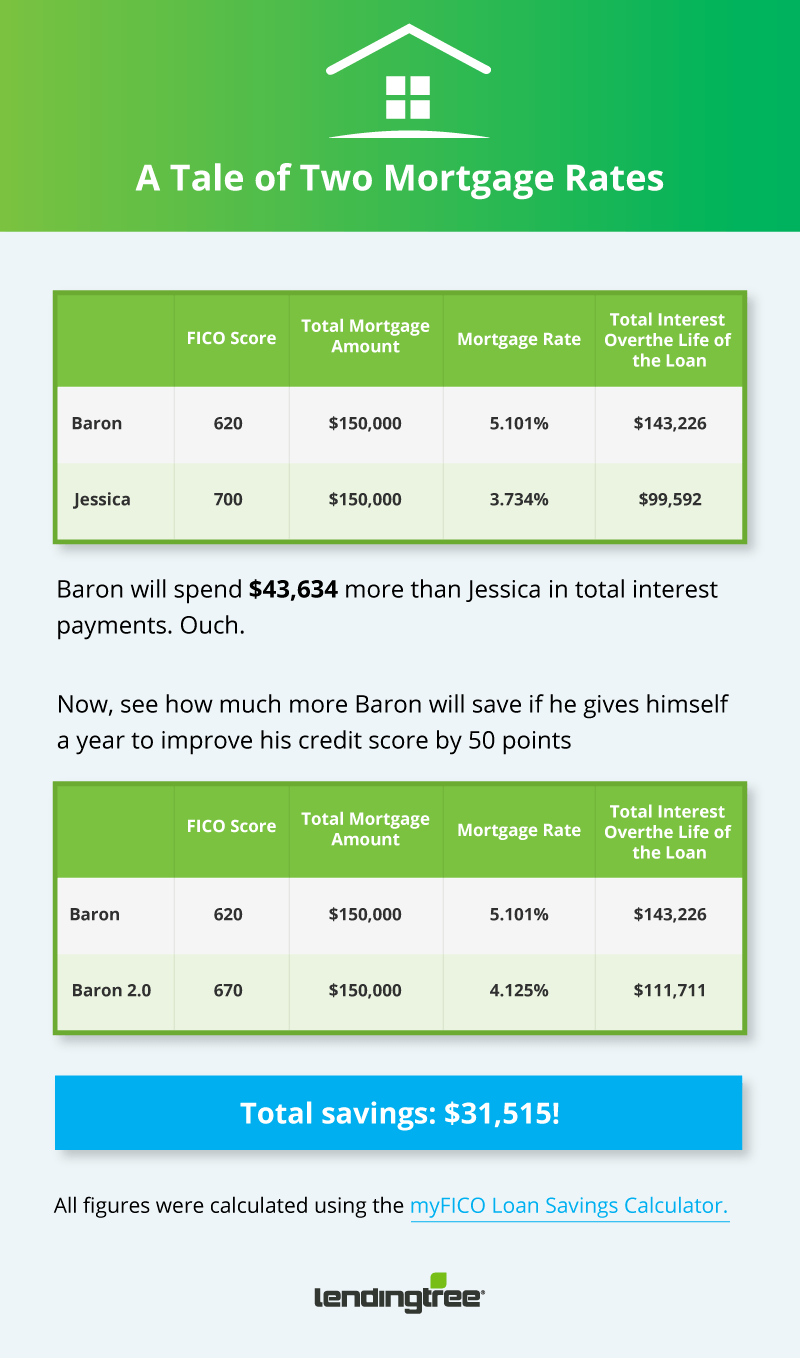 By improving his credit score by just 50 points, Baron will save $31,515 over the life of his mortgage loan.
What steps can you take to boost your credit before you shop for a mortgage? We'll cover that in the next section.
1. Find your credit score AND your credit report so you know where you stand
Your credit report: In order to understand your credit score, you need your credit report. It includes all of your credit history and will show you exactly what is hurting your score. It might be a past bankruptcy, delinquent accounts, or even an error that you are unaware of. Reviewing your credit report annually is important. You'll want to make sure the information the credit bureaus have on file is accurate and up to date before you apply for a loan. However, your credit report tells you what's in your credit file. It doesn't give you a score.
You can access your free credit report each year from each of the credit reporting agencies by visiting annualcreditreport.com.
Your credit score: Did you know you have more than one credit score? Several different credit scoring models exist, but the score that is used by most mortgage lenders is FICO. Specifically, lenders today are using older versions of the FICO — versions 2, 4 and 5.
The best place to find those FICO scores are to purchase them from myFICO for $59.85.
These scores are used in the majority of mortgage-related credit evaluations, with lenders pulling your score from all three bureaus. However, these scores are not free and can only be purchased at myFICO.
If you're looking for a simple estimate of your credit score, there are plenty of free resources out there, which we cover in this guide.
2. Get help from a certified HUD counselor
HUD counselors, who work under the Department of Housing and Urban Development, can provide advice on buying a home and credit issues. You can find a housing counseling agency near you using HUD's online search tool or via the Consumer Financial Protection Bureau. Stein says the counselors can help borrowers pull their credit scores, work to improve scores if necessary, and help borrowers understand loan options and connect them with local programs that can help with down payment assistance.
3. Make payments on time
Making your debt payments on time is one of the biggest contributing factors to your credit score. If you have trouble remembering to make your payments, set up reminders or enroll in automatic payments.
According to myFICO.com, your payment history accounts for as much as 35 percent of your FICO score calculation. Start paying your bills on time as soon as possible. It won't immediately raise your score if you have a history of late payments, but because older credit problems carry less weight, the impact of those late payments will fade as time passes.
4. Reduce the amount you owe
The total debt you owe accounts for 30 percent of your FICO score. A large amount of outstanding debt, especially revolving debt like credit cards, can bring down your score. Stop using credit cards and start paying down those balances.
Don't close unused cards, as this can actually harm your credit score.
5. Be patient
Rebuilding your credit takes time. Delinquencies remain on your credit report for seven years. Bankruptcies and tax liens remain on your credit report for up to 10 years. You can't make these items magically disappear, but they do carry less weight as time passes.
Be wary of any credit repair agencies who promise to erase negative information from your credit file or help you create a new credit identity. These are signs of a scam. If you need legitimate help managing debt, you can find a reputable credit counselor through the National Foundation for Credit Counseling. These counselors can help you develop a debt management plan and negotiate monthly payments.
The bottom line
While there are many excellent programs and organizations designed to help people with financial issues get into homes, there are also many predatory ones. Before you work with any company that promises bad credit mortgages, credit repair, or down payment assistance, do some research to make sure they are legitimate. Sticking to lenders and organizations that are recommended by HUD-approved counselors or your local HFA is a good place to start.
Being a first-time homebuyer with bad credit can make it harder to get into a house, but it's not impossible. Depending on your score, you may still qualify for a conventional loan but pay a higher interest rate. You may have to make a larger down payment or provide more documentation to demonstrate to the lender that even though your credit file has some blemishes, you are capable of repaying the loan.
---
Disclaimer: This article may contain links to MagnifyMoney, which is a subsidiary of LendingTree.