VA Refinance: Lower Mortgage Rates and More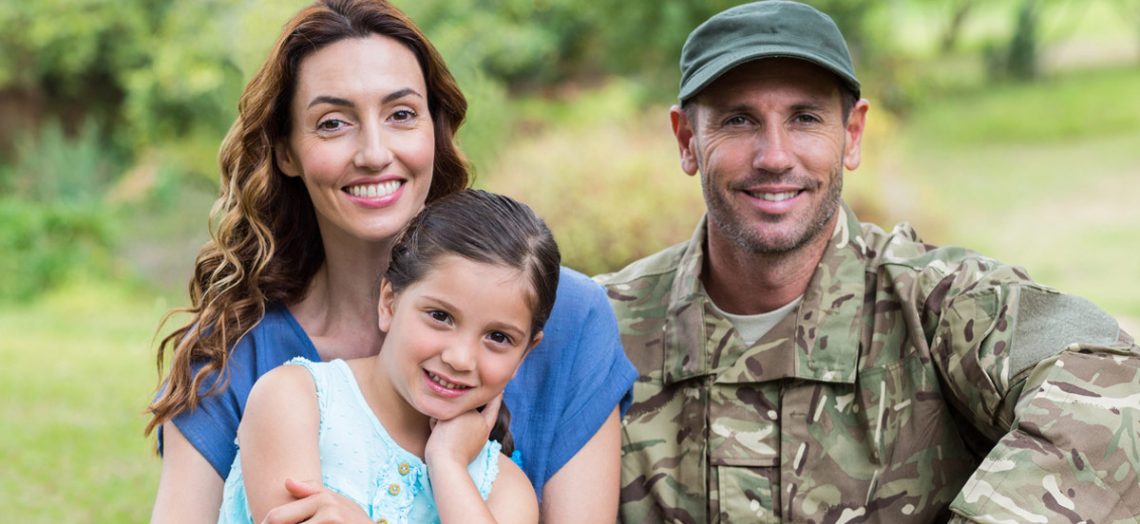 When interest rates rise or fall, many homeowners find themselves asking whether they should refinance their mortgage. Whether you already have a VA loan or a conventional loan you're interested in refinancing, the VA Home Loan program provides eligible homeowners with a simple way to take advantage of low-interest rates, decrease their monthly mortgage payment, or cash out some of their home equity. We'll take a look at the options and benefits available for anyone considering refinancing with a VA loan.
In this post, we'll cover:
VA loan overview
The U.S. Department of Veterans Affairs (VA) helps service members, veterans and eligible surviving spouses obtain a home mortgage.
The VA itself doesn't issue loans. Rather, VA loans are provided by VA-approved lenders, such as banks or mortgage companies. The VA guarantees a portion of the loan, which encourages lenders to provide more favorable terms to borrowers. Because VA loans are offered by private lenders rather than the VA itself, individual lenders may have their own eligibility requirements, including minimum credit score, debt-to-equity ratio or loan-to-value ratio.
Any residence financed with a VA loan must meet Minimum Property Requirements (MPRs), as outlined in VA Pamphlet 26-7, Chapter 12. In general, properties cannot be in badly deteriorated condition, unless there's a reasonable likelihood that it can be repaired to meet the MPRs before the loan closes. Borrowers also need a Certificate of Eligibility (COE) to apply.

Why refinance with a VA loan?
There are a few reasons you may consider refinancing a mortgage. Joe Parsons, senior loan advisor with Pinnacle Capital Mortgage in Dublin, Calif., one of the lending VA lenders in the Bay Area. He says the most common reasons he encounters are to take advantage of a lower rate than the one the borrower has on their existing loan or to cash out some of the home's equity.
Whatever the reason, if you can qualify for them, Parsons says VA loans are "by far the best loan on the planet, bar none." He says they offer lower rates, 100% loan-to-value financing, no mortgage insurance and easy refinancing for eligible borrowers.
Actual VA loan rates vary depending on a number of factors, including location, credit score, loan amount and more. But Parsons says they're typically lower than interest rates you'll find elsewhere. "They're typically around three-eighths to half a percent lower than you'll find with an equivalent conventional loan," Parsons said.
If lowering your interest rate or cashing in on some of your home equity sounds appealing, there are a few ways you can take advantage of VA refinancing.

Interest Rate Reduction Refinance Loan (IRRRL)
An Interest Rate Reduction Refinance Loan (IRRRL, pronounced "earl") is also known as a "streamline" VA loan, designed to help eligible VA borrowers refinance from an existing VA loan to a new VA loan on the same property.
An IRRRL does not allow the borrower to receive any cash proceeds from the new loan, but Parsons says, in effect, many borrowers do receive a small cash infusion from the process.
"They'll be able to skip a loan payment and they also receive the balance of their old impound or escrow account. That may be a couple thousand dollars," he added.
Eligibility
To be eligible for an IRRRL, Parsons says you must be either lowering your interest rate or shortening your loan term – in other words, improving your position. However, if you are refinancing from a VA adjustable rate mortgage (ARM) to a fixed-rate loan, the interest rate may increase.
Application process
"An IRRRL is very easy to do, for both the vet and the loan originator," Parsons said. "The lender does minimal job verification – they essentially just make sure you're employed. They don't verify income. We don't even put income on the application. The idea is that if the vet has been successfully making payments on the existing mortgage, that's verification enough."
Applying for an IRRL does not require a new COE. You may show a copy of your existing COE to the lender as proof that you are using your entitlement, or the lender can verify your entitlement via email.
No appraisal is required for an IRRRL.
Loan limits
The VA does not cap how much you can borrow to finance a home, but there is a cap on how much they can guarantee.
That limit is referred to as the "VA county loan limit," and it's the same as the loan limits used by the Federal Housing Finance Agency (FHFA). The limits are determined by county. For 2018, the maximum conforming loan limit for single-unit properties in most of the U.S. is $453,100, up from $424,100 in 2017. In high-cost areas, the loan limit for a single-unit property is $679,650 (150% of $453,100).
But Parsons says that's just the limit for 100% financing. If you want to buy a home priced greater than the loan limit for the county – not unusual in the Bay Area of California where Parsons lives and works – the borrower needs to make a down payment of 25% of the amount by which the home's price exceeds the county loan limits. If you're able to do that, the VA will guarantee the rest of the loan.
For example, say a borrower wants to buy a single-unit home in San Mateo County, just south of San Francisco. The loan limit there is $679,650. If the borrower wants to buy a home priced at $700,000, they would need to make a down payment of 25% of $20,350 ($700,000 minus $679,650), or $5,087.50. Then the VA will guarantee the full loan amount.
VA funding fee
VA loans do not require mortgage insurance. However, they do charge a one-time funding fee which can be financed into the loan amount. The funding fee varies based on military category and the down payment percentage, but on a home purchase, it typically runs from 1.25% to 2.4% of the loan amount. With an IRRL, the funding fee is reduced to .50%.
Veterans with a service-connected disability are exempt from the funding fee. But Parsons says that disability doesn't have to be severe. He worked with one client who receives a partial disability for dermatitis, a rash he came down with while serving. "His funding fee was waived. In a high-cost area like California, that .50% can be a big number," Parsons said.

Cash-out refinance
When a veteran wants to cash out some or all of their home's equity, a VA cash-out refinance home loan may be the answer.
A VA cash-out refinance loan can be used for refinancing from a non-VA loan into a new loan or refinancing an existing VA loan to access cash to pay off debt, pay for education or make home improvements.
Eligibility
The requirements for a VA cash-out refinance are similar to those applying for a new VA loan. You must have sufficient income and a valid COE.
With VA loans, there are no specific credit score requirements, but Parsons says it's generally acknowledged that lenders look for a minimum credit score of 580.
Application process
Your lender will help you complete the loan application and gather the necessary information, including pay stubs, bank statements, and your COE. They will also order an appraisal. If you need help finding a VA-approved lender, the VA doesn't publish a list of approved lenders, but you can locate one near you via LendingTree.
VA Funding Fee
For a cash-out refinance, the funding fee runs from 2.15% to 3.3% of the loan amount. The funding fee can be added to your loan balance, so you don't have to pay it out of pocket.

Refinancing a conventional mortgage with a VA Loan
Eligible veterans with a conventional home loan may be able to cash out more equity from their home at a lower cost with a VA cash-out refinance loan. Because VA loans go to 100% of the appraised value of the home, even on a refinance, borrowers can cash out more equity while avoiding mortgage insurance.
For example, say a borrower has a home worth $300,000 and a current loan balance of $210,000. With a conventional standard cash-out refinance, the borrower would be limited to borrowing $30,000, bringing their mortgage to $240,000, or 80% loan-to-value (LTV).
They could borrow more under a limited cash-out refinance, but the amount of cash they could receive would be limited to the lesser of 2% of the new loan amount, or $2,000. And if the new loan was greater than 80% LTV, the borrower would have to pay mortgage insurance on the new loan. The mortgage insurance premiums may be paid monthly, upfront at closing or both. The premium may vary depending on your credit score, your LTV, and the lender.
Parsons says with a VA cash-out refinance loan, the borrower can go up to 100% loan-to-value without paying PMI.

The pros and cons of refinancing your VA mortgage
There are two things to look out for with a VA loan. First, VA loans are fully assumable, even by a nonveteran. In other words, instead of having the buyer get their own financing and using the proceeds to pay off the seller's existing loan, the loan can be taken over by the purchaser, who continues making payments for the remaining term of the loan.
Parsons gives an example of a veteran who buys a home for $500,000 and sells it years later to a non-vet for $650,000. Rather than paying off the existing VA loan, the veteran could allow the non-vet to assume the existing loan. If assuming the old loan means the non-vet would be paying a below-market interest rate, they may be willing to pay more for the house.
But Parsons cautions that the veteran's entitlement would still be tied up in the old loan. They may not be able to get a new VA mortgage until the old one is paid off. That concern goes away if the home is sold to a qualifying veteran.
Second, the IRRRL page on the VA's website currently shows an alert from the Consumer Financial Protection Bureau. The alert cautions that some VA loan borrowers have received refinancing offers from lenders that "sound too good to be true" and may be misleading.
According to a linked post on the VA website, these solicitations may promise:
Extremely low interest rates
Thousands of dollars in cash back
Skipped mortgage payments
No out-of-pocket costs
No waiting period
Parsons says these abusive lenders may finance a lot of additional fees or discount points into the new mortgage. The borrower may not realize that they're paying those points because they are financed into the new loan rather than paid out of pocket.
"Look out for those costs," Parsons said. "They must be disclosed in writing, but few people actually read through the disclosures. When you're contemplating a mortgage, read over what the costs are very carefully. Just because it's not coming out of pocket, doesn't mean it's not costing you money."
Pros
Cons
No down payment as long as the sales price doesn't exceed the appraised value and the loan is within the county loan limit
Watch out for discount points that may be financed into the loan by the lender
No private mortgage insurance requirement
If existing VA loan is assumed by a nonvet, the borrower's entitlement will be tied up in that loan. The borrower may not be able to get a VA loan on a new property until the old loan is paid off.
The VA limits the amount you can be charged for closing costs
Funding fee
No prepayment penalties
Loan is fully-assumable, even by a non-vet
Should you refinance your VA mortgage?
Refinancing your VA mortgage may be a good way to save money by lowering your interest rate or eliminating mortgage insurance premiums.
However, Parsons cautions borrowers to avoid old rules of thumb that say you should refinance if you can reduce your interest rate by a certain percentage.
"Those rules of thumb are nonsense," Parsons said. "You should look at the actual cost of doing the loan and figure out how long it will take to get those costs back. Then look at how much you'll actually save after recouping the cost of the loan."