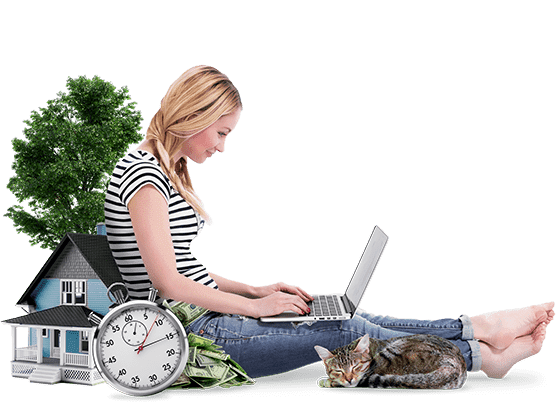 Do you have the best refinance rate?
Whether you want to lower your monthly mortgage payments, pay off your mortgage faster or get cash from your home, LendingTree's marketplace will help you land the best deal for your refinance.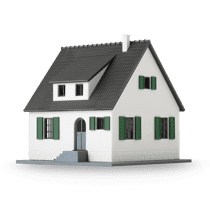 Refinance your mortgage
What is refinancing?
Refinancing is simply the process of replacing your existing mortgage with a new loan that has better terms. Those better terms could include a lower interest rate, shorter loan term or smaller monthly payment. The new loan pays off the old loan, and you start making payments on the new loan. 
You must meet lender requirements to qualify for a mortgage refinance, which we'll discuss later.
How LendingTree can help you refinance
Shopping around can save you money when buying a home, and the same is true when refinancing your existing loan. At LendingTree, we make this process easier by doing the shopping for you. By comparing lenders and having them compete for your business, you're certain to get the best rate possible on your mortgage refinance. The better your rate, the lower your payments will be and the more money you'll save in interest over the life of your loan.
Benefits of refinancing
Take cash (equity) out of your home
Convert a variable rate to a fixed rate
How to qualify for a refinance
Many eligibility requirements related to getting a mortgage also apply to the refinance process.
Minimum credit score: In many cases, you'll need at least a 620 credit score. However, aim for a 740 score or higher to qualify for the best

refinance rates

available. 

Maximum loan-to-value ratio:

Your

loan-to-value (LTV) ratio

, which is the percentage of your home's value being financed by the mortgage, can't exceed 97% for a traditional refinance. The maximum LTV ratio allowed for cash-out refinances is 80%.

Maximum debt-to-income ratio:

Your

debt-to-income (DTI) ratio

, which is the percentage of your gross monthly income used to make your debt payments, should be at 45% or lower. Be sure to factor in both your non-mortgage debt and the estimated monthly mortgage payment you expect to have with the refinanced mortgage.
Although it's possible to refinance with a high LTV ratio, you'll need to have an 80% LTV or lower to avoid paying for mortgage insurance.
Mortgage refinance checklist
You'll also need to have these documents handy to refinance your mortgage:
Your identity: Social Security number and photo ID

Your income: Three most recent pay stubs and W-2s for the last two years

Your assets: Investment and retirement account statements

Your debts: Two most recent bank statements, credit card and loan statements, child support or alimony payments, homeowners insurance, property tax bills
How much does it cost to refinance?
Whenever you borrow a loan, there are closing costs and fees associated with the transaction. Refinance closing costs can range from 3%-6% of your new loan amount, but vary by lender and location. 
Typically, the costs you're responsible for can include an application fee, loan origination fees, an appraisal fee and more. You can use LendingTree's refinance calculator to determine your breakeven point, or the point at which the savings on your mortgage will cover the cost of the refinance. 
7 steps to refinancing your mortgage
Determine why you want to refinance.

Have interest rates dropped significantly? Has your creditworthiness drastically improved? Have home values increased?

Shop around to find the right lender.

Use LendingTree's marketplace to get mortgage refinance quotes and check out our list of the

best refinance lenders

. You should also ask family and friends for recommendations.

Gather your documentation and apply for a loan.

Have your asset, debt, employment and income paperwork ready and fill out a refinance application with two or three lenders.

Compare your Loan Estimates.

Each lender you apply with will give you a Loan Estimate within three business days of receiving your application. Review each document and compare interest rates, monthly payments, closing costs and other fees to determine which lender has the best deal for you.

Prepare for an appraisal.

Once you choose your lender and your application goes to the processing and underwriting phases, your lender will order a home appraisal to verify the property value makes sense for the new loan amount.

Take advantage of a rate lock.

Lock in your mortgage rate

about a week before you're scheduled to close on your new mortgage. This allows you to secure a specific mortgage rate that won't change before the deal is sealed, as long you close on the loan before the rate lock expires.

Close on your new loan.

Once you have a date set for the mortgage closing, you'll finalize the transaction by paying your closing costs and signing all necessary documents.
Differences between a cash-out and traditional refinance
With a
cash-out refinance
, you borrow a new loan that exceeds the amount you need to pay off your existing loan and take out the difference in cash. This type of refinance might work for you if you want to:
Boost your emergency fund

Cover higher education expenses

Make improvements or repairs to your home

Pay off high-interest-rate debt, such as credit cards 
Keep in mind that because your new mortgage will have a higher balance than the old loan, your monthly mortgage payment will likely increase. 
A
traditional refinance
involves replacing your existing mortgage with one that has a new interest rate and loan term, but you typically don't receive cash from the transaction. This type of refinance could work if your goal is to:
Convert an FHA loan to a conventional loan

Lower your mortgage interest rate

Shorten your loan term

Stretch out your loan term

Switch from an adjustable-rate mortgage to a fixed-rate mortgage
Reasons for cash-out refinance include:
Pay off your credit cards or high interest debts
Make home improvements or repairs