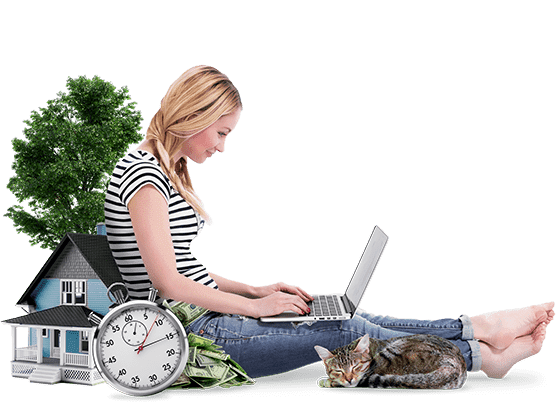 Refinance Your Mortgage: Compare Current Mortgage Rates
If you're trying to refinance your mortgage, we can help you compare rates from multiple lenders to find the best deal. Start a quote or estimate your savings using our mortgage refinance calculator below.
What is refinancing and how does it work?
Refinancing is simply the process of replacing your existing mortgage with a new loan that has better terms. There are plenty of reasons that people refinance their mortgages, these could include getting a lower interest rate, shortening their loan term or switching from an adjustable rate to a fixed rate.
Whatever your reason for refinancing, your new loan will pay off the old loan, and allow you to start over with a new rate and better terms. Shopping around can save you money when buying a home, and the same is true when refinancing your existing loan.
By comparing lenders and having them compete for your business, you can get the best rate possible on your mortgage refinance. The better your rate, the lower your payments will be and the more money you'll save in interest.
Start comparing lenders by clicking the link above or estimating how much you can save with our mortgage refinance calculator below.
Mortgage Refinance Calculator
How to use our mortgage refinance calculator
Our refinance calculator lets you estimate the total cost involved in your mortgage refinance and allows you to compare your current interest rate against what the best mortgage lenders have to offer.
When using our mortgage refinance calculator, it's a good idea to compare monthly payments and loan terms in addition to interest rates. As these will have a big impact on your monthly budget.
To ensure a fair comparison, make sure you're using the lender's quoted annual percentage rate (APR) and not just the interest rate that they list, as this will ensure you're factoring in typical closing costs and refinance fees. This will allow you to obtain as accurate a reading as possible.
Should I refinance my mortgage?
You should refinance your mortgage if you're able to generate a positive net benefit from doing so. When you should refinance will depend on a number of things, including current mortgage rates, how close you are to paying off your home loan, and your need for cash. We cover some of the most common reasons for refinancing below.
Lower your payment

Refinancing your mortgage can help you lower your monthly payments, either by reducing your interest rate or extending your loan term. This helps make payments more manageable.

Adjust your loan term

Borrowers who refinance their mortgage can significantly reduce the time it takes to pay off their home loan. This allows you to become debt-free earlier, leaving you with more time to dedicate to the things that really matter.

Take cash (equity) out of your home

If you need money for home repairs, a new car, or debt consolidation, a cash-out refinance can be a great way to withdraw your home equity for life's unexpected expenses.

Convert a variable rate to a fixed rate

If you have an adjustable rate mortgage (ARM) and are worried about interest rates rising against you, refinancing your home mortgage into a fixed rate can buy you some peace of mind as well as get you a great low rate for the long term.

Lower your interest rate

Don't get stuck with a high interest rate. If you refinance your home mortgage, you may be able to cut your rate by 0.50% or more. This can add up to tens of thousands of dollars in savings over the life of your loan.

(Private mortgage insurance) PMI removal

PMI can cost you as much as 1.5% of your loan balance annually, and can't be canceled on FHA loans regardless of how much equity you have. Refinancing into another mortgage lets you reduce or even eliminate burdensome PMI costs, especially if you have extra cash on hand.
How much does it cost to refinance?
Typical refinance closing costs can range from 3%-6% of your new loan amount, but vary by lender and location. The costs you're responsible for can include an application fee, loan origination fees, an appraisal fee and more.
It's a good idea to determine how much you might save on interest over the long-run and compare it with how much you're paying in closing costs to complete the refinancing. Depending on how long you intend to stay in the house, this will help you determine whether the savings from a refinance might justify its costs.
See whether it makes sense to refinance now based on current rates below.
Refinance Mortgage Rates
View refinance rates in your area by using the drop-down menus below and clicking "refresh rates." You can select your desired loan amount, property type and estimated credit score to fine tune your results.
Our rate table shows current refinance rates in your area for the 30-year and 15-year fixed rate mortgages as well as 5/1 ARMs. You can click "view more" to see live mortgage refinance offers near you.
How much could you save by shopping for the best refinance rates in your area?
The following heatmap shows how much you may stand to save over the life of your new mortgage by comparing the most and least competitive refinance rates offered in a given metropolitan area. Hover over a locale near you to see how much median homeowners are saving in your area.
Other options for refinancing your mortgage
If you're interested in exploring other mortgage refinance options, click on one of the links below to learn more, or use the link at the top of the page to get a free no-obligation consultation with a lender.
FHA short refinance program
FHA second lien program (FHA2LP)
USDA streamline refinance
USDA streamline assist
If you're interested in exploring other mortgage refinance options, click on one of the links above to learn more, or use the link at the top of the page to get connected with a lender.
Differences between a cash-out and traditional refinance
What is a cash-out refinance?
With a 
cash-out refinance
, you borrow a new loan that exceeds the amount you need to pay off your existing loan and take out the difference in cash. Cash out refinancing allows you to replace your existing mortgage while withdrawing equity for other uses. Keep in mind that the new mortgage on your cash-out refinance will have a higher balance as a result and your monthly mortgage payment will likely increase. Popular reasons people seek a cash-out refinance include:
PAY OFF YOUR CREDIT CARDS OR HIGH INTEREST DEBTS

Cash-out refinances allow you to pull out your home equity to refinance other high interest consumer debt at a low fixed-rate, which can be handy for things like debt consolidation.

PURCHASE A CAR

There are no restrictions on how to spend the proceeds of your cash-out refinance. This makes them a great choice if you need cash for a new ride and don't want to finance through the dealership.

MAKE HOME IMPROVEMENTS OR REPAIRS

Cashing out for repairs and renovations is a fantastic way to substantially increase the value of your home without taking on costly credit card debt.

PAY FOR COLLEGE EXPENSES

A cash-out refinance can supplement your tuition costs when college grants and student loans don't fully cover the gap.

ACCUMULATE EMERGENCY FUNDS

If you don't have much in your savings account and are worried about the future, a cash-out refinance lets you replenish your rainy-day fund at a great low-rate. This allows you to avoid costly personal loans when the need for cash arises.
By contrast, a traditional refinance involves replacing your existing mortgage with one that has a new interest rate and loan term, but you typically don't receive cash from the transaction.
Differences between a streamline refinance and traditional refinance
What is a streamline refinance?
A streamline refinance simplifies many of the qualification requirements required by a traditional refinance. It requires less paperwork, features more lenient credit, income and asset verification, and usually does not require a new appraisal. Streamline refinance programs offer the following benefits:
NO APPRAISAL REQUIRED

Streamline refinances avoid the appraisal process entirely, reducing closing costs and time. Eligible borrowers can use the original purchase price of their home as its current value, which makes it easier to qualify for a streamline refinance, even with an underwater mortgage.

AVOID CREDIT CHECKS

If you've lost your job or suffered credit problems in the past, the streamline refinance process may allow you to skip the credit and employment verification process required by conventional refinance loans.

CUT DOWN ON PAPERWORK

Not only are streamline refinance loans faster, but they require significantly less documentation than similar conventional refinances.
The most popular streamline refinance mortgages on the market are the VA Interest Rate Reduction Refinance Loan (IRRRL) and the FHA Streamline Refinance, provided by the Department of Veterans Affairs and Department of Housing and Urban Development (HUD), respectively.
These programs are popular with borrowers who face credit or income issues, but still want to take advantage of current low mortgage rates.